Craft Lake City has joined forces with The Temporary Museum of Permanent Change to bring the work of Craft Lake City artisans to the streets in the form of a walk-able outdoor gallery exhibit entitled, "Celebration of the Hand." Twelve Craft Lake City participants will create outdoor works of art utilizing permanent steel frames (known as plakats) installed adjacent to the sidewalks in downtown Salt Lake City on the North and South sides of Broadway (300 South) between 200 West and 200 East. Artisans will install their works of art from July 13 to 15, with the show opening on July 20, in conjunction with the Salt Lake Gallery Stroll.
Stephen Goldsmith, co-founder of The Temporary Museum of Permanent Change gives us a brief history of the Plakats and the mission behind the Museum of Change:
When Gilberto Schaefer, one of the co-founders of the Temporary Museum of Permanent Change, designed the first wave of Plakats it was spectacular. His ability to understand the ways a specific audience might engage with an image is just one of his extraordinary gifts. Another is his craftsmanship; he is the kind of master of his craft whom apprentices might have sought to work with during the Renaissance. One of the things I love about this new wave of Plakats Craft Lake City is installing is that their Celebration of the Hand project is now part of a lineage of creators who care about design excellence, human expression and, yes, craft.
The Temporary Museum of Permanent Change is similarly part of a lineage of community engagement projects created by artists and city builders throughout the world who see their work as catalytic in shaping communities. Sometimes we engage people in re-imagining a specific site, or illuminating the very place one may be standing, asking us by highlighting an object, or focusing a moment or a sound. These projects connect us with our places and our own creative processes. As Gil printed on every one of the first series of Plakats, "the invitation to see for yourself."

Artisans participating in Celebration of the Hand include Annika Dimeo, Michelle Christenesen, Nic Annette Miller, Tommy Dolph, Issac Hastings, Rachelle Smith, Angela Flicker, Laura Frisk, Carrie Wakefield, Jorge Arellano, Eleanor Scholz and Candace Jean Anderson.
"We feel that the 12 chosen artisans are an excellent representation of the diversity present at Craft Lake City," says Festival Director Angela H. Brown. "We are also thrilled to become the newest organization to participate in The Temporary Museum of Permanent Change's outdoor museum." The plakats were installed in 2007, and have been utilized by various non-profits, such as Sundance, Spy Hop and Tumbleweeds Film Festival. "The Celebration of the Hand" will be displayed through the festival, which takes place on Sat. August 11 at the Gallivan Center.
In an effort to reimburse artisans for the cost of their supplies and to promote "Celebration of the Hand," Craft Lake City has launched a Kickstarter campagin. Craft Lake City has a goal to raise 4,000 dollars through the crowd-funding site, the majority of which will go directly to artisans to reimburse them for supplies. Individuals who pledge will be eligible to receive a number of different thank you gifts from participating artisans, such as handmade bags, prints or a 2013 calendar featuring all 12 of the plakats.
Please visit http://www.kickstarter.com/projects/craftlakecity/celebration-of-the-hand to support, share and back our project.
Join us for July Gallery Stroll on July 20, 2012 to Celebrate the Hand, Craft Lake City and The Temporary Museum of Permanent Change.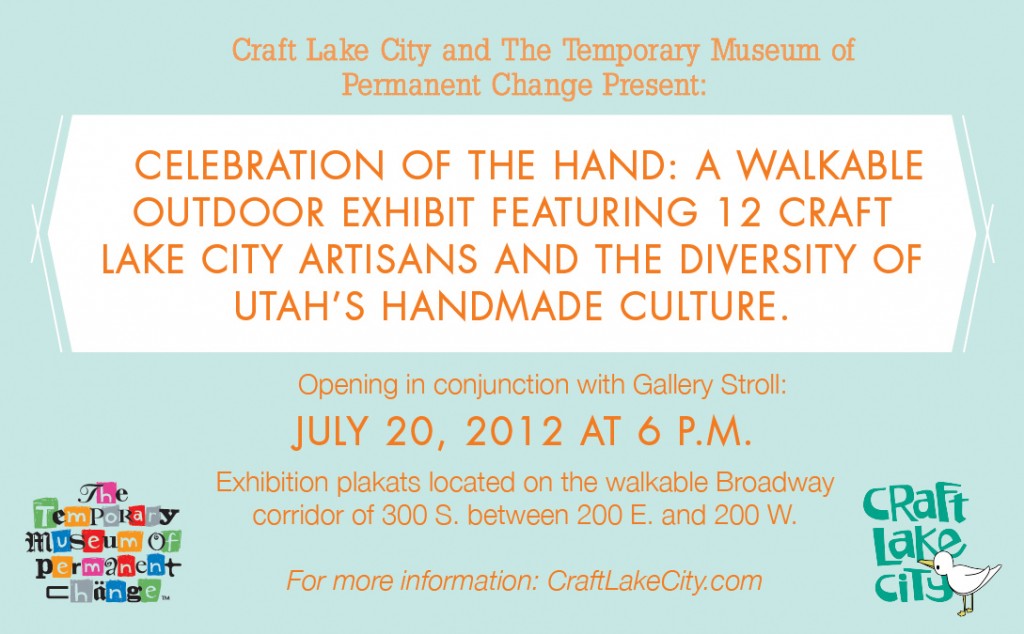 About Stephen Goldsmith: Stephen is an Associate Professor at the University of Utah's College of Architecture and Planning and Director of Center for the Living City. He is the founder of Artspace, served as Director of the Frederick P. Rose Architectural Fellowship after serving as the Planning Director for Salt Lake City under the progressive leadership of Mayor Rocky Anderson, and produced an international symposium and exhibition titled, The Physical Fitness of Cities: Vistion and Ethics in City Building with Moshe Safdie and Samina Quaraeshi during the 2002 Olympics. He also works on community organization projects including the Katrina Furniture Project and The Temporary Museum of Permanent Change.
About The Temporary Museum of Permanent Change: The Museum of Change is a community based, participatory project that uses the ever-changing development processes underway in Salt Lake City as catalysts to animate city life. The Museum engages a variety of audiences using a collaborative, multidisciplinary approach that includes performance art and video production, visual art, urban archaeology, anthropology, local history, existing businesses and ongoing deconstruction and construction processes as spectacles for people of all ages. Together these elements provide teachable moments in our efforts to manage and celebrate change. This Museum has no specific address. Rather it is a construction of ideas, installations and illuminations that comprise a new way of seeing our city.