We live in a great city. It's relaxed, it's beautiful, and it's full of inspiring, community-minded people doing wonderful things. For the last year we've been grateful to be the new kid on the community block, bringing a new kind of family-oriented business to the streets of Salt Lake. We're the Creative Capsule by tenfour- our city's only- and to the best of our knowledge- the only mobile crafting and party venue in existence.
Housed in a 1963 Airstream trailer, the Creative Capsule is focused on providing hand's on fun to kids by providing the materials and instruction to complete various craft projects. Mostly we show up at private events like birthday parties and girl's night out or handle the kids entertainment at company parties, but we also love to be a part of community festivals and things like farmer's markets, providing a unique space for kids to come and have the experience of making something with their own two hands.
Now that we've got a year of business under our belt, it only make sense that we would join forces with the coolest kid on the crafting community block, Craft Lake City! We are very excited to bring our brand of hand's on crafty fun to the event on August 11th. We're a unique vendor at CLC because we allow people to do more than shop for wares, we actually provide the opportunity for them to experience the fun and creativity of making something and discovering what crafting is really all about. We are especially pleased to offer this experience to children who attend Craft Lake City It's not always fun for kids to walk with their parents looking at all the eye candy vendors offer and not be able to touch or interact with anything…when kids visit the Capsule they can look, touch, and MAKE! We love to expose kids to something they've never seen or done before and we hope to inspire them to go home and create more on their own, hopefully having a hand in creating a whole new generation of crafters. Even future Craft Lake City vendors perhaps?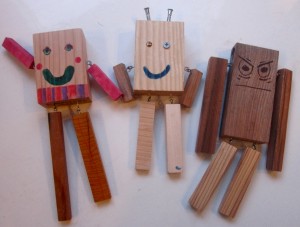 We are unveiling a great new craft project at Craft Lake City. Let us introduce you to LOGGERHEADS, unique block creatures made from reclaimed wood scraps sourced from local wood shop, Modern Union. This makes it a very green craft project-something we love. Loggerheads are also super cute and provide plenty of opportunity for kids to add personality to their own piece by using their imagination to transform simple blocks of wood into a self portrait, an alien from planet Zorb, a new species of tree hugger…whatever they can dream up they can create with their individual Loggerhead. We hope that parents will get excited about their kids creating these since it's a high quality craft and cute enough to be enjoyed for years to come- instead of yet another quick kids craft destined for the garbage bin after a few days on the fridge. We will be parked at Craft Lake City in the children's entertainment area all day stocked and ready for people to stop in and make a LOGGERHEAD. (Bonus: we have air conditioning and your kids will be occupied!) We are offering a special price for Craft Lake City only: make one Loggerhead for $15 or make two for $25. All the materials and instruction will be provided, of course.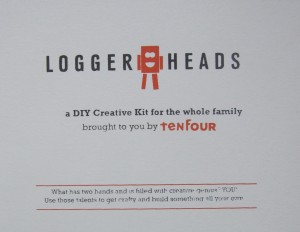 Want to take the fun of Loggerheads beyond Craft Lake City? You can! Loggerheads are the first in a line of creative DIY kits by tenfour designed to encourage hand's on fun at home, so you can snatch up one of our brand new Loggerhead kits at the event, give it as a gift, share it with a friend, or make an entire Loggerhead family from the comfort of your house. We are almost as excited about the cute, sophisticated packaging of the kit as we are about the Loggerheads themselves. Designed by local graphic talent, Nic Annette Miller, the Loggerhead kit will be available for purchase for $18.
We are counting down the days until Craft Lake City and hope you are too. Don't be afraid to bring your kiddo with you to enjoy the day- we'll knock their little crafty socks right off!
See you at the Capsule!
Guest Post by
-Allison Harbertson & Lisa Dickman
Co-Founders of the Creative Capsule