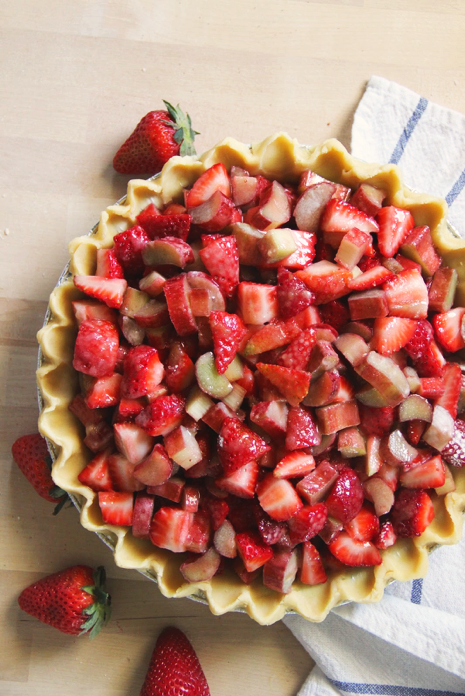 This month's recipe is a Strawberry Rhubarb Pie that comes from Craft Foodie: Sprinkle and Dash. This cool company is a mother/daughter-run operation and one of our favorites. They went into business two years ago after Amanda Anderson, the daughter, finished culinary school and returned from a Paris internship. She made a 4 tiered wedding cake just for fun. Yeah, for fun. Clearly, she has a passion for baking. Amanda eventually brought her mother, Julie into the operation. The two have been baking their way into the hearts (and stomaches) of Utah locals ever since. Learn more about how they got started and what advice they'd give in the interview below:
How did your company start? What inspired it?
Anderson: Sprinkle & Dash started with a couple of cakes in May of 2014. After graduating from culinary school and having returned from working in a cake shop in Paris, I felt lost. While I'd graduated with an emphasis in pastry arts, I wasn't sure what to do to feed my passions now that school was behind me and Paris was over. During my first week home, I made and assembled a four-tiered wedding cake—just for fun. Then I baked another cake. And another. And another. I was basically giving them away for free just to make room in my kitchen so that I could keep baking. Eventually, I stopped giving them away—I started selling them. I started an Instagram account, experimenting with food styling and lighting, and I kept baking. Things started to pick up. A brand was born. I brought my mom—Julie—onto the Sprinkle team in summer 2014, and from then on it's been the two of us. We've done big and small weddings, participated in local markets and festivals, and have sold seasonal and holiday desserts and treats throughout the year. That brings us to today! It's been an amazing journey to feel the business grow through all of our hard work and dedication. As I look back to what led me here, I'm proud to say that I've stuck to my roots. The heart of what we do always comes from a deep place of family, tradition, and passion.
Way before culinary school, before meeting any professional baking instructors, and long before I had even dreamed of having the chance to learn and work in a bakery in Paris. . . I was a little kid baking with family and falling in love with the kitchen. I would sit on the counter, intently watching everything my mom did, anxious to help and learn. Later, I began experimenting on my own, testing out the ideas in my head and I realized had a knack for making really good food. As I got older, my passion for food only continued to grow. On a trip to New York City, I started my search for the best chocolate chip cookie—which led to stops at 17 different bakeries. The crusade continues with every city I visit, which means I get to eat a lot of cookies. And I do it so that I can continue to develop and fine-tune my own recipes, so I can always keep learning and growing.
Eventually, I realized that whether I was at home or traveling, I cared about one thing: food. Both making it myself and getting to try the best of the best. The amount of time I was spending in the kitchen and the passion that kept me going to kitchens around the world made it clear to me that the natural next step had to be Sprinkle & Dash.
Where does the name come from?
Anderson: The name comes from a brainstorm with a good friend who works as a copywriter. (Hi Hay!) Which is why it's so good. Sprinkle & Dash are both action words—they make you think of movement in the kitchen, as well as being verbs for what we actually do, which is "sprinkle" baked goodness at an event and then *dash* off to the next party, wedding, festival, or family event. The words describe us, and our treats, incredibly well.
How has participating in Craft Lake City and other local festivals helped your business? What have you learned from this interaction?
Anderson: Craft Lake City and many of the other local markets we participate in, are central to what moves Sprinkle & Dash forward. At markets, we get to meet with other vendors and businesses in the area. That drives our creativity and helps us feel like we're a part of a larger, tight-knit creative community. These markets also give us the chance to interact in a different way with our customers. Every market teaches us about what works and what needs improvement. We always walk away with new insights after a market and we use everything we learn to keep making treats and desserts that people love.
What advice would you give to those starting out?
Anderson: Make sure you have a real and lasting passion for what you're doing. Those nights when you're up until 2 a.m. baking pies (or making whatever) are not fun—and this is coming from someone who LOVES baking pie! Starting your own business is so stressful. Sometimes you get negative feedback. Sometimes things just don't go the way you'd planned. It's really, really hard work. If you're not totally passionate and in love with your ideas—and invested in your craft—the work is going to get old fast.
I'd also say that you have to find the right role for yourself in your business. I've found that my place in the business is in the creativity. When I'm the driving force behind the recipes and new venues to take the business, I am the happiest. My mom keeps me grounded. She works closely with me in the kitchen and also handles all the administrative angles of our business. Having the right roles makes all the difference.
Why do you think it's important to support local business and artists?
I love nothing more than seeing a new bakery or restaurant or coffee shop go up because it means people are building their dreams and creating new things for us all to taste or experience or try, and that is the best thing in the world! I feel like I understand these dreamers because I'm one too. Supporting their hard work and their dreams is deeply important to me. These people and businesses give our community its unique brand of cool, and that's important.
Strawberry Rhubarb Pie
Recipe by: Sprinkle and Dash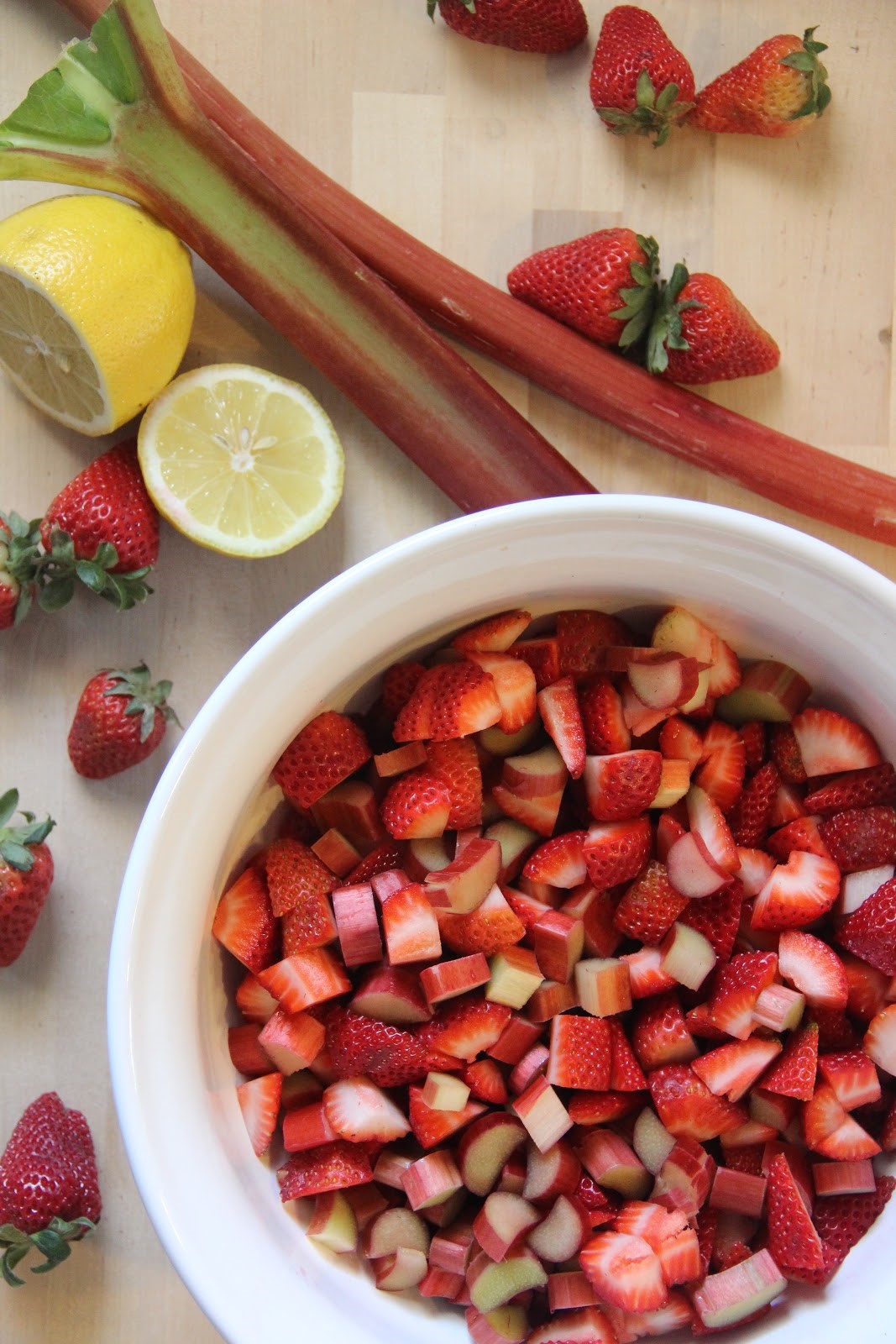 Filling:
3 cups 1/2-inch thick sliced rhubarb (about 1 pound)
1 pound strawberries, hulled and cut into quarters
1/3 cup light brown sugar
1/2 cup granulated sugar
1/4 cup cornstarch
1/2 teaspoon of salt
2 tablespoons fresh lemon juice
Topping:
3/4 cup all-purpose flour
3/4 cup old-fashioned oats
2/3 cup granulated sugar
large pinch of salt
6 tablespoons cold unsalted butter, cut into small chunks
Prepare crust for 9" pie. Roll and fit into pie dish, flute edges and allow to chill in the refrigerator while preparing the rest of the recipe.
To Make the Filling:
In a medium bowl, toss together rhubarb, strawberries, sugars, cornstarch, salt, and lemon juice. Gently toss until all of the fruit is covered in a coating of sugar and cornstarch. The cornstarch will disappear and the sugars will begin to make juice with the fruit. Allow to rest at room temperature while you make the topping.
To Make the Topping:
In a medium bowl, whisk together flour, oats, sugar, and salt. Add the cold butter chunks and use your fingers to work the butter into the flour mixture. Quickly break the butter down into the mixture until well incorporated. Some butter bits will be the size of peas or smaller.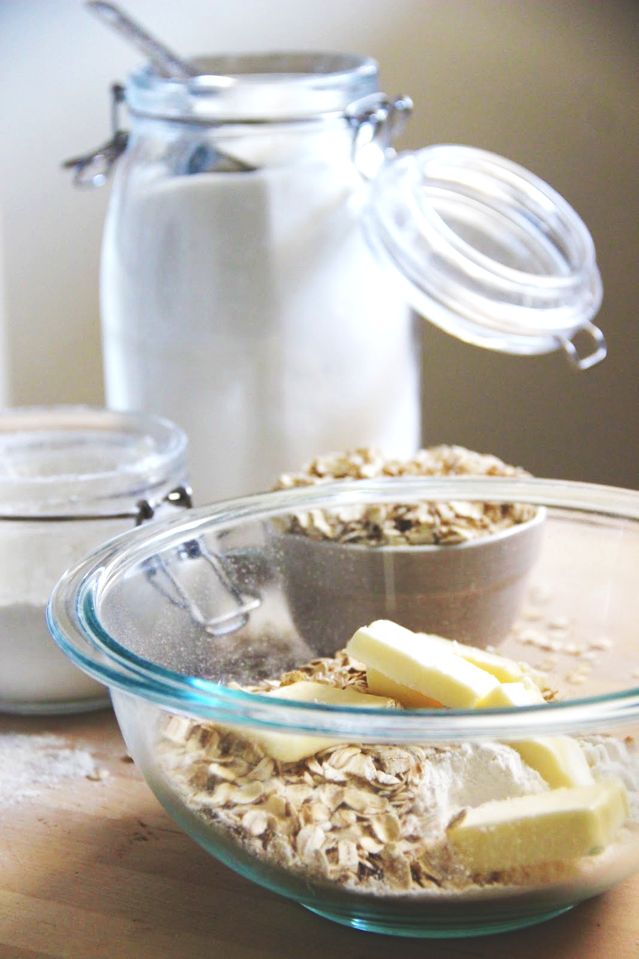 To Assemble the Pie:
Place a rack in the center of the oven and preheat oven to 400 degrees F.  Line a baking sheet with parchment paper. Set aside.
Remove the pie crust from the refrigerator. Toss a handful (about 1/2 cup) of the topping mixture into the fruit mixture. Toss. Dump the fruit mixture into the pie crust. It will be heaping. Top generously with topping mixture. Place on the prepared baking sheet and place in the oven.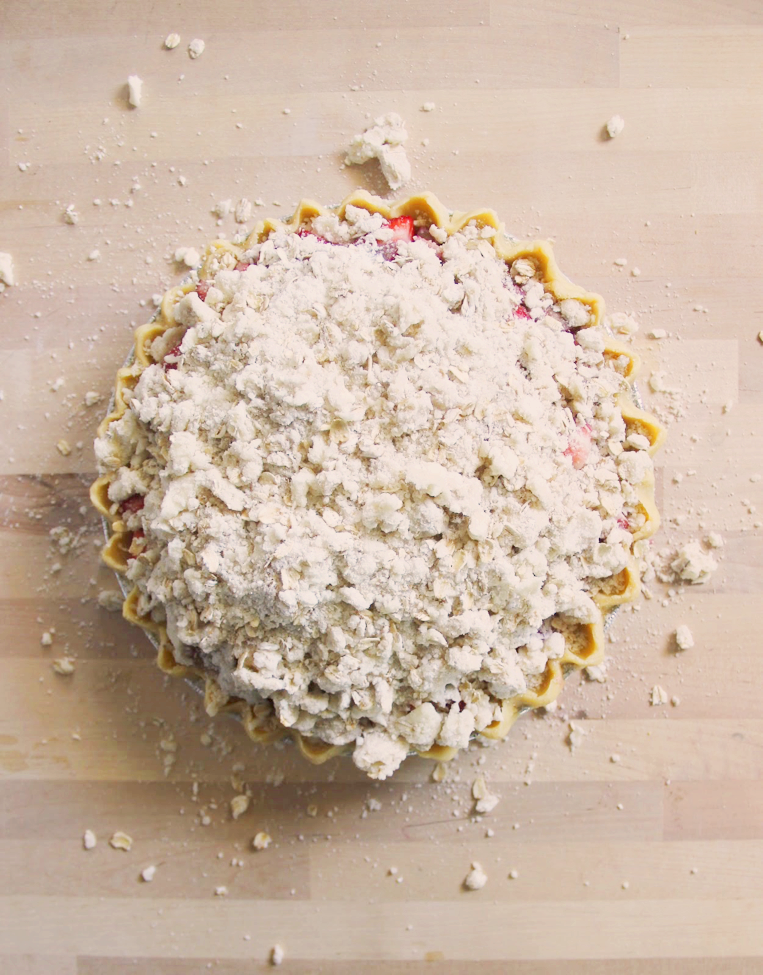 Bake the pie for 20 minutes at 400 degrees F, then reduce the heat to 350 degrees and bake for another 35 to 45 minutes, or until the pie is juicy, bubbling, and golden brown.
Remove from the oven and allow to cool for at least 2 hours before serving.  This will help the juices mellow and thicken a bit.  Pie is best served just slightly warm with vanilla ice cream.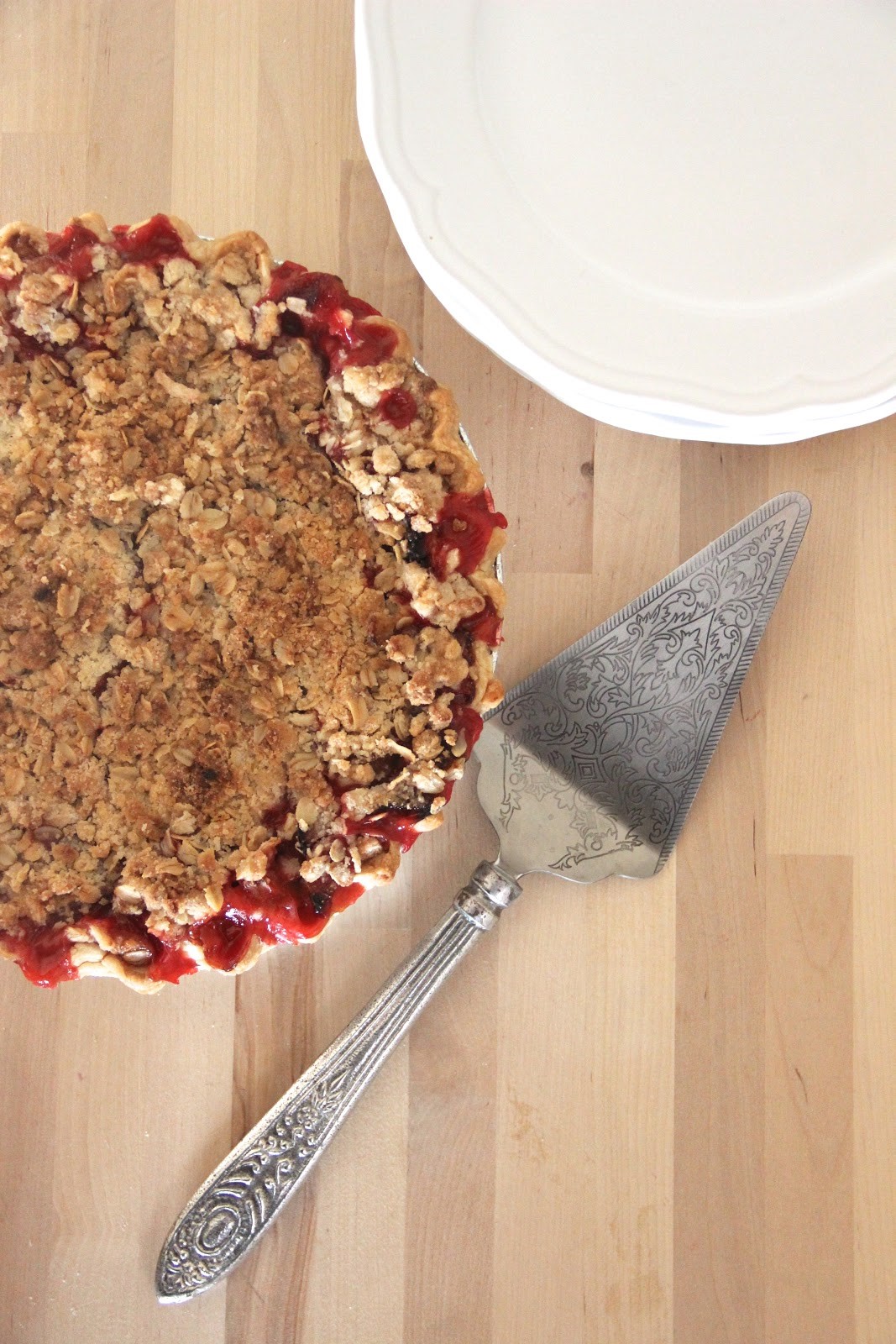 Remember, after you make this delicious pie, post a picture of it on Instagram with the hashtag #craftlakerecipe and it could get regrammed!