About Kid Row 
Kid Row is a space especially for local youth artisans ages 14 and younger to sell, promote and exhibit their work at the 14th Annual Craft Lake City DIY Festival Presented By Harmons. Kid Row provides youth with an opportunity to sell their work, gain entrepreneurial skills and interact with other exhibitors and the public at Utah's largest local-centric art, science and technology festival!
Important Dates and Deadlines
Kid Row applications are now OPEN through Sunday, April 3, 2022
Kid Row applications close:

Sunday, April 3, 2022 at 11:59 p.m. MST

Kid Row Participants announced

:  Monday, May 2, 2022 on craftlakecity.com

Kid Row at the DIY Festival:

Sat., Aug. 13, 2022 (time TBD)
Eligibility
Kid Row is open to youth artisans and tinkerers who reside in the state of Utah and will be age 14 or younger as of August 14, 2022. Craft Lake City reserves the right to reject any applications which do not fall within or meet our guidelines. Any prospective exhibitors who have applied and are found to not meet requirements as listed on the application will have their application forfeited. Please note that the application fee is non-refundable.
Accessibility
Do you have any questions about the accessibility of Craft Lake City events or programs? Would you like to request accommodations? Please contact us by emailing info@craftlakecity.com or calling 801-906-8521. 
Note: While Craft Lake City cannot guarantee that all accessibility requests can be met, our team is committed to making reasonable accommodations to ensure that attendees can successfully participate in our programs.
Original Work Regulation
Craft Lake City celebrates artisans in Utah's diverse communities whose products are handmade. Therefore, preference will be given to kid artisans who submit original, handcrafted work. Commercial, mass produced or manufactured products that are not made by the youth artisan(s) are prohibited. Upon submission of images, the youth artisan guarantees the accuracy of the description of products presented and the authenticity of the artwork as original and created by their own hands. 
All artwork exhibited at the Festival must be of the quality and style represented by the artist in the images submitted with the application.
Application Fee
There is a non-refundable $10 application fee, paid via Paypal after completing the Kid Row application. Incomplete applications or those without paid application fees will not be submitted for jurying. This application fee goes towards the cost of administrative processing and jurying for the event.
If the $10 fee presents a challenge, application fee support may be available. Interested applicants may send an email to info@craftlakecity.com with a paragraph-length Statement Of Need prior to the application deadline (April 3, 2022). Kid Row Scholarships are available, more information listed below.
Schools or Groups Interested in Applying
If you are interested in having your students apply to participate in Kid Row and would like to chat with a Craft Lake City representative about what that would look like please contact Morgana Faye our Artisan and Programs Coordinator, artisancoordinator@craftlakecity.com.
Participation Fees: 
Once accepted to exhibit in Kid Row, each kid artisan's guardian is responsible for paying a $25 tabling fee and submitting the accompanying agreement by the date listed in the kid artisan's acceptance email. This small tabling fee secures the kid artisan's spot at the DIY Festival and helps Craft Lake City, a local nonprofit organization, to cover some of the production and equipment rental costs associated with Kid Row. Exhibitors who do not pay their tabling fee within the requested time may be required to pay a late fee or forfeit their spot as an exhibitor. Craft Lake City makes no guarantee that the rental of exhibit space by accepted exhibitors will result in a financial profit or even a return on investment.
Kid Row Scholarship
Craft Lake City offers a limited number of financial scholarships to select Kid Row participants. The Kid Row Scholarships provide select kid artisans with waived exhibitor tabling fees. The Kid Row Scholarships are presented as part of Craft Lake City's DIY Festival Inclusion Program, which is designed to support individuals from underrepresented and/or socially or economically excluded communities.
To be considered for a Kid Row Scholarship, kid artisans must indicate their interest in their Kid Row application by emailing artisancoordinator@craftlakecity.com. Additionally, they must meet the following criteria:
The kid artisan must complete a Kid Row application (and pay the non-refundable $10 application fee or request a waiver) by Apr. 3, 2022

The kid artisan's annual household income must fall below the 50% area median income bracket of their family's county of residence (see below chart)

The kid artisan must be selected to participate in Kid Row based on the quality of their work

The kid artisan must be participating in Kid Row for the first time




County
50% AMI

Beaver

$27,610

Box Elder

$31,116

Cache

$29,519

Carbon

$25,579

Daggett

$37,308

Davis

$41,655

Duchesne

$31,612

Emery

$27,777

Garfield

$27,283

Grand

$25,779

Iron

$25,904

Juab

$30,732

Kane

$23,522

Millard

$31,121

Morgan

$45,671

Piute

$21,407

Rich

$28,951

Salt Lake

$37,433

San Juan

$22,697

Sanpete

$26,919

Sevier

$27,400

Summit

$51,479

Tooele

$37,281

Uintah

$32,632

Utah

$37,333

Wasatch

$42,558

Washington

$29,919

Wayne

 

$22,122

Weber

$32,622

For further information or for questions, please contact us at artisancoordinator@craftlakecity.com.

 
Categories/Mediums
Kid Row Exhibitors may apply in the following categories:
Accessories – bags, belts, hats, keychains, etc.

Apparel – wearable works and clothing

Artwork – two-dimensional work created using painting, printmaking, photography, drawing, digital art, collage, illustration, or other techniques

Baby & Child Products – toys, children's clothing, etc.

Bath, Body & Apothecary – skincare, soap, body oils, etc.

Ceramics – pottery

Embroidery and Fiber Arts – embroidered hoops, sewn and knit objects, macrame, etc.

Home decor and housewares – candles, plant holders, wall hangings, clocks, furniture, cooking tools, dinnerware, etc.

Mission-driven – Local nonprofits, organizations and businesses interested in sharing information about their missions and programs with the creative community

Jewelry – necklaces, rings and earrings

Stationery – paper goods, cards, journals, pens, etc.

Sculpture – sculptural artworks made from clay, found/upcycled materials, glass, wood, ceramic or metal

Vintage – curated clothing, furniture, and other items that predate 1990

Craft Food – hand crafted and artisanal varieties of pre-packed, edible goods such as desserts, beverages, sauces, candy, etc.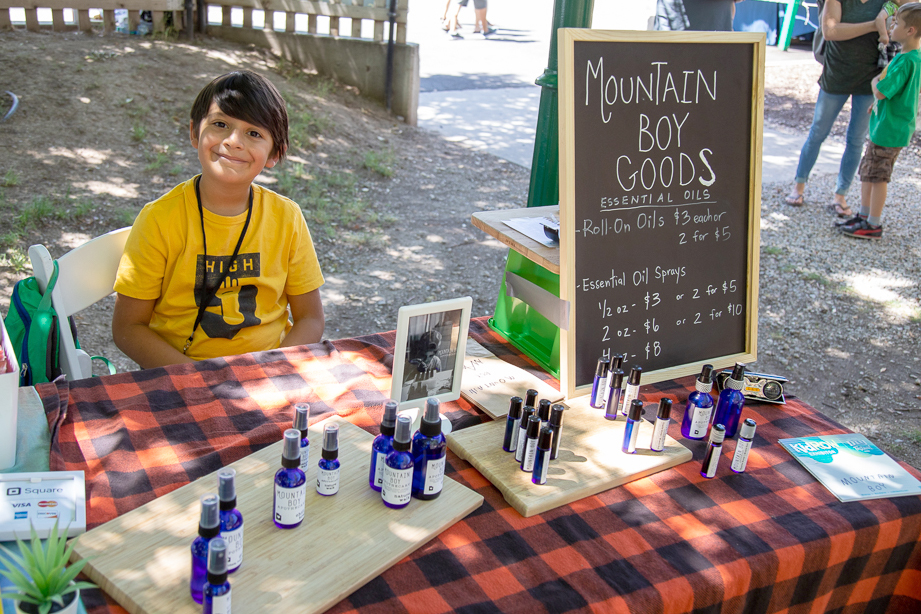 Photographs in Your Application
Focus on capturing high-quality images of five single products that can provide the jury insight  into your craftsmanship and creativity. Note: By providing these images, applicants give Craft Lake City consent to use them in promotional materials if accepted.
For more information about taking better product photos at home, check out this video. Craft Lake City also hosts Application Assistance Days to provide additional support to folks who have questions about photographing their work or navigating the application portal. For more details, please reach out to artisancoordinator@craftlakecity.com.
Jury Process
After applications close, they are juried anonymously by a panel of local arts experts. All Kid Row artisan's personal information will remain anonymous to the jury. Jurors will solely have access to the applicant's short answers and uploaded five images, which includes description and market price of the product.
Kid Row Exhibiting Space 
Each Kid Row artisan will be assigned a table on which to display their work. Items may be placed on top of the table for display, but for safety reasons, cannot be displayed behind, in front, or on the sides of the tables. Craft Lake City is not able to accommodate special placement requests for kid artisans. Electricity is not available to Kid Row artisans.
Craft Lake City allows up to two kid artisans to represent each accepted business in Kid Row. Due to space and safety restrictions, more than two kid artisans will not be allowed to represent a selected business on site at the DIY Festival. Only one application needs to be submitted per kid artisan business, but the name of the second kid artisan must be listed in the application as the business partner.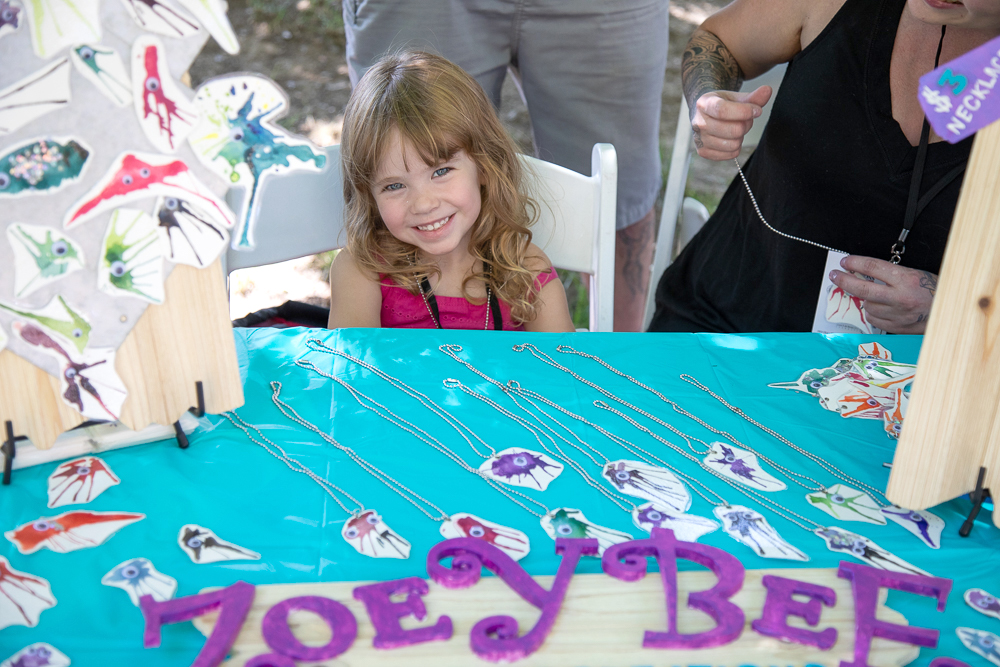 Guardian Responsibility
A parent or legal guardian is required to serve as Craft Lake City's primary point of contact on behalf of each Kid Row applicant. This includes assisting with the application process, submitting fee payments, reviewing and signing exhibitor agreements, and communicating with Craft Lake City before, during, and after Kid Row.
A parent or legal guardian is required to be present with exhibiting Kid Row artisans at all times during Kid Row at the 14th Annual Craft Lake City DIY Festival Presented By Harmons, including for load-in, set up, and load-out. Each individual kid artisan must be accompanied by one legal guardian. One single legal guardian may be allowed for two siblings who are part of the same household and the same Kid Row business. 
Sales Taxes
Craft Lake City does not take any money from commission or sales of Kid Row products during the course of the Festival. Sales taxes for items sold during the festival are required to be paid separately as the Festival qualifies as a special one-time event. Parents and legal guardians, please note that the Utah State Tax Commission will send tax forms to you about a week after the festival. You must complete these forms on behalf of your Kid Row artisan and file sales taxes on the kid artisan's sales in order to participate. Parents and guardians may choose to file these forms in their own name, or in the name of their Kid Row artisan. For questions (or to request a replacement Special Event Tax Form should it not arrive), please contact the USTC at 801-297-6303 or specialevent@utah.gov. Reporting accurate sales tax helps Craft Lake City track the impact our events have on the local economy.
Exhibitor Responsibilities & Safety
By applying and accepting Craft Lake City's invitation, all exhibiting artists agree to comply with Craft Lake City, Craft Lake City DIY Festival and venue rules and regulations.
The exhibitor assumes all responsibility for safeguarding of their products and their displays at Kid Row during the 14th Annual Craft Lake City DIY Festival Presented By Harmons. It is the exhibitor's responsibility to insure their property as they see fit.
Craft Lake City has the right to close, cancel or modify the Craft Lake City DIY Festival if any circumstances occur that would affect the safety of the event attendees or vendors.
By participating, the exhibitor understands that verbal and physical abuse of any kind is not welcome. Any individual who displays negative, crude, crass, belligerent or any other non-exemplary behavior that causes discomfort towards any person present at the Festival will be asked to leave. Craft Lake City reserves the right to determine what behaviors are deemed inappropriate and non-characteristic of Craft Lake City standards. We do not condone any racist, bigoted or unsafe behavior from any area of the Festival or within our community.
Parents and guardians of selected Kid Row artisans agree that images and information submitted through the application (with the exception of last names and contact information) may be used by Craft Lake City in promotional materials. Parents or guardians of selected kid artisans understand that any photos or video taken of guardians and Kid Row exhibitors by Craft Lake City staff, volunteers, or contractors at the public festival are the property of Craft Lake City, and can be reproduced and used/edited by Craft Lake City for documentary, educational, promotional, and other purposes.
The invited kid artisan and parent/guardian agrees to hold harmless Craft Lake City and the Craft Lake City DIY Festival, sponsors, partner organizations, coordinators, volunteers or employees, for any damage, loss, or theft to artwork, displays or other personal property, or injury to their person or character, virtual or otherwise, regardless of cause, resulting from their participation in this event.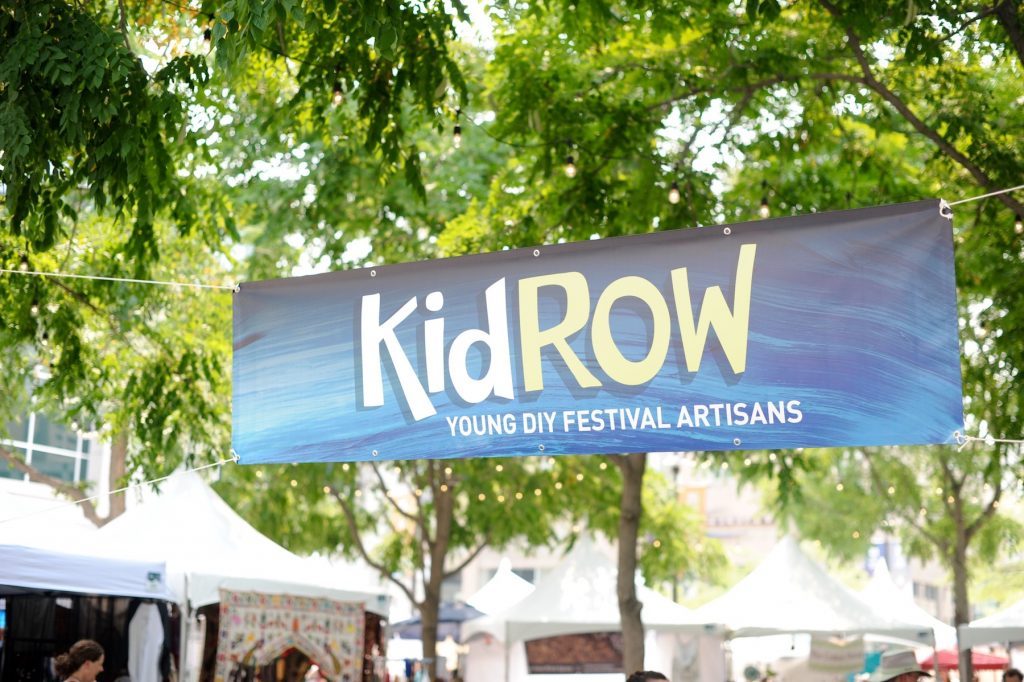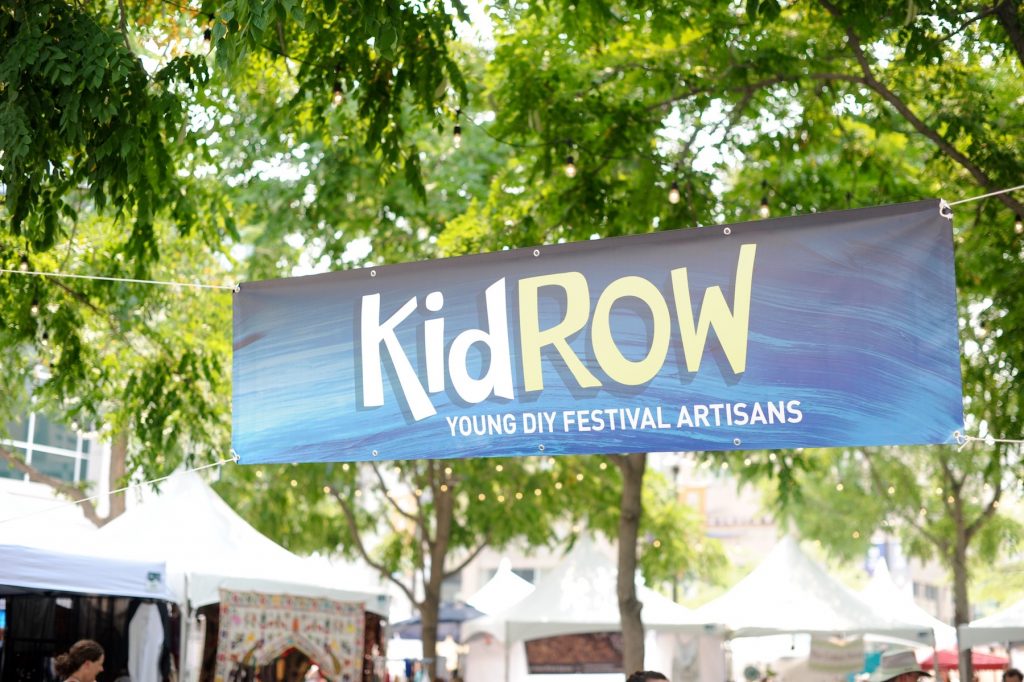 Kid Row Exhibitor Checklist
Below is a checklist to help you prepare for Kid Row at DIY Fest.
Setting Up Your Table 
Notes on Location: Kid Row at the 14th Annual Craft Lake City DIY Festival Presented By Harmons will be located in a grassy area on the Festival grounds, underneath a large tent.
Your Table Space: At this time, Craft Lake City plans to have each Kid Row artisan share a table with another kid artisan. Therefore, each Kid Row exhibitor will have no more than 3'x3' of individual space to display their wares. Please be a good neighbor and plan to set up your wares within this designated space to make room for the kid artisan next to you. If you applied with other kid artisans together as a group, you will be sharing the same 3'x3' space. Above are some example photos to demonstrate the size of the space allocated to each Kid Row exhibitor. Note: If COVID-19 guidelines change, Craft Lake City may alter plans for display spaces. We will be in touch regarding any of those changes in advance of the DIY Festival.
Provided by CLC: Craft Lake City will provide the table, table cloth and one chair for each Kid Row business. We'll also provide a small 6"x6" sign and we'll invite you to write your artisan name or business name on it. Please note that, since seating for Kid Row is exceedingly limited, it would be very helpful for your parent, guardian, or helper to bring an extra chair for them to sit in!
Items to Bring for Your Display
Products: The most important part of your table! Bring your favorite handmade items to sell to our Kid Row visitors.
Display Items: Think about how you will arrange and display your handmade items in your 3'x3' tabletop space. Would you like to set some of the items on top of boxes? Have them in a standing frame? Depending on your plan, you may want to bring something to display your wares on. Please remember that all items must be displayed on top of the table within your 3'x3' space, and cannot be placed in front, to the side, or behind your table. You may want to practice setting up your display at home and taking a picture to make setting up at the festival easier.
Pricing: Think about the price of each of your items. How will you let people know the price? Will you write it on a sticker to paste on each product? Or have a list on your table? There are many different options, so think about which one works best for you.
Promotional Materials: Do you have a business card or flyer you would like to give to your customers? 
Payment Processing Items: Think about how you would like to sell your items, and talk with your parent or guardian about the best way to process payments from your customers. Due to COVID-19 guidelines, we ask that each Kid Row artisan be prepared to accept contactless payment through Venmo, Paypal, Square or another similar service. Wi-Fi is not reliable or secure at  DIY Fest, so we strongly recommend using a cell phone and cellular data to process contactless payments. Be sure to bring a battery-powered charger with you as well. Would you like to give people the option to pay in cash? If so, plan to bring small bills and change, as well as a cash box or envelope.
Biodegradable Shopping Bags: In an effort to protect our planet and support green initiatives, plastic bags will not be allowed at DIY Fest. Festival attendees will be encouraged to bring or buy reusable bags for their purchases. As a Kid Row artisan, you will be asked not to provide plastic bags for your customers. If you would really like to put your products in shopping bags, we recommend asking your parents about getting biodegradable or compostable bags instead. Or you can always make and sell reusable (non-plastic) bags at your table!
Be Right Back Sign: In case you don't have an adult helper to booth sit for you during bathroom breaks, you may want to create a small "Be Right Back" sign to display when your parent or guardian accompanies you to the restroom.
Other Checklist Items
Face mask: Please wear a mask and bring a backup just in case. Exhibitors will be required to wear a face mask when visiting the indoor areas of the DIY Fest, but strongly encouraged to still wear a mask while exhibiting & shopping outdoors.
Moving dolly/hand truck: These items can be very helpful for load-in and load-out! Please be prepared to carry items a long distance to the location of Kid Row. 
Sunscreen, a hat, and jacket: Kid Row will be in a grassy and mostly-shaded area. However, we cannot guarantee that the tables will be shaded all day, so we recommend wearing sunscreen and hats for protection. It's also helpful to bring a jacket in case of rain or cold weather.
Plastic bins with snap-on lids: These are great for organizing tools, products, and snacks, as well as protecting your stuff from water and mud.
Trash bags: Like all artisans at the DIY Festival, you will be asked to carry out any trash from your vending space in order to leave the area clean for the rest of the weekend. The garbage cans on-site are for Festival attendees only, so trash bags are a convenient way to carry out any leftover food, paper, boxes, etc.
A helper: Consider asking an adult friend or family member (in addition to your parent/guardian) to assist you with load-in and load-out, and to also booth sit for you during bathroom breaks. In addition to two exhibitor badges, Kid Row participants will receive two comp tickets for the DIY Fest to ensure that they can secure adequate help for their booth. Please note that seating at Kid Row is very limited, so planning to have helpers in shifts is something to consider!
Water & snacks: We recommend bringing sealed water bottles or reusable water bottles with you to stay hydrated, and packaged snacks in case you get hungry during the 4-hour shift. We'll also have plenty of great food options at the DIY Festival if you would like to support a local food vendor, but packing some snacks is always a good idea!
Food License: If you are a Kid Row artisan who sells Craft Food items, please make sure they are pre-packaged. No unpackaged samples may be provided. Please also be sure to secure a license through the Department of Agriculture by contacting

Alex Mathews at 801-982-2251 (

alexmathews@utah.gov

).