Craft Lake City Workshops
Announcing NINE new workshops at the
13th Annual Craft Lake City DIY Festival Presented by Harmons
Craft Lake City proudly presents nine fun, hands-on classes with local makers for the 13th Annual Craft Lake City DIY Festival Presented by Harmons! From coffee tasting with Caffe Ibis to creating luxury botanical burn wands with Wild Meraki, participants will have the opportunity to learn from talented local makers and create their own take-home item at the DIY Festival! Tickets to these workshops also include a free day pass to the festival (a $7 – $13 value!). Find the full list of DIY Festival workshops below. Spaces are limited so reserve your spot today!
Accessibility
Do you have any questions about the accessibility of Craft Lake City workshops at the 13th Annual Craft Lake DIY Festival Presented by Harmons? Would you like to request accommodations? Please contact us by emailing amy@craftlakecity.com or calling 801-906-8521. 
*Note: While Craft Lake City cannot guarantee that all requests can be met, our team is committed to making reasonable accommodations to ensure that attendees can successfully participate in our programs.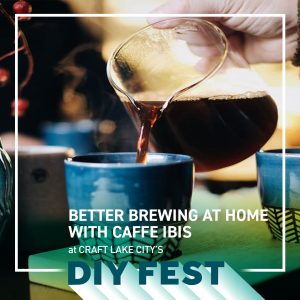 Come learn the fundamentals behind brewing your morning cup of coffee! In this workshop we will cover how variables like grind, water and temperature affect your coffee. Then we will apply this new knowledge to help you brew a better and more consistent cup of coffee at home. Participants will each be provided with a cup of coffee to drink at the workshop, as well as a 12-oz. bag of Caffe Ibis coffee beans to brew at home!
Therapy Bath Bomb Workshop
with Paulette Kelsh of Cosset
Sunday, August 15, 1:00 p.m.
Create your own Therapy Bath Bomb with Cosset! We will provide for you two bath bomb molds and a variety of fragrances and unique botanical ingredients for you to create the perfect Therapy Bomb for your bath. A Cosset Ambassador will guide you on how to mix Cosset's 5 basic Therapy Bomb ingredients (Great Salt Lake Salt, Baking Soda, Citric Acid, Sugar and Safflower oil), followed with a touch of personally selected therapeutic add-in's and then pack your own stress relieving Therapy Bomb.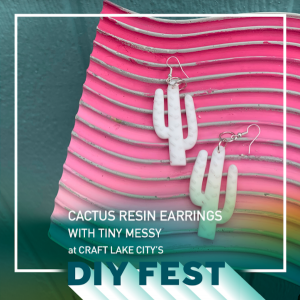 Cactus Resin Earrings
with Bianca Velasquez of Tiny Messy
Sunday, August 15, 3:30 p.m.
Make bold statement jewelry with Tiny Messy in this Craft Lake City workshop at this year's DIY Festival! In this workshop, Velasquez will provide a basic introduction to making resin earrings, guiding attendees through the process of mixing and molding the material into wearable works of art. This workshop will be a three-step process in which you will learn how to mix color, pour resin and assemble your earrings using a silicone cacti-shaped mold. Participants will create fun, funky, and colorful cactus jewelry! All materials & safety equipment will be provided.
Botanical Bundle-Dyed Silk Bandanas
with Roxanne Vigos of Sago Adornment                    Friday, August 13, 5:30 p.m.
This workshop will give you the experience of creating a naturally-dyed silk bandana as well as time to digest and talk about fiber types, mordants and frequent terms used in the natural dye process. Great class for beginners. All materials & aprons will be provided, however we strongly recommend wearing clothing that you are comfortable getting dye on (as Craft Lake City is not responsible for damages incurred to clothing or personal items).
Hand-bound Leather Journals
with Amanda Parramoure of My Leather Legacy
Friday, August 13, 7:30 p.m.
In this workshop, interleave your signature with a spatter of gorgeous papers that will make this beautiful book personalized to you, drawing you in again and again to further peace or a headstart on your next junk journal. You'll leave with a completely finished, long-stitch bound leather book measuring 6" x 3.5". All materials and supplies will be provided.
Coffee Tasting                                                                  with Brandon Despain of Caffe Ibis
Saturday, August 14, 11 a.m.
Come learn about what makes coffee taste like coffee. With over 800 different volatile aromatics that can contribute to coffee flavor, it can be overwhelming to parse through the taste. Brandon Despain from Caffe Ibis will guide you through tasting coffee and will clearly define common flavors. Participants will learn and taste exactly what floral, fruity and earthy notes are and how they translate to your morning cup. Participants will receive a 12-oz. bag of Caffe Ibis coffee.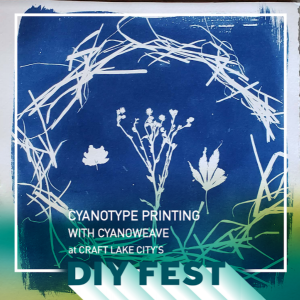 Cyanotype Printing                                                         with Sarah Liz May of Cyanoweave
Saturday, August 14, 1 p.m.
Workshop attendees will learn about the cyanotype process, the meditative aspects of the mandala motif, and get to create 3 of their own custom art pieces to take home. All materials will be provided but feel free to bring some of your own botanicals and found objects to incorporate into your designs if you would like! This class will be led by local artist, weaver, and storyteller Sarah May (she/her), who has been creating cyanotypes for 10 years as a part of her artwork. Visit her booth at the DIY festival under her artist name Cyanoweave!
Botanical Burn Wands                                                     with Carli Miller of Wild Meraki
Saturday, August 14, 3:30 p.m.
Carli Miller, owner of Wild Meraki Creations in Ogden, UT, is a small-batch, plant-potion artisan and herbalist. She will be guiding you through the class and assisting in tying your intentions into a beautiful wand of sacred plants, flowers and crystals. You will learn about the sacred art of smoke cleansing, clearing your home and aura, the different properties and benefits that each herb offers and the senses they awaken. This botanical wand will be a creation you can get many uses out of through self-care rituals at home.

Forged-Metal Ginkgo Leaf Earrings                                 with Cyntia Wainscott of Cynthia W. Jewelry
(Taller de Aretes Botánicos con Metal)
Saturday, August 14, 5:30 p.m.
Cynthia, a Peruvian native, will teach you the ancestral Andean methodology on which she bases her metalworking process and design philosophy. Participants in this workshop will hand-forge metal like copper and bronze onto real leaves, then top with a gorgeous patina finish. Cynthia demonstrates that you don't need to have fancy tools to create exquisite art, just a healthy dose of creativity! Our instructor will be conducting the workshop in both English and Spanish.
These hands-on workshops will be held during the DIY Festival at the Utah State Fairpark, just west of the Dreamers Building. To enter the DIY Festival grounds on the day of your workshop, please use the electronic workshop ticket you received via email. Further details are available on the ticketing pages, and instructions for navigating the event and venue will be emailed to you at the time of registration.
The DIY Festival at the Utah State Fair Park is located at 155 N 1000 W in Salt Lake City. You can enter through the North Temple entrance located across from the TRAX station, or the Lot C entrance off of 200 N and 1000 W. Once you arrive, ask a gate cashier to direct you to the Workshop Area.