Craft Lake City is thrilled to present the Leave Your Mark Park Kids' Area Presented By Mark Miller Subaru at the 13th Annual DIY Festival! This is the third year that Craft Lake City has partnered with the local Subaru retailer to bring crafts, games, and fun to the Kids' Area at the Festival!
The Leave Your Mark Park is a hands-on play area for children to learn about the power of "giving back." Inspired by the mission of the Subaru Love Promise, the Leave Your Mark Park invites children of all ages to participate in a variety of fun, interactive DIY crafts, while parents/guardians and older siblings learn more about each of Mark Miller Subaru's 2021 Love Promise charity partners. Those partner organizations include: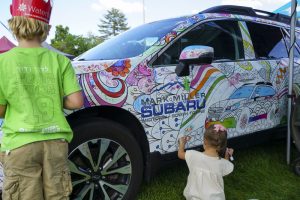 Upon entry to the Leave Your Mark Park Kids' Area, each child will receive a passport. Visit all seven craft stations to get the passport stamped, and then drop it off at the Mark Miller Subaru station for a chance to win some family-friendly, fun giveaways!
Don't miss the other exciting activities in the Leave Your Mark Park Kids' Area presented By Mark Miller Subaru. Two bounce houses and Festival Hair with fun designs, done by our invaluable volunteers. Purchase tickets inside the Kids' Area at our Craft Lake City ticketing booth and you're off for a good time!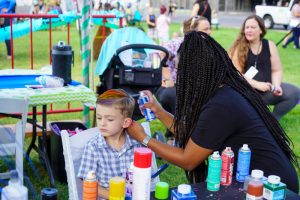 BOUNCY HOUSE: 1 TICKET ($3)
Kids 10 and under can enjoy some kid time
jumping in one of two bouncy houses—one for
the littles and a second for larger kids.
COLORED CRAFT HAIR: 2 TICKETS ($5)
Fun colors! Sparkly Spikes! Glitter!