What is the DIY Fest?
The Annual Craft Lake City DIY Festival is Utah's largest local-centric art, music, science and technology festival. The DIY Fest features hundreds of local artisans, vintage vendors, foodies, youth entrepreneurs, performers, & STEM exhibitors over three days the second weekend of August.
When & Where? 
The 14th Annual Craft Lake City DIY Festival Presented By Harmons will take place at the Utah State Fairpark:

155 1000 W, Salt Lake City, UT 84116
Friday, August 12, 2022: 5 P.M – 10 P.M.
Saturday, August 13, 2022: 12 P.M. – 8 P.M.
Sunday, August 14, 2022: 12 P.M. – 6 P.M.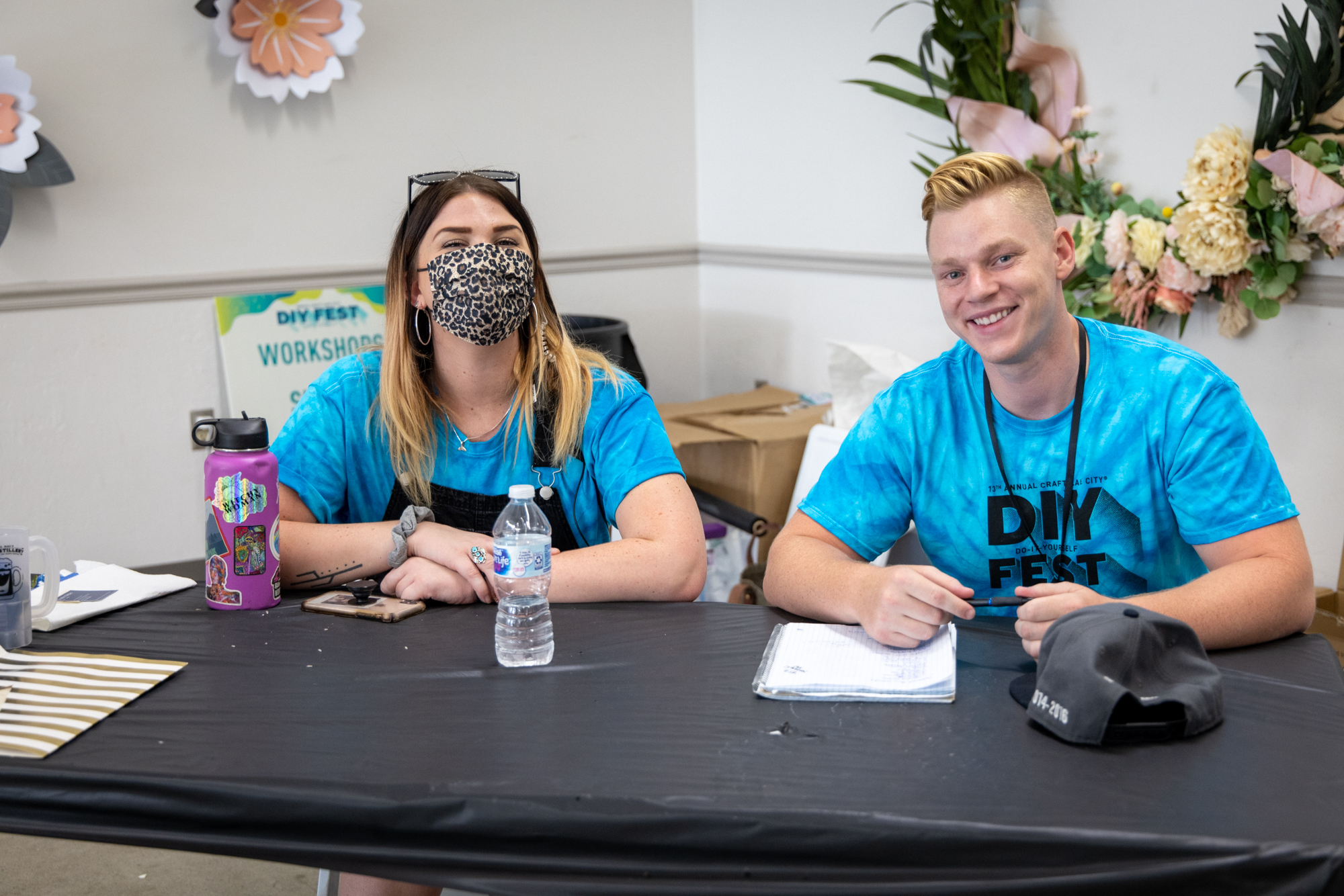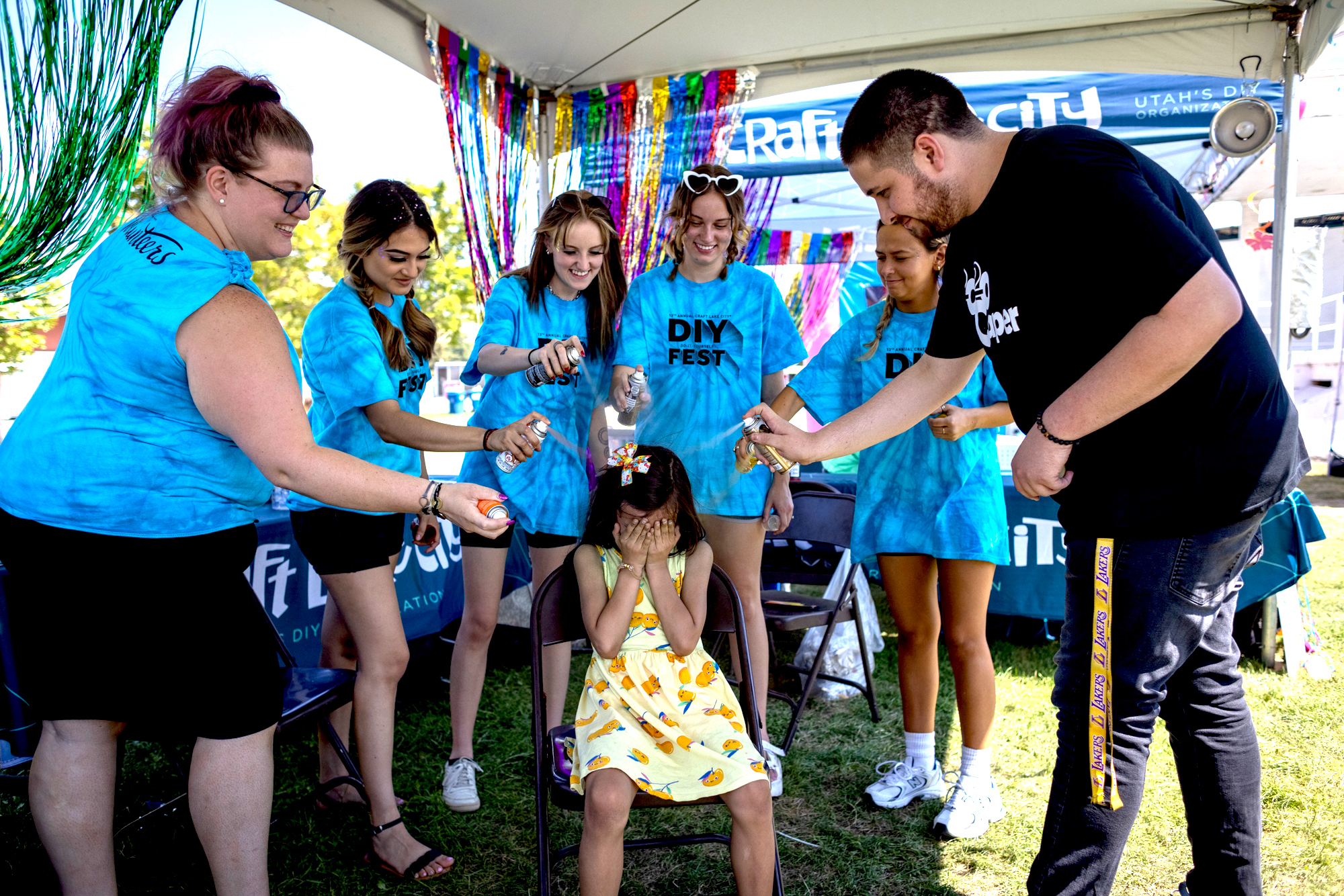 Frequently Asked Questions:
Are volunteers needed for the 14th Annual Craft Lake City DIY Festival®?
Yes! We're always in need of volunteers for the Festival. As our Festival grows each passing year, so does the number of volunteers needed. Contact us to join our team today!
What precautions are being taken to prevent the spread of COVID-19?
Regardless of vaccination status, all volunteers will be required to wear a mask both indoors and outdoors at the DIY Fest. Additionally, hand sanitizer will be provided throughout the venue.  We thank you in advance for helping us keep our community safe!
When do I need to be available to volunteer?
Volunteers are able to choose from a variety of shifts so that you can find something that best fits your schedule. The dates of the Festival are August 12-14th. Volunteer shifts are available the week of the Festival, during and 1-2 days after. Generally, each shift lasts 3-4 hours. Volunteers are able to help with Festival setup on August 12th and teardown of the Festival on August 14th.
I want to volunteer, but I'm not available on the days of the Festival. Are there any other opportunities?
Yes, we have numerous volunteer positions available to help us prepare for the Festival, or as part of our year round volunteer Marketing Team. Email us at volunteer@craftlakecity.com for more info!
How do I apply to be a volunteer at the 14th Annual Craft Lake City DIY Festival?
How will I know if I've been accepted as a volunteer?
After submitting your volunteer application form you'll be contacted by one of our Volunteer Coordinators. You may also call us at 801.906.8521 or email us at volunteer@craftlakecity.com.
What does a volunteer actually do?
We have a variety of positions available to fit everyone's interests, personality and skills. Our volunteers help with things like artisan load in/out, our kids craft area, Harmons VIP Lounge, Green Team, and the Google Fiber STEM building.
What volunteer positions are available?
Artisan Load-In or Load-Out

Bag Stuffer

Beverage Team

Festival Load-In, Set-Up, Load-Out or Tear Down

Flex Volunteer

Google Fiber STEM Building Assistant Manager, Building Liaison, Community Engagement Volunteer, STEM Craft Assistant or STEM Load-In

Green Team

Kid Row Volunteers, Kid Row Load-In & Setup, or Kid Row Load-Out

Kids' Area Assistant Coordinator, Guide, or Safety Enforcer for Bounce House

Volunteer Check-in Hosts

Programs & Info Ambassador

Harmons VIP Lounge Set-Up Team and Tear Down Team
Why should I volunteer?
Utah has the highest annual volunteer service hours in the country, and this amazing event would not happen without your support! By donating your time, you're helping to support Utah's local artisans and connect them with our community. We couldn't do this without you!
What perks do volunteers receive?
Volunteers receive fun and exciting benefits based on the number of shifts they work. Benefits include free soft drinks, meal vouchers, a commemorative Craft Lake City t-shirt, and admission tickets to the DIY Fest. Volunteers are also eligible to win handcrafted items donated by our talented pool of Craft Lake City exhibitors!
Are there any meetings or trainings involved?
Yes. You will be asked to attend at least one training session two weeks before the DIY Fest. Training sessions are generally one hour, and there are various times and days to choose from.
I am a returning volunteer. Do I still have to attend meetings/training?
Yes. Elements of our festival planning change from year to year, so yearly training is key for all of the information you'll need to prepare yourself for the big event. Training sessions are generally one hour and transpire two weeks before the DIY Fest.
What is the minimum number of hours required to volunteer?
We ask volunteers to sign up for a minimum of one 3-hour shift, but you are welcome to go above and beyond! There are numerous perks to signing up for two or more shifts.
What if I'm interested in more than one position or shift?
We highly encourage our volunteers to sign up for multiple shifts and explore what the DIY Fest has to offer by trying out different positions. We offer a variety of perks to show our appreciation for volunteers that help for multiple shifts or for more than one day.
I represent a company and am interested in finding out how my employees can volunteer for the Craft Lake City DIY Festival. Whom do I contact?
We love integrating businesses into our volunteer process! Contact us at volunteer@craftlakecity.com to learn how your organization can help support the largest local-centric, three-day arts festival in Utah!
Is parking available to volunteers?
Parking is available in lots adjacent to the DIY Fest. Limited street parking will be available around the Utah State Fairpark, but do keep an eye on any pertinent signage when choosing your spot. A lot of street parking in that area has an enforced 2-hour time limit, and parking within 10ft of a driveway is not allowed in the Fairpark neighborhood (and will be subject to a ticket). The Utah State Fairpark also manages a paid parking lot on their grounds (costing $7 per vehicle per day). Due to the huge volume of participants at this event, Craft Lake City unfortunately does NOT receive free parking passes to provide to volunteers, exhibitors, or staff. We encourage our volunteers to carpool and/or utilize public transit. 
We encourage you to take advantage of Salt Lake City's public transit via TRAX or the bus and walk, bike or even carpool to the DIY Fest.
Craft Lake City has partnered with the Salt Lake City Bicycle Collective to provide complimentary bike valet services. Tipping the bike valet is encouraged!
Is there an age limit for volunteering?
Volunteers must be at least 12 years or older. Those aged 12-16 must volunteer alongside a supervising adult.
Can I volunteer with my friend/family/person?
Yes! Volunteering is more fun with friends, so please help us by inviting your friends and family.
I need to complete community service hours. Can volunteering with Craft Lake City work towards accomplishing those community service hours?
Yes. We are a 501(c)(3) charitable organization. For every hour of volunteer service donated to us, we may sign off towards one's community service. However, it is the volunteer's responsibility to get this approved in advance by Craft Lake City and the entity requesting community service hours. A government issued ID will be required for verification purposes at the time of signing off hours.
What if I still have more questions?
We have answers! Please send us an email to volunteer@craftlakecity.com.
Become a Year-Round Volunteer!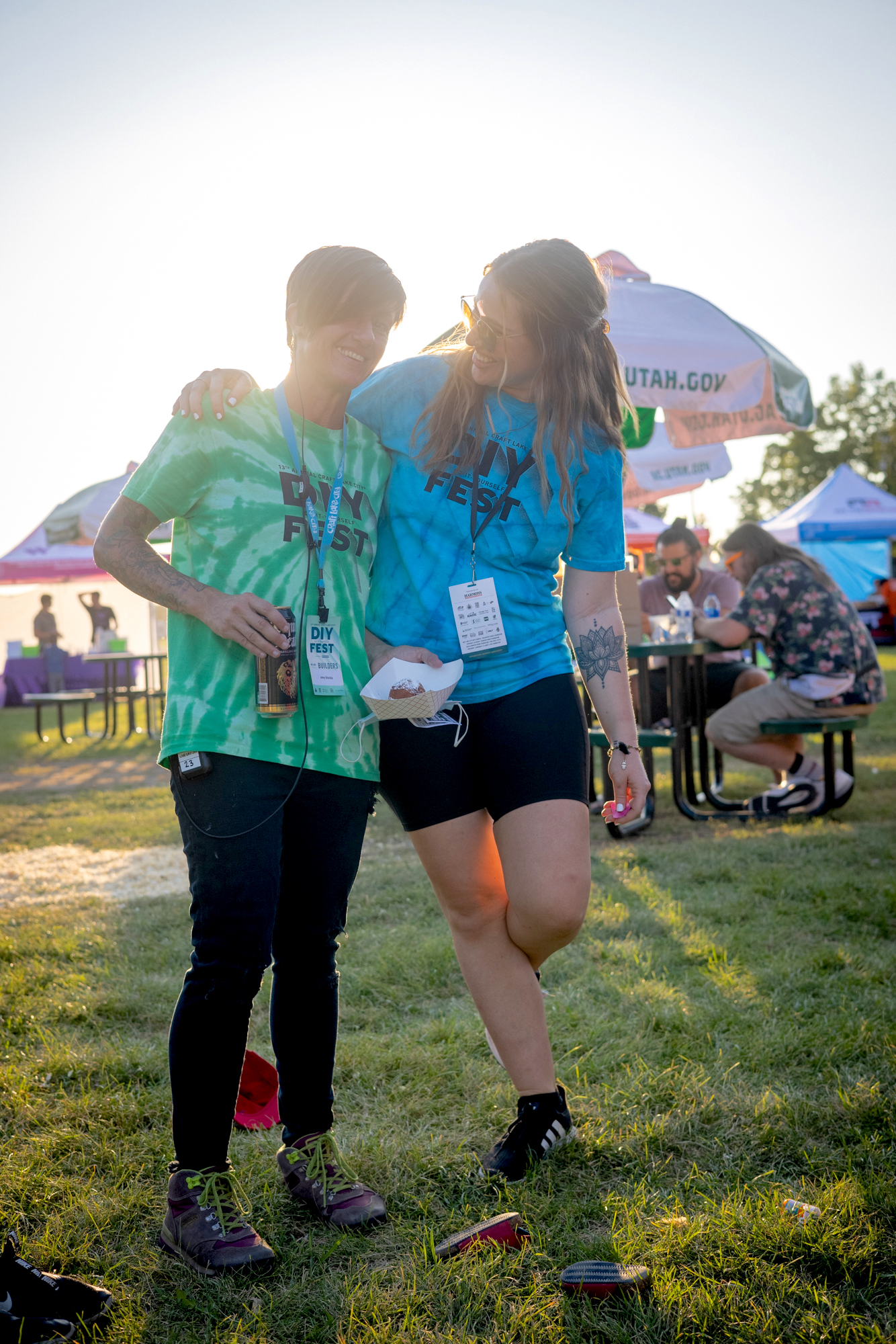 Share your time, talents and enthusiasm with Craft Lake City! Beyond our DIY Festival and Annual Holiday Market, Craft Lake City hosts year-round programming that relies on the help of volunteers to make them happen. These opportunities are part of our year-round Brand Ambassador Volunteer Program and may involve one-day events, community outreach opportunities, group projects, as well as independent projects that typically last between two and four hours. Year-round volunteer positions are available for youth 14 and older, college students, adults, senior citizens, corporate groups, friends and families!  These opportunities often occur throughout the year but are more common in the months leading up to the DIY Festival.  They include: 
Brand Ambassador Volunteer Program

In-office administrative help in our Salt Lake City office

Joining our Decoration Committee to prepare decor for our big events

Photography and videography opportunities

On location workshop assistance

Production opportunities

Flyers and mailers distribution

Art installation and curation opportunities

Area schools STEM night events

Community outreach events

Youth groups and corporate group opportunities

Social media content building

PR and copy editing opportunities
Join a passionate team of volunteers in helping connect community members with local artisans. Click below to become a year-round volunteer today!