Tent & Weight Requirements for DIY Fest Exhibitors
New this year, the Utah State Fairpark has updated their tent/weight requirements for all outdoor vendors. In an effort to support our exhibitors in meeting these mandatory requirements, we've compiled the necessary safety information for our outdoor exhibitors to correctly set up your equipment. Please review the requirements and tutorial below and come prepared to meet the new requirements at the 14th Annual Craft Lake City DIY Festival Presented by Harmons.
Requirements
As an outdoor exhibitor, you are responsible for bringing your own tent & weights for the DIY Fest. 

Exhibitor tents MUST be weighted down utilizing

40 lbs of weight on each leg of the tent.

Weights MUST be secured to each leg of your tent

Exhibitor shall ensure that their canopy and display equipment does NOT extend beyond the booth space they have been assigned; this includes any rails, stands or additional equipment.

Exhibitors are responsible for ensuring that all furniture, walls, tables, products and other materials have been properly and safely set up. (Craft Lake CIty is not responsible for any damaged merchandise or personal belongings as a result of poorly secured items.)
Please note: Chairs and tables are not provided by Craft Lake City unless otherwise arranged in advance. All other equipment, extension cords, power strips, lighting, hand trucks, booth walls, linens, tents, weights, etc. are the vendor's responsibility.
Tutorial
Please review the video and/or written instructions below to learn how to properly secure your 40 lbs of weight to each leg of your tent. 
Written Instructions
Gather

at least 40 lbs

of weight to secure each of your (four) tent legs.

If you have two 20- or 25-lb weights, you'll need to tie them together prior to securing them to your tent.

Attach one end of your rope to your weight(s) with a simple double knot; you will need at least 15 ft of rope for a 10 ft high tent for each of the tent corners (shorter tents will require less rope to secure weights).

Leave your weights on the ground, placing them as close as possible to the base of the tent leg you'll be securing them to.

Wrap the rope around above the joint where the leg meets the gable (in the corner of your tent frame). Tug your rope taut.

A few inches below the joint of your tent frame, tie a trucker's hitch knot (see below graphic) in the length of rope that is connected to the sandbags to create a loop

Bring the loose end of the rope through the loop & pull taut

Holding the two ends of rope together at the loop to remain taut, tie a few simple knots above the loop to secure the pieces of rope together 

Once all four legs have been secured, check your work to make sure your tent isn't going anywhere

Give yourself a pat on the back for developing some new knot tying skills and have a great DIY Fest!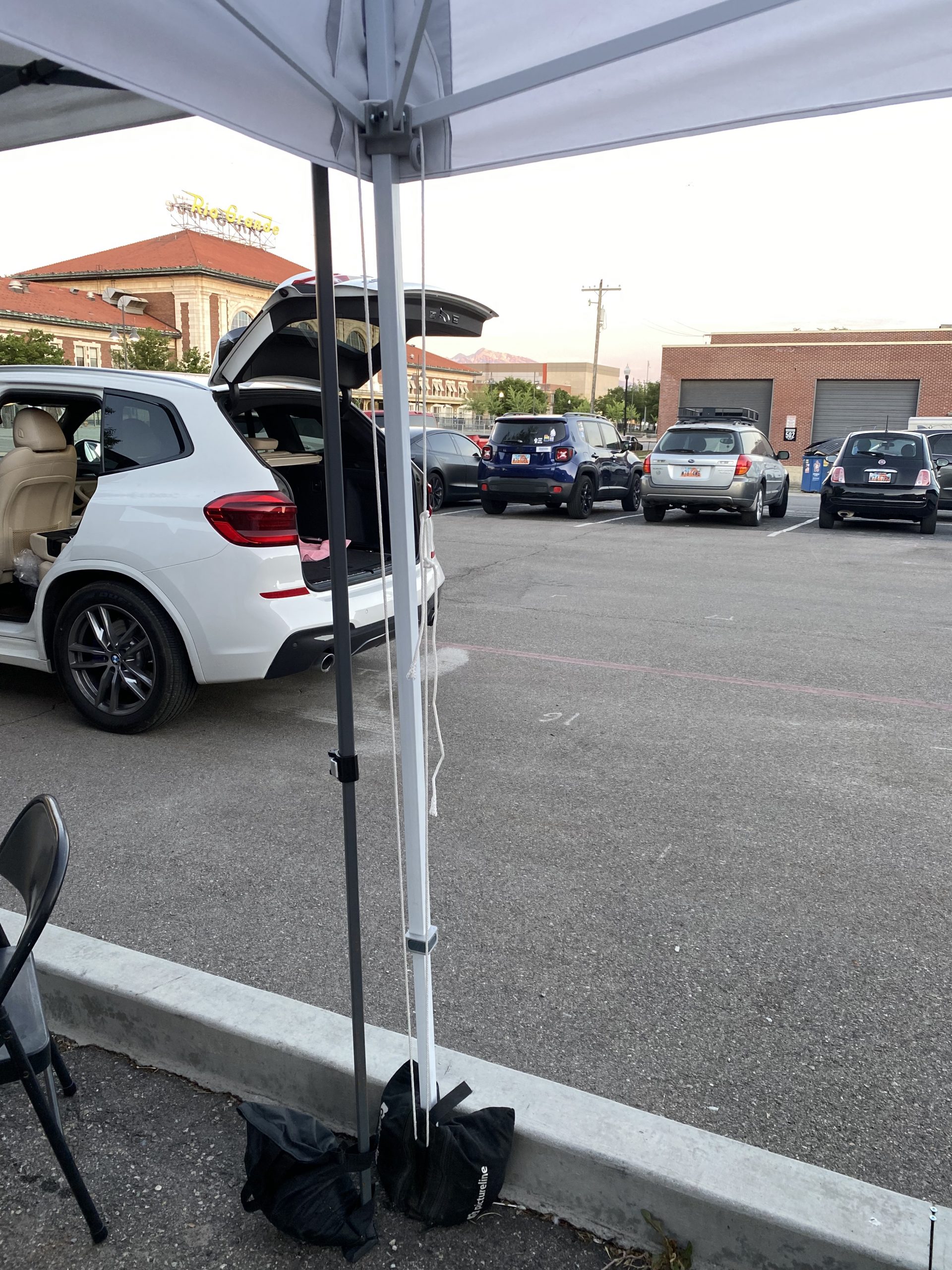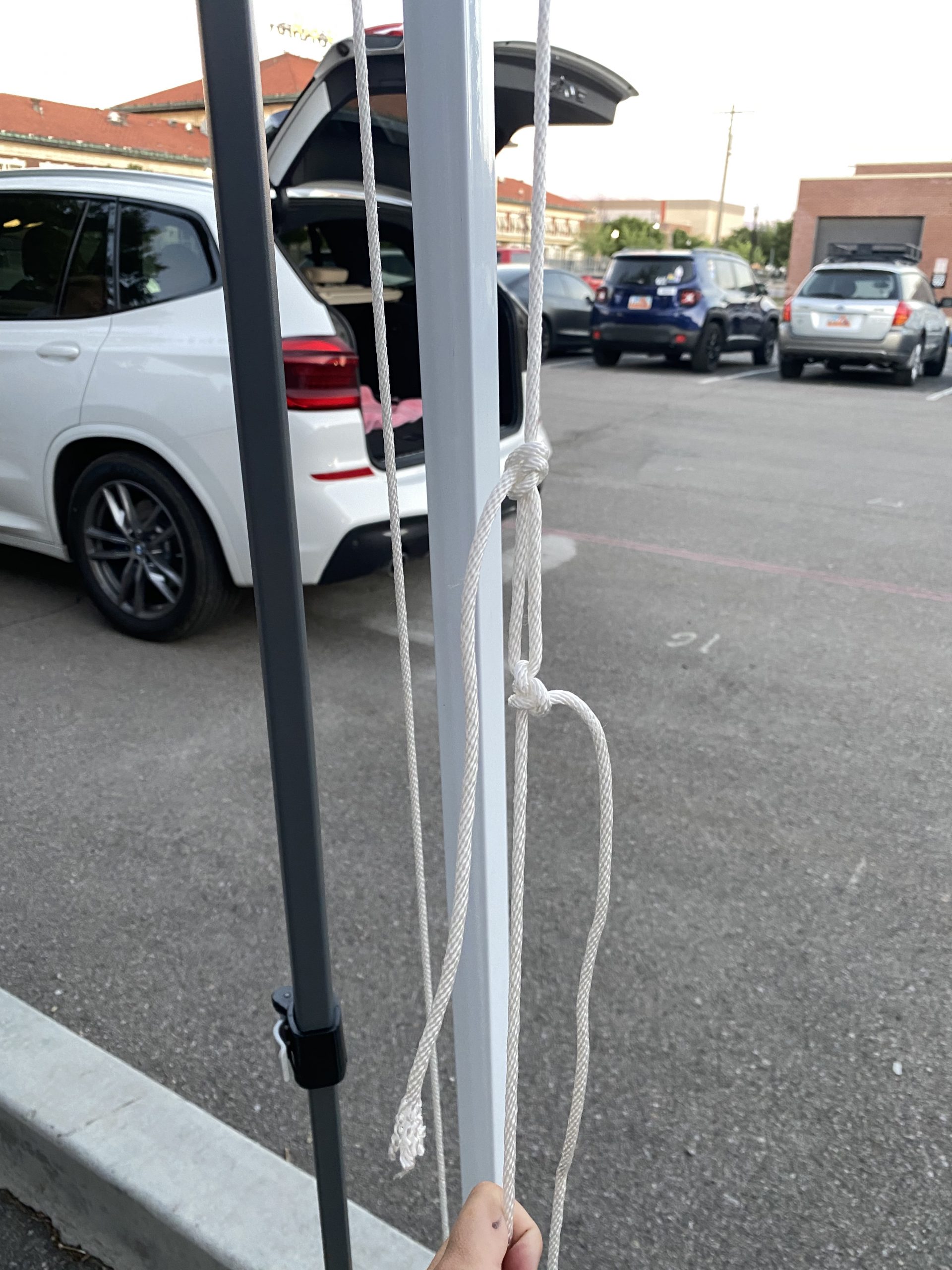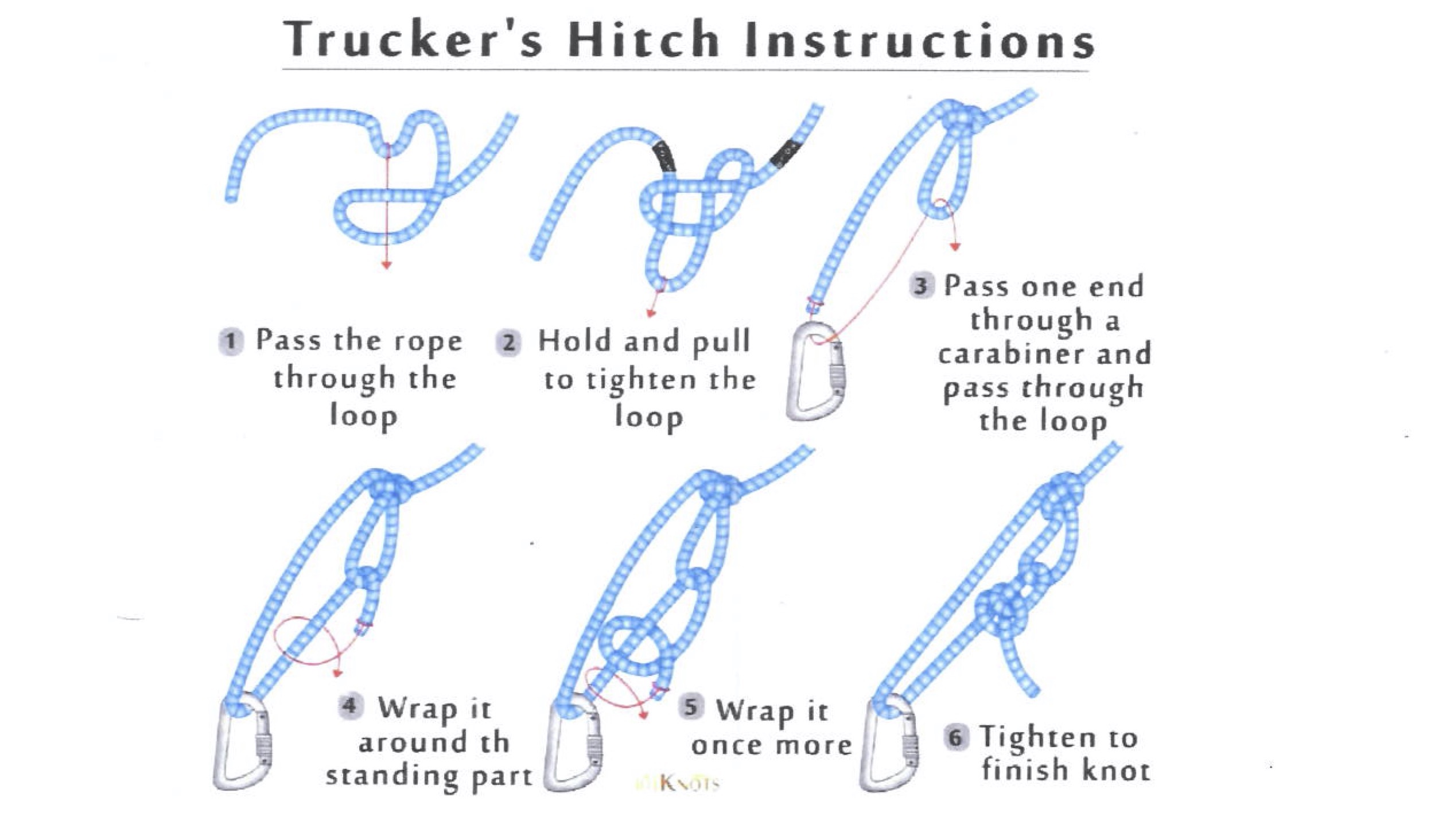 We encourage you to practice your tent setup at home prior to the fest to make sure you feel confident in completing your setup before we open to the public.