With a history grounded in the roots of Utah, Harmons is proud to be a local neighborhood grocer. From our 1932 beginnings as a small fruit stand started by George and Irene Harmon, we've evolved into a company with 19 grocery stores across Utah. But we have never forgotten who we are or where we came from. 
The reason Harmons is successful and thriving has everything to do with our community. It's our customers, food producers, the growers, the crafters. It's our associates who embrace our values. It's our partners who invest in our local community. We are local, and always have been, and through the years have come to understand community is a powerful thing. 
With that realization we have chosen to carry more than 3,600 local products in our stores. And every year that number goes up.
You can learn more about our local partners from the Taste of Harmons Podcast where local makers join our hosts Chef Lesli Sommerdorf and Brandon Young to discuss all things food and more. 
In the "Let's Talk Local with Todd" episode, Todd Jensen, the executive vice president of sales for Harmons, shares stories of the opportunities he's had to interact with local producers. 
Shopping and buying local has a huge impact on the Utah environment and economy. 
Purchasing goods produced in our local community cuts down on food miles, with no need for overseas shipping or long truck trips. This ultimately cuts down on fuel consumption and air pollution.

Because Harmons carries so much local produce and other products, you have easy access to local products all in one location, cutting down on your personal carbon footprint, with everything you need available in one place.  

By buying and eating local, consumers are able to enjoy produce that is fresh and nutritious. Many local producers pride themselves on keeping their product organic, hormone free, and pesticide free.

Buying local means Utah farmers can continue to own their land, and don't have to sell out to big developers.

Buying local is supporting the community by putting people to work within your local area.

It ensures the local economy stays vibrant and thriving.

It helps small businesses stay afloat, without having to try to compete nationally or globally.

It creates jobs.

It helps create a local supply chain which in turn keeps money in your community.
In addition to all the local goods we carry, we also use them in many of our made-fresh-in-store items. For example, Redmond Real Salt is the only salt used in our Kitchen. That affects a lot of our fresh-made items like our sandwiches on artisan bread, and soups and salads that need seasoning. 
We also use Lehi Mills flour exclusively in our artisan breads, which are made fresh daily.
From artisan cheeses and craft chocolates to beard-grooming products, Utahns make and grow some of the best produce, food, drinks, and self-care products on the market. And when you head to your local Harmons to do your grocery shopping you can find them all in one place.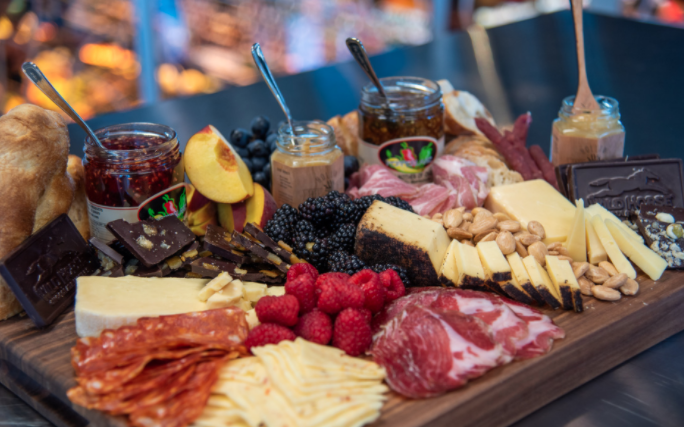 Another way Harmons supports our local community is with our Local Supplier Development Grant. Every year grants are awarded to local companies to help them grow and improve their businesses. Former grant winners include Salsa Queen, Bitter's Lab, and Day's Fresh Produce. We also have melons from Stirling Farms, Hollow Tree Honey (featured in Harmons Honey BBQ Sauce and some of our fresh-baked artisan breads), jalapeño pepper jelly from Pepperlane Preserves, and so much more.
We're excited to partner with Craft Lake City and to see all the amazing ways Utahns create, sow, and grow. Together we can do amazing things and continue to build our local community and economy. We're proud to be your neighborhood grocer.