BUILD "WALLS" IN YOUR SPACE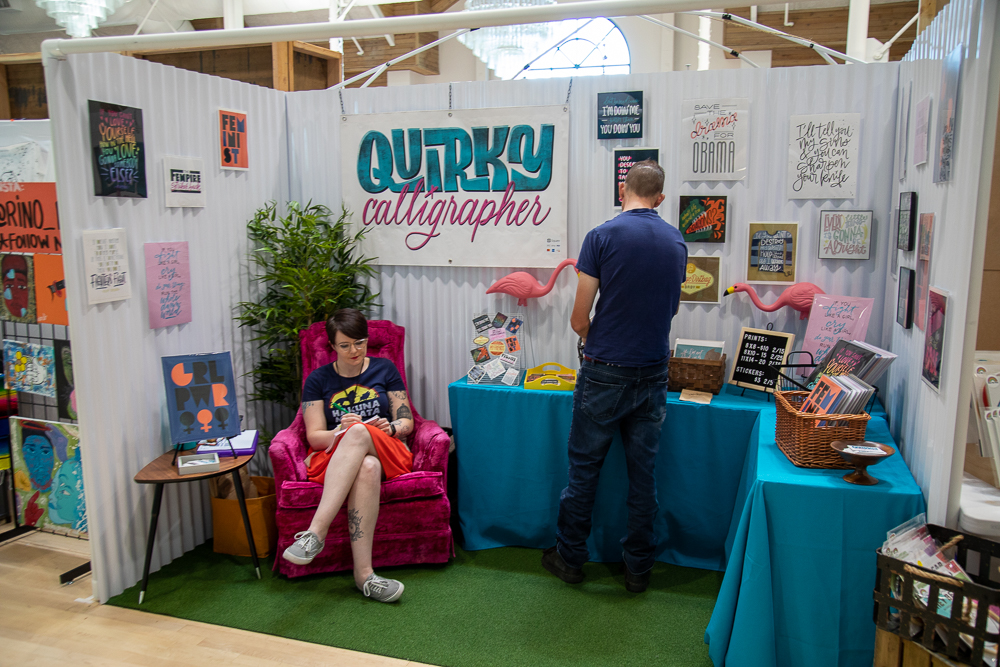 Your Holiday Market Space
Holiday Market exhibitors will be required to bring one back "wall" (side "walls" are optional) to create an indoor shop that physically separates them from other participants. The space type you have reserved for the Holiday Market (10'x10′, 5'x10′, or DOUBLE 20'x10′) indicates the amount of designated floor space you will receive. For exhibitors with 5'x10′ spaces, your space will be 5 feet deep by 10 feet wide. Below are some ideas for ways to make your artisan space feel like a welcoming, safe experience for shoppers.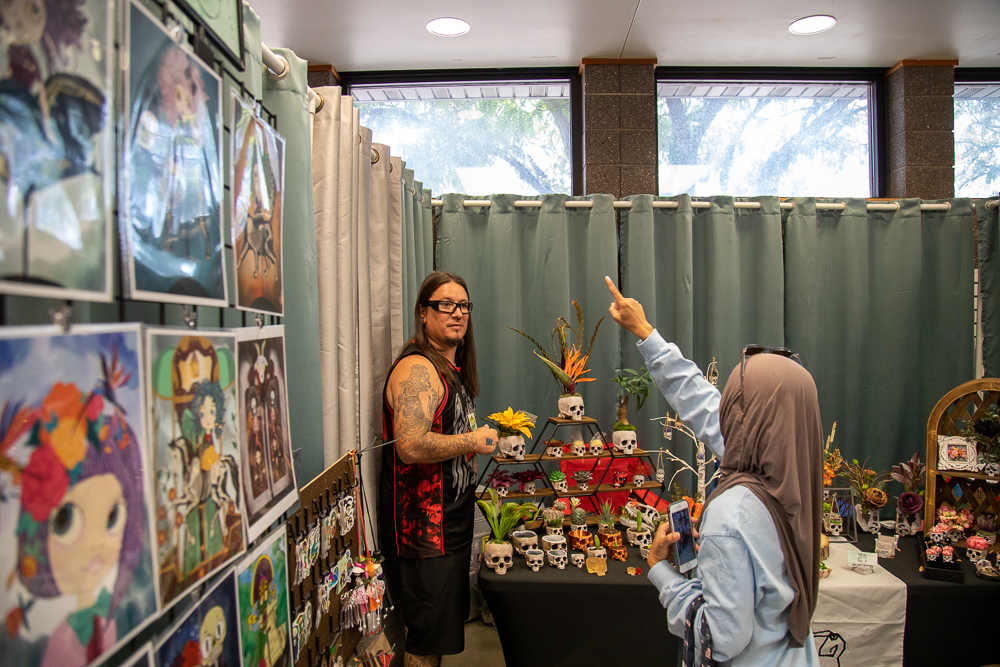 Determine what furniture you will bring:
Bring a table and chairs:

 

Unless you rented a table or chairs from Craft Lake City (you can do so by emailing artisancoordinator@craftlakecity.com), you will need to bring your own tables and chairs for your space.
Think about foot traffic and customer flow:

 

How will customers navigate your space? How can you best accommodate social distancing between you and your customers? Where and how will they pay?
Determine how you will display your merchandise: How will you present your work and your pricing? What display furniture will you include?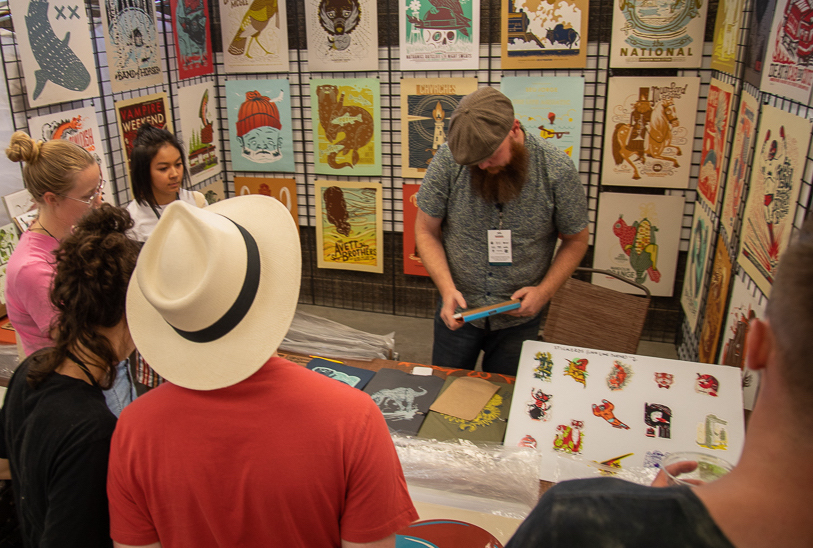 Create one back wall (and optional side walls) for your space:
Walls will not be provided by CLC, but every exhibitor is REQUIRED to bring one back wall, side walls are optional, to physically separate them from their neighbor, and to help their space feel like a small store. In order to comply with fire code, walls must not exceed 7 feet in height. The wall structure should span most of the width of your space (5 feet wide for 5'x10′ side walls and 10 feet wide for 10'x10′ side walls), but the wall, base, hardware and weights should never extend beyond the limits of your designated floor area. The wall structure will need to be secured for safety reasons with weights, and it is recommended that exhibitors consider making their walls as lightweight and portable as possible. Weights can be as simple as water jugs or sandbags. There are many options for creating walls, so feel free to get creative! Here are a few ideas:
Photo backdrop with fabric or material – these are often adjustable, which would work well if you have a 5'x10′ this year and want to expand next year! (example)
Shelving or furniture
Custom DIY walls made of wood or other materials
Pipe and drape (can be rented locally from Diamond Rental or can be a DIY project)
**Please note that tent frames will

 

NOT

 

be allowed this year.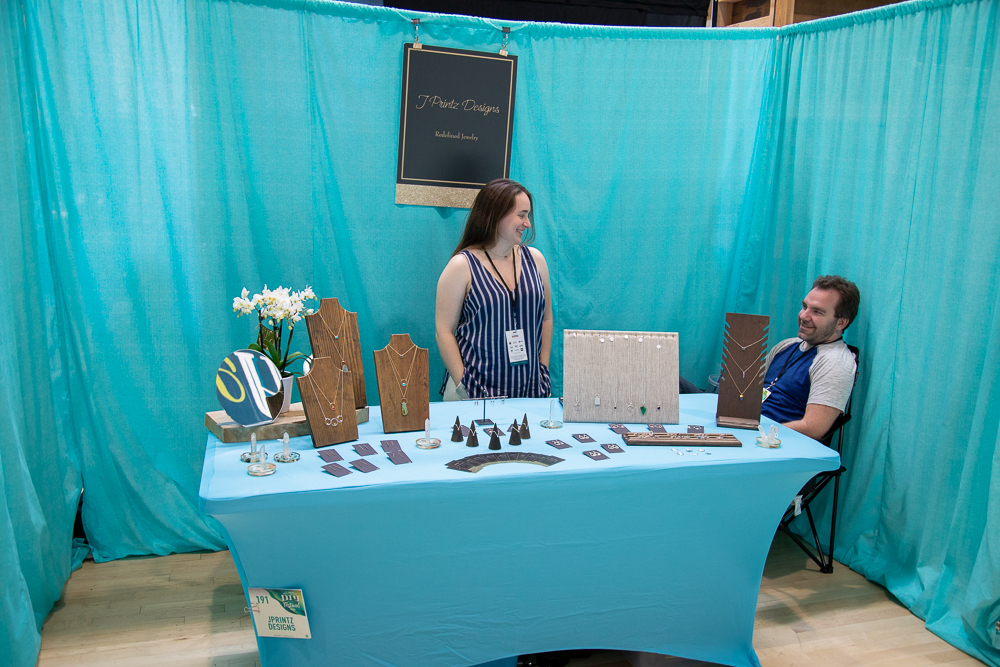 Additional items to consider:
Include signage with your branding:

 

Make a positive first impression with visually impactful branding in your signage and design. Prominently display your business name in your store space, and consider having your social media handle visible in your signage.
Reminder about bags:

 

Plastic bags cause significant and costly problems for recycling equipment and facilities, and as a result Salt Lake City's recycling program can no longer accept plastic bags. Therefore, single-use plastic bags are prohibited at the Craft Lake City DIY Festival as part of our commitment to sustainable initiatives. Festival attendees will be asked to bring or buy reusable (non-plastic) bags for their purchases.Exhibitors must please avoid providing plastic bags for customers. Recyclable paper bags or biodegradable/compostable bags made from non-GMO plant-based materials serve as good alternatives. Exhibitors may consider selling reusable (non-plastic) bags at their booth or offering incentives to customers who bring their own bags or containers. Exhibitors are encouraged to limit the use of plastic and styrofoam in packaging whenever possible.
Practice your setup in advance:

 

Prior to the Holiday Market, it is recommended that you practice your full setup at home by taping off your space (10'x10′, 5'x10′ or DOUBLE 20'x10′) and setting up your walls, furniture, display hardware and signage. Take a photo of your setup to keep on your phone and help you with setup on-site.