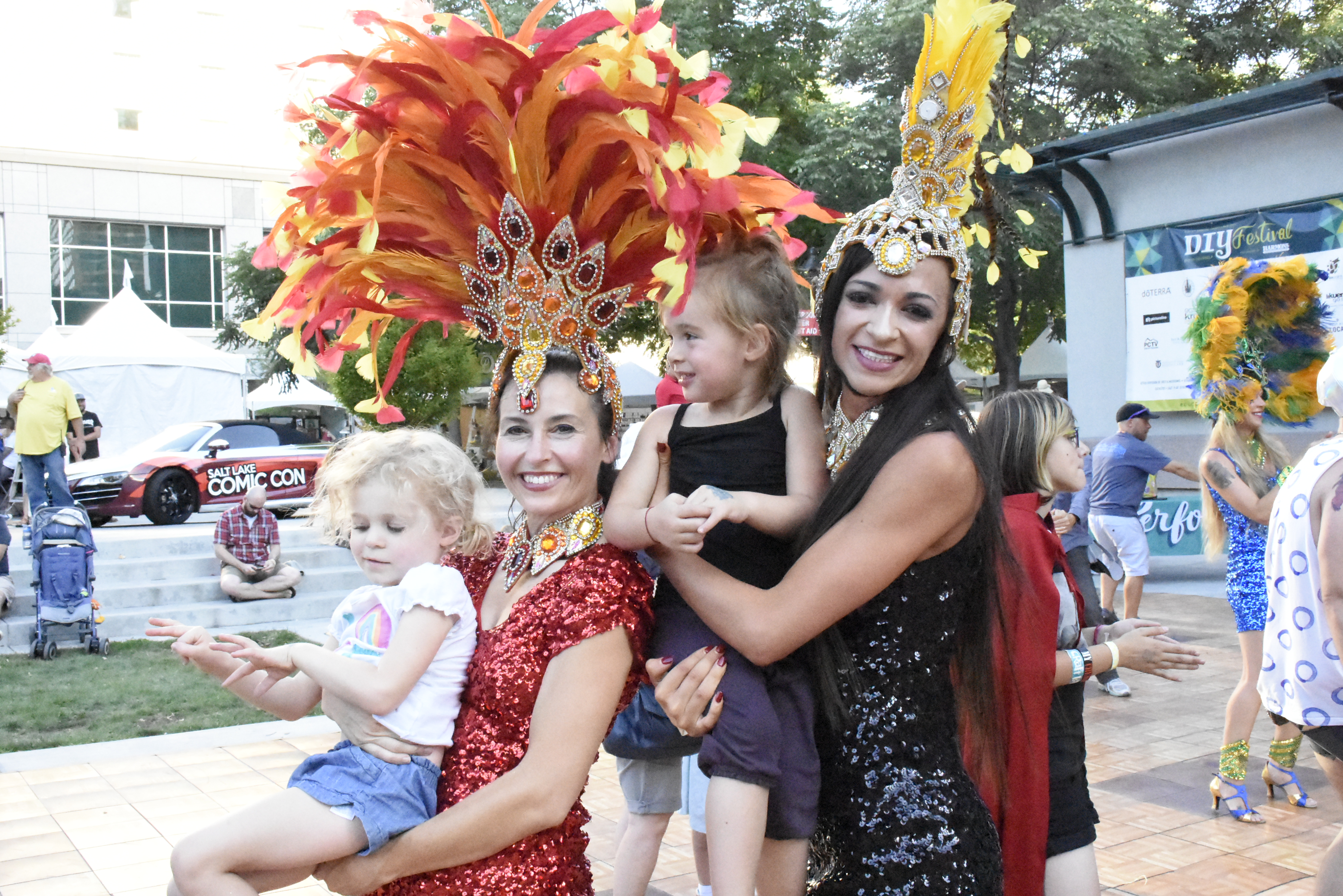 Samba Fogo is a non-profit organization that features Afro-Brazilian dancing and music. Their joyful and spirited performances honor a vibrant culture and inspire onlookers to join in. It is truly an experience and it's available right here in Salt Lake City!
How would you describe Samba Fogo?
Our mission is to study, experience and share the art of Brazilian Samba music and dance. Samba is about joy, spirit, and community, and we are driven to share the magic, connection, self-confidence and power that Samba draws out of people and communities worldwide. Our official, board-approved mission is to enrich our community and inspire others through live performance and arts education. We offer a weekly dance class, quarterly drum workshops, fire spinning workshops, and special dance workshops periodically. More info can be found on our website.
What inspired you to bring this art form to SLC?
I (Lorin Hansen) grew up here, so did my husband, Samba Fogo Musical Director Mason Aeschbacher. We met in elementary school at the Open Classroom. Both of us have deep roots and many family members here. We like living here, but in the beginning, there was no samba. Personally, once I learned that samba existed in the world, there was no accepting life without samba. We had to create what our community lacked in terms of knowledge of and engagement in Brazilian performing arts and community drum and dance traditions. However, I believe that Samba holds particularly profound truths for people in Utah—it is a graceful counter-culture to our taboo, inhibited, the polite culture of Utah—it is fierce, passionate, open-hearted and encourages us to celebrate ourselves and our bodies.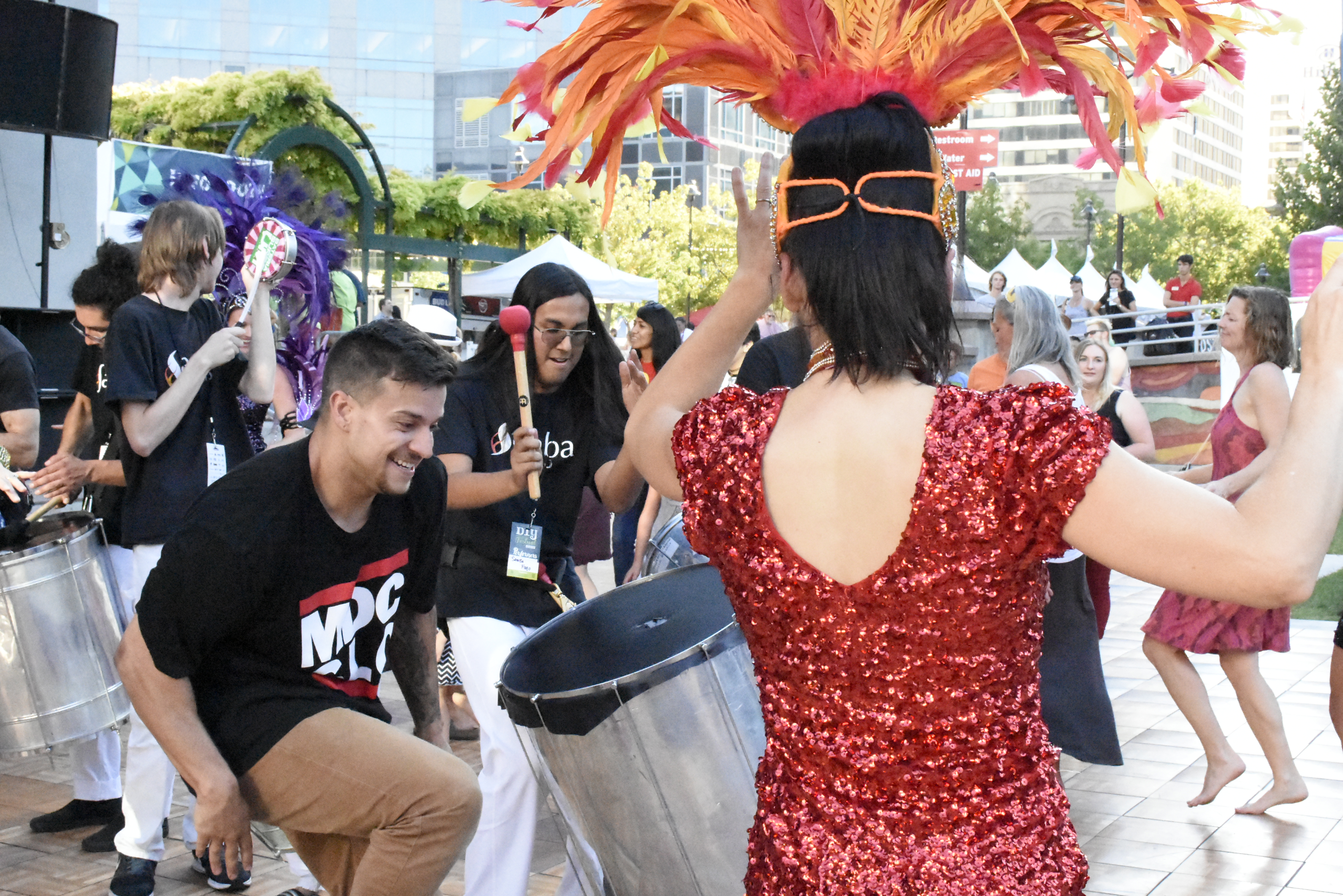 What is Samba Fogo doing for the community?
I think it brings a sense of joy, community, intensity and high-energy; hands-on art forms that encourage people to dive in, explore, play and have fun. Samba encourages people to find their more powerful and expressive selves and shed their shy or meek selves. It helps people find their voice and beat their drum loud while balancing with other voices in a musical ensemble. Samba Fogo affects the community on many levels—for audience members, it brings joy, inspiration, and wonder. For students, it brings grounding, confidence, stress relief and emotional release. For drummers and dancers in the Samba Fogo Community Group and the Samba Fogo Professional Company, it offers an artistic outlet, free education and training, and a strong community support system—it connects people in the city and helps to build lifelong friendships, mentorships and even marriages and families.
How has participating in Craft Lake City benefitted you?
Participating in Craft Lake City has helped introduce more people to Samba Fogo and let them know that we are here for them, right here in the community.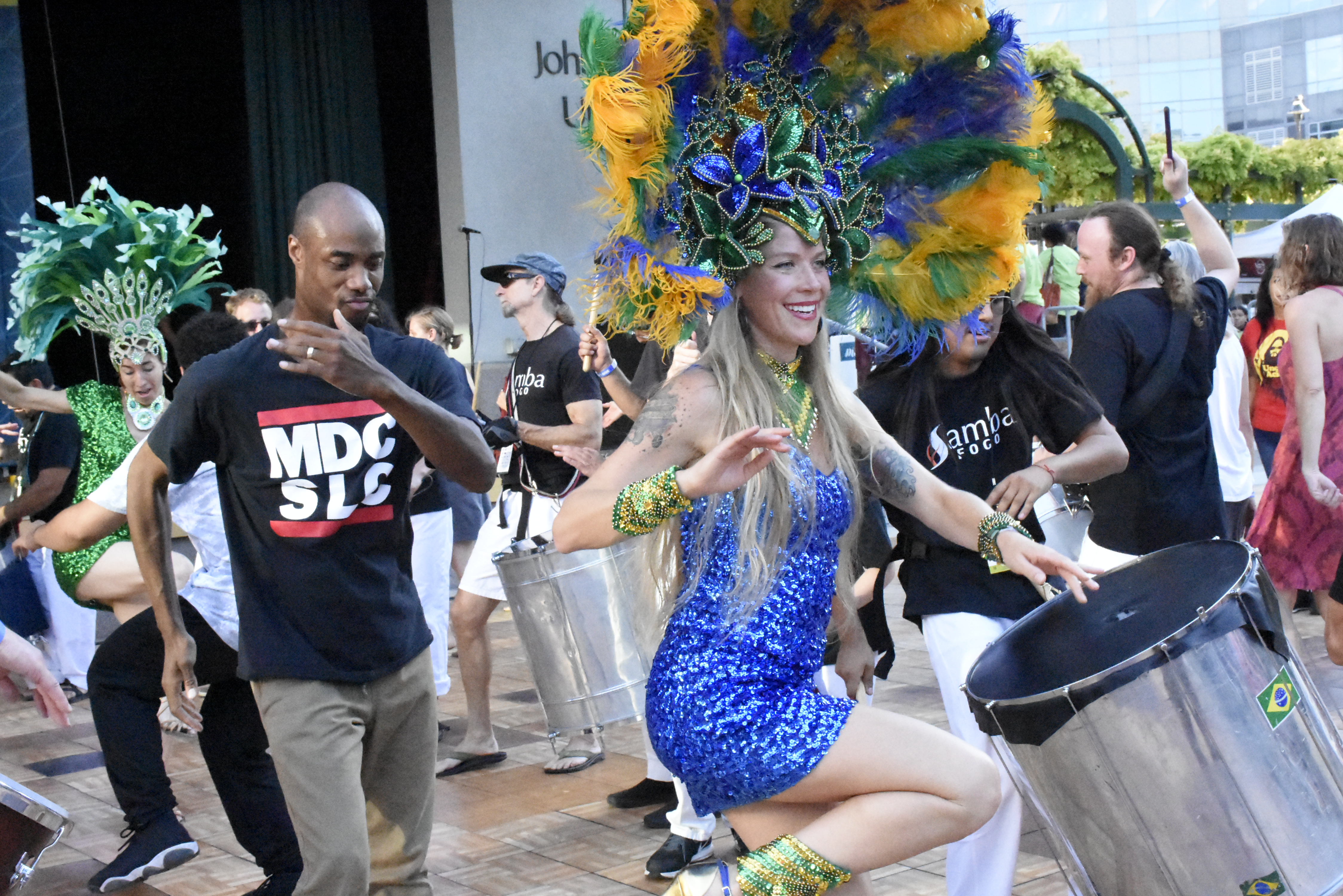 What can people do to get involved with Samba Fogo?
We offer year-round drum and dance classes, a youth summer camp and several performances and community events throughout each year, such as our annual Samba Queen Contest! People who love to drum and dance can even audition to join our Community Drumline or Dance Company! We hold about four drum auditions each year and one annual dance audition. More info can be found on our website, and people can join our email list and Facebook page to keep in touch.
How did Samba Fogo get started?
I (Lorin Hansen) founded Samba Fogo, but it was born from an earlier group—a community drum group called "Samba Gringa" which was started by University of Utah professor Jon Scoville in 1990. I joined the group as a drummer when I was studying with Jon at the U of U Modern Dance Department. He eventually passed leadership of the group to me and my husband, current Samba Fogo Musical Director, Mason Aeschbacher. Soon after that, we added a dance company to the mix, got more serious about studying and teaching and changed the name to Samba Fogo. Our 501(c)(3) non-profit organization was officially founded in 2009.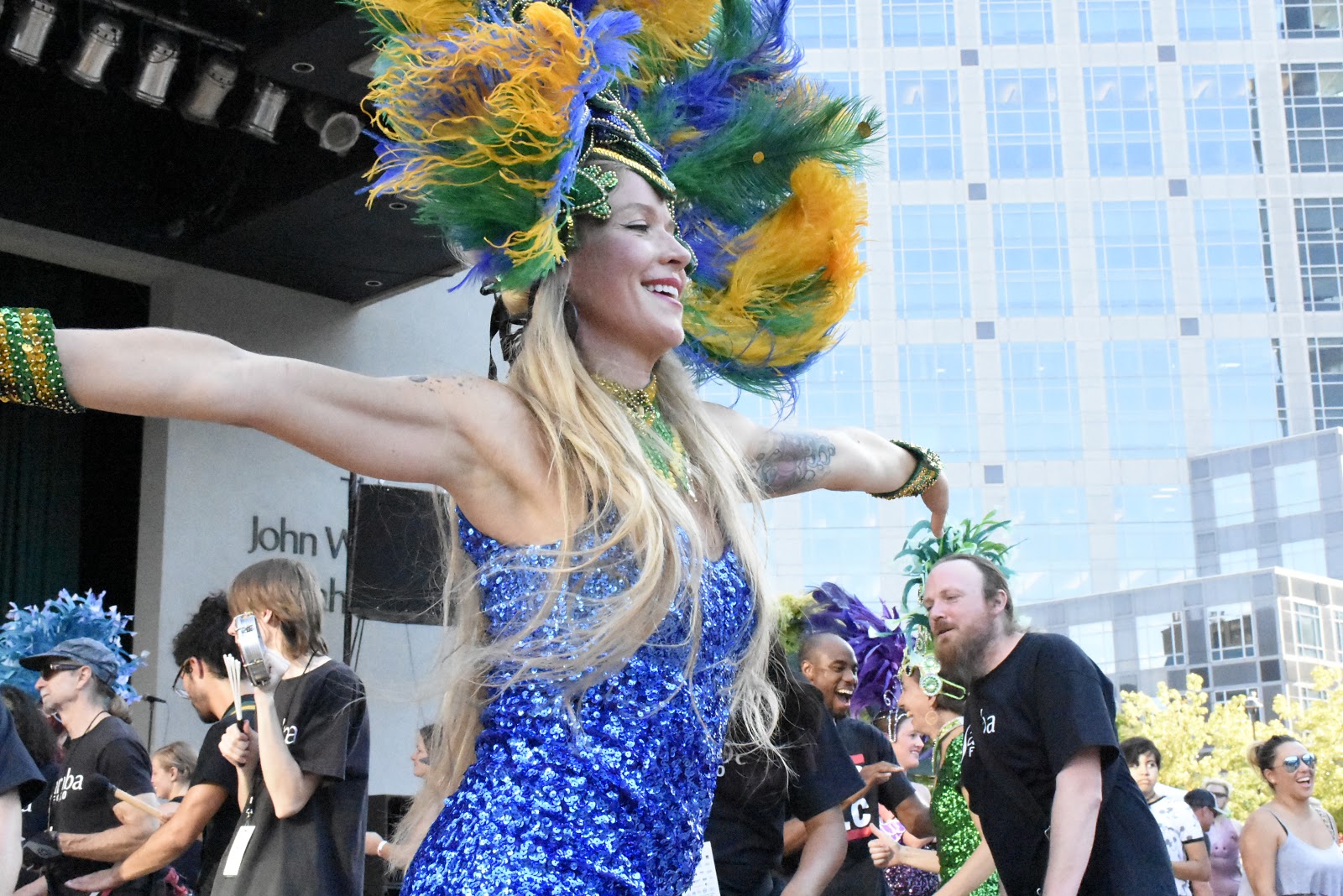 Where did the Afro-Brazilian influence come from?
We just fell in love with Samba, which has deep roots that lead to Africa. Once we started studying about Samba, we couldn't help but fall in love with all sorts of Afro-Brazilian art forms.
Tell us about your fire dancing!
When I joined "Samba Gringa" as a drummer, at the time, my profession was as a solo fire dancer for local parties and events. I was actually studying modern dance in order to further my professional fire dancing career—fire dance was my very first dance love. Once I realized how awesome samba drumming and dance were, it seemed like they would pair very nicely with fire dancing—both bring such heat, intensity and speed to a stage. So even though fire dancing is not really heavily associated with Brazil, I just thought fire and samba would go so well together. Hence the name, Samba Fogo. We involve fire as often as possible, but many venues and events that we perform at are not suited for it. I would estimate that we end up involving fire in our performances about 40% of the time.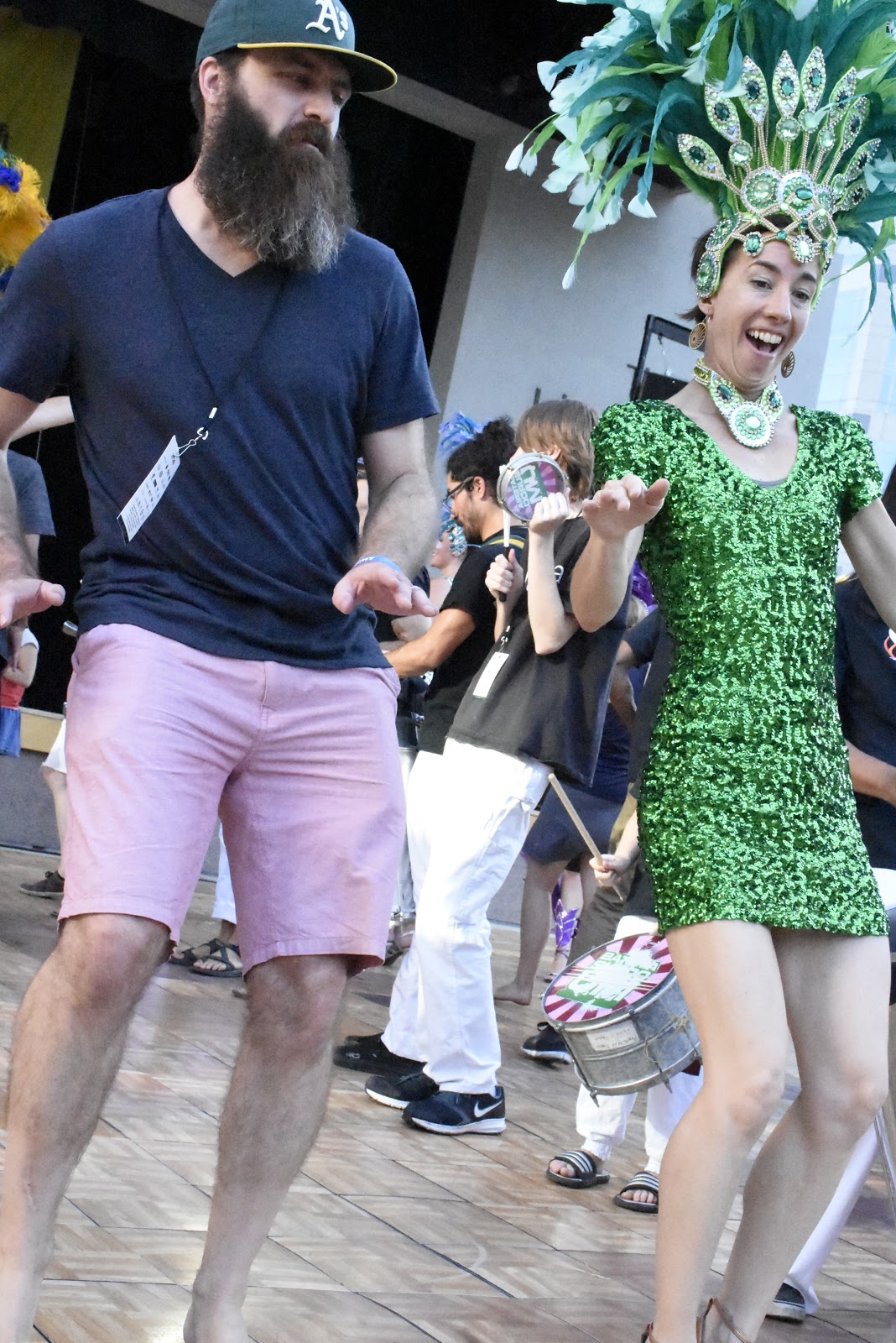 What are the main points you'd like people to know about Samba Fogo?
Samba is fun! Samba is for everyone! Even people who have never danced or played a drum before in their entire lives—we encourage everyone to get involved with us, to take our drum and/or dance classes, and come to our shows and community events. It's release, this joy, this community connection! Come join us! And for those with previous drumming or dance experience, come audition to perform with us! We are always looking for more drummers as demand for our performances and educational outreach classes are always growing. Some performance and teaching opportunities even pay, so if you have percussion experience, we highly recommend you get in touch with us!! Shoot us an email, send us a Facebook message, or come say hi at a show. We love to meet new drummers, dancers, and fans in the community.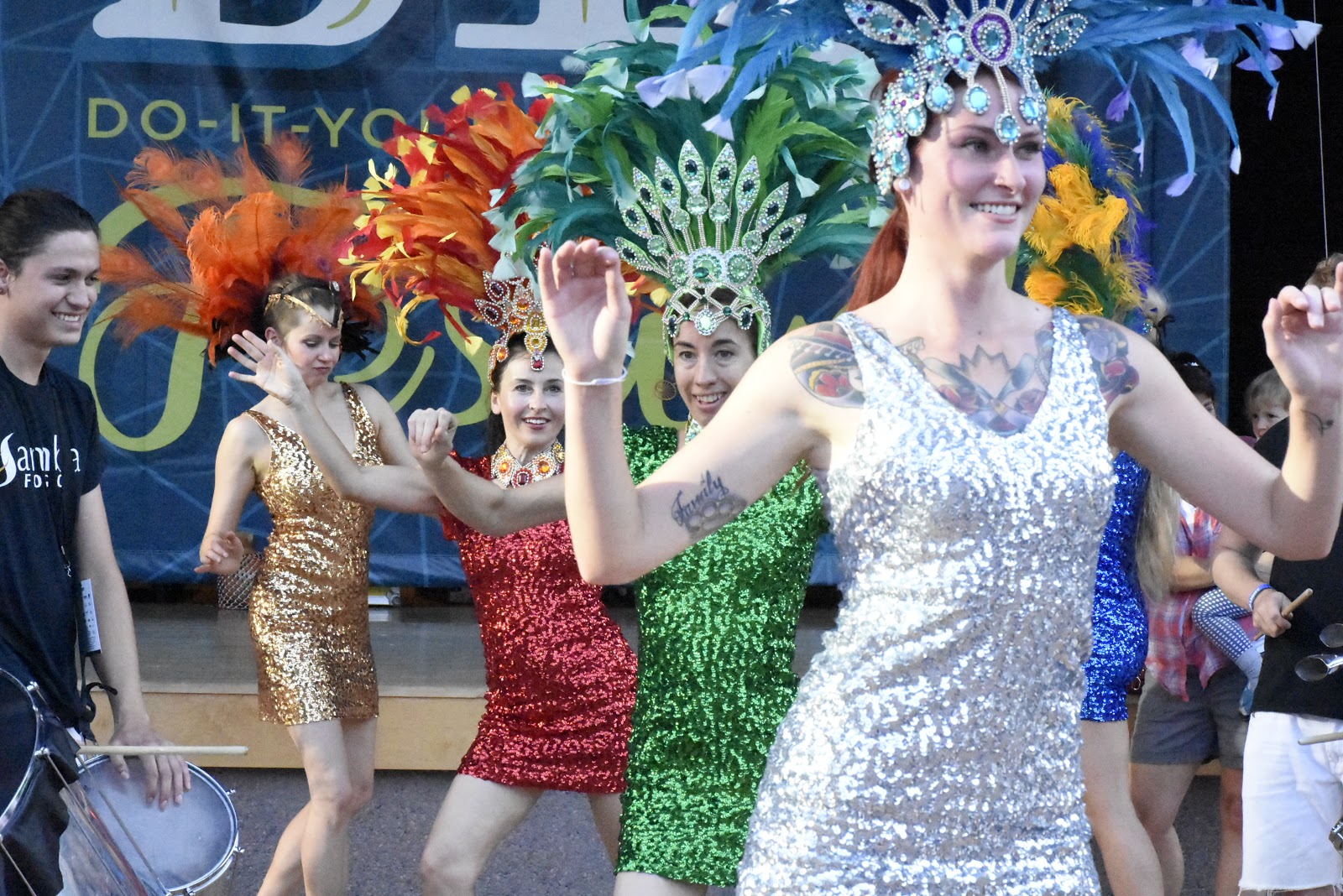 You can take classes to learn from the masters as Samba Fogo, so just enjoy their lively and impressive performances. Find all of the information you need on their website.
Photos from Madalyn Dalley.