"Craft Lake City's programming would not be possible without the many hours and individuals that take time out of their day to support our mission. With the help of our volunteers we are able to build a better and more welcoming community for all."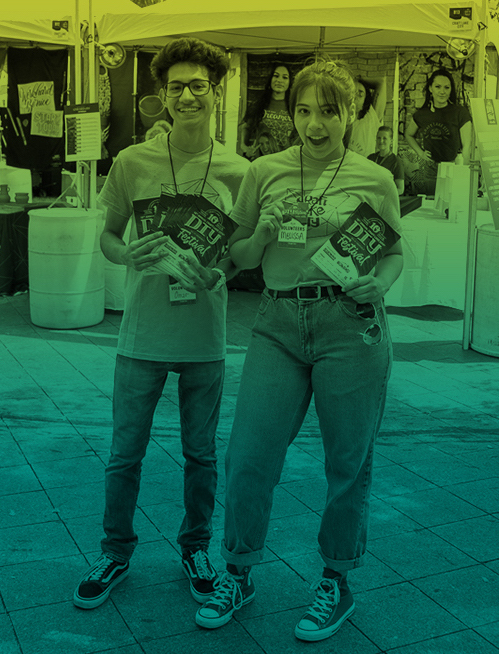 Become a DIY Volunteer!
Join us in celebrating thirteen years of the DIY Festival! Craft Lake City's DIY Festival is Utah's largest local-centric, three-day arts festival, with over 250 local artisans, DIY engineers, vintage vendors, and craft food creators, the Google Fiber STEM Building, two stages of music and dance performances, local food trucks, and approximately 20,000 attendees. Volunteers are the backbone of the DIY Festival. Since 2009, volunteers have helped to connect more community members with local artisans over the course of the Festival weekend.
Volunteer assist in all areas of the DIY Festival including helping in STEM, assisting with production and Festival set-up, artisan load-in/out, decoration install, food and beverage trailers, ticketing and door greeters, VIP Area, face painters, Kid's Area safety enforcers, Green Team, and so much more! We have something to fit everyone's likes and interest and offer shifts as short as 2-hrs long with included admission to the Festival. Click below to become a DIY Festival volunteer today! 
Become a Year-Round Volunteer!
Share your time, talents and enthusiasm with Craft Lake City! Beyond our DIY Festival and Annual Holiday Market, Craft Lake City host year-round programing that rely on the help of volunteers to make them happen. These opportunities are part of our year-round Brand Ambassador Volunteer Program and may involve one-day events, community outreach opportunities, group projects, as well as independent projects that typically last between two and four hours. Year-round volunteer positions are available for youth 14 and older, college students, adult, senior citizens, corporate groups, friends and families!  These opportunities often occur throughout the year but are more common in the months leading up to the DIY Festival. Below are a few examples of year-round volunteer opportunities:
In-office administrative help in our Salt Lake City office
Joining our Decoration Committee to prepare decor for our big events
Photography and videography opportunities
On location workshop assistance
Production opportunities
Flyers and mailers distribution
Art installation and curation opportunities
Area schools STEM night events
Community outreach events
Youth groups and corporate group opportunities
Social media content building
PR and copy editing opportunities
And much, much more! Have a talent? Let us know! Email volunteer@craftlakecity.com and share with us how you'd like to support Craft Lake City. We welcome all areas of professional expertise and would love to hear from you!
Join a passionate team of volunteers in helping connect community members with local artisans. Click below to become a year-round volunteer today!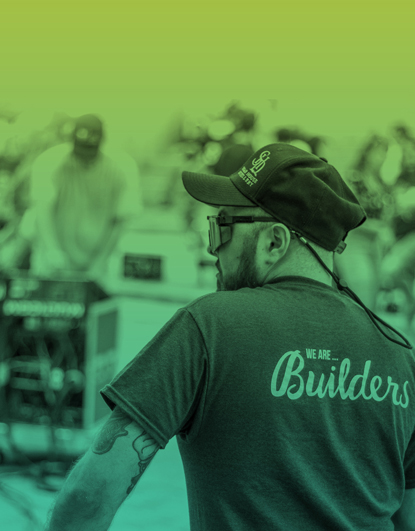 "Volunteers are an integral part of Craft Lake City and the history of the DIY Festival. Volunteers are vital to the success of our organization and without the volunteer help from our community, we simply would not exist."
Craft Lake City Volunteer FAQ
Why should I volunteer?
Utah has the highest annual volunteer service hours in the country, and our amazing events would not happen without your support! By donating your time, you're helping to support Utah's local artisans and connect them with our community. We couldn't do this without you!
Is there an age limit for volunteering?
Volunteers must be at least 12 years or older to volunteer in-person. Volunteers 12-16 must volunteer with an adult. All remote volunteers must be 18 years or older.
How will I know if I've been accepted as a volunteer?
After submitting your volunteer application form you'll be contacted by our Volunteer Coordinator. You may also email us at volunteer@craftlakecity.com.
Can I volunteer with my friend/family/person?
Yes! Volunteering is more fun with friends, so please help us by inviting your friends and family.
I represent a company and am interested in finding out how my employees can volunteer with Craft Lake City. Whom do I contact?
We love integrating businesses into our volunteer process. Contact us at volunteer@craftlakecity.com to learn how your organization can help support Craft Lake City!
I need to complete community service hours. Can volunteering with Craft Lake City work towards accomplishing those community service hours?
Yes. We are a 501(c)(3) charitable organization. For every hour of volunteer service donated to us, we may sign off towards one's community service. However, it is the volunteer's responsibility to get this approved in advance by Craft Lake City and the entity requesting community service hours. A government issued ID will be required for verification purposes at the time of signing off hours.
Accessibility:
Do you have any questions about the accessibility of Craft Lake City events or programs? Would you like to request accommodations? Please contact us by emailing amy@craftlakecity.com or calling 801-906-8521. 
*Note: While Craft Lake City cannot guarantee that all requests can be met, our team is committed to making reasonable accommodations to ensure that attendees can successfully participate in our programs.
What if I still have more questions?
We have answers! Please send us an email to volunteer@craftlakecity.com.
Volunteer Requirements
Volunteers Reports to:
Volunteer Coordinator
Length of Volunteer Appointment:
Most volunteer shifts are as short as 2-hrs long with remote opportunities to work from home.
Time Commitment:
A minimum 2-hour shift is required for all volunteer positions, but you are welcome to volunteer for more than one shift!
Qualifications:
An interest in creating meaningful experience between Craft Lake City and the community. Passion in helping the local makers movement and interest in promoting Craft Lake City's mission. Pleasant manner, dependability, eagerness to help and ability to engage with a wide diversity of individuals and age groups.
Support:
Training for all position is provided. In addition, the Volunteer Coordinator and Craft Lake City staff will be available for questions and assistance during events.
Benefits:
Representing the organization through Craft Lake City's volunteer program is a fun way to engage with the community and share your passion for the arts. You will get a behind-the-scenes experience, mix and mingle with artisans, make new friends and support a positive experience between Craft Lake City and the public. Become a part of an innovative team that will help Craft Lake City achieve our mission of elevating the creative culture of the Utah arts community!