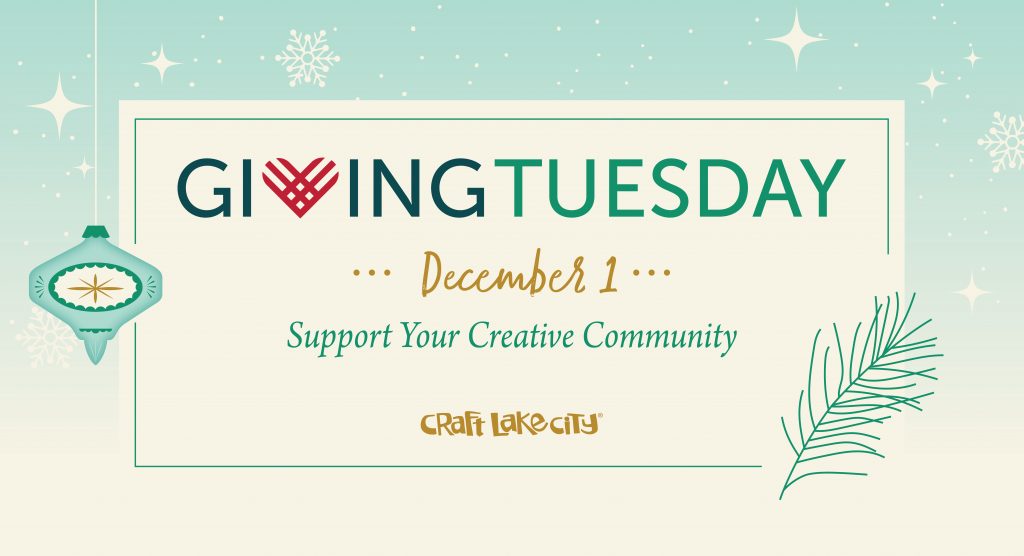 Join Craft Lake City for a Global Day of Giving and Unity on #GivingTuesday, Dec. 1, 2020
Join Craft Lake City on December 1, 2020 on GivingTuesday, a global day of giving and unity. GivingTuesday is an opportunity for people around the world to stand together in unity – to use their individual power of generosity to remain connected and heal.
At a time when we are all experiencing the pandemic, generosity is what brings people of all races, faiths, and political views together across the globe. Generosity gives everyone the power to make a positive change in the lives of others and is a fundamental value anyone can act on.
During these extraordinary times, Craft Lake City has been busy innovating and adapting our services and programming with a commitment of seeing our creative community thrive. Below are some of the projects we've been working on with partners and artists throughout the year.


If you are able, please consider donating to Craft Lake City this GivingTuesday to help us continue to offer innovative programming in support of our mission to educate, promote and inspire local artisans while elevating the creative culture of the Utah arts community through science, technology and art.
As a 501(c)(3) charitable organization, your donations to Craft Lake City are tax deductible. This year, the CARES Act allows for an additional, "above-the-line" deduction (i.e., as an adjustment in determining adjusted gross income) for charitable gifts made in cash of up to $300. If you are not itemizing on your 2020 taxes, you can claim this new deduction. Consult with your tax preparer for details.
People can show their generosity in a variety of ways during GivingTuesday—whether it's helping a neighbor, advocating for an issue, sharing a skill, or giving to causes, every act of generosity counts. This GivingTuesday, we ask that you also consider giving of your time and talents by joining the Craft Lake City Volunteer Team. We are currently recruiting volunteers to support us virtually for our upcoming Online Second Annual Craft Lake City Holiday Market Virtual Meetups on December 11 & 18.