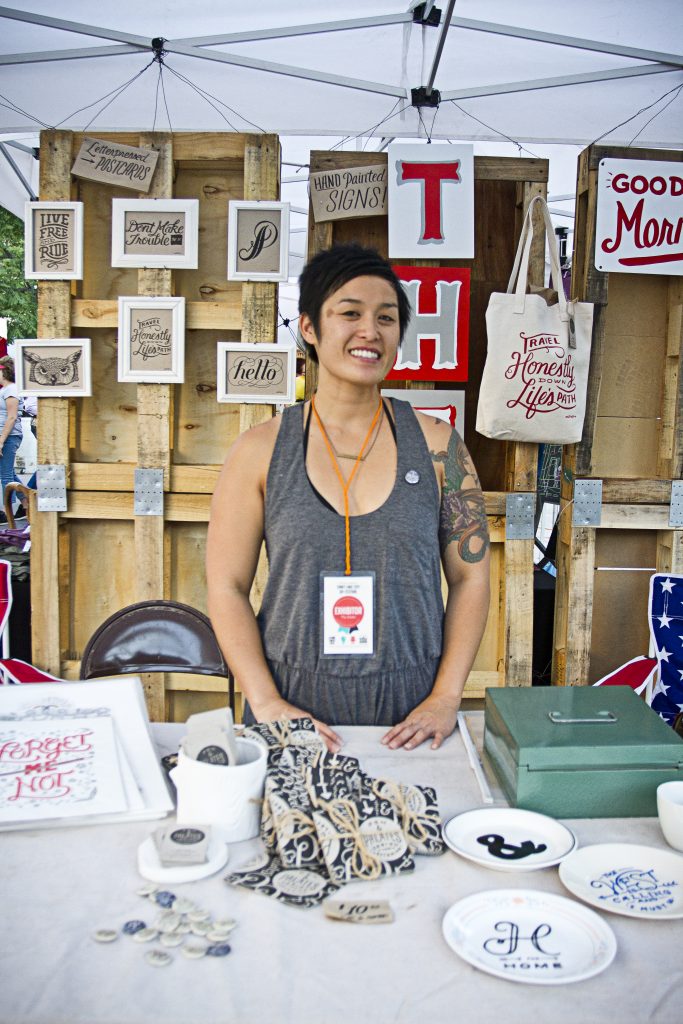 Thy Doan, author of Hand Lettering: Creative Alphabets for Any Occasion, is a designer, hand letterer, and former Craft Lake City Artisan. She currently resides in Boston where she works in design and branding. Doan's love for letters, passion for the beauty of all letterforms and her unique skill of hand lettering brings a fresh look to her work. Her extensive knowledge in design started with her BFA in Art and Design from Cal Poly San Luis Obispo, where she graduated in 2007. After her education, she landed her first professional gig in Salt Lake City at a small design studio. Her love of hand lettering developed during her stint as a Sign Maker at the Whole Foods Market in Sugar House. Doan comments, "Having to create interesting and beautiful signage with sprinkles of illustrations was a true growing experience and led me to further my hand lettering skills." Through exploration and experimentation with her personal work, including SLUG Magazine projects and gig posters, she perfected her art.
The Art of (and Love for) Hand Lettering
After taking on numerous side jobs, Doan started doing her own thing in 2013. Her ability to learn has been a key to her success. Starting out, Doan took advantage of every project she could learn from. "I strive to find learnings in everything I do—it keeps me on my toes and I'm always better for it," says Doan. That said, there is a definite need for balance. "As I've gotten older and wiser, saying 'no' has become something I've gotten better at since realizing that I need to strike a better work-life balance. So, projects that aren't a good fit or simply cannot fit into my schedule without spreading me thin and eating into me-time (weekends!), those are what don't make the cut."
Starting out, Doan's main goal was to share some love of hand lettering and delight people with her work. "Hand lettering is a step up from our most basic form of communication: writing. I believe we have a stronger human connection to things that are created by hand, and it resonates with our souls," says Doan. In addition to her graphic design and branding projects, when starting out, Doan created mainly projects that people could tangibly hold. Nothing beats having a holdable, hand-made piece of art. "The simple feeling of a pencil to paper will always trump anything else." Doan continues, "The creation and making process is such a satisfying process. It's still amazing to me, the process by which we as humans create things from our minds through our hands. The results are truly incredible if you think about it."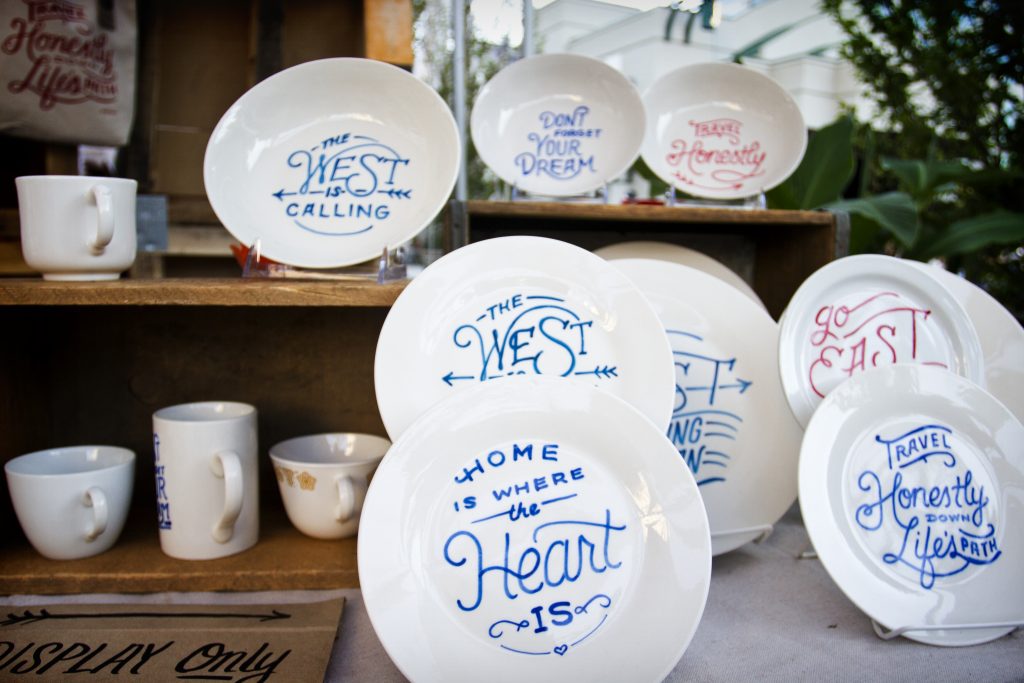 Doing Markets and Utilizing Your Community
While still in Salt Lake City, Thy Doan made her festival debut at Craft Lake City's 5th Annual DIY Festival in 2013. She says that her experience participating is, "Such an unreal way to engage with (the) community, fans and introducing new people to you and what you've got to share. I've loved every interaction with people I've met through markets." Participating in the community as a freelancing artist is invaluable. The creative community around Utah is full of makers that build each other up and contribute to one another's success. When we work together as a community, we will not only thrive creatively but also economically. "Your community embraces and nurtures like you don't even know—it's a great family to have when you're in the business of creating or making." Doan says, "I find that people are willing to share and exchange ideas, best practices or resources all of the time. If we all improve the way we work or create, we're all better for it."
Design to Create Change
Doan seeks not just to better and inspire the community around her but to have her work bring a positive impact to all. Being a bit discouraged with the troubles currently facing our country, Doan has found more purpose in her work. "I'm a firm believer that design is powerful and can help create change. I hope to use it more as a way to amplify my voice and the voices of those who cannot speak for themselves." Thy says, "I think the component of the human connection is a common thread in my future goals." Creators say something with everything they create. Art, in its many forms, is an impactful medium that can inspire anything, including change.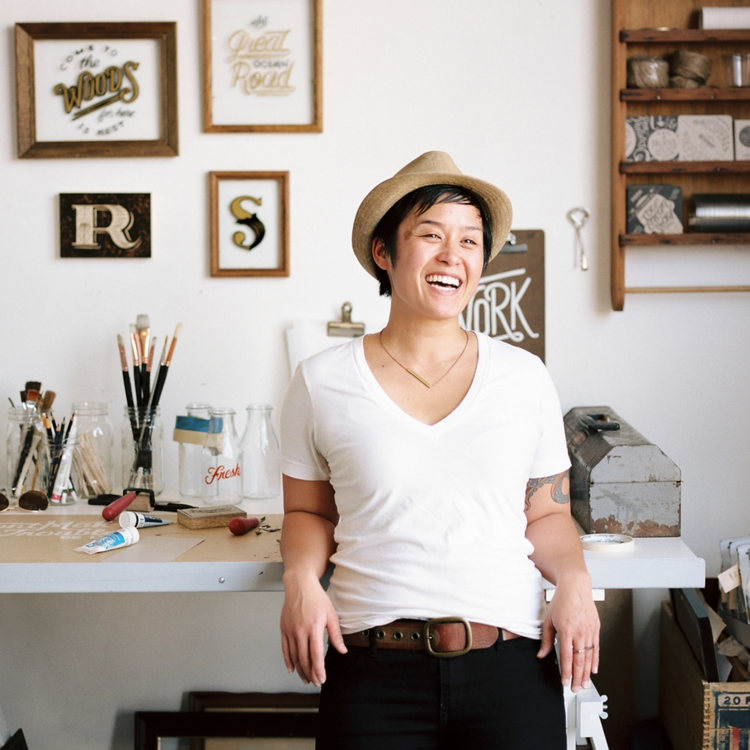 Some Advice
When asked if she could go back and change anything about her design career, Doan says she wouldn't. Despite all of the bumps along the way, some hard but important lessons were learned. She even admits to the very common fear of failure that often plagues artists. She says, "If anything, I would've tried not to be so hard on myself when it came to the fear of failing or having very real imposter syndrome. Hell, I wish I didn't still have that at times!" Despite being a successful hand lettering and design artist and author of a new fantastic book, Doan can still relate to the apprehension that usually accompanies creating.
For all of you makers and creators just getting your start out there, Doan encourages to you "hold fast to what you believe in and stay true to you. Always remember why you started but know that you'll never necessarily 'arrive'. Your work has a place in the world and your curiosity and creativity will always shift as you progress, thus inviting new paths to go down. It's an adventure of up's and down's, so take them all to heart but never take it personally."
Craft Lake City aspires to build up creators like Thy Doan who will work to better the community around them. You can see more of Doan's work and her beautiful hand lettering in her recent book, Hand Lettering Creative Alphabets for Any Occasion. Learn the ins and outs of hand lettering and go from beginner to pro with a wide variety of unique and creative alphabets to practice. You can purchase the book here.