Craft Lake City Wants to Help our Community #WinBigger!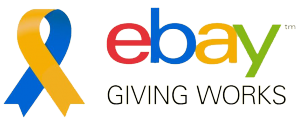 Starting Monday, November 2, the charity that receives the most "Favorites" on eBay by December 27 will win a $25,000 grant from eBay!
Craft Lake City is extremely excited to be a part of this and would like your help in accomplishing this task. The grant funds would aid us in expanding our year round programming for adult and youth workshops. By making us your "Favorite" you can help us accomplish our goals of providing more creative outlets for our local community.
There are added benefits for you as well, by making us your favorite, you could win too! eBay is giving away a grand prize of a $2,500 eBay gift cards, along with weekly $250 gift card prizes, to randomly drawn supporters who add a favorite charity! Let's both #WinBigger. Click the link at the bottom to go to our eBay Giving Works page or go to this link here CLCWinBigger!
Please keep an eye out for more information via email, and through our Twitter,Facebook, and other social media channels with the hashtags #WishBigger and #WinBigger.