I'm Christina Williams, a designer and DIYer. I draw pictures and sarcastic sayings and put them on cards and tote bags, etc. I also like to tear my house apart and DIY it back together. I love power tools and paint. And candy. Lots and lots of candy. (Pictured below is Christina's booth from the DIY festival with her DIY Paper Plate Wall!)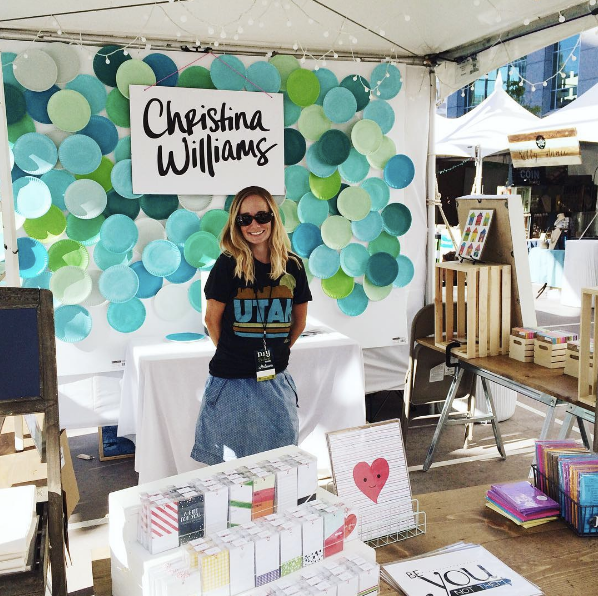 What inspired you to start your business?
I grew up spending time at my parents' office supply store, and some of my earliest memories there involve me making things out of paper and selling them to the employees and customers at the store. So in a way, this is just an extension of what I've been doing my whole life! 
Is this your full time job?
It's not currently my full-time job but my goal is that it will become my full-time job by the time all my kids are in school. I have two years to go and a lot of work to do in the meantime! 
If not, what is your other work?
I have a slew of other part-time jobs. I work in tech support for Pinterest, and I'm the graphic designer at my parents' store where I design logos, business cards, letterhead and envelopes, etc. I also have a blog that's led to some freelance writing gigs for The Land of Nod, Wayfair, and What to Expect. And I'm a mom of three, so keeping all the homework and playdates and after school activities straight is my full-time job. I'm really thankful to have so many opportunities to work from home so I can be home with my little buddies.
Where did your creative career start?
I "officially" started my creative career when I opened my Etsy shop in 2007. We were living in San Francisco at the time, and I kept all my supplies and inventory in my coat closet in our little apartment in the Presidio. I needed a hobby to keep myself busy and quiet while my newborn slept and my husband studied.
If you could start over again, what would you do differently?
If I could go back, I would have been braver about getting my work in front of customers. I sold online for eight years before I dared to do my first festival – Craft Lake City 2015. It was terrifying and exhilarating to watch those first few customers come into my booth, not knowing what they'd think or say about my products. But it ended up being the most rewarding, validating experience. Those positive interactions with my customers are what keep me going when things get hard. 
What advice would you give to those just starting out?
Do what you love! The hours of a creative career are often long and somewhat lonely, so it's important to do something that makes you happy. I also think it's important to realize that not everyone is going to love your work, or even you as a person. And that's OK. In a society where followers and likes are measured and counted, it's hard to not let the numbers get to you. It can be tempting to compare yourself to others in your field, but that's not usually a good thing to do. Be yourself! No other creative entrepreneur out there has exactly the same thing to offer because they're not you. YOU are what makes your work special. So don't compare yourself to others. Easier said than done, I know. 
How has participating in markets, like Craft Lake City, helped you grow?
Participating in markets like Craft Lake City pushes my boundaries in so many ways. It pushes me out of my comfort zone socially. It pushes me creatively, because I always try to make something new before each market, and that keeps me constantly thinking of new ideas and products. It pushes me emotionally and physically because markets are hard work! And when my boundaries are pushed like that, it's opportunity for growth. I know I wouldn't be in the same place creatively right now if I'd stayed in my comfort zone (behind the computer screen) selling things online. I'm happy for those uncomfortable, stressful times because they create such great growth opportunities.
DIY Paper Plate Wall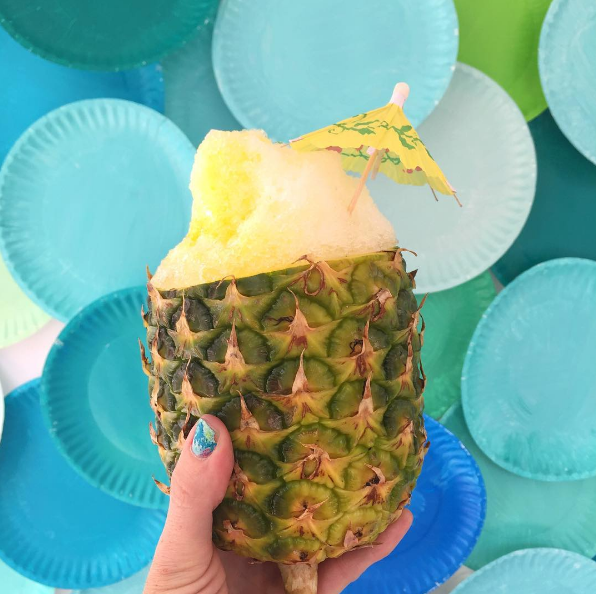 I needed to create a backdrop for my Craft Lake City booth that was inexpensive and easy to install. I wanted something bright and colorful. Because many of my products are printed on white paper, they tend to get lost against a plain white background. I came up with this DIY paper plate wall at the very last minute, and I'm so happy with the way it turned out. 
Here's what you'll need to create your own DIY paper plate wall: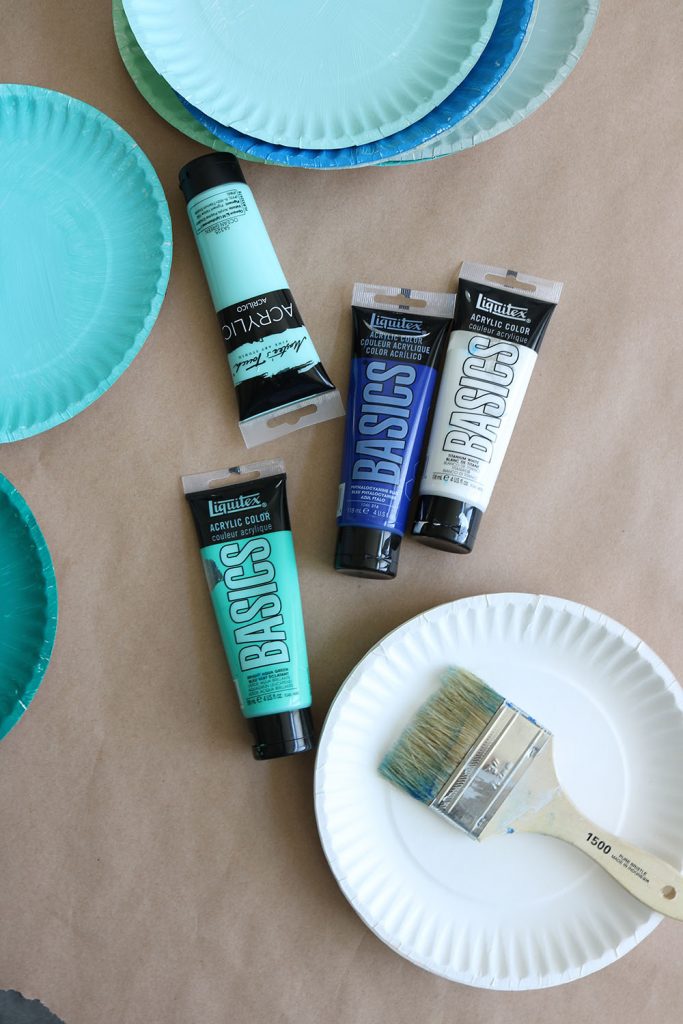 1. Assorted paints (I used the acrylic paints pictured, and a bunch of other craft paints I had laying around).
2. Paper plates. The cheap, uncoated kind work best.
3. Paint brush.
4. Newspaper or something to cover your work surface.
I decided to go with a variety of blues and greens. The best part about that decision is that I didn't need to rinse out my brush between colors, because the leftover paint from one plate mixed with a new color to create a greater variety of colors without having to buy dozens of colors of paint. Plus, I'm lazy. And cleaning paint brushes sucks.
The whole thing is really simple. 
Step 1: Just squeeze a blob of paint into the center of a plate. Swirl it around a few times to coat the center of the plate.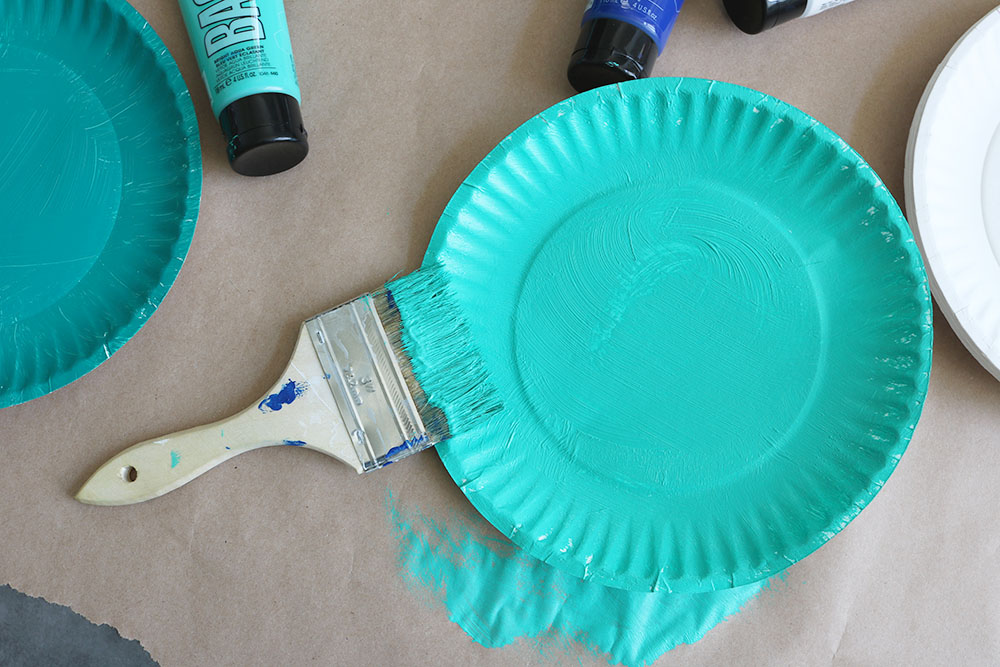 Step 2: Brush the paint up the sides and lip of the plate. 
Now let it dry and grab another one. I think it took me 2-3 hours to paint about 200 plates…so it's a little time-consuming, but totally worth it. When you're ready to install the plates, use tape or poster stripsfor the bottom layer. I found that glue dots worked better on subsequent layers. That's it! You can now make your own DIY Paper Plate Wall! Happy DIY-ing!
Organizational Support Provided By: