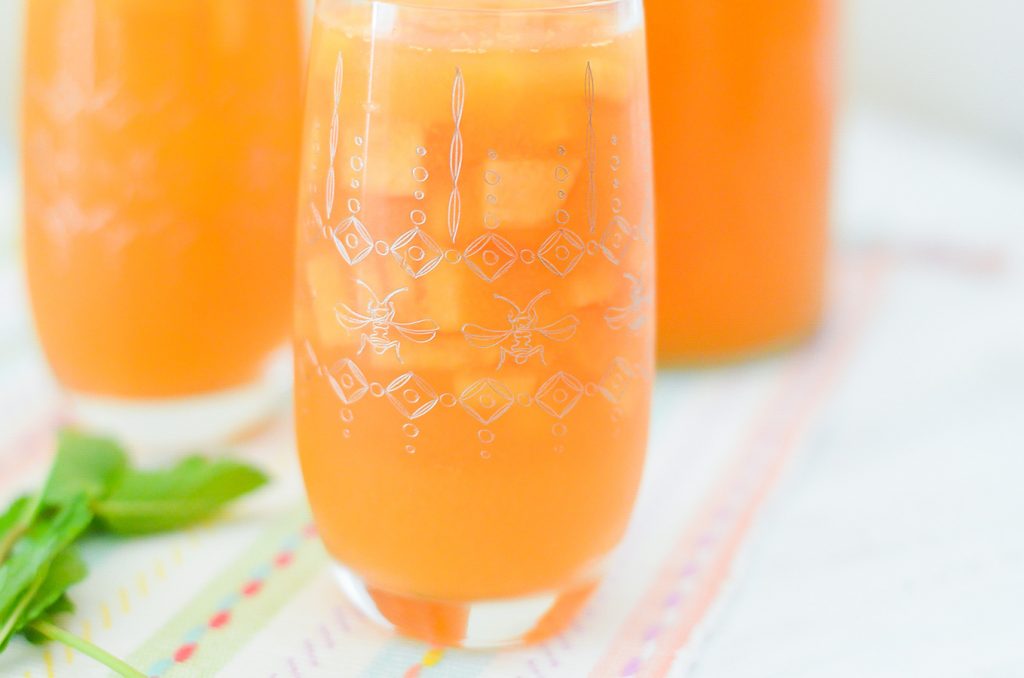 This months recipe, Cantaloupe Chardonnay Sangria,  along with tips on recipe creation and food photography comes from a Craft Lake City guest blogger: Luci Petlack. Luci is a women's lifestyle blogger who lives in sunny Los Angeles with her husband. After earning her Ph.D. in History in 2013, she moved onto a more creative and social career—her blog, Luci's Morsels. Her style is comfortably chic, her taste deliciously healthy. A homebody at heart who loves day trips and overnight treks to nearby cities, she's had her passport practically since birth and is always ready to wander across the globe! With Luci's Morsels, Luci shares her simple and classic style, recipe creations, and easy ways to enjoy life's simple pleasures through travel, home décor, and entertaining.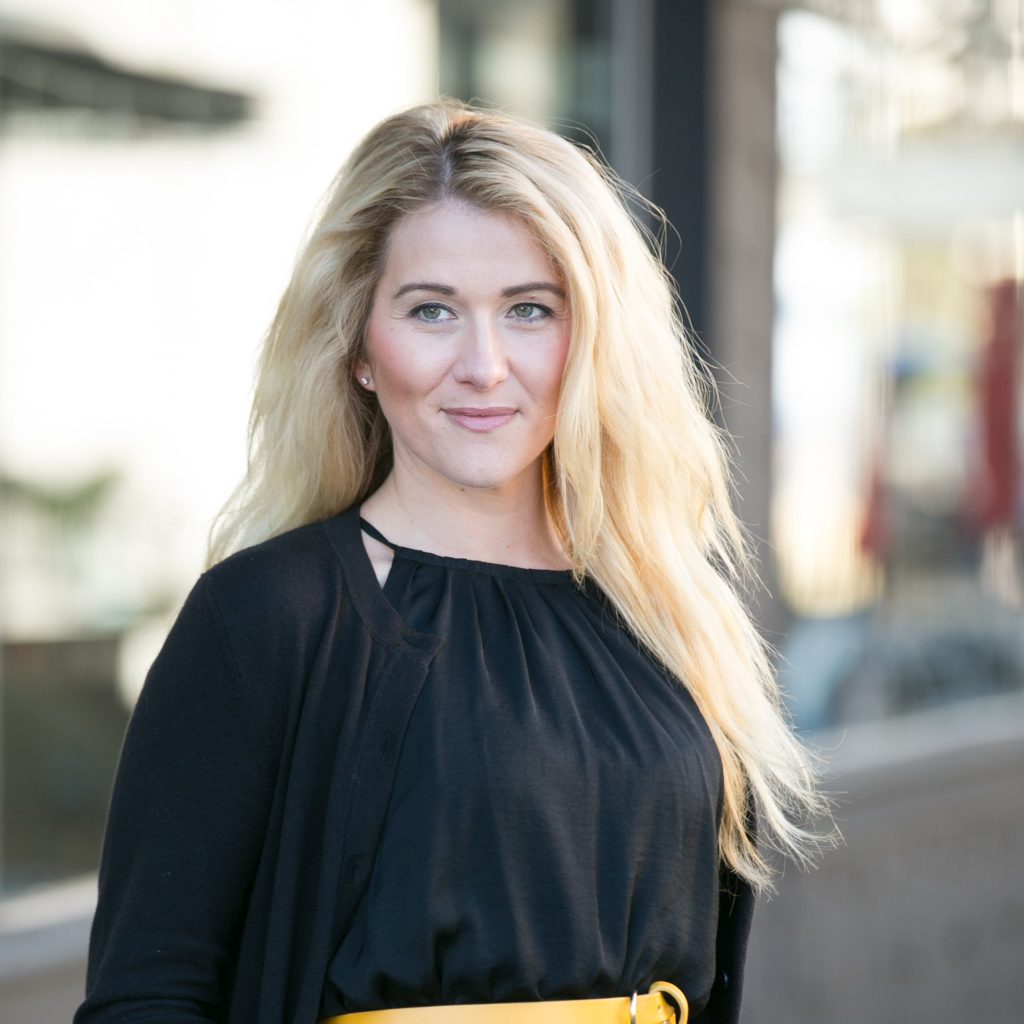 How did you get your start in the blogging world?
I started blogging in 2012 when I was in my fourth year of my Ph.D. program in history. I was at a low point in terms of stress (and depression). Baking has always helped me know that the world will still go round, but my boyfriend (now husband) and I just couldn't eat as many cookies as I needed to bake! I decided to sell baked goods to friends and coworkers (hence the name "Luci's Morsels"). Part of my business plan was a blog about dessert. Having lost quite a bit of weight, I knew after just a few days that I couldn't only write about dessert and expanded it to be a site about fashion, food, and frivolity—the latter hiding all matter of sins! Now, "morsels" refers to anything that brings happiness, joy, and a smile to your soul!
What made you choose to pursue this career path?
A few months after starting Luci's Morsels, I decided that I needed to leave academia after grad school—it wasn't fulfilling in any way for me. After graduation, we moved to LA and I unsuccessfully attempted to start a career in social media or PR (I really had no idea what I was doing). I decided to blog full-time, giving all my brain power and time to my site—the thing that did fulfill me and let me combine my love for food and fashion along with the difficult but rewarding struggle of starting and operating a business. The decision to go full time into blogging was over two years ago, and I haven't looked back. In the last year, I've started doing more presentations on social media and just recently taught a course on blogging for business at the Fashion Institute of Design & Merchandising (FIDM) in LA. I'm excited to be sharing my experience with blogging and social media with these younger students, who are familiar with the platforms but lack formal training in the professionalism behind it all! My next adventure is teaching at my local General Assembly, helping entrepreneurs beef up their online media skills as well!
How did you learn about recipe creation?
I learned about recipe creation out of necessity for blogging. I grew up watching my mom measure salt in the palm of her hand. When I'm not making a dish for the blog, I cook that way too, adding flavors and time based on my sixth sense, I suppose. Some of my first recipes on the blog are probably terribly wrong because it took me time to really understand I had to measure each 1/8 teaspoon to a T. There's something so frustrating about having to make cooking and baking such a science, but it's the only language in which I can share deliciousness with you!
Where do you get inspiration for recipe creation?
I'm usually inspired by one of two things—a dish at a restaurant and seasonal produce. I love recreating dishes that are somehow unique but seem totally manageable. I recently recreated the warm lentil salad from East Liberty Tap House in SLC on my blog (recipe here). I'm not obsessed with really replicating the dish, but incorporating the flavor combination or cooking technique into my everyday. When I'm really in a rut for recipes, farmers markets are a must. So far, it's been impossible for me to leave without produce in my bag and a few ideas on my mind. It's important to never underestimate yourself and to not be afraid of your dreamed-up concoction, whether it's two ingredients or twenty-five.
What are the most important things to know about recipe creation?
When creating a recipe, don't try to reinvent the wheel. Research similar recipes and see what others did. You can always tweak it, but you don't need to discover that 400 degrees is the ideal roasting temperature or that eggs at room temperature will separate more easily than when chilled.

Start small when adding seasonings and spices. You can always add more, but pulling cream of tartar out of flour is a nightmare!

Never underestimate the power of salt, fresh ground pepper, lemon zest, or stock (mostly in soups)!
Any advice would you give to one just starting out in a creative profession?
One of the most difficult things about professions like blogging is that there really is no one process on how to become successful. Everyone is full of ideas and they can share what works for them, but in the end, you have to be unique in order to thrive, so no one else's path can be yours. Try everything (within reason), but don't be afraid to trust your gut and give up on one avenue if it just doesn't feel right or isn't worth the energy. Also, ask people around you for input. I've held casual focus groups, asking friends what they like and where they could see room for improvement. If you aren't comfortable asking your friends and family, how can you expect to put yourself out there for the world to see?
What are the most important things to know about food photography?
Lighting. I don't always like to admit it, but I only take my food photos between 10 a.m. and 1 p.m. because that is when the natural light in my kitchen is best. Natural light is always best. 

Once you've got your lighting situation figured out, food styling is the next step. Some people have an eye and a lot of patience for food styling. I have neither. What I do have is the knowledge that a few select colors seem to work really well for me. I shoot almost all of my photos on a white wood background (I recently moved to a vinyl version). Past that, I use a light turquoise napkin as an accent. Occasionally, I switch it out for a navy blue or dark red napkin. 

Also, fresh herbs and fruits/vegetables are your best friend. Lentil soup makes my soul happy but goodness is it hard to take photos of. A trick (or two, really)? Fresh herbs on top and a bright red bowl. 

Finally, focus your shot on the part of the dish that's the most exciting. With a huge pasta dish, I usually find a spot where the cheese is beginning to melt or perfectly browned. Even if the rest of the dish looks blah in the photo, having that one spot in focus will have you salivating.
How did you develop your food photography skills?
I really don't consider myself skilled at food photography, but practice has gotten me where I am today. Only through a lot of trial, error, and loads of frustration did I figure out the best time to shoot in my kitchen, which napkin is my go-to, and that my white wood background is what I want. I'm sure if we moved, I'd have to start a new run of experiments to get my setup figured out. Honestly, I get overwhelmed with too much food styling, since I care more about how the food tastes, so having my trusted system is best for me.
Why do you think it's important to support local business? 
I didn't really understand the importance of supporting local business when I was younger, but now that I've started my own small business as a blogger, I appreciate the entrepreneurs behind the businesses and the struggle it takes to stay afloat. Individuals start a business to fuel a passion. It's that passion that makes shopping local so wonderful. When you think of supporting local business as supporting the owner/employees behind them, your perspective changes. By supporting local, you're strengthening the community you live in. When local businesses thrive, so do you! 
Cantaloupe Chardonnay Sangria Recipe: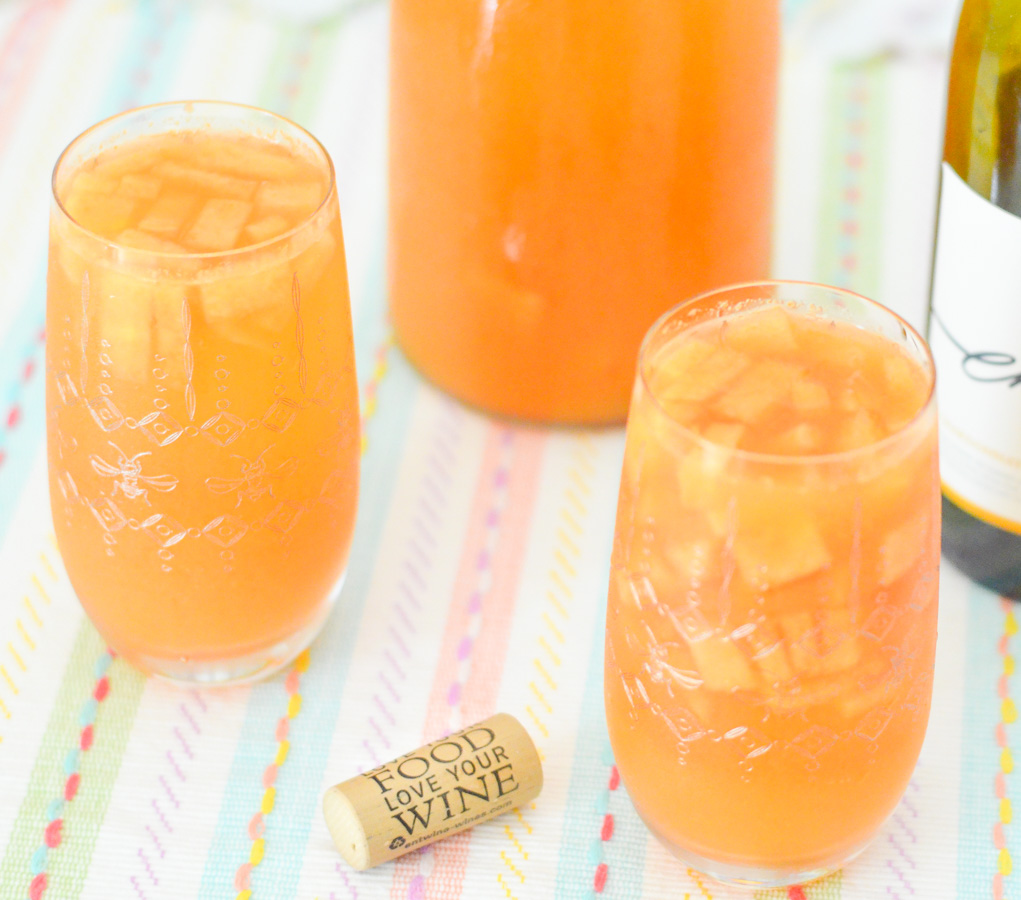 (serves 6-8)
Ingredients
1 1/2 c. cantaloupe juice*
2 c. bite-sized cantaloupe pieces*
1 -750 mL bottle Chardonnay
1/2-1 c. sparkling water, to taste
*For cantaloupe juice, puree small chunks of very ripe cantaloupe in a blender or food processor. One small cantaloupe should yield roughly 1 1/2 cups of juice. Use two small or one large cantaloupe for recipe.
Instructions
Combine cantaloupe juice, cantaloupe pieces, and chardonnay in large pitcher. Refrigerate 3-5 hours. Add sparkling water to taste—less water for a stronger chardonnay taste. Serve chilled.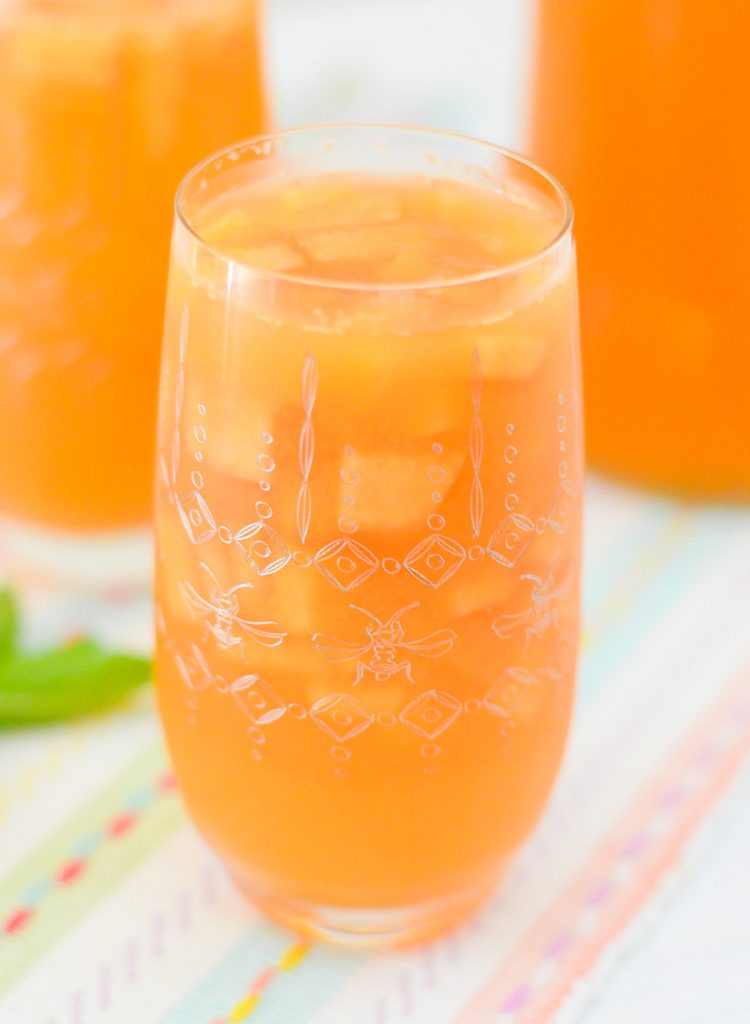 Organizational Support Provided By: