About the DIY Festival
The Craft Lake City DIY (Do-It-Yourself) Festival was formed in 2009 by Angela H. Brown, editor and publisher of SLUG Magazine (Salt Lake UnderGround), as a way to showcase local DIY (Do-It-Yourself) culture.
The first Craft Lake City DIY Festival was held as a one-day event in Salt Lake City at the Gallivan Center on August 8, 2009. It featured 72 artisans specializing in items such as silk-screened posters, reconstructed clothing, knitted items and jewelry, along with live entertainment provided by local Salt Lake bands, and boasted 2,500 attendees. Since then, Craft Lake City has expanded the DIY Festival to become the state's largest, local-centric, three-day arts festival, with over 200 local artisans, a STEM (Science, Technology, Engineering, Math) Building, two stages for musical and dance performances, local food vendors, food trucks and hosting over 40,000 festival attendees.
Craft Lake City is a 501-C3 nonprofit charitable organization. Our mission is to educate, promote and inspire local artisans, while elevating the creative culture of the Utah arts community through science, technology and art. We remain active year-round, hosting workshops, fundraisers, DIY gatherings, gallery showings and collaborative projects with like-minded organizations such as the Salt Lake Film Festival, the Utah Art Alliance and The Temporary Museum of Permanent Change. The organization has brought a newfound awareness of supporting local artisans to the community.
Furthermore, the organization seeks to enhance Utah's DIY arts culture by broadening the definition of "craft"  to encompass all things handmade—including craft food, STEM and DIY engineers (electronic makers).
For 2017 sponsorship inquiries, please email angela[at]craftlakecity.com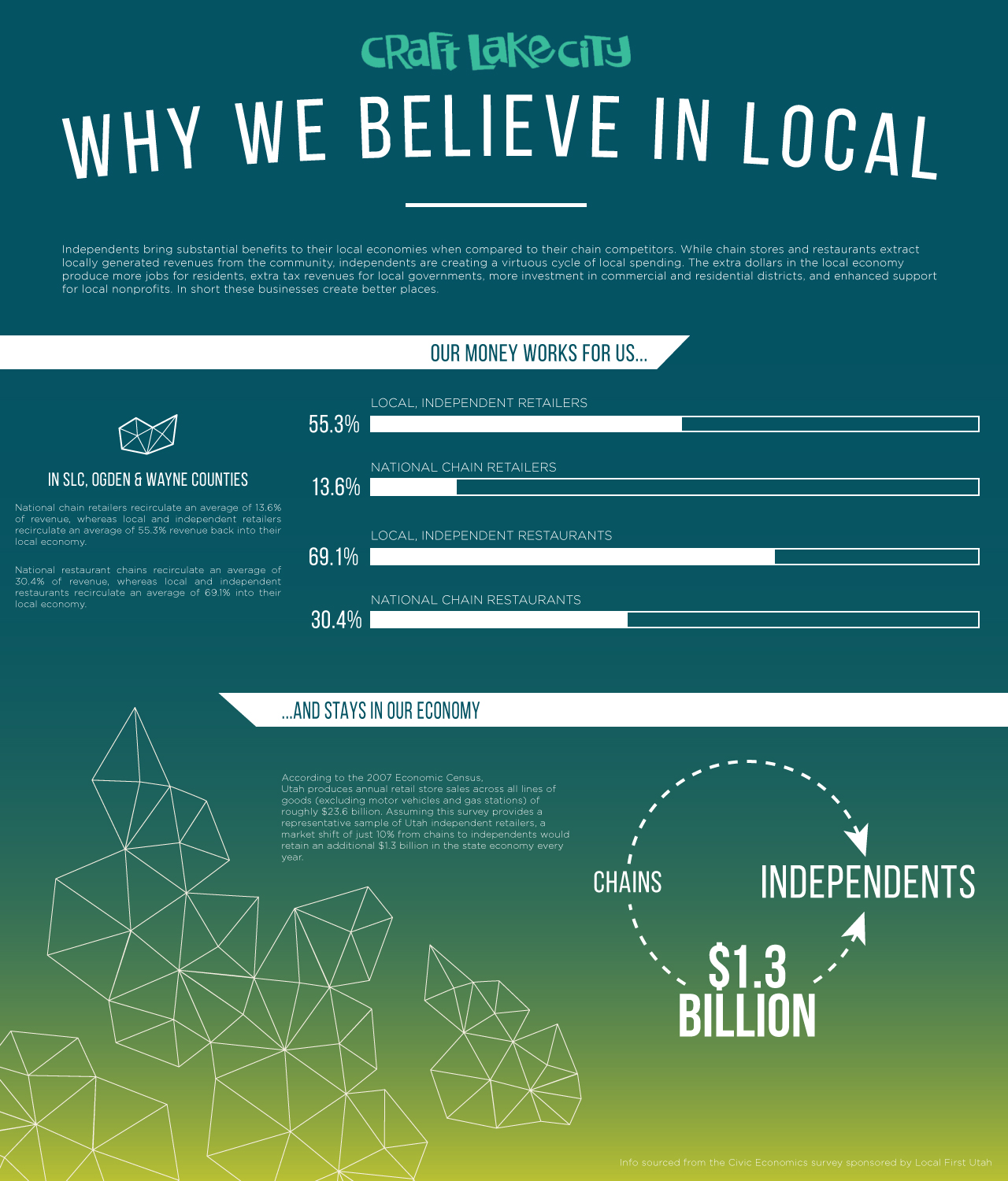 Info sourced from the Civic Economics survey sponsored by Local First Utah.
Craft Lake City DIY Festival Testimonials
"I just wanted to Thank Craft Lake City for allowing me the opportunity to participate this year. It was an awesome experience and I really appreciate all that you are doing for the artists in Salt Lake. Thank you for all you do!"
—Rani Bean, Craft Lake City Artisans
---
"I just wanted to thank Craft Lake City for such a wonderful organized event.  We had a great time and did very well.  It was our first time attending the event as well.  We were impressed."
—Kim and Brett Borup, Paper Bandit Press
---
"I hope you all are having the opportunity to relax and digest the magnificent festival you created and so successfully put on! We had such a fabulous time and wanted to thank you, thank you, thank you for the perfect placement of Amour Spreads in the festival.  Our jams and marmalades were happy the entire time and we loved our neighbors and neighborhood.  Looking forward to next year already!"
—Casee, Amour Spreads
---
"Peck's Vanilla, would like to give a heartfelt thank you for another great festival. We love everything about Craft Lake City, and were honored to be a part of it for our second year in a row. Personally, I think this is the best festival in SLC hands down."
—Alan Peck, Peck's Vanilla
---
"I wanted to reach out and thank you all for an amazing event. This was our first year with Craft Lake City, and will never be our last. I have to say that out of all of the events we have ever done, this was by far our favorite. You all did an amazing, excellent, incredible job putting this together."
—Tiffany Tomkinson, Lickd Pops
---
Save
Save
Save
Save
Save
Save