As a nonprofit organization, Craft Lake City relies on a lot of volunteers. Our volunteers help us run a creative and successful festival. We love our volunteers! In fact, many of our current employees are former festival volunteers, as are many of our vendors. Volunteering doesn't just fill you with warm fuzzies, but it also opens up a lot of opportunities. Don't just take our word for it—read about from Rachel Hayes, who has been with the festival for 7 years! She has also attended the festival every year.
Rachel Hayes is a former Craft Lake City artisan who now volunteers with the organization. This year, she will be working over the Kid's Zone. She grew up in Salt Lake City and began selling her home decor and clothing line—Cherries and Feathers, in local boutiques in 2008. In 2014, she graduated with three associates degrees in Fashion Design and Merchandising from SLCC. She has worked as a visual stylist for Macy's and as a freelance designer, pattern drafter, and seamstress.
1. All the good feelings.
Volunteering for a nonprofit company that helps build the arts in your community is textbook doing good. It's right up there with helping an old lady across the street or rescuing a cat from a tree. You're guaranteed to get the good feelings flowing. You'll be giving back to your community and supporting local businesses. Hayes commented, "It's really fun volunteering with all the great people you get to meet. I love being a part of the community we have here."
2. It's a great way to give back to the community. (#shoplocal)
Speaking of giving back to the community, Craft Lake City's main objective is to support and build the arts and local creatives in the community. Our community has a remarkable support network with local businesses. When we lift each other, we all rise. Hayes adds that "As a local artist supporting other local artists, this is a cause very close to my heart. It's so validating as an artist when you finally connect with your customers and have some success. Craft Lake was the first festival I had success at, and I was continually successful year after year! Craft Lake does more than just the yearly festival to help locals. Workshops, outreach, and education are all ways that Craft Lake supports local artists."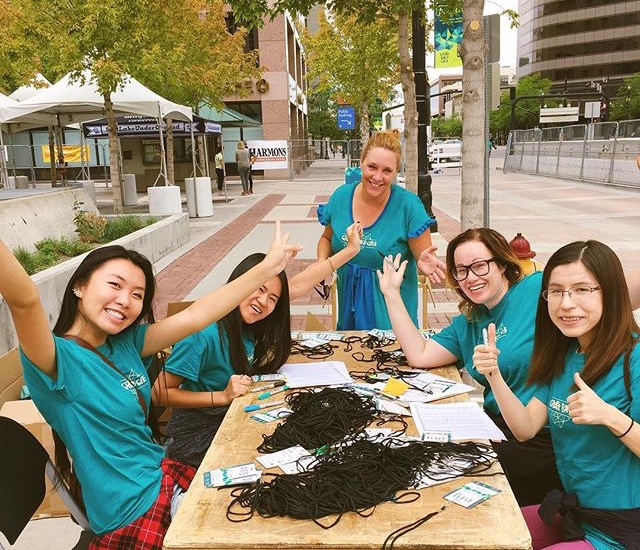 3. Free shirt!
When you are a Craft Lake City volunteer, you get a Craft Lake City shirt! Everyone loves free clothing, right? Well, it gets cooler. This year, we are having a contest. When you sign up to volunteer, we will send you a shirt, and you get to DIY it any way you want. Make it your own. Cut it up, sew it, bejewel it, paint it, dye it—bling it up anyway you like. No need to get too fancy either—you can keep it simple. Once you're done post a photo on social media with the hashtags #clcdiyfest and #diytshirtcontest. Each day of the festival we will announce two winners who will receive some free Craft Lake City merchandise.
4. Free entry to the festival!
Everyday that you are volunteering, you get to come to the festival for free. A one-day pass is usually $5, but volunteers get to come in for free and see the ins and outs of all the work that goes into this festival.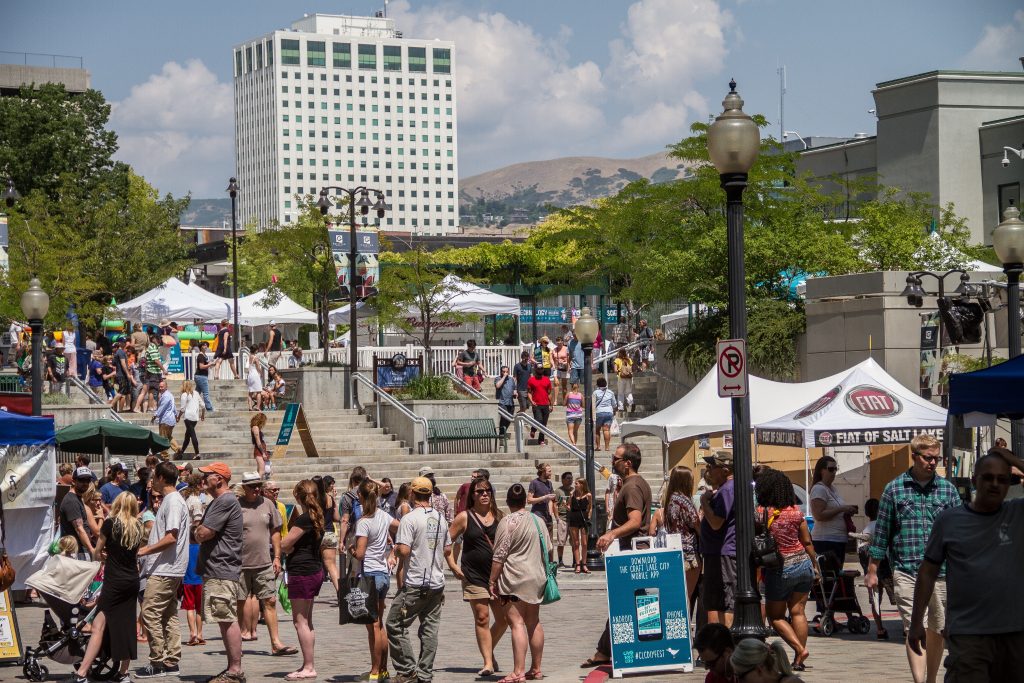 5. The people you meet are pretty great. Can you say networking?
Everyone who participates in Craft Lake City is local. There are numerous participating local businesses, and from restaurants to artists to Google Fiber. These are all hardworking, creative, impressive people. They are great people to learn from, be around, make friends with, and maybe even network with for future job opportunities or just for inspiration. Hayes says, " I love the people I've met and the friends I've made volunteering." She adds that her favorite part of the festival is actually "meeting all the fun and cool people! I love our team of volunteers and staff."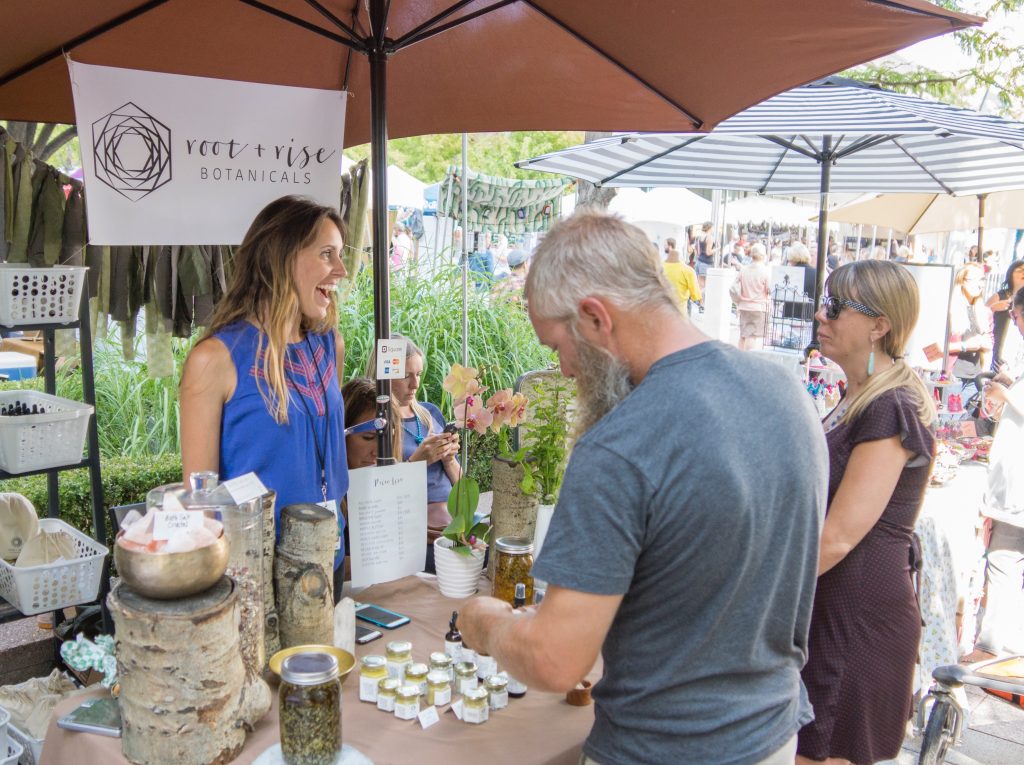 6. You never know what opportunities may come from volunteering.
Besides the networking opportunities with a bunch of local creatives and businesses, we have many employees here at Craft Lake City who were once festival volunteers! We also have a number of artisans who used to be volunteers, and vice versa—we have some volunteers who used to be artisans and still want to stay involved in the experience that is the DIY festival! Hayes said, "I began as the Development Coordinator, so I helped with gathering and counting donations the first year. Last year, I was the Festival Finance Manager. I helped with collecting and swapping out cash to several areas of the fest. This year, I'm the Kid's Area Manager, which I'm super excited about!"
7. Be a part of the Craft Lake City community!
The Craft Lake City community is a good one. We're really just a bunch of creative people trying to help out the community. We're pretty nice, too. You'll like us. We all come together to work towards elevating the creative community we have here. Hayes comments that she was draw to the festival because "I really love Craft Lake City! I fell in love with the fest as an artisan and I really love everything that Craft Lake does to foster the local arts community. I wanted to be a part of that. It takes a great team of people to produce a great festival, and Craft Lake has the best volunteers!"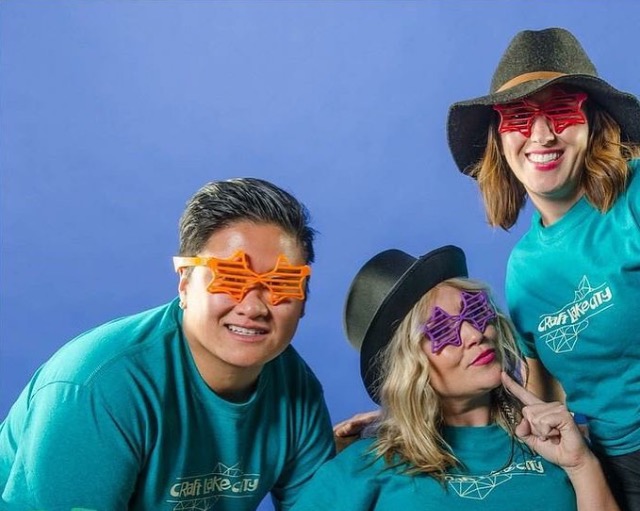 8. Be inspired.
Craft Lake City DIY Festival is full of incredible and talented local creatives. Artists, makers, engineers, foodies, vintage markets, performers, musicians, you name it—they're probably at Craft Lake City. It's a great time to observe creative professionals: people who have built a living doing what they love! It's an impressive sight, to say the least. Hayes said one of her favorite parts has been "Seeing all the really incredible artists we have here in Utah. I really love that Craft Lake is all local artists. That's part of what differentiates Craft Lake from other festivals."
9. It's fun!
We like to have a good time here at Craft Lake City. The DIY Festival is fun. Sure, it's also a lot of work. But we wouldn't do it if we didn't enjoy it! Keeping a happy and positive attitude is a goal of most of us Craft Lakers. Hayes says that she keeps returning to the festival each year because she "really believes in the mission of Craft Lake and wants to help facilitate that mission and it is a whole lot of fun!" She also adds, "I would encourage everyone to volunteer! It's a good time and it helps our community become a cooler place for everyone to enjoy."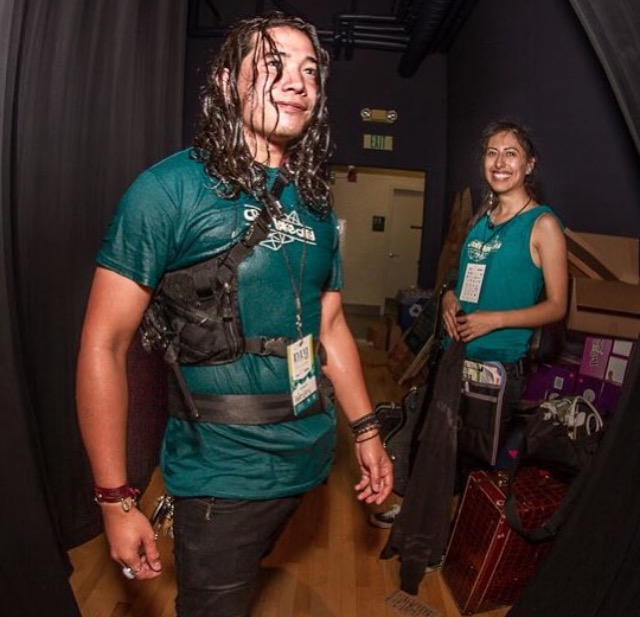 10. Resume booster.
Volunteering is always to good thing to add to your resume and to add that you participated in one of the largest DIY festivals in Utah is a great thing to have on your resume, especially if you are in a creative field of work.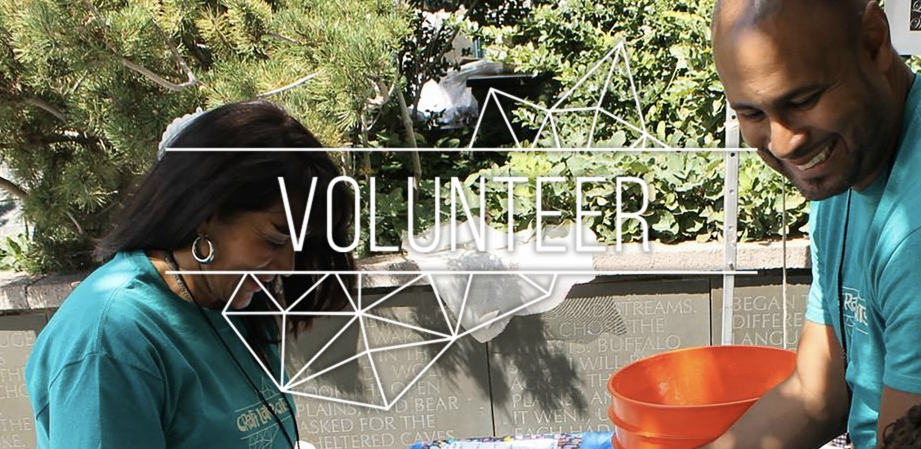 Have we convinced you yet? Look at available positions and sign up to volunteer for this year's DIY festival here: craftlakecity.com/volunteer
Save