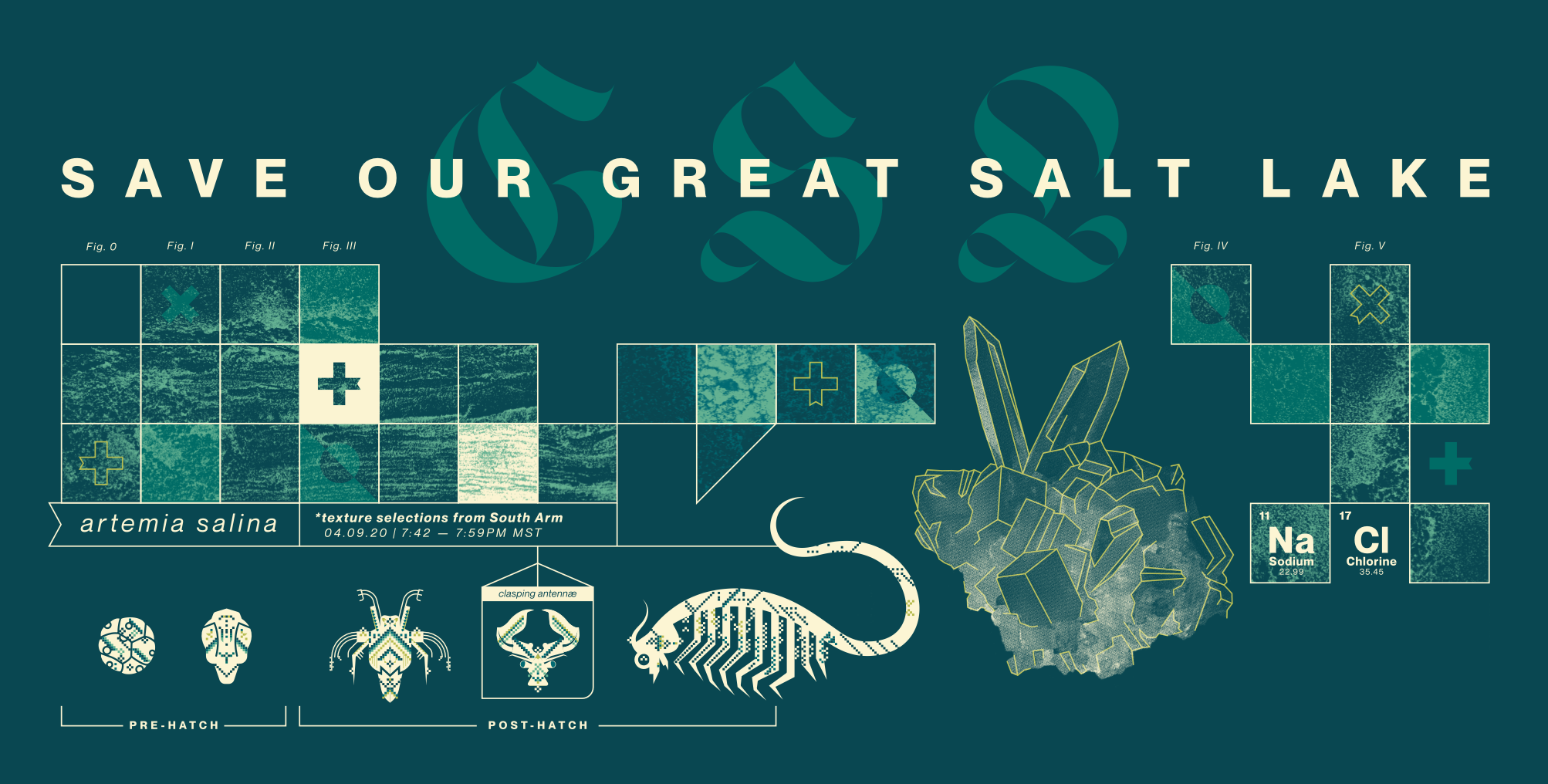 Artwork by Derek Ballard
Craft Lake City, The Center for the Living City and The Temporary Museum of Permanent Change in partnership with Save Our Great Salt Lake and CRUDE are pleased to present a new installation of the Celebration of the Hand public art exhibition in downtown Salt Lake City. On view from July-October 2022, Celebration of the Hand: Save Our Great Salt Lake celebrates Utah's diverse arts community by simultaneously showcasing work by 14 local visual artists while raising awareness about local ecological issues. Each featured artist was invited to create a design inspired by the Great Salt Lake, using their past poster artwork ​​for Save Our Great Salt Lake's #ArtistsForGSL campaign as a point of inspiration or reference to create a new artwork. Each art piece is installed in 4'x8' streetside frames, giving passersby in the downtown Salt Lake City area the opportunity to engage with the artwork while learning about environmental stewardship.
Save Our Great Salt Lake is a group of organizers, artists, business owners, and concerned citizens working together to prevent ecosystem collapse at the Great Salt Lake. We're here to educate and engage our community to spark grassroots action and ensure legislative action is taken to save our great lake. 
Informed by activist Jane Jacobs' fascination with self-organized urbanism, Celebration of the Hand is a seasonal outdoor exhibition designed to enhance and reflect Salt Lake City's cultural district through the work of Utah-based artists. Celebration of the Hand is displayed in large frames adjacent to the sidewalks along Broadway (300 South) between 200 West and 200 East, and is open 24 hours a day, 7 days a week free of charge.
Celebration of the Hand: Save Our Great Salt Lake is a group outdoor exhibition presented by Craft Lake City, Save Our Great Salt Lake, & CRUDE.
@saveourgreatsaltlake on Instagram
Watch the Virtual Discussion with Craft Lake City, Denise Cartwright of Save Our Great Salt Lake & CRUDE, and contributing artists Caro Nilsson and Camilla Stark!
Preview the Artwork Below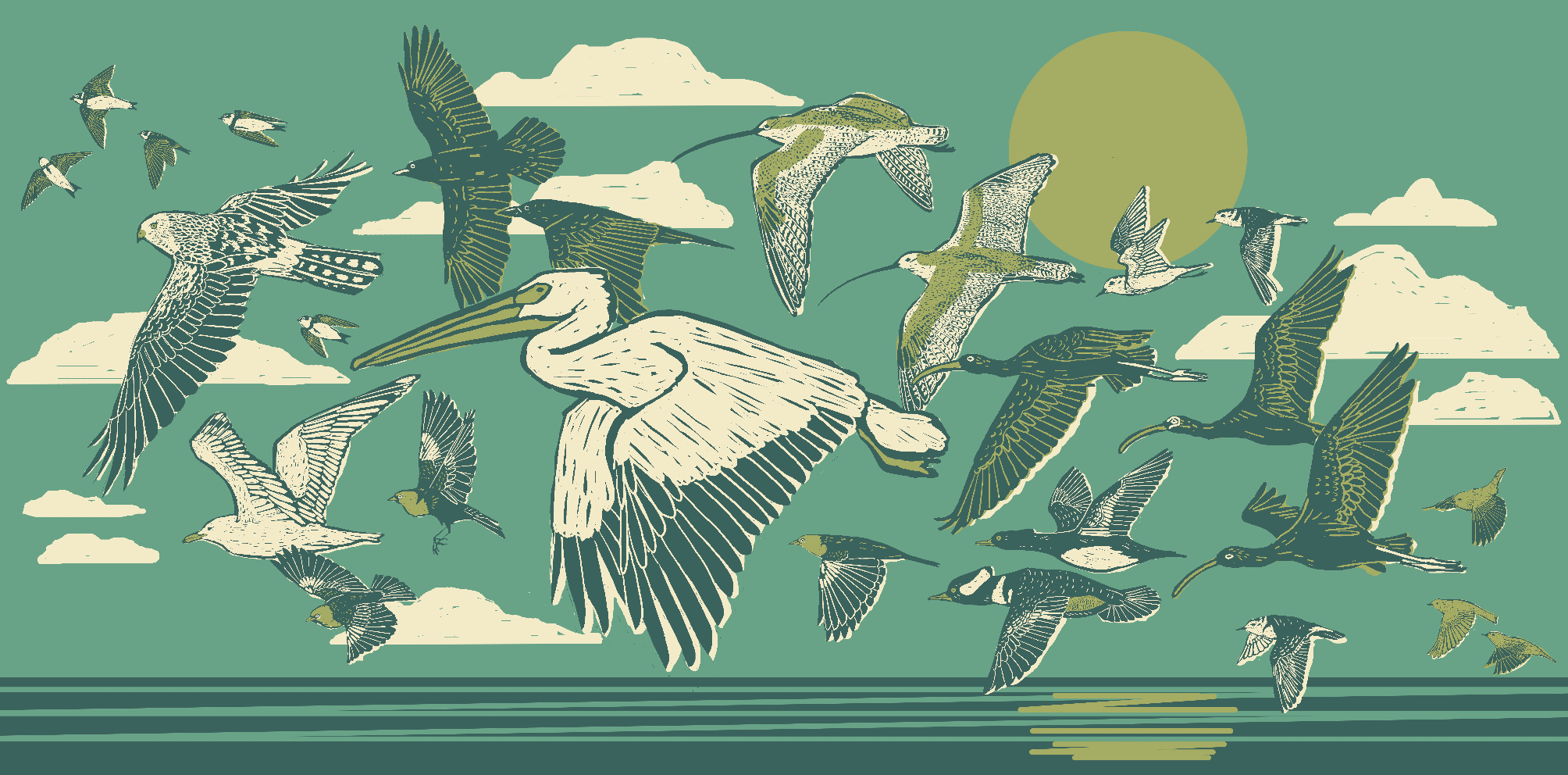 Artwork by Courtney Leigh Johnson
Drawn by the wide open spaces and muted color palettes of the Intermountain West, Courtney Leigh Johnson creates works that examine the connections between species and their importance within their grander ecosystems, both in life and in death. Part science communicator, part cabinet of curiosities curator of sorts, she uses her art to bring conversations about ecology and conservation to everyday life through screenprinting, relief printing, and digital design.
About the Piece: "Safe Passage" (Digital linocut)
The Great Salt Lake and its larger ecosystem provides safe passage for upwards of 10 million migrating birds annually. From white pelicans to snowy plovers, the Great Salt Lake acts as critical habitat within an arid stretch for many avian species. As the lake continues to dry, the fate of innumerable birds relies on us to make the changes necessary to save the great salt lake before it's too late.
@littlecanyonpress / www.littlecanyonpress.com
Artwork by Miranda Gilvarry
Miranda Gilvarry – Digital illustration / Peer into the portal, adjust your scope to see two universes at once. Consider the available outcomes and make a choice. Find more by the artist @mirandagilvarryart on Instagram, shop and contact at www.mirandagilvarryart.com
Artwork by Camilla Stark
Camilla Stark is an artist, designer, Luddite, Romantic, environmentalist, OCD-haver, and the Desert Prophet of the Great Basin. Her art is about duality—life & death, light & dark, love & fear. She is a co-founder of The ARCH-HIVE, a collective art network exploring the peculiarities of Utah, Mormonism, and the American West. You can see Camilla's work on Instagram at @camillagluh or at camillastark.com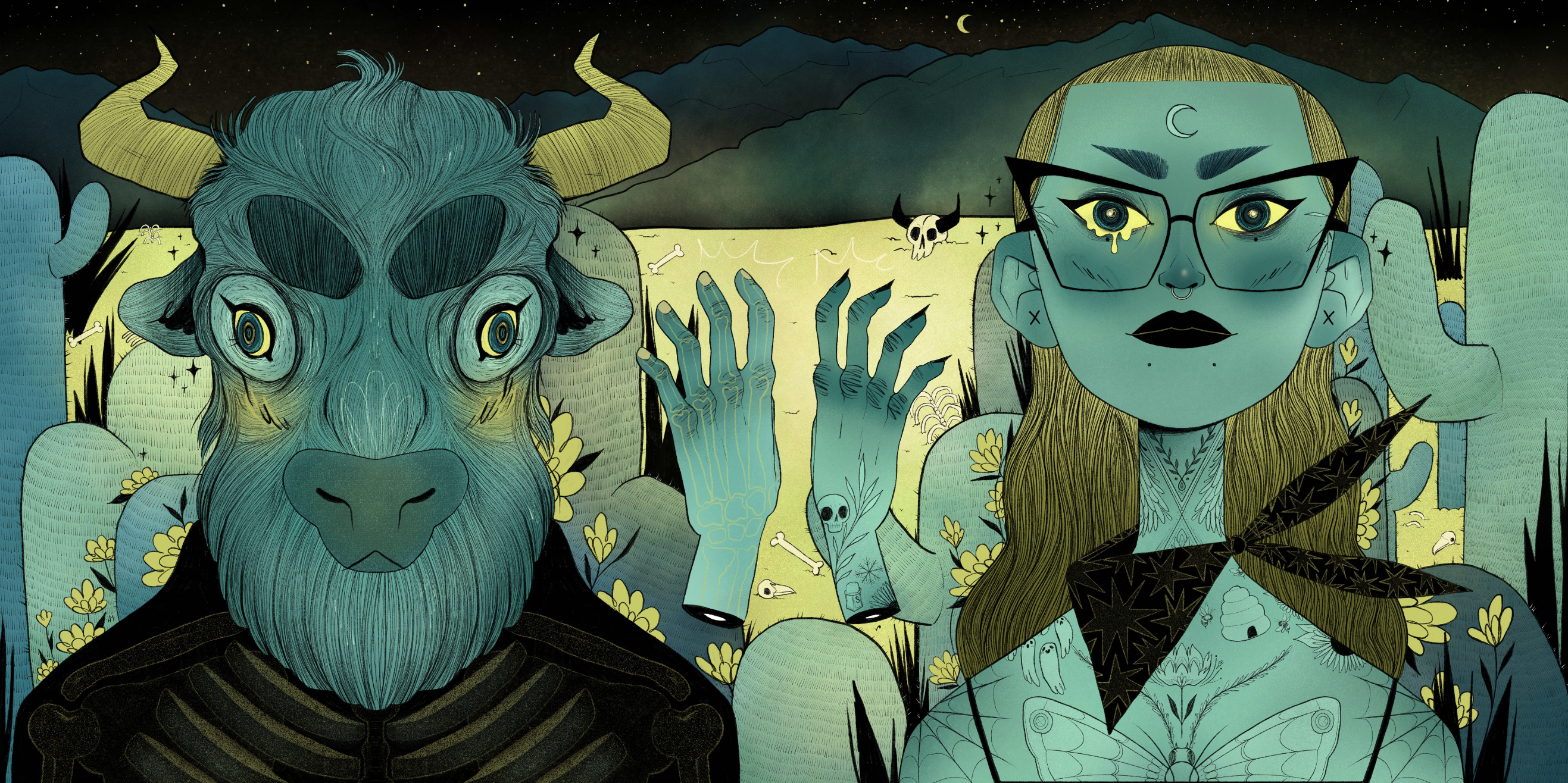 Artwork by Heather Mahler
As an illustrator I wanted to help bring attention to an important issue. The sad fact is our beloved Great Salt Lake is drying up. Sooner than we might want to admit it, Salt Lake without our help will become a dust bowl. The fact is a drying lake bed would be devastating to our ecosystem which includes us! The lake bed soil has not only natural heavy metals but also decades of waste we can't ignore! If our legislature wont take action to restore the lake soon I fear the worst for the health of our beloved city! For more information on how you can help visit saveourgreatsaltlake.org
www.heathermahler.com / @heathermahlerart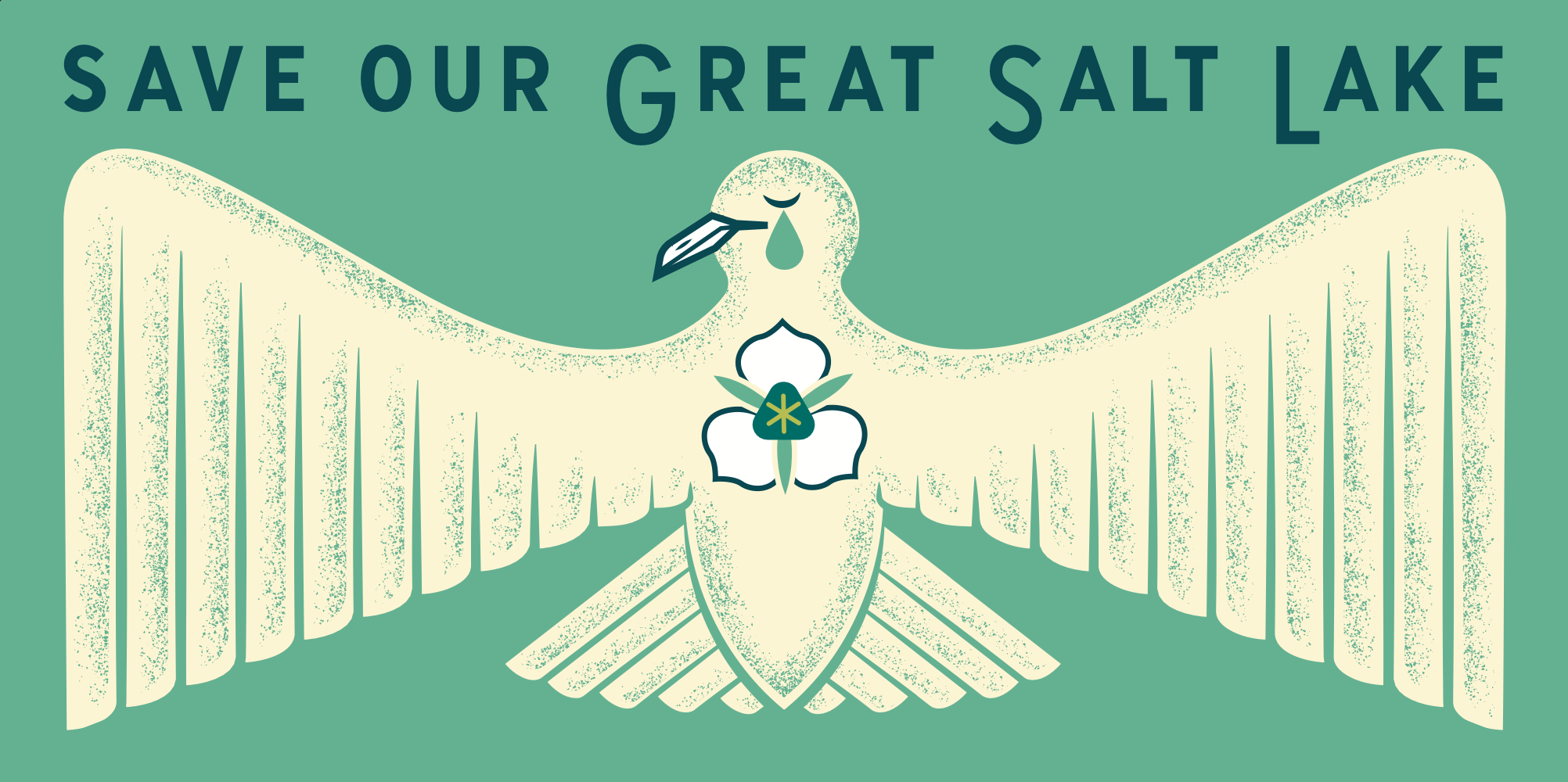 Artwork by Jacob Brooks
I believe using familiar and simplistic symbols, especially ones that my 3 year old son Charlie can understand, are an effective way to demonstrate something as complex as the environmental stresses that our Great Salt Lake faces. I also believe that effective change in any movement requires a strong visual message, one that is memorable, but also resonates personally with its community. -Jacob Brooks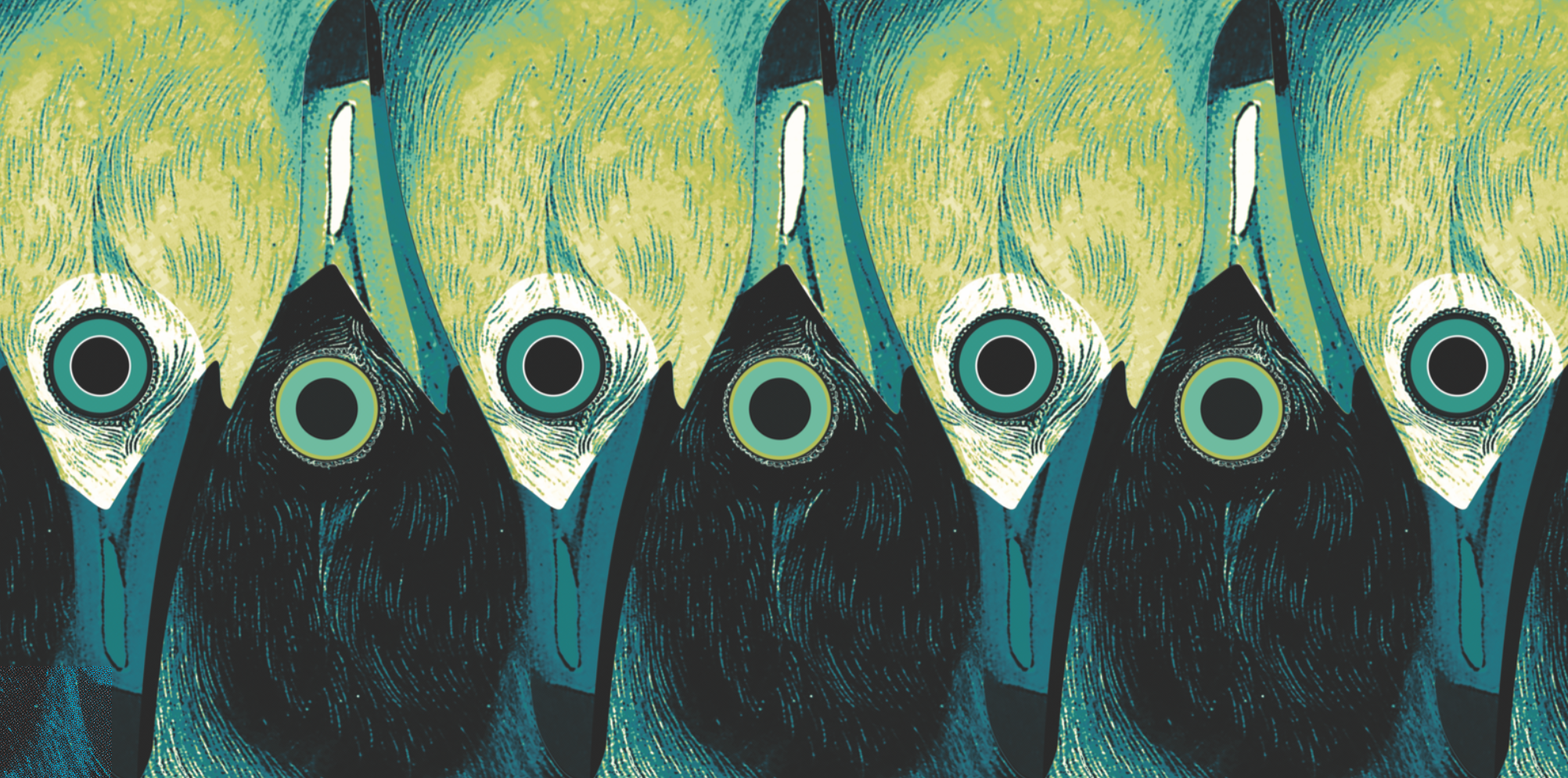 Artwork by Nick Carpenter
Great Salt Lake is a critical stopping point for migratory birds navigating the arid west. Around 10 million birds, made up of more than 300 separate species, rely on the lake for food and shelter. Inspired by the surreal illusion of the lake–simultaneously barren while also bustling with life–I chose to convey shorebirds in a psychedelic pattern. Using repetition to show the variety of life threatened by the shrinking oasis. – Nick Carpenter
Artwork by Caro Nilsson
Caro is a multi-media artist focused primarily on 'tactile impressionistic' painting. With a professional background in architecture, making art becomes a place of pure experience and expression, with few rules to follow. It becomes a way of interpreting and collaborating with past experiences – the way it felt to move through a space with feet and hands, to feel sunlight or smell pine needles. Caro creates paintings using more materials than just 'paint' – often incorporating more tactile elements such as sewn-in embroidery thread or textured tissue paper in addition to acrylic and gouache on canvases. Creating work in this way opens up a dialogue with experience that is freer and more honest, focusing more on the way things feel than the facts of how they look.
@caroznilsson / http://carozobservations.com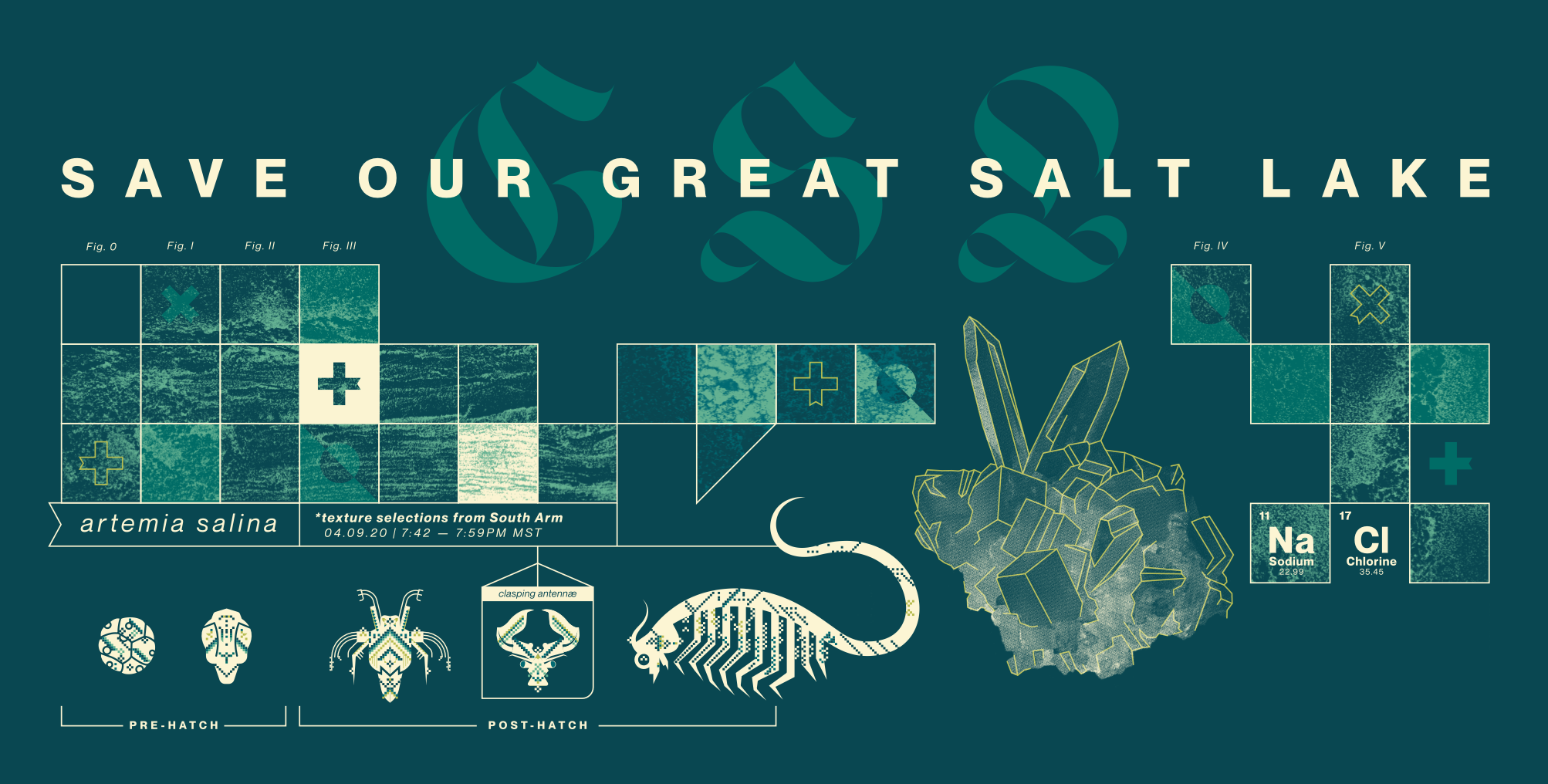 Artwork by Derek Ballard
Derek Ballard is a graphic designer native to the Salt Lake area. He has worked internationally and had artwork featured in galleries located in San Francisco, New York, and Los Angeles. He is the founder and co-owner of Neuer Geist and Riso Geist, Utah's first open risograph studio. This piece is inspired by the complex microbiology of the Great Salt Lake, a critical factor in our local ecosystem's survival. The lake is a source of inspiration for me, with its changing textures and unique environment. The loss of the lake for capitalist interests and unchecked industry will have a negative impact on so many aspects of life in this area, so it is a cause and concern we all must treat with sincerity.
Artwork by Abraham Von August
Abraham Von August – a black, non-binary illustrator. most recently exploring inserting blackness and black-queerness into designer fantasy and fairytale like settings.
Artwork by Analia Evans
Bygone Bison: Climate change has dramatically changed the landscape of the Great Salt Lake and has made Antelope Island no longer an island. The bison herd who reside on the island are now free to leave and could very easily wander into your front yard. They rely on the safety of Antelope Island and without it risk harm further caused by humans. It's important that we act now to save the Great Salt Lake and the animals, humans included, who rely on it.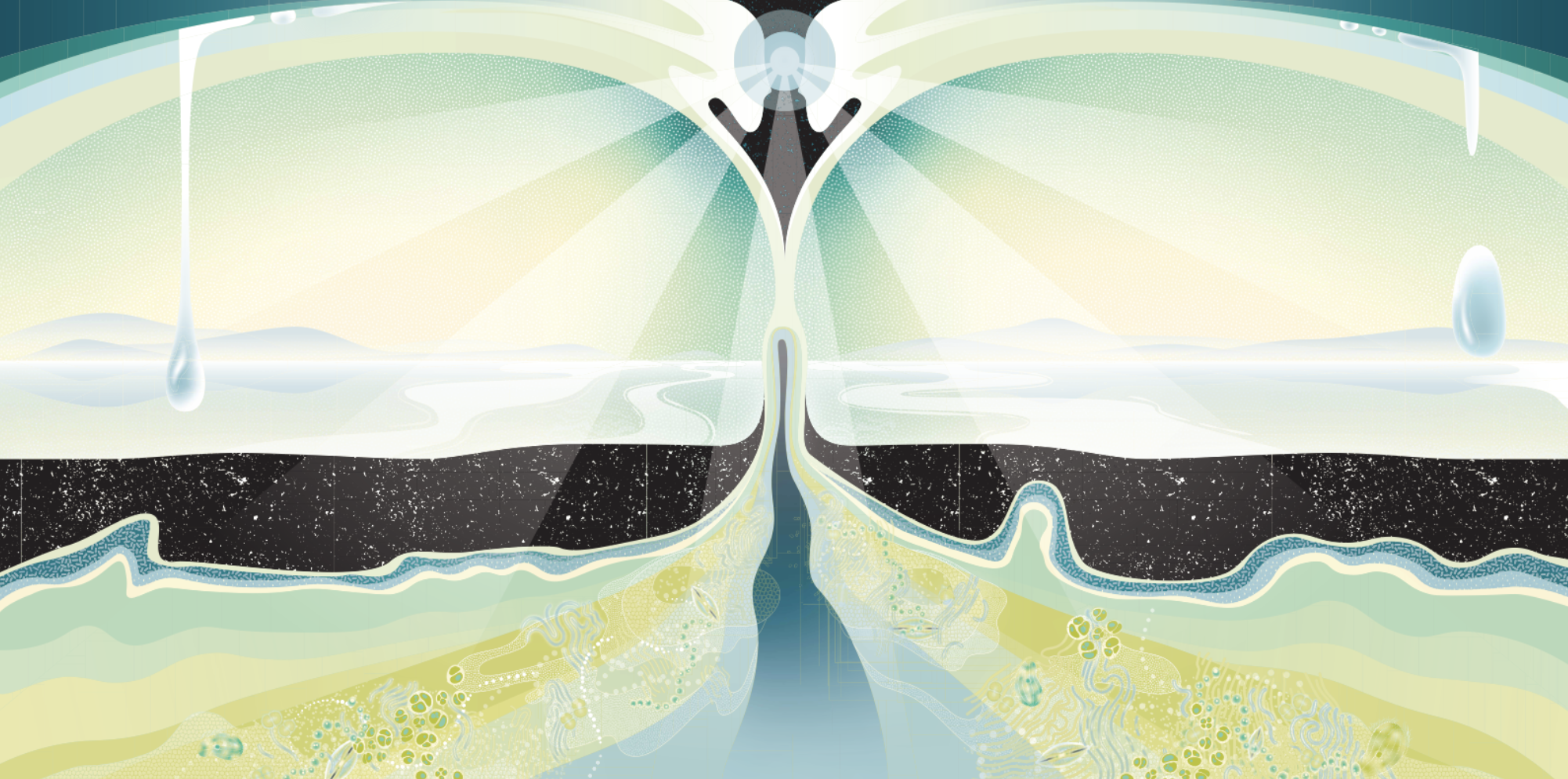 Artwork by Laurie Anne Larson
On a first visitation, it can be easy to conceive of the Great Salt Lake as inert, hostile, stinky, and dead. The lake's abundance is largely invisible and submerged, it is microbial: a massive amount of energy stored in little phototrophic bodies in the lake. This illustration dwells in this abundance: the labor of microbial communities mineralizing bioherms and calcifying oolites on the basin floor, the intricacies of the microbial communities and their adaptation to an extreme environment, and the sensory experiences that all of this brings to us here.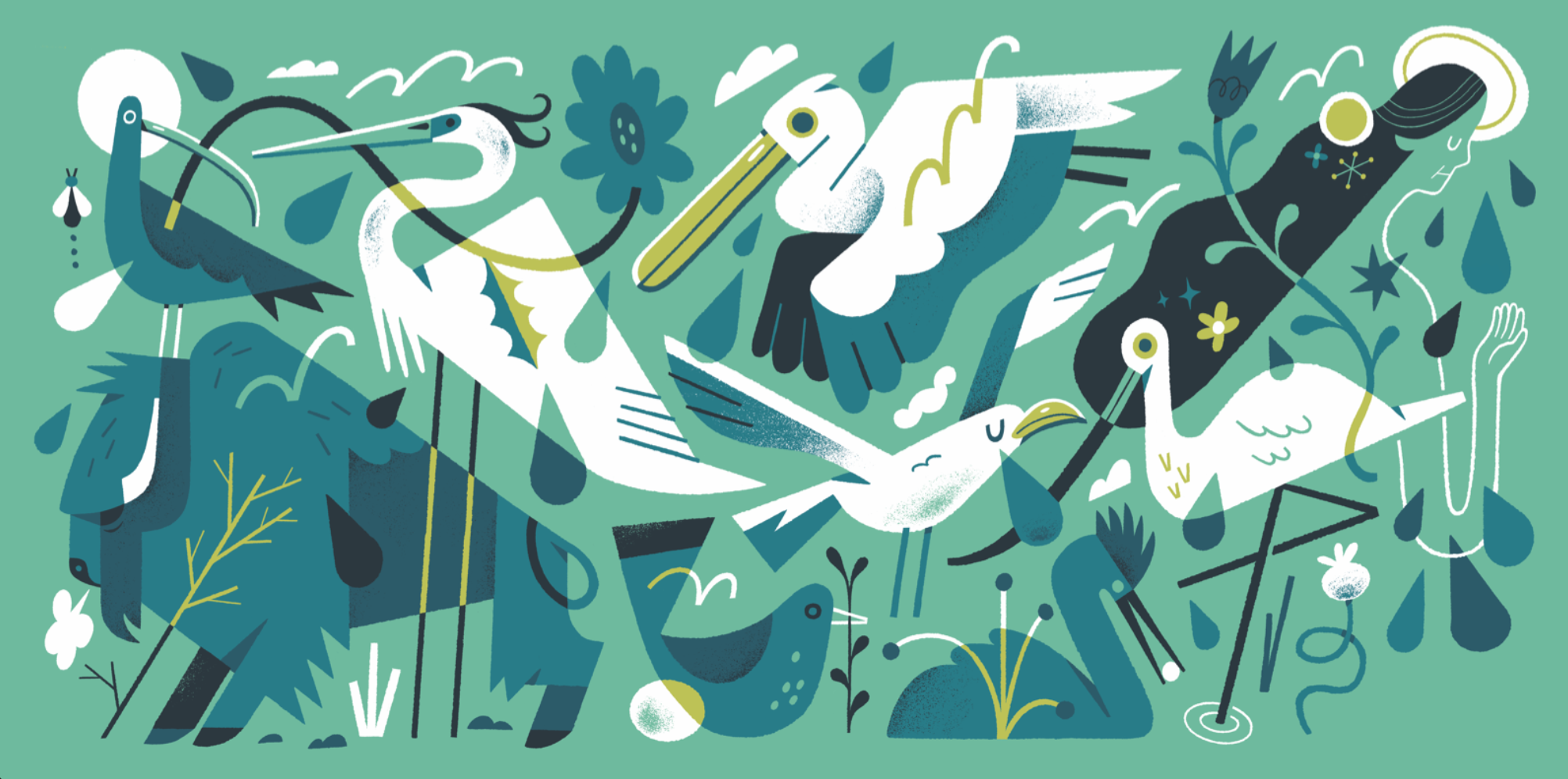 Artwork by Brett Ferrin
I'm an illustrator from Salt Lake City and a life-long lover of the Great Salt Lake. As an artist I strive to capture the unique wonder of nature through a whimsical graphic style. I hope my piece inspires more Utahns to get involved in protecting the imperiled ecosystem of our Great Salt Lake.
@brett.ferrin / www.brettferrin.com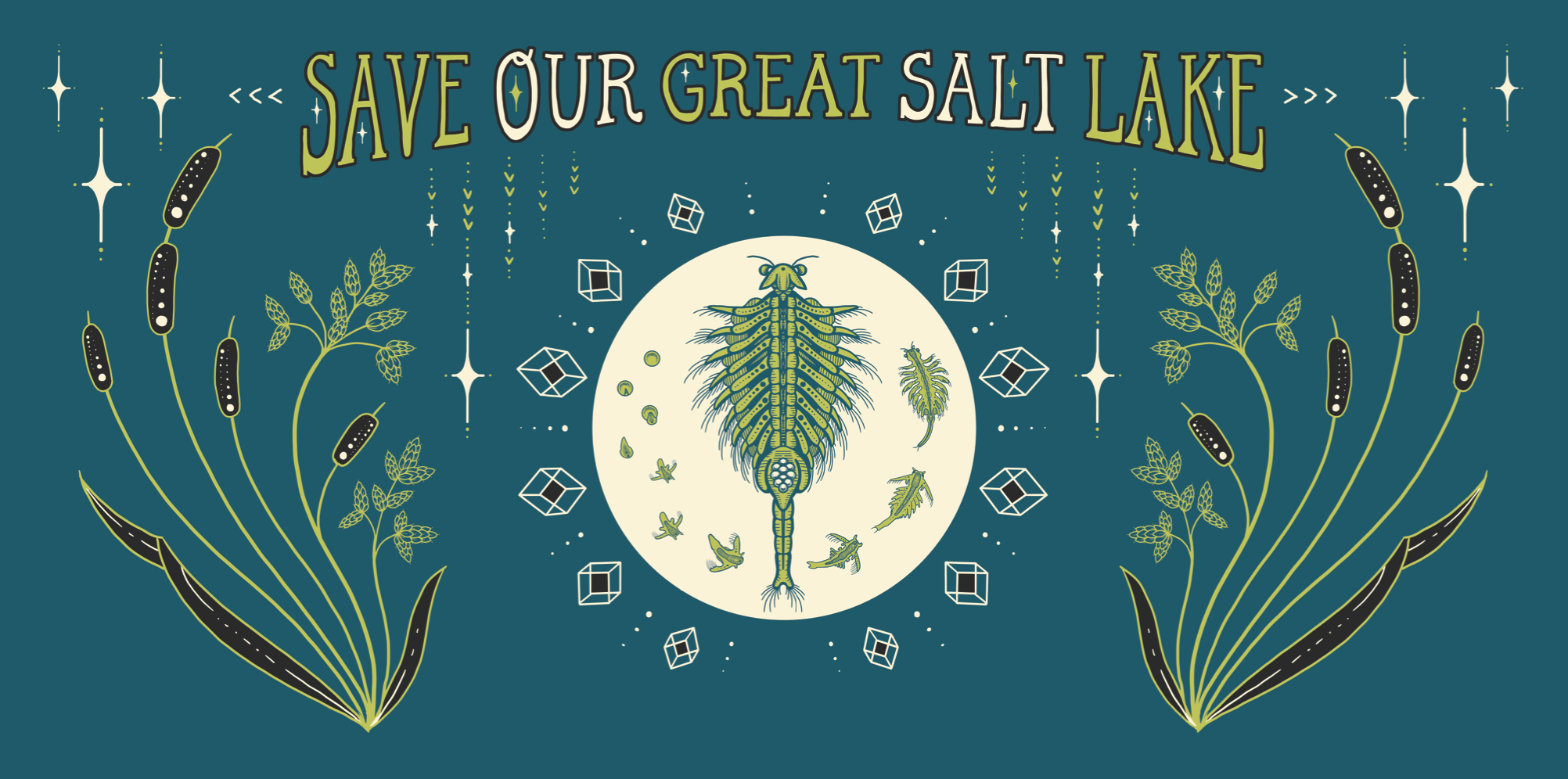 Artwork by Logan Law
Logan Law is a tattoo artist from Salt Lake City. She is inspired by nature, surrealism and mythical creatures. Focusing on blackwork, her style is bold and dreamy. She currently resides at Everybody Tattoo Studio.
@logan.law.tattoos / @ logan.law.art / loganlawart.com
Artwork by Davin Abegg
Davin Abegg is a born and raised Utahn, lover of the outdoors, local music scene veteran, proud father of 3 incredible daughters, and professional artist and designer specializing in album art, children's book illustrations, and portraits.
@swoodydraw / @idrawrandomfollowers
About Craft Lake City:
Founded in 2009 by Angela H. Brown, Executive Editor of SLUG (Salt Lake UnderGround) Magazine, Craft Lake City® is a 501(c)(3) charitable organization with the mission to educate, promote and inspire local artisans while elevating the creative culture of the Utah arts community through science, technology and art. Craft Lake City strives to further define the term "Craft," by modernizing the definition for handmade creativity.
craftlakecity.com   @craftlakecity
Craft Lake City's year-round programming is supported in part by the residents of Salt Lake County through the Zoo, Arts & Parks (ZAP) Program, the Salt Lake Arts Council, the George S. and Dolores Doré Eccles Foundation, and Utah Arts & Museums, with funding from the State of Utah and the National Endowment for the Arts.
About CRUDE:
CRUDE's certified Microbiome-Friendly products are setting a new standard of clean. Rather than bacteria-stripping soaps and detergents, CRUDE uses plants like aloe vera and sunflower oil to cleanse the skin gently without stripping its natural moisture barrier or disrupting its healthy flora. CRUDE's mission is to 'let nature thrive', by supporting healthy ecosystems on our skin, in our communities, and on our planet at large.
About the Temporary Museum of Permanent Change:
The Temporary Museum of Permanent Change is a community based, participatory project that uses the ever-changing development processes underway in Salt Lake City as catalysts to animate city life. The Museum engages a variety of audiences using a collaborative, multidisciplinary approach that includes performance art and video production, visual art, urban archeology, anthropology, local history, existing businesses and ongoing deconstruction and construction processes as spectacles for people of all ages. Together these elements provide teachable moments in our efforts to manage and celebrate change. This museum has no specific address. Rather it is a construction of ideas, installations and illuminations that comprise a new way of seeing our city.
About the Center for the Living City:
The Center for the Living City's purpose is to expand the understanding of the complexity of contemporary urban life and through it, promote increased civic engagement among people who care deeply for their communities. The Center provides portals for community engagement through the lens of urban ecology to further the understanding of the interconnected human and ecological systems in our communities. The Center's multi-disciplinary approach to community engagement is applied through educational programs, collaborative projects, fellowships, on-line portals, workshops and publications.