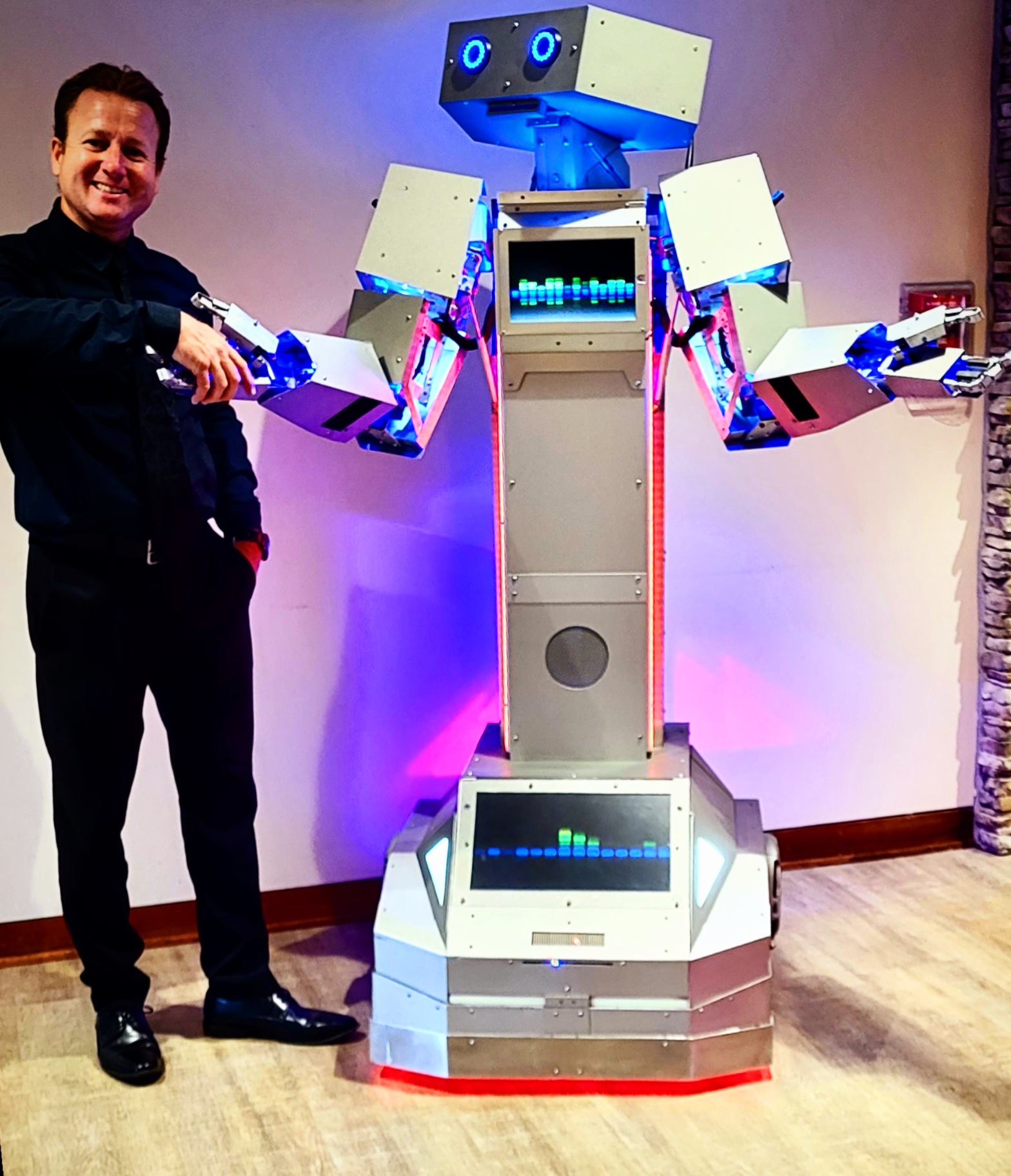 Wrapping up our June celebration of local artists in the LGBTQ+ community, this week's featured maker is Michael White — the designer and engineer behind Ras the Robot! Check out our full interview with Michael below to learn about his passion for robotics:
What is your medium, and how long have you been creating?
I've always had a passion for designing and building since I was a kid. I built my first mechanical human-like hand for a ninth great science project. After high school, I went on to get a Bachelor's Degree in Robotics Engineering. My passion for robotics led me to design and build my own robotic prototypes. My latest robotic prototype, Ras the Robot, is a singing, dancing, entertainment robot, with a blasting sound system that turns the robot into a mobile robotic DJ, as well. I started my own business called Rent-A-Bot, which [allows Ras to] be used at events and parties of many kinds including schools, STEM programs & robotics lessons.
What would you say to kids who might be interested in designing and building like you were at their age?
I would have to say that the most important thing would be to dream big. Don't let anyone tell you that you can't do something, because if I had let that stop me, I never would have had a cool robot friend. The next thing is to just get your hands on whatever information, tools and supplies that you can. You might be surprised by what you can accomplish in a garage. All you need is practice, imagination and to be ready to play around until it works.
What inspires you to create? Why do you do it?
I create out of a passion for robotics which has led me to create my own robotic prototypes. I'm inspired by robotics out of a fascination for making things come to life through the creative process.
How is your work connected to your identity?
I like to tell people that Ras the Robot is an extension of myself. Some of the different features that are on Ras The Robot were inspired from T.V. shows and movies that I've seen throughout my life, like Short Circuit, Knight Rider & Flight of the Navigator.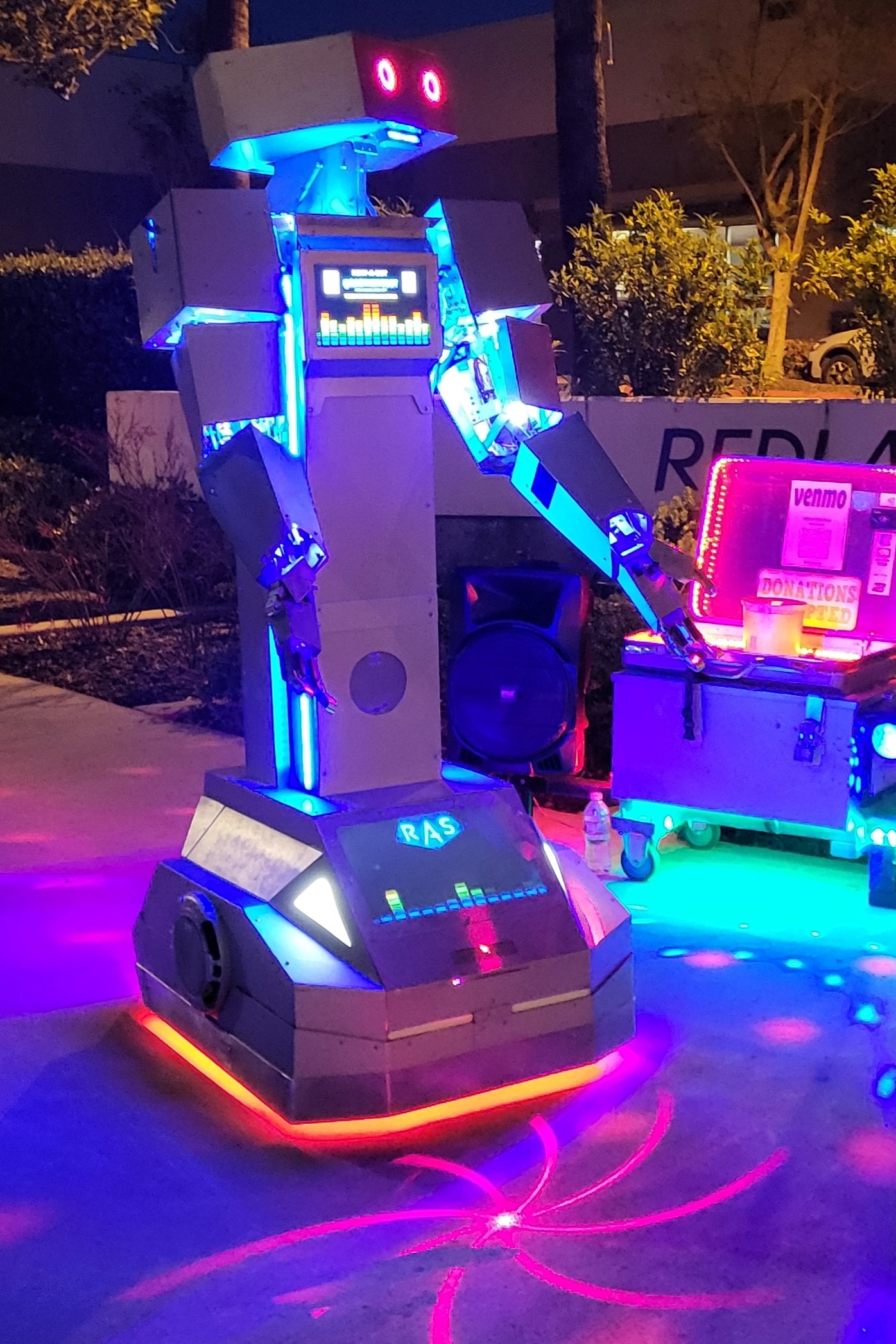 Obviously Ras is a huge hit. What do some of your other prototypes look like?
I definitely have a few new ideas I am playing with, but I am not ready to delve into anything totally new at this time. However, I will share that for now my focus is on ways to improve Ras, both for his benefit and for the next [prototype] when I officially start it. I'm constantly learning new ways to make him more functional as well as fun. Most recently I added a second screen for more features, and soon I hope to increase his arm strength for durability, particularly for transport. I thought about making legs and a bendable waist for the next one, but I don't know…I kind of like how Ras looks so I might keep the wheels, though I plan to at least make things like curbs a little easier for him to manage.
What does your creative process look like when developing a robotic prototype?
First, you have to have an idea. Mostly, for me, this involves a lot of daydreaming. I like to watch videos to see what other people are discovering and playing with. Though, my favorite way to spark ideas is to just talk with people. Ras has always been for the people. Once you have a fun idea, you just have to kind of get your hands dirty. Start bending the metal, seeing why a connection didn't work. It's really just an idea and then seeing what you can pull from your mind and out through your hands. Sometimes it takes a few times before it looks like what you thought, but other times, what it comes out as can even be even better.
Where can our readers find and support your work?
Instagram is where I post most of my new adventures with Ras right now, and I of course have Tik Tok, YouTube and my website. Currently I am working on a few new Tik Tok ideas for more ways to have fun with him. As for ways to support, the best thing you could do is tell your friends about us. We love dancing with friends at events and parties, but many people don't know that I also teach robotics in private and group classes. Recently I had the opportunity to teach at a few preschools and seeing the spark of excitement on a room full of kids faces when they see what they can learn how to do is priceless.
Is there anything else about you that you would like our audience to know?
My passion for robotics will continue on for the rest of my life. I'm thankful for my abilities and talents. I'm also thankful that I was able to help teach my 4 kids, through example, the importance of fulfilling your passion.
Craft Lake City's artist features highlighting national DEI Awareness Months will continue throughout the year on our social media channels (@craftlakecity) and here on our blog. Stay tuned to hear from other local creatives working to make Utah a more vibrant and accepting place to live, work and create!