This year's DIY festival was the biggest and most ambitious one yet! In this, our 8th year putting on the Craft Lake City DIY Festival, we extended to three days for the first time ever! The festival featured more than 300 artisans, craft foodies, DIY engineers, and performers. Scroll through the photos below to see some of our favorite memorable moments.
We absolutely loved this sign from Luna Beehive! Her adorable felt pillows, including pillows with tooth pockets for the tooth fairy, sold quickly!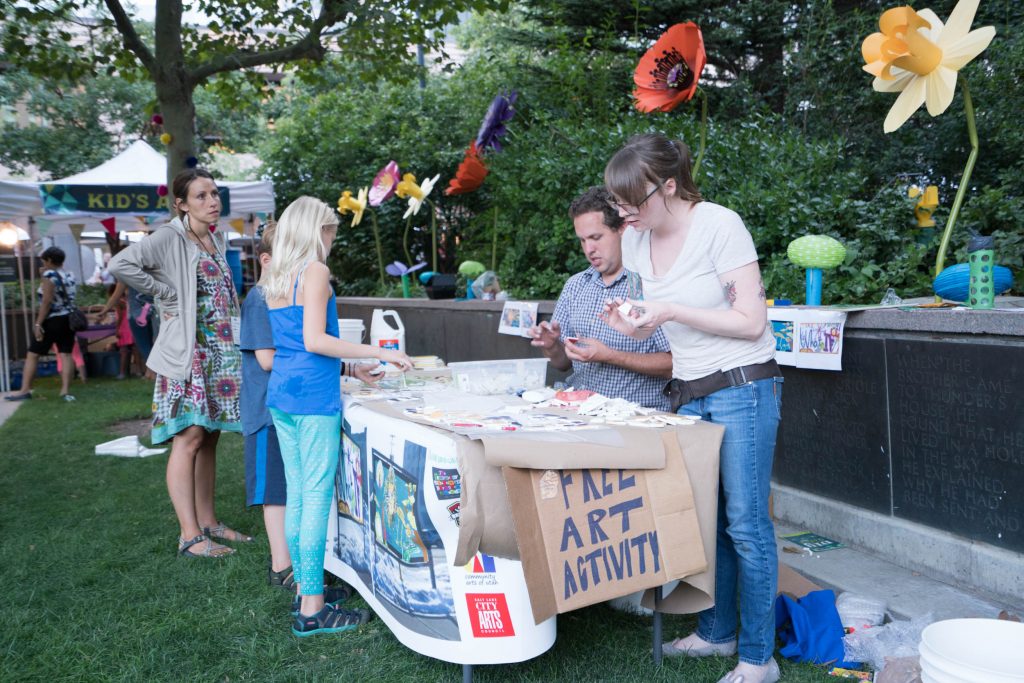 This year, the Kids' Area sported a woodland theme with fairy forest themed crafts, a bouncy play house, and an activity where you could contribute to a mosaic by artist Roger Whiting, which will be installed in downtown Salt Lake.
The bouncy house was easily the most popular item in the Kids' Area.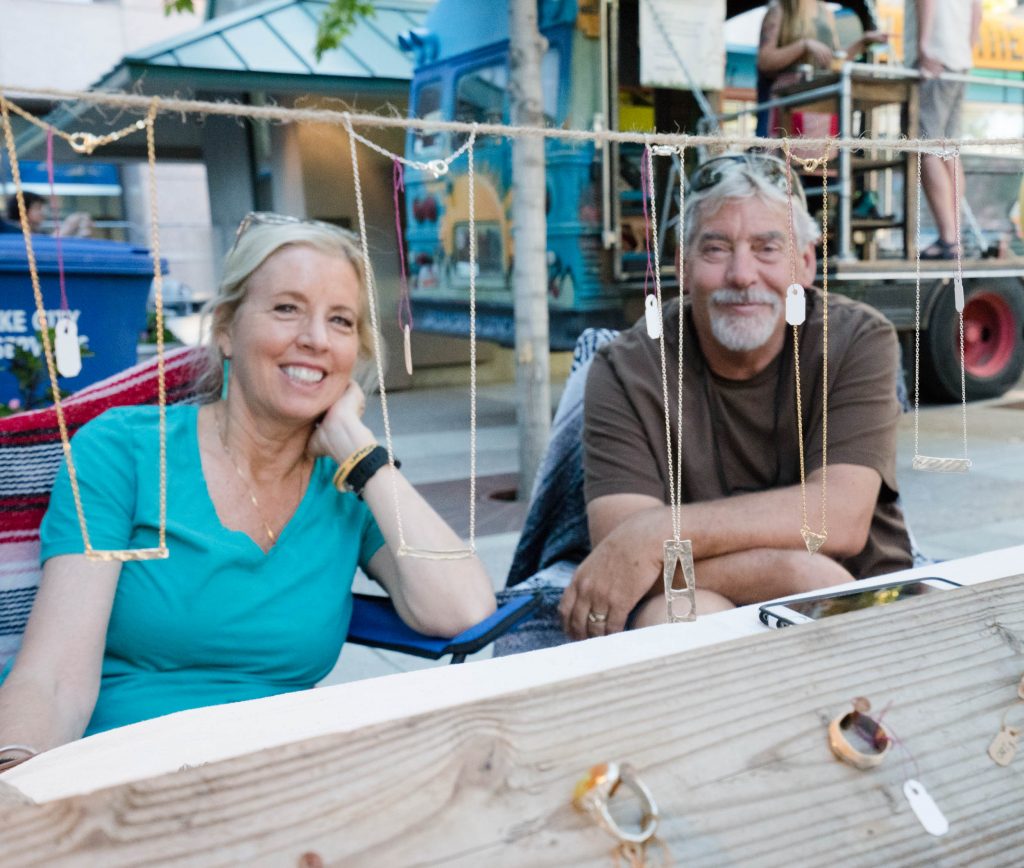 Our vendors this year really brought their A game. With over 250 crafters and DIYers, there was a variety of impressive merchandise to peruse.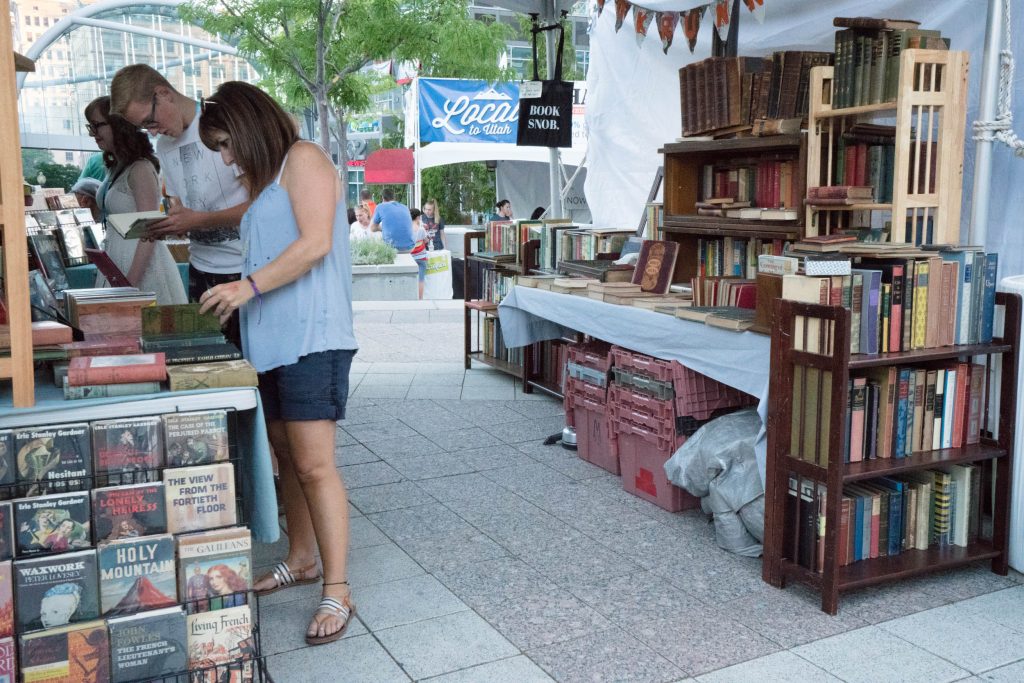 While at the festival, you could buy jewelry, handmade soap, gorgeous prints and original art pieces; have your T-shirt printed in front of you; order a handmade dress from Africa; get a tin type portrait done; or browse used book stands. From set up to take down, our vendors were constantly impressing us with their work ethic, positive attitudes, and, of course, their art work.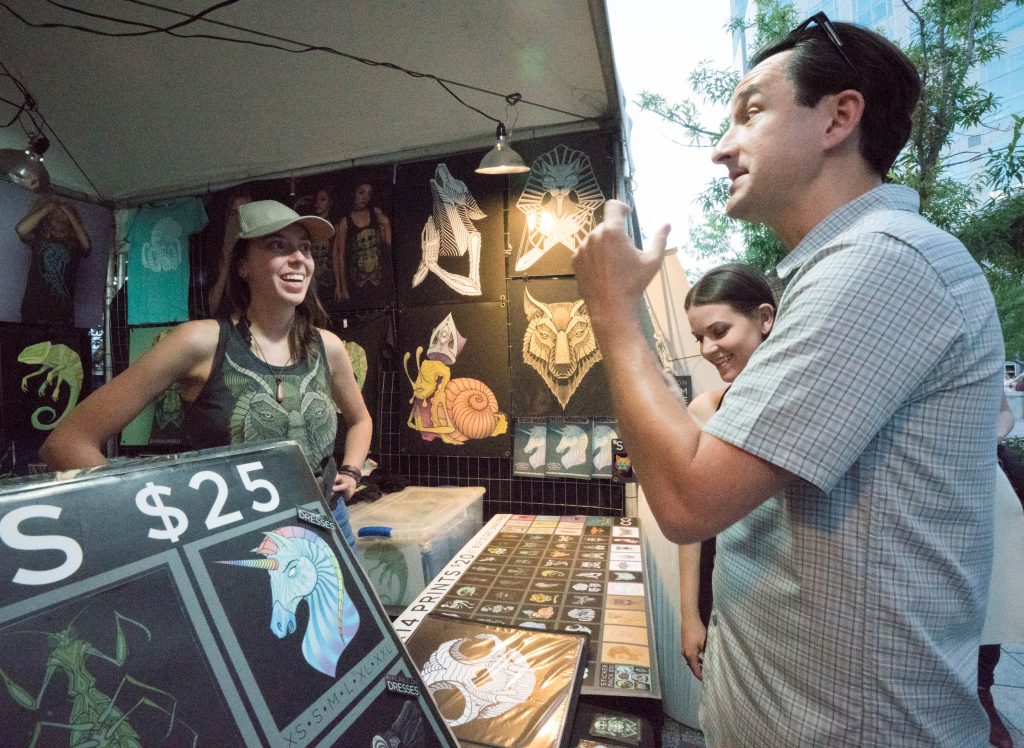 The designer of the August SLUG Magazine cover art, Isaac Hastings of Sugarhouse, had an awesome booth with t-shirts, tank tops, stickers, and prints with his radical art on them.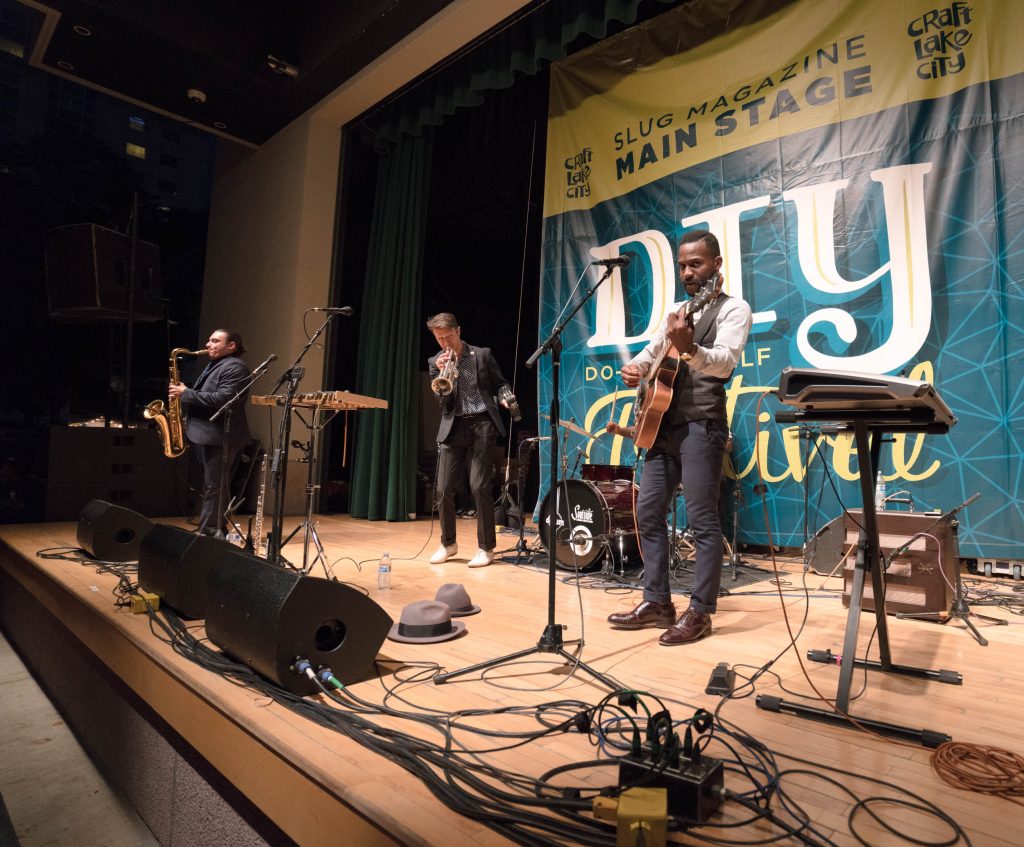 Throughout the festival, there were performances going on, either on the SLUG Mag Stage or the KRCL Stage. One of our favorites was Joshy Soul and the Cool.
These guys had the crowd up and grooving to their smooth tunes. With catchy love songs playing, there were numerous couples of all ages swaying the night away on the SLUG Mag Stage.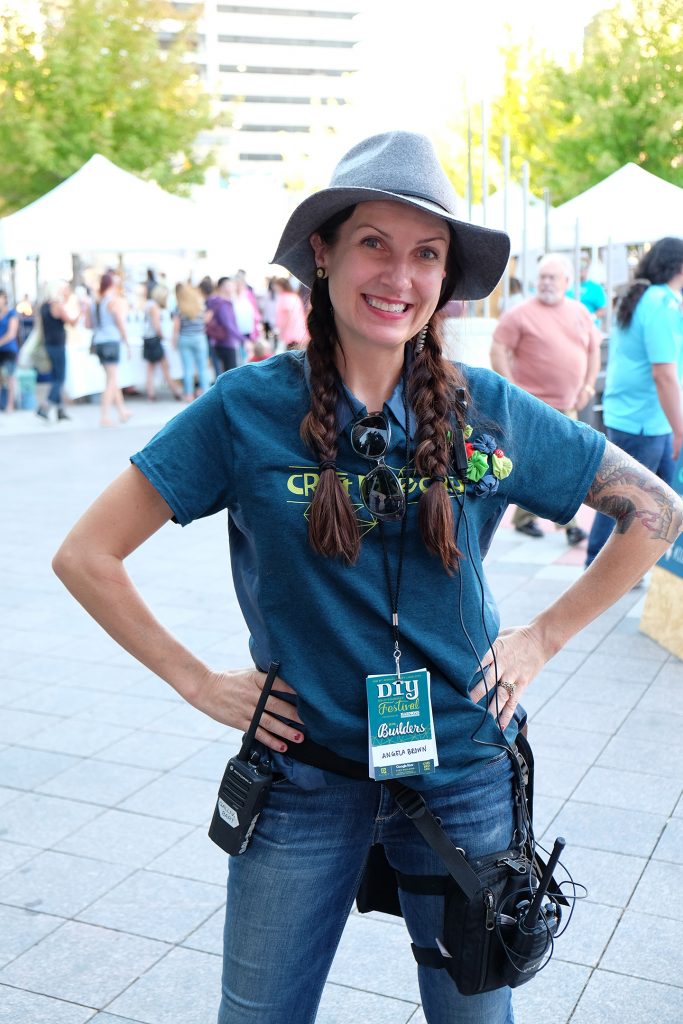 Our fearless leader, Angela Brown.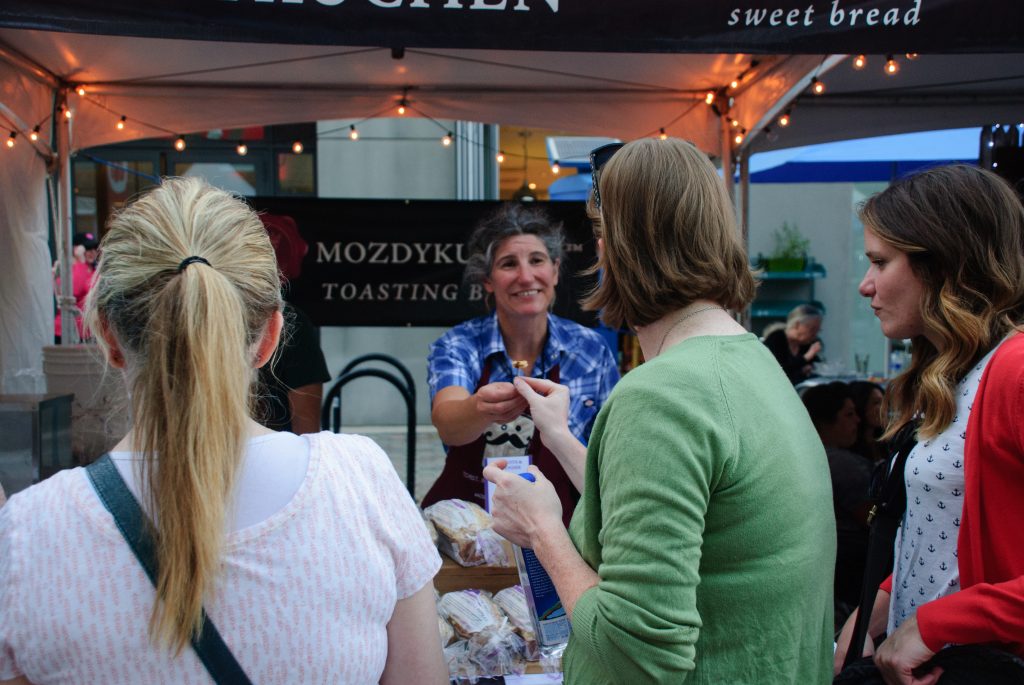 The food vendors at the festival did not disappoint! Needless to say, we were well fed all weekend.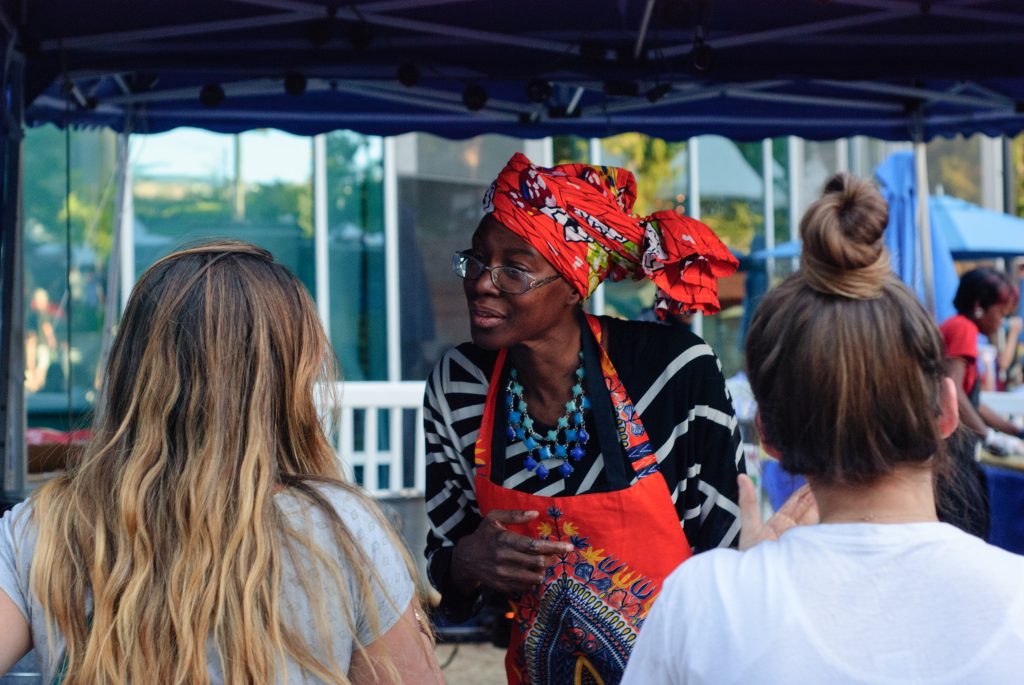 Mama Africa, one of our favorite food vendors, brought the tastes of her home in the Congo to Salt Lake City with her to die for Beignets and her delicious (and really hot) hot sauce.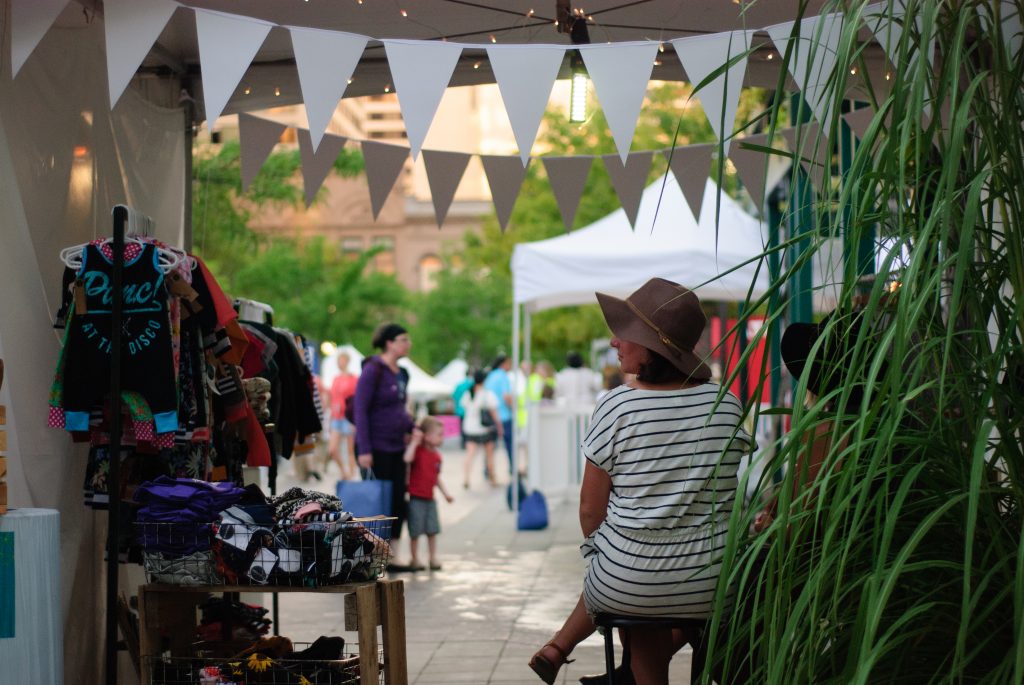 Each vendor had an interesting story to tell, not just in their merchandise but in how they got to be where they are.
Each night, the festival lit up in a way that added a little bit more magic to the experience.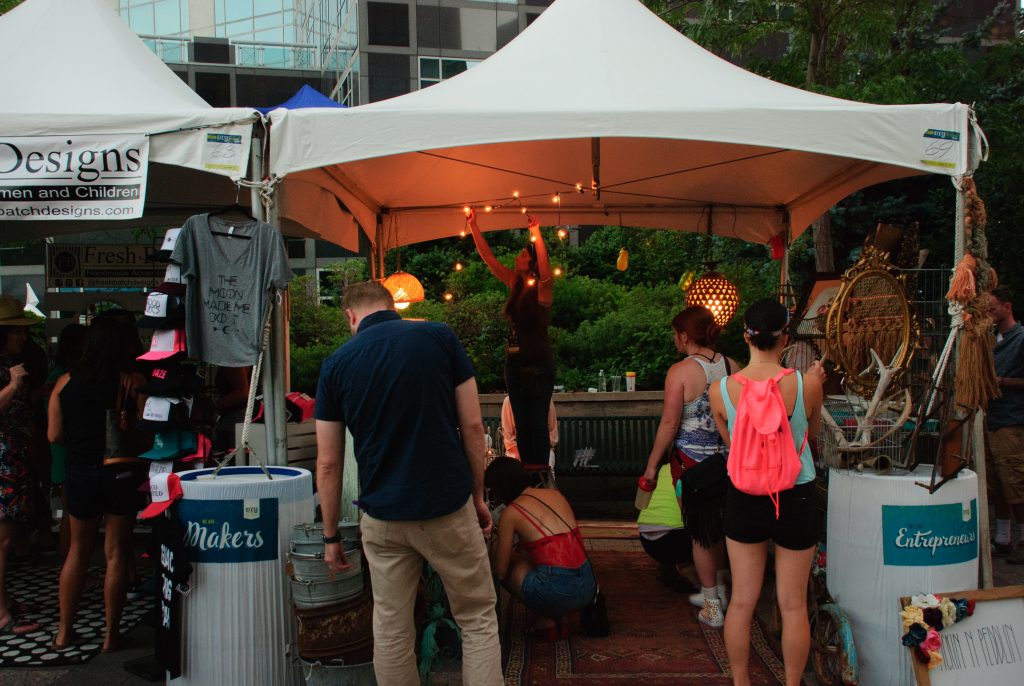 Vendors came up with their own lighting schemes, and some of them got really creative. There were twinkle lights everywhere!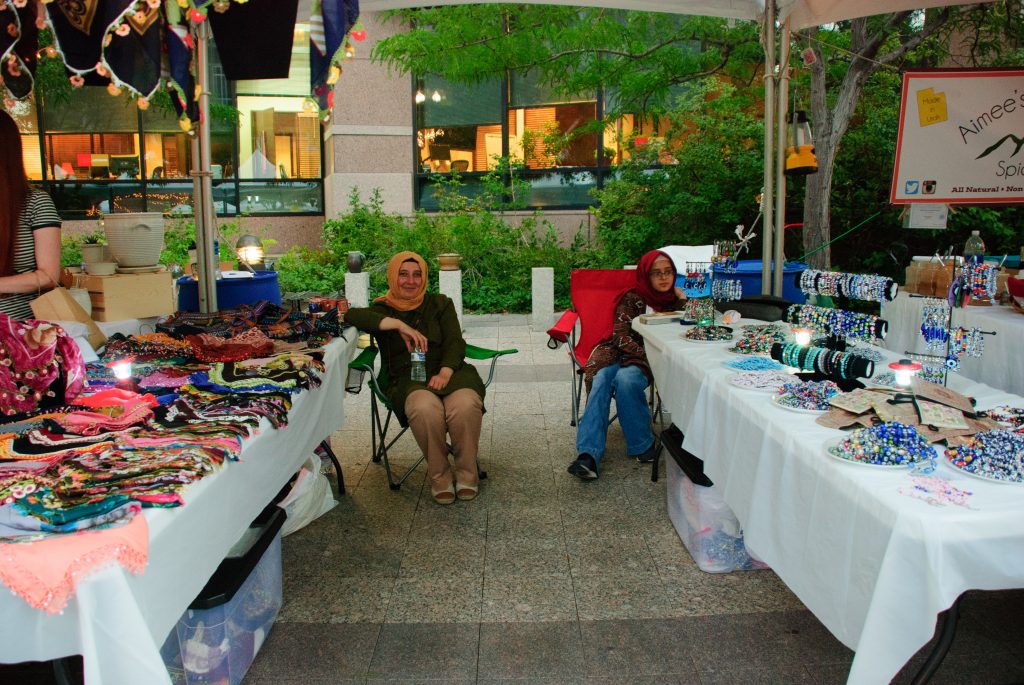 There were many different cultures represented at the festival this year, including Zeynep and Nihal of the Turkish American Cultural Center, who showed off their hand stitched items, along with jewelry depicting the evil eye.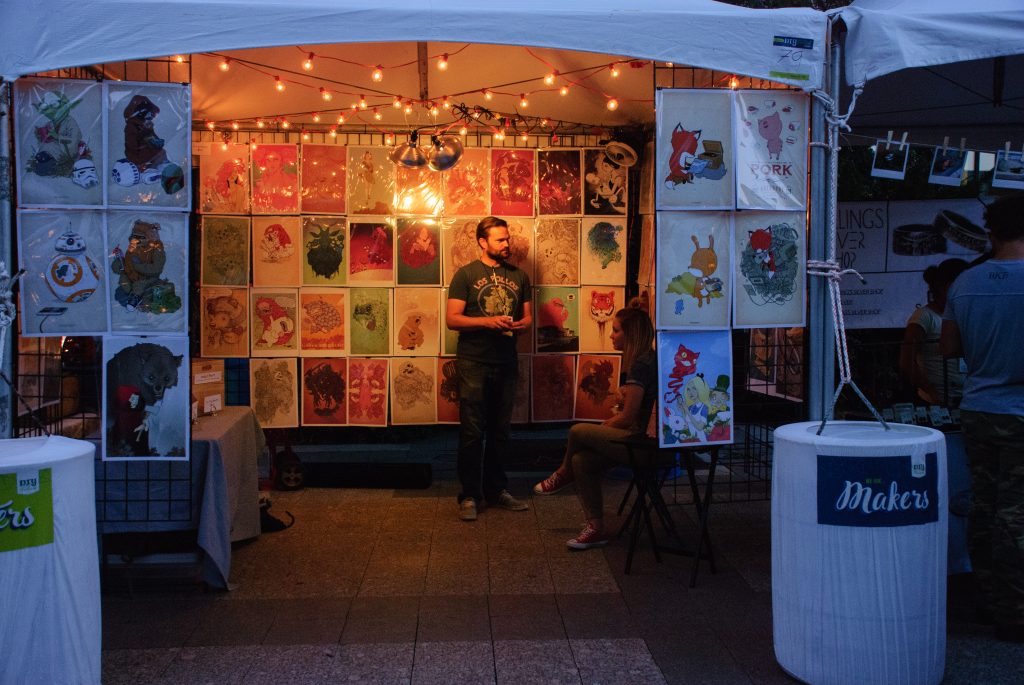 The pretty lights and well-lit art work was a gorgeous combination.
Big thanks to our Mad Scientist and Craft Lake City Robot cruising around the festival. These two were non-stop, interactive entertainment all three days. They circulated the festival showing off the robot's tricks, meeting kids, and playing catch! They were a festival favorite this year.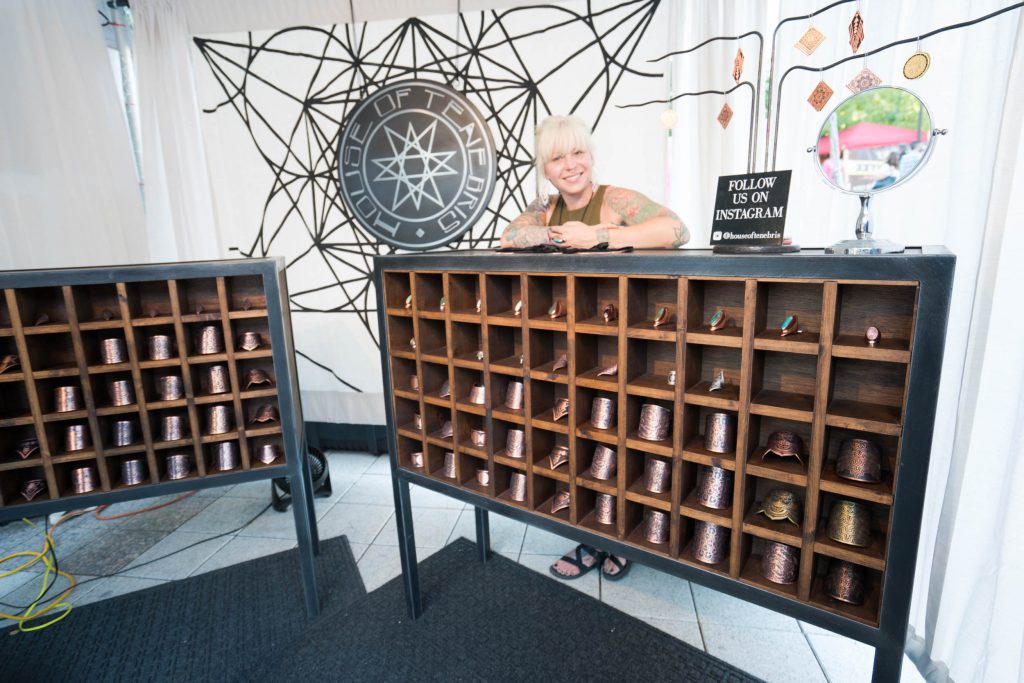 DIY jewelry vendor Rachel Johnson from House of Tenebris was selling some unique and beautiful pieces. The name of her store, tenebris, means "darkness."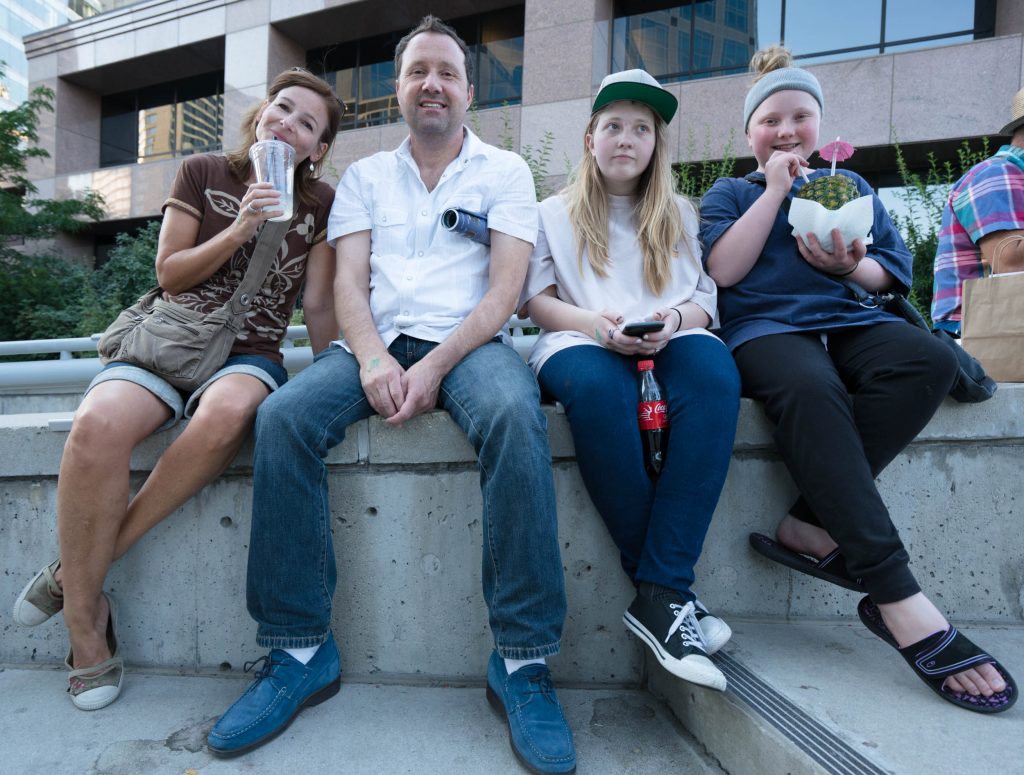 Enjoying some family time at the festival!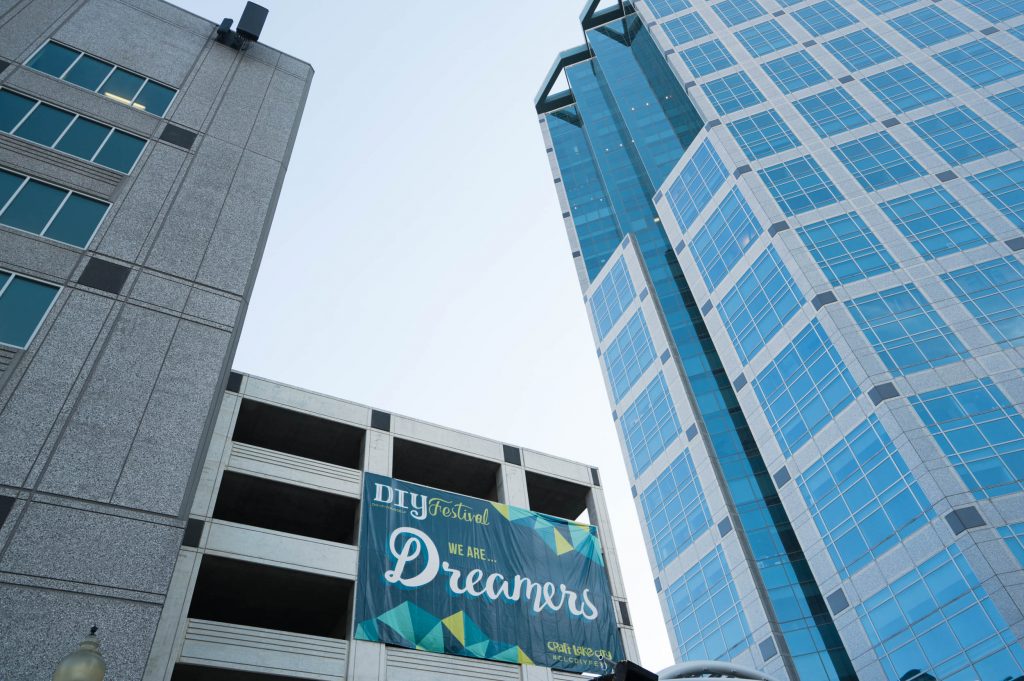 A view from the ground of some of our rad signage.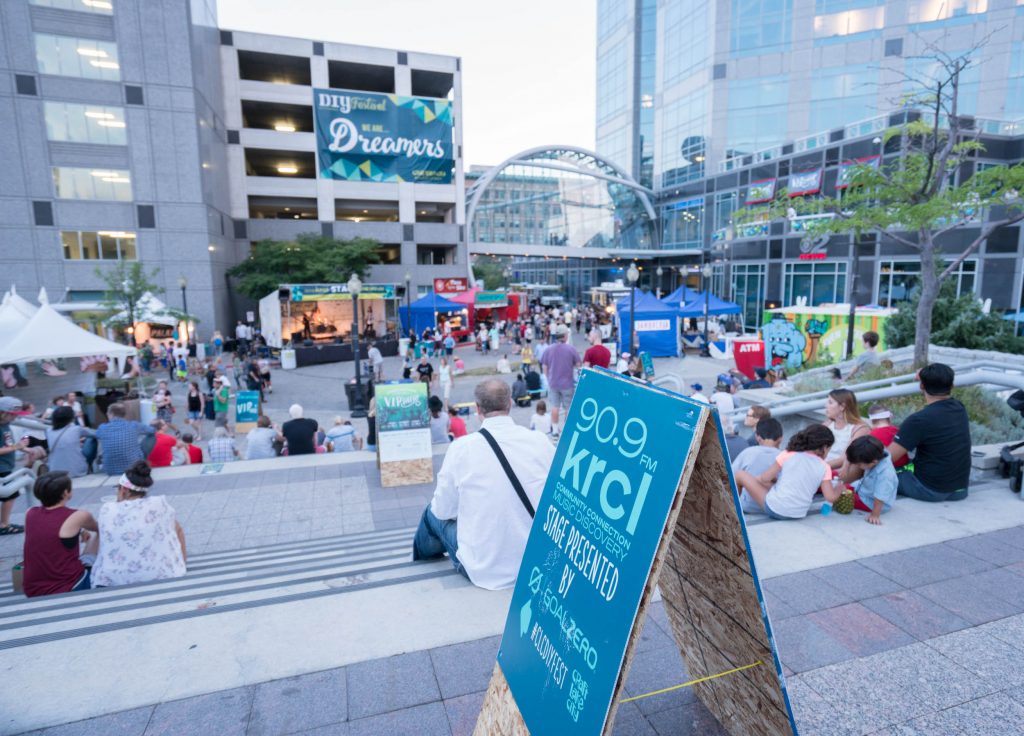 Crowds gathered on the steps to enjoy the festival food and the performances on the KRCL stage.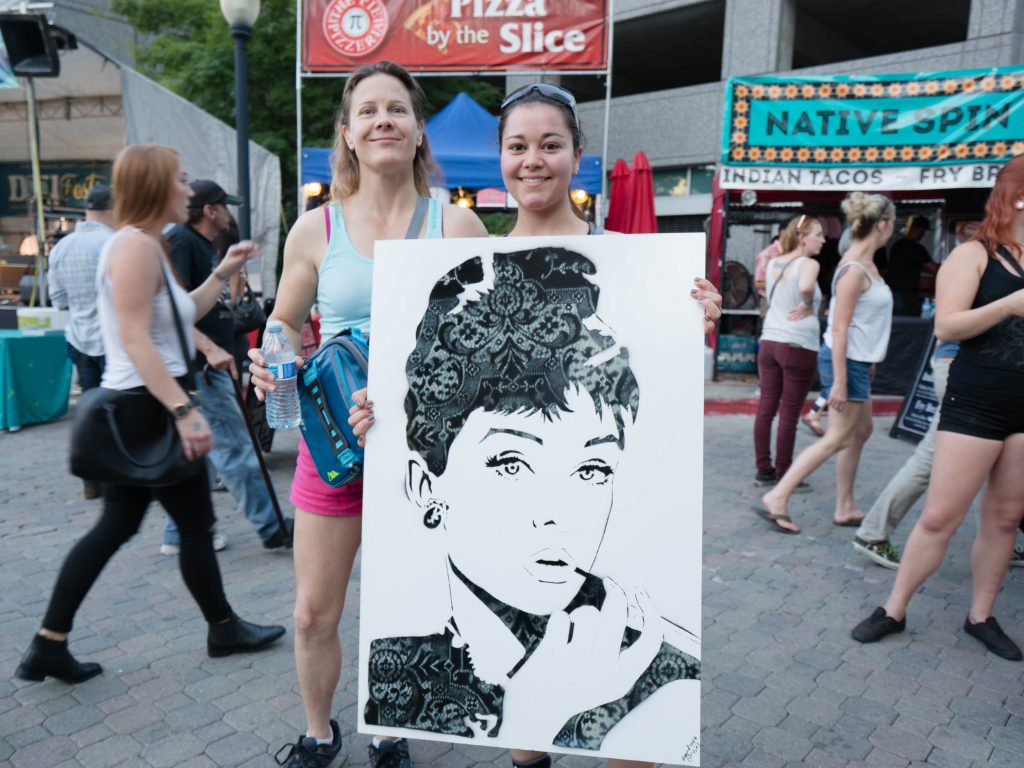 Lydia Mills and Rebecca Ruffel purchased this cool Audrey Hepburn piece by David Overstreet.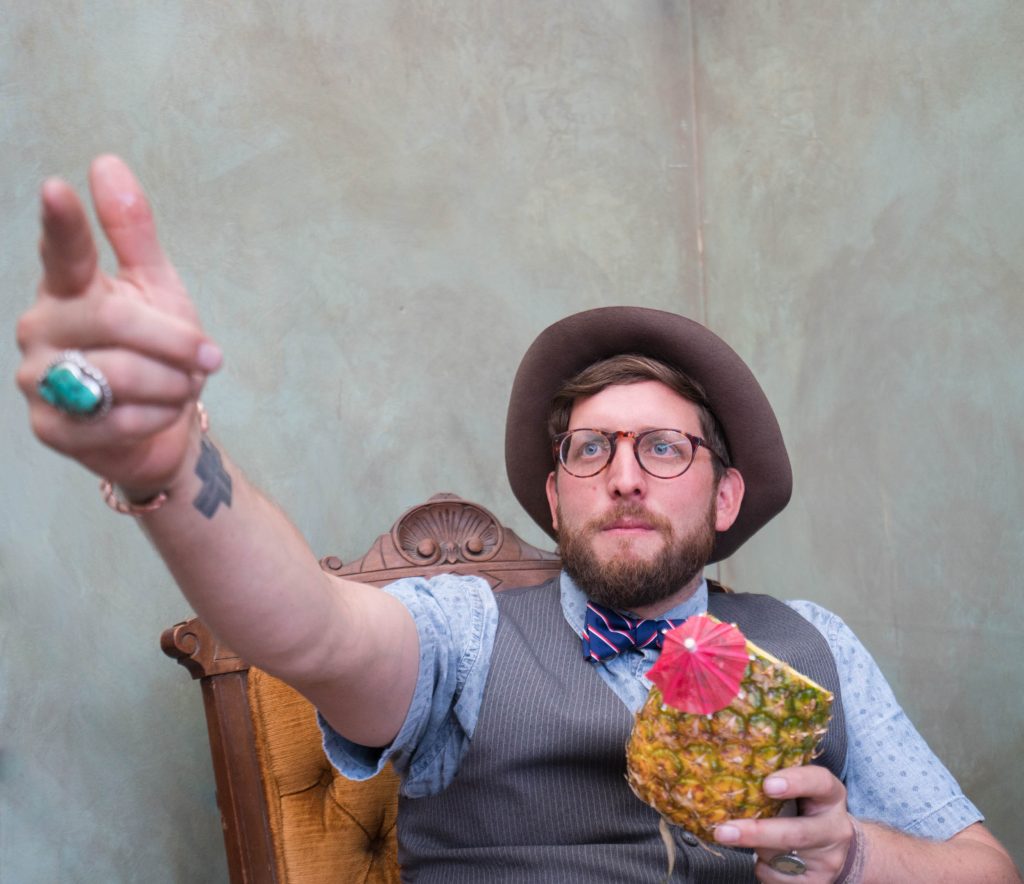 Portrait of Mister Pauper, Jake Buntjer from Provo, drinking a fancy pineapple beverage from Project Pinapple.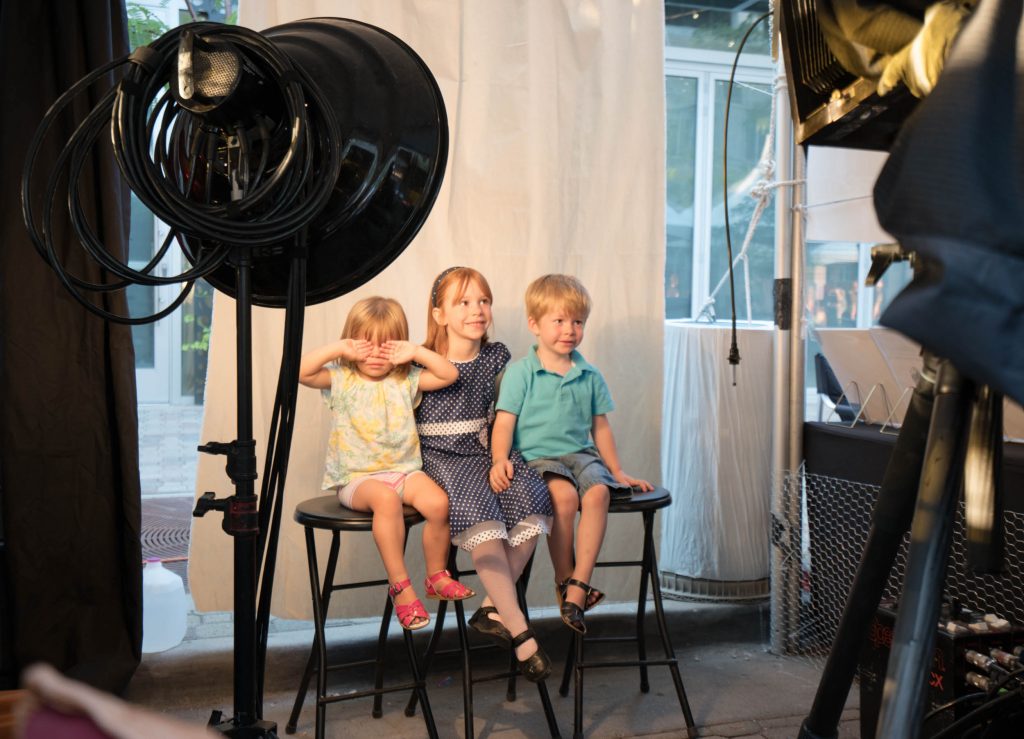 There were so many photo opportunities at the festival! You could get a portrait, a tin type, a drawing, or a polaroid.
Local artist out of Murray, Tai Taeoalli, continued to create and draw with a ballpoint pen as people came in and admired his art.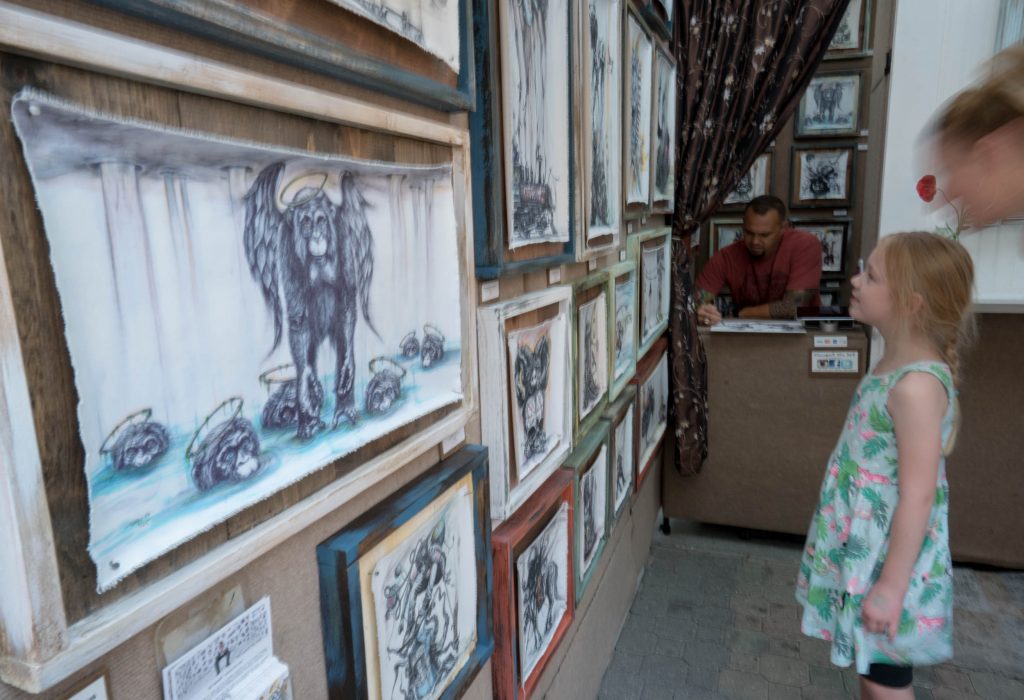 Art by Tai had the most amazing booth! His set up made you feel like you were walking into a real art gallery.
The Salt Lake Comic Con booth brought some real characters to the festival Saturday morning with the Cosplay Games.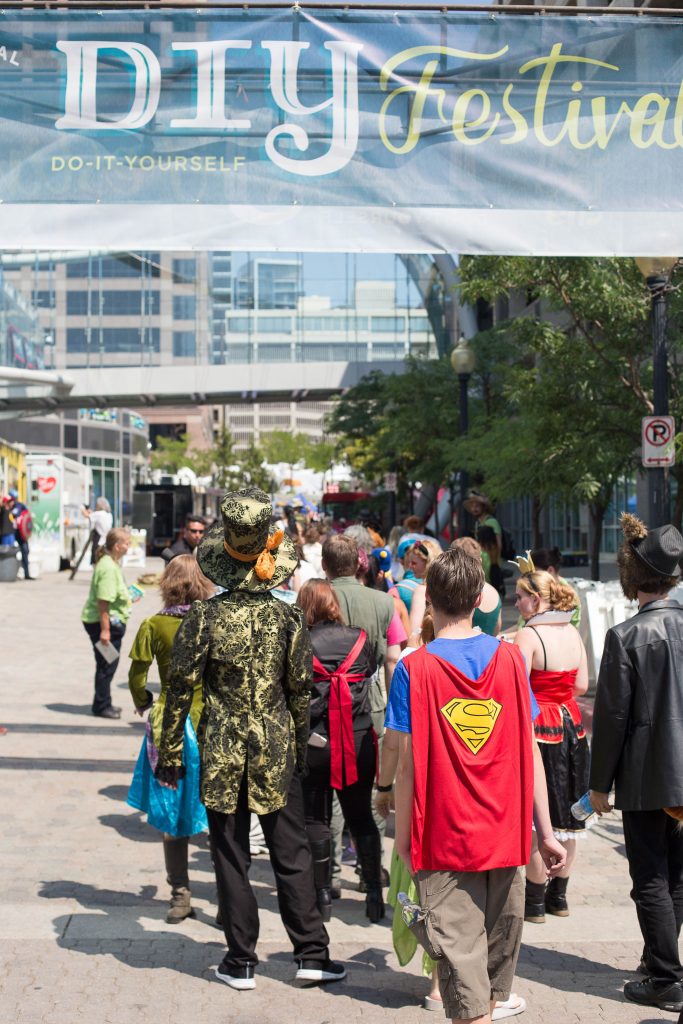 All of the sudden, the festival was flooded with Pokemon, superheroes, Disney characters, and comic book characters. It was a lot of fun to see the Queen of Hearts and Darth Vader dance their way across the SLUG Mag stage to the Comic Con booth.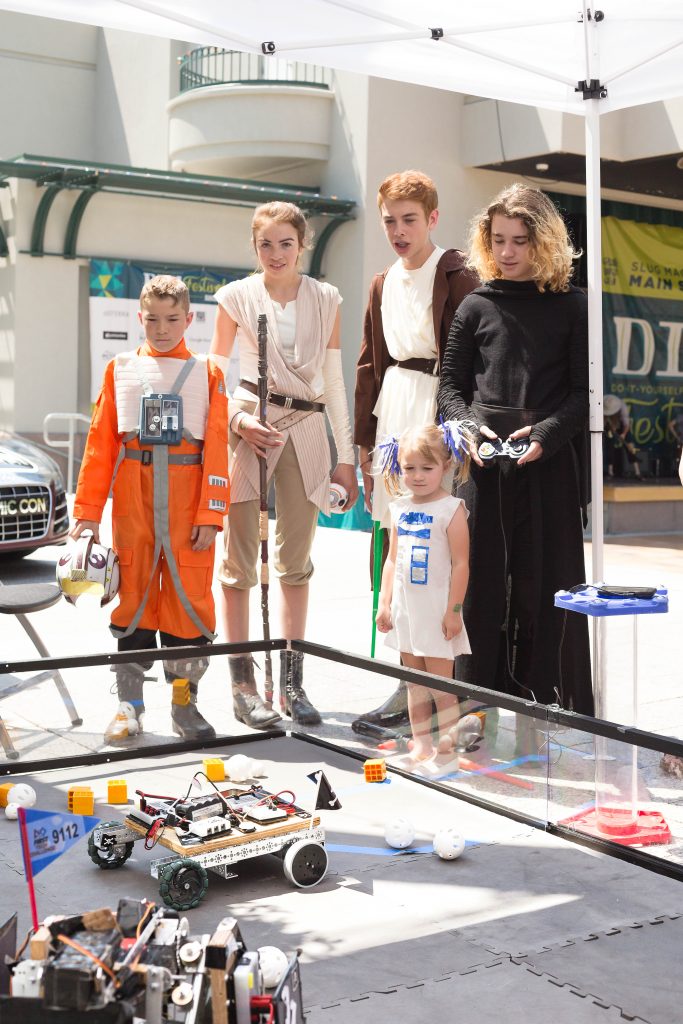 Star Wars characters enjoy the Utah FIRST Robotics demonstration. Apparently, they don't have that in a galaxy far, far away.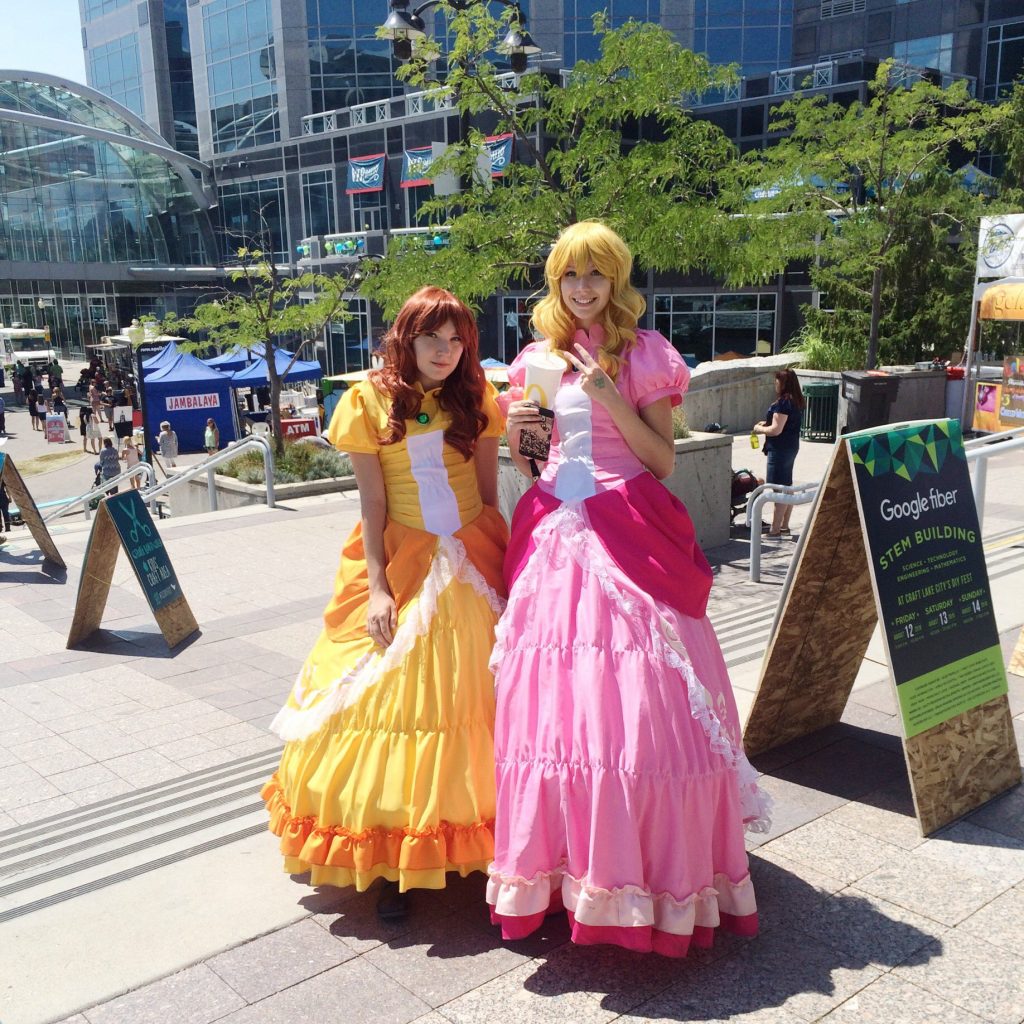 Peach and Daisy made an appearance too!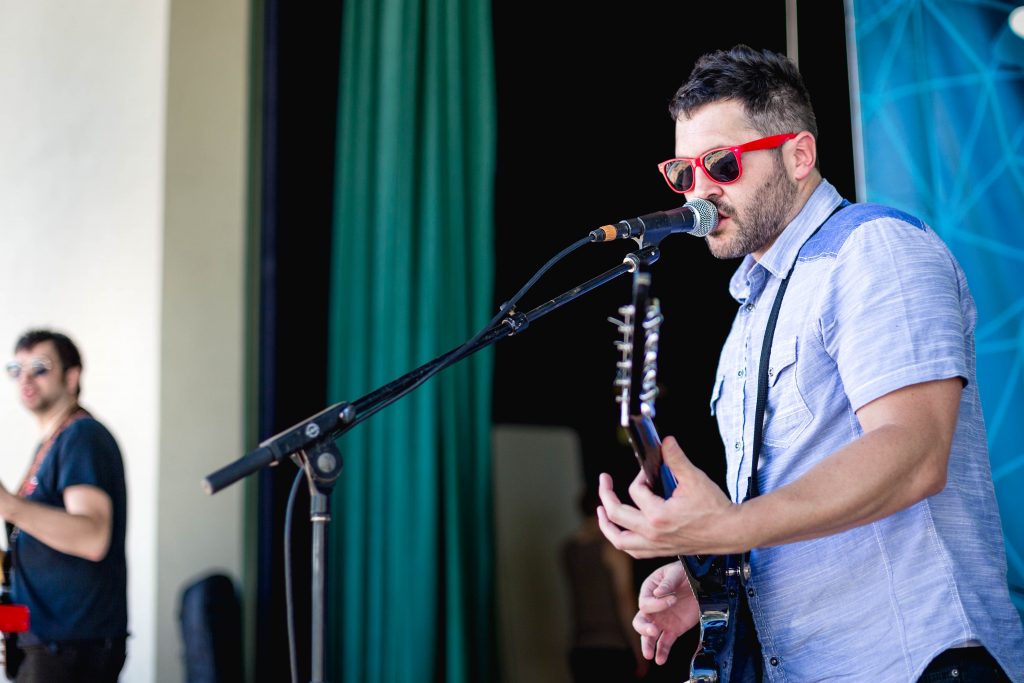 The SLUG Mag stage was a constant source of entertainment.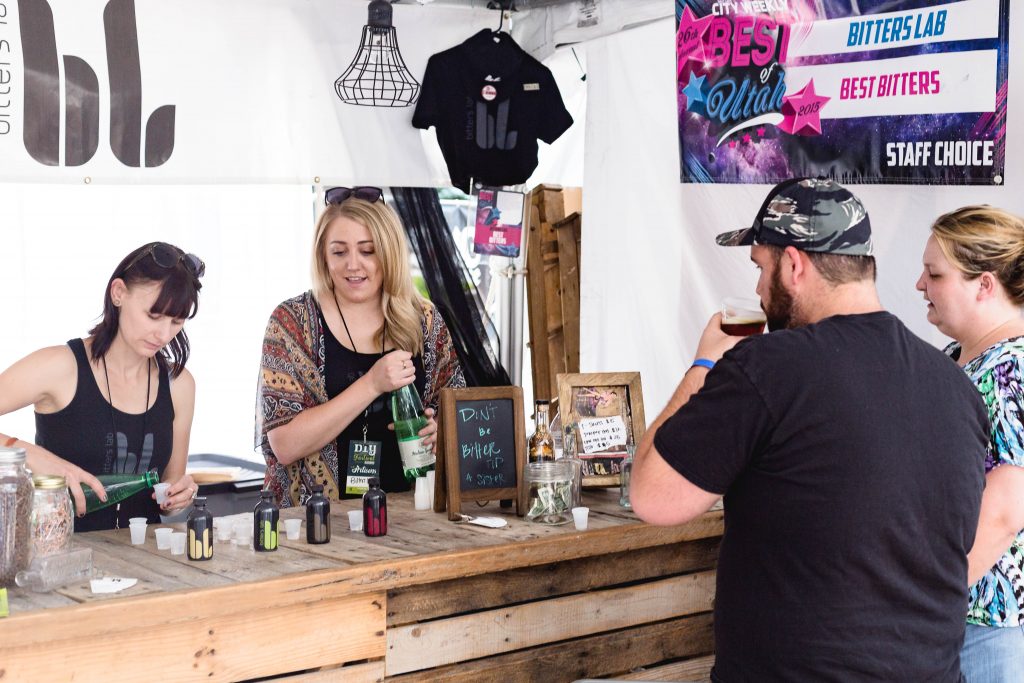 Bitters Lab doing what they do best.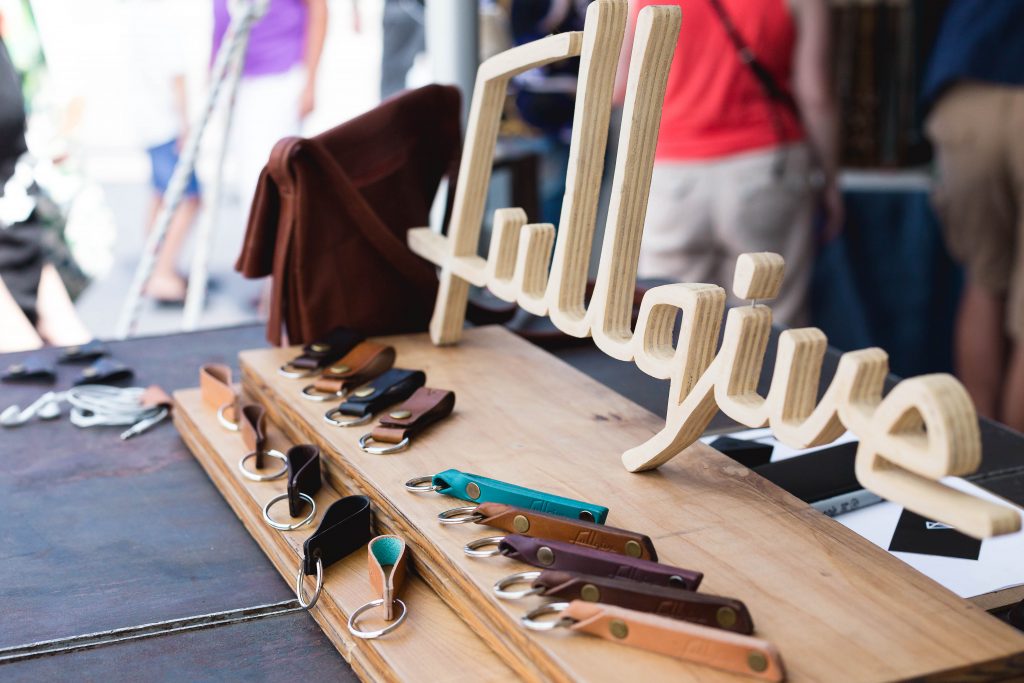 Fullgive Leather had some stylish merch.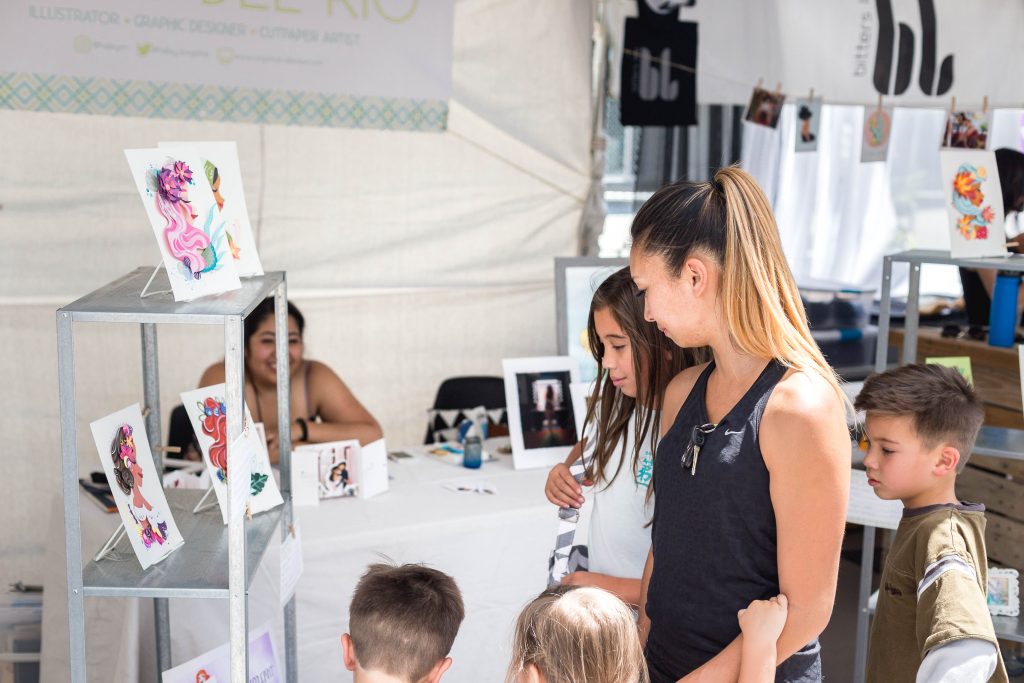 You could have browsed the festival for the whole three days and still discovered something new! There was so much to see!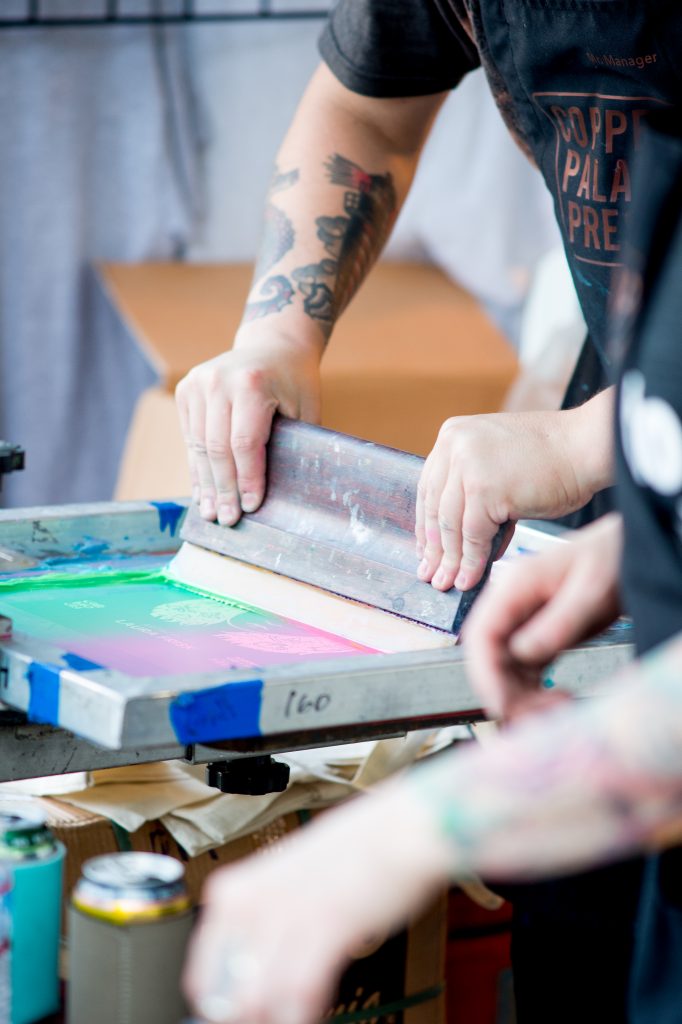 There was always a crowd gathered around the Copper Palette Press booth as they demonstrated live screen printing and gave away free tote bags!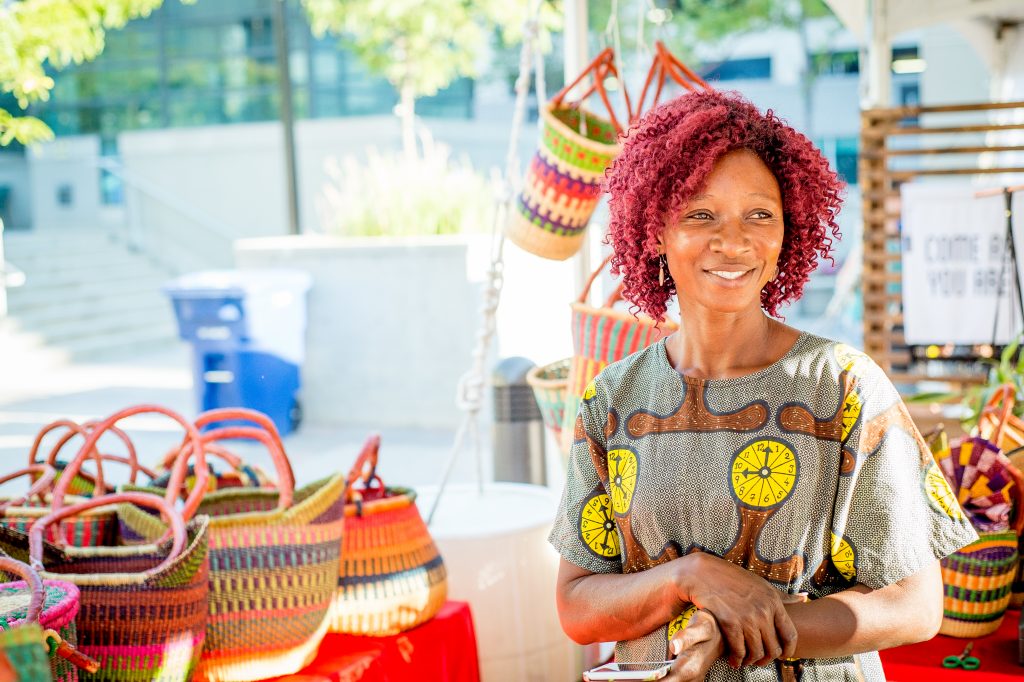 Mama Africa doesn't just sell amazing food, but also beautiful bags from Africa!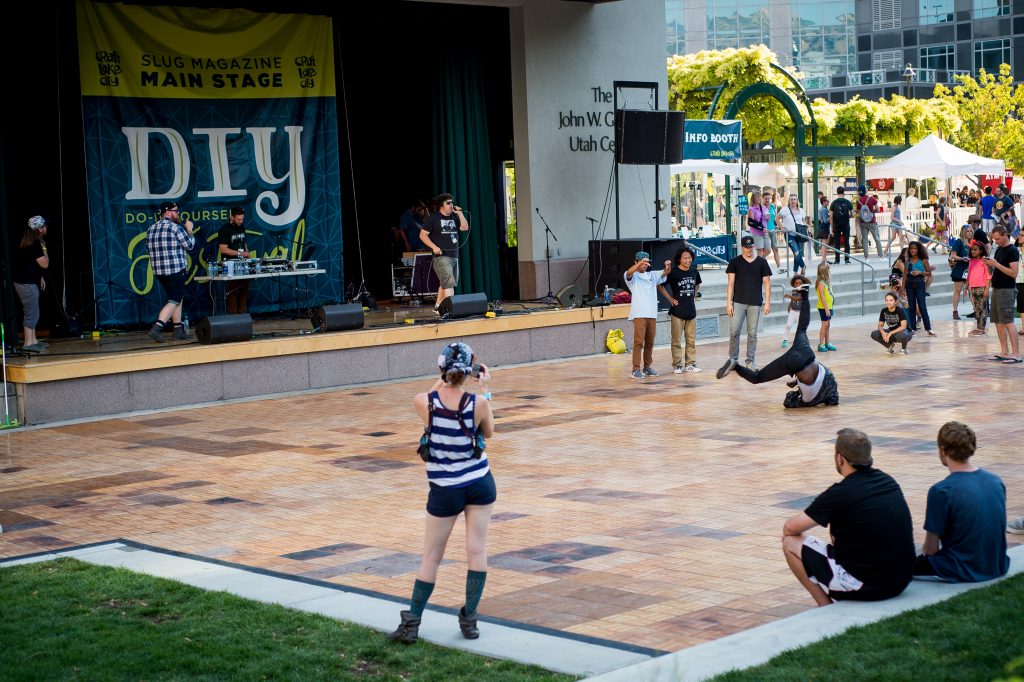 Break dancing broke out at the SLUG stage.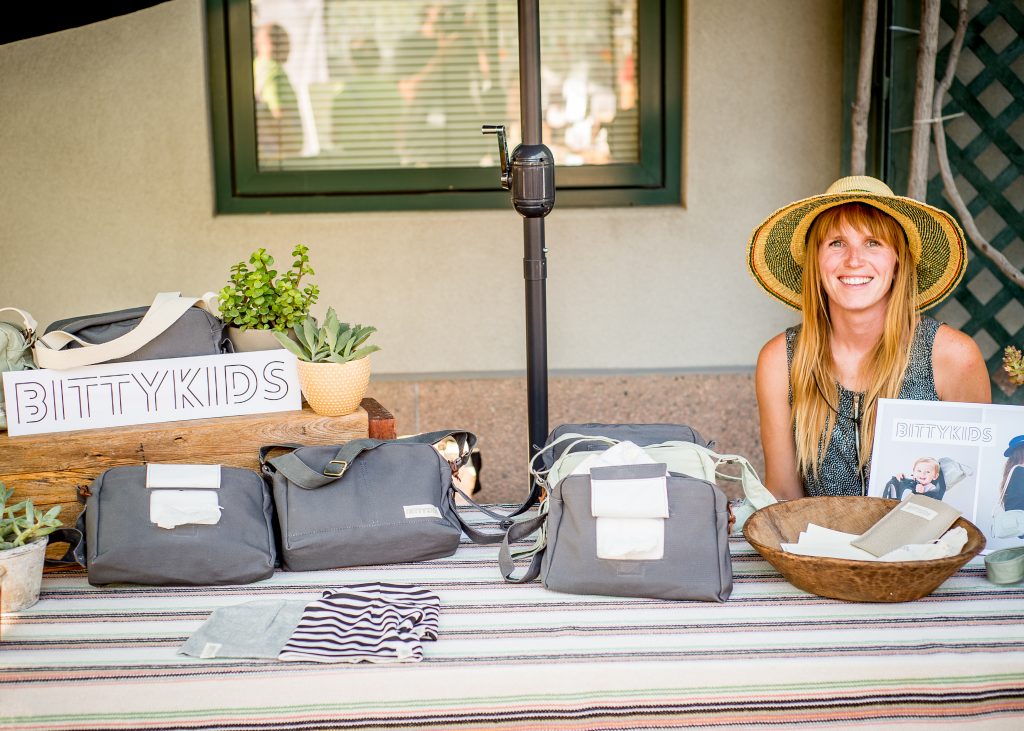 Bitty Kids showing off her beautiful work.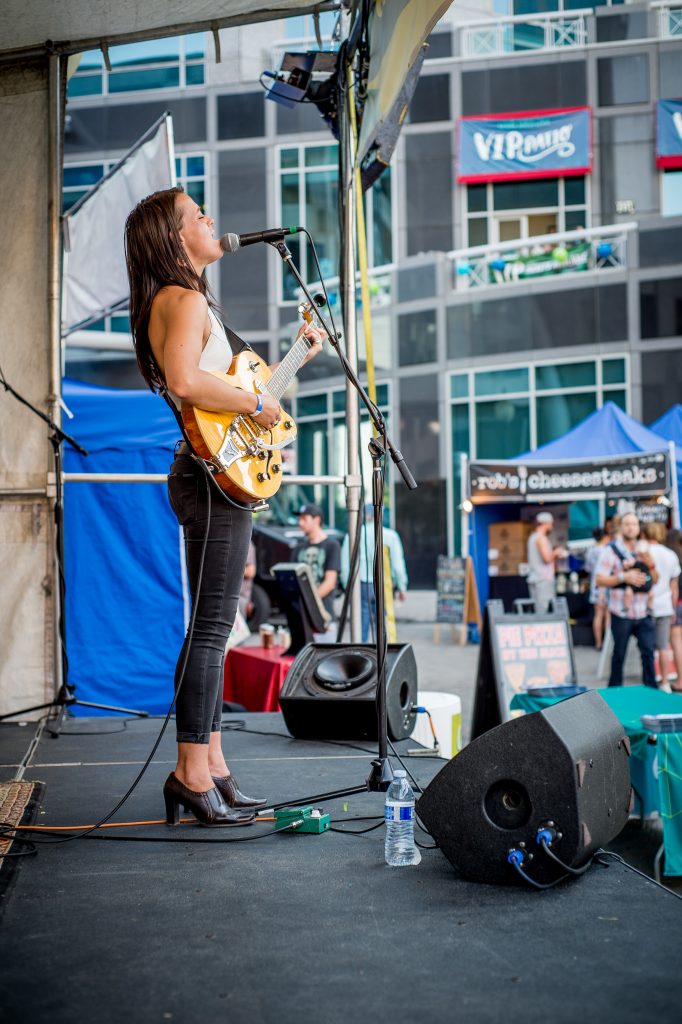 Some KRCL stage action.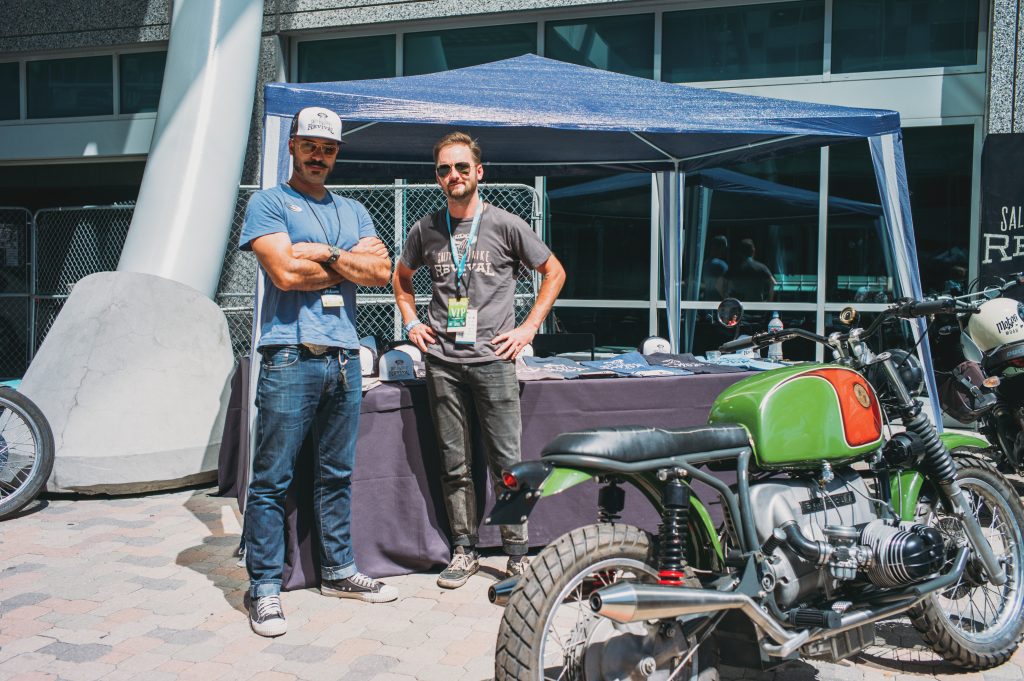 On Sunday at the festival, Salty Bike Revival stopped by to put on a motorcycle show of hand crafted bikes that blew our minds. The detail work on these bikes was unbelievable! What an interesting form of art!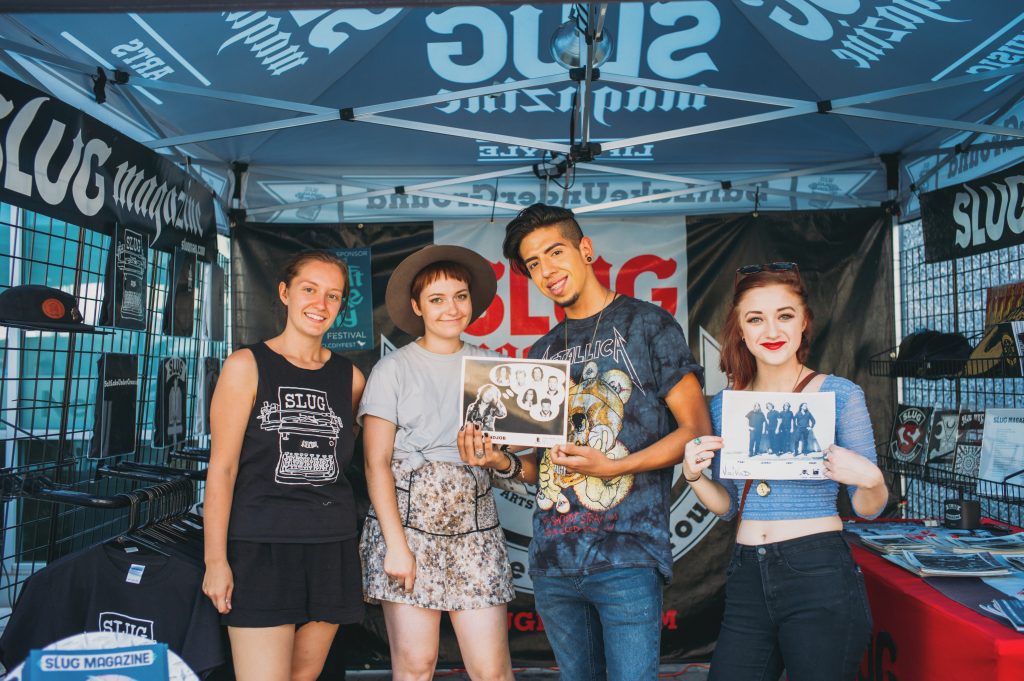 SLUG artists unite!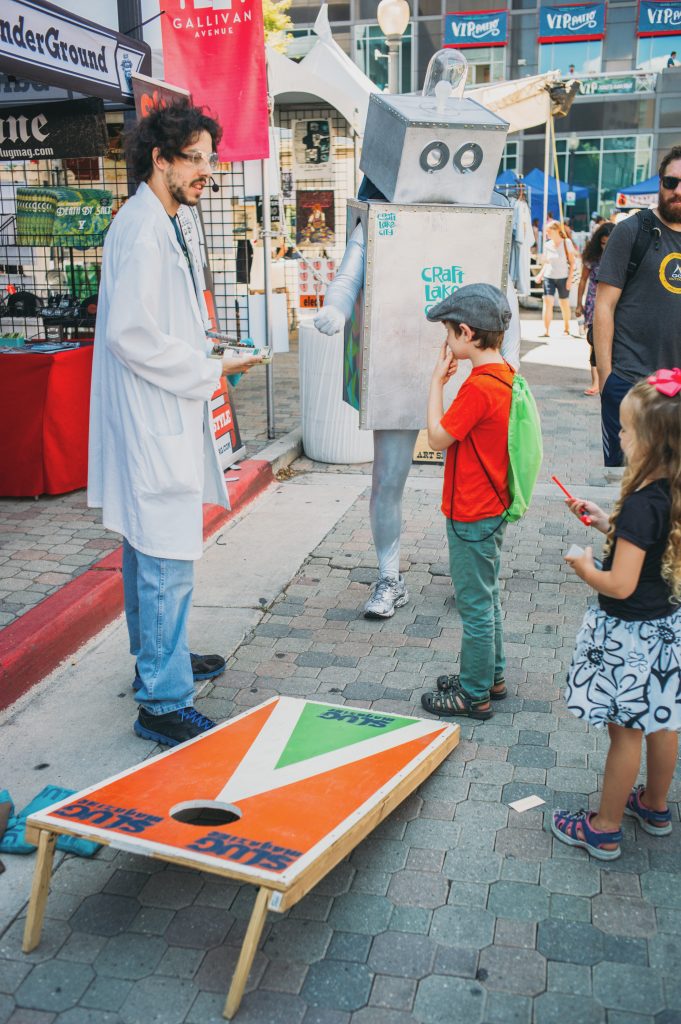 Our Scientist and Robot had a lot of fun playing with the kids at the festival. It was also a lot of fun to watch them entertain the kids.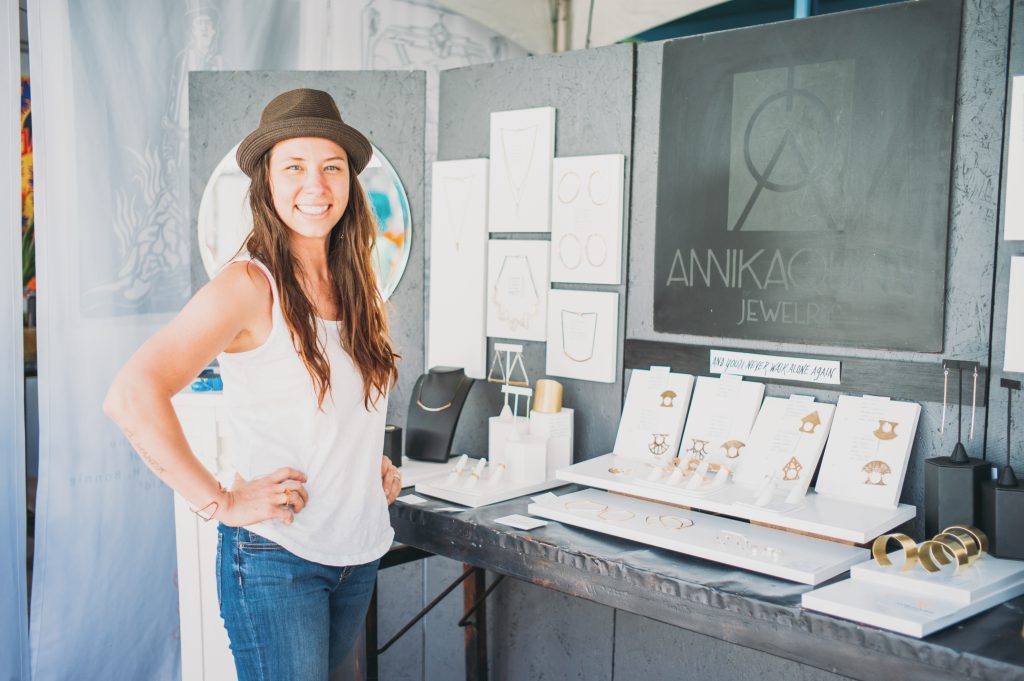 The jewelry at the festival was a best seller.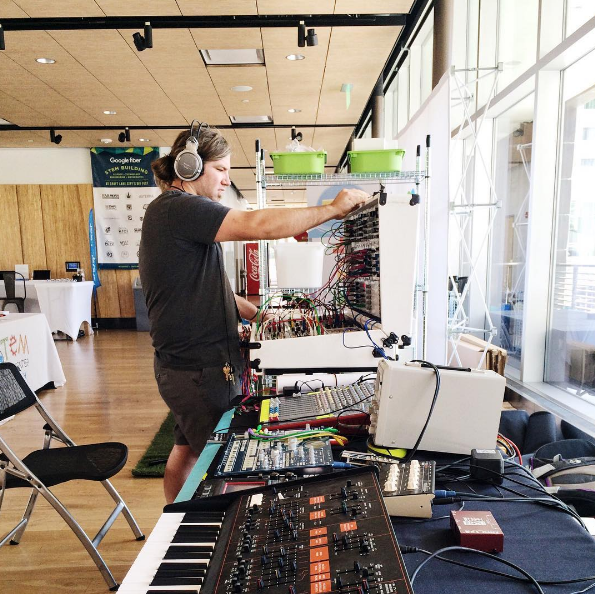 The Google Fiber STEM Building was a sight to see. With live animals, coding talk, a recharging station, and virtual reality, it certainly exceeded our expectations.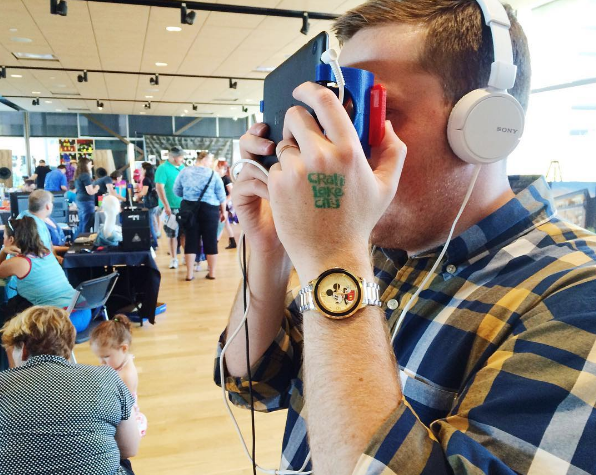 With the virtual reality, visitors could visit Paris, Jurassic Park, or even ride a roller coster.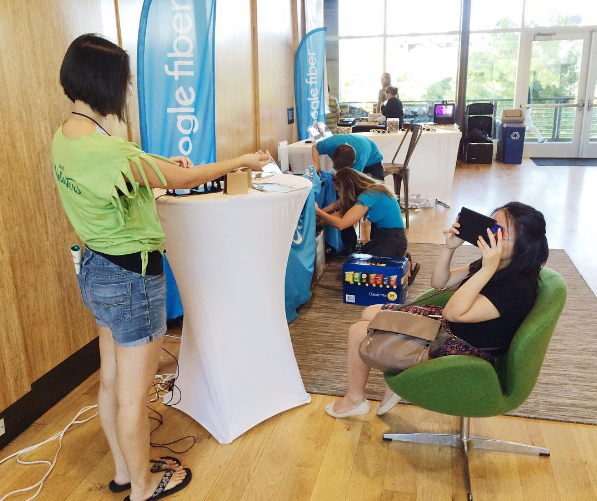 Google Fiber really went all out.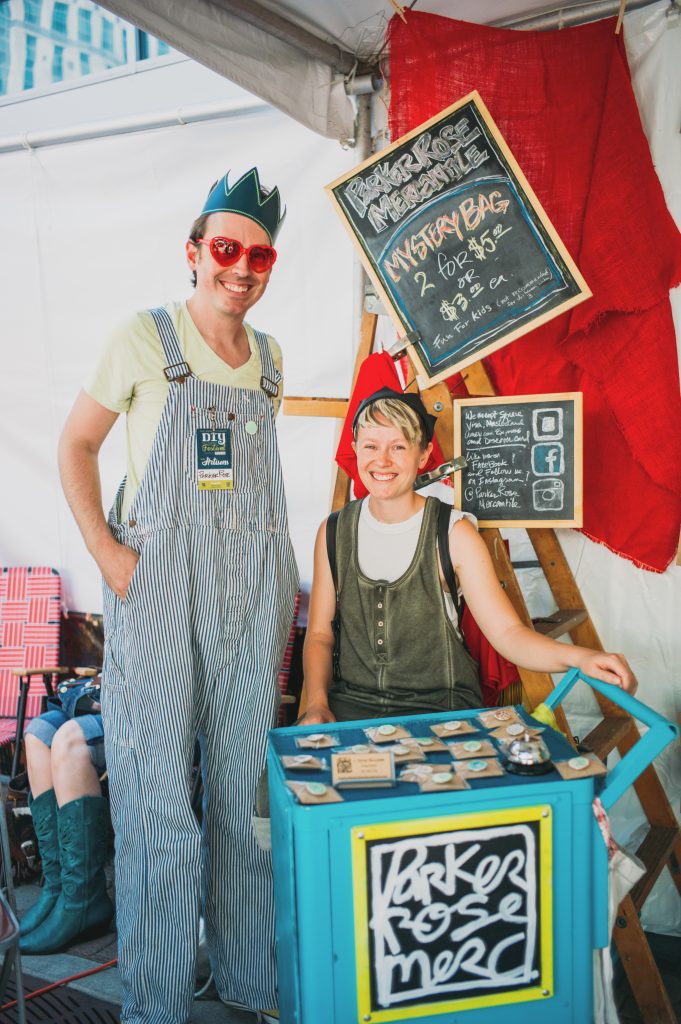 Vendors enjoying the festival!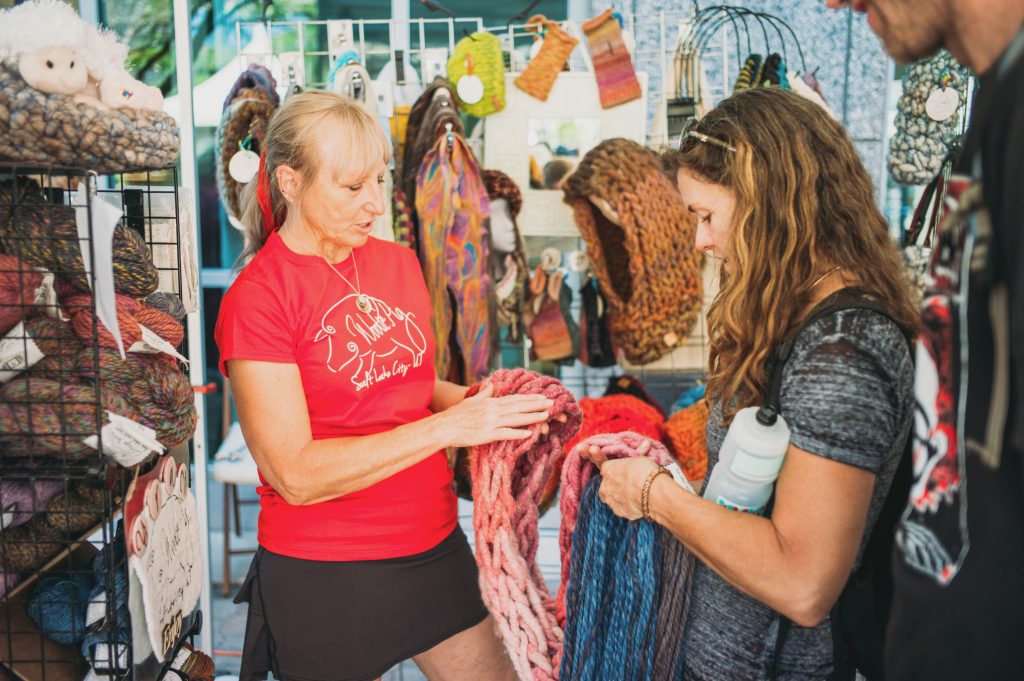 Talking with the vendors about their products and their passions was one of the best parts of the festival.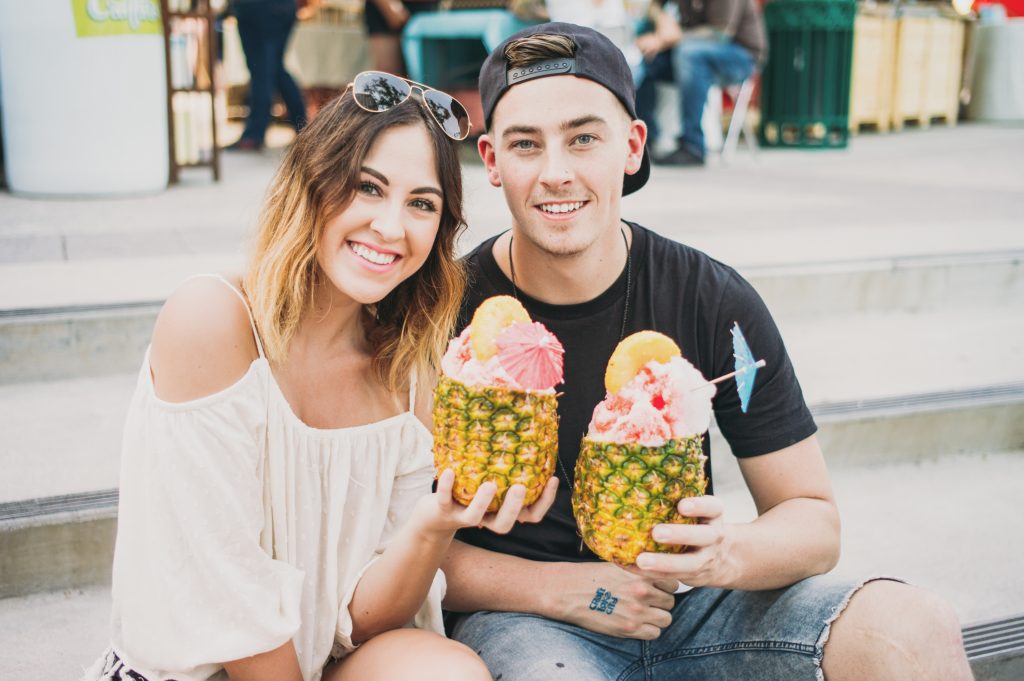 Project Pineapple sold some crazy delicious shaved ice and pina colodas served inside real pineapples! They were a big hit among festival goers.
Christina Williams got creative with her painted paper plate backdrop. (And it was in Craft Lake City colors!)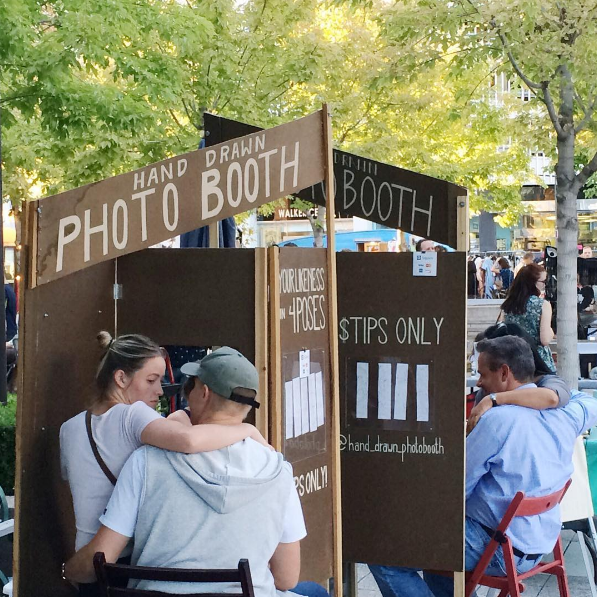 The Hand Drawn Photo Booth was a unique and fun way to remember your time at the festival. These artists allowed you to pose four times while they quickly drew a cartoon likeness of you.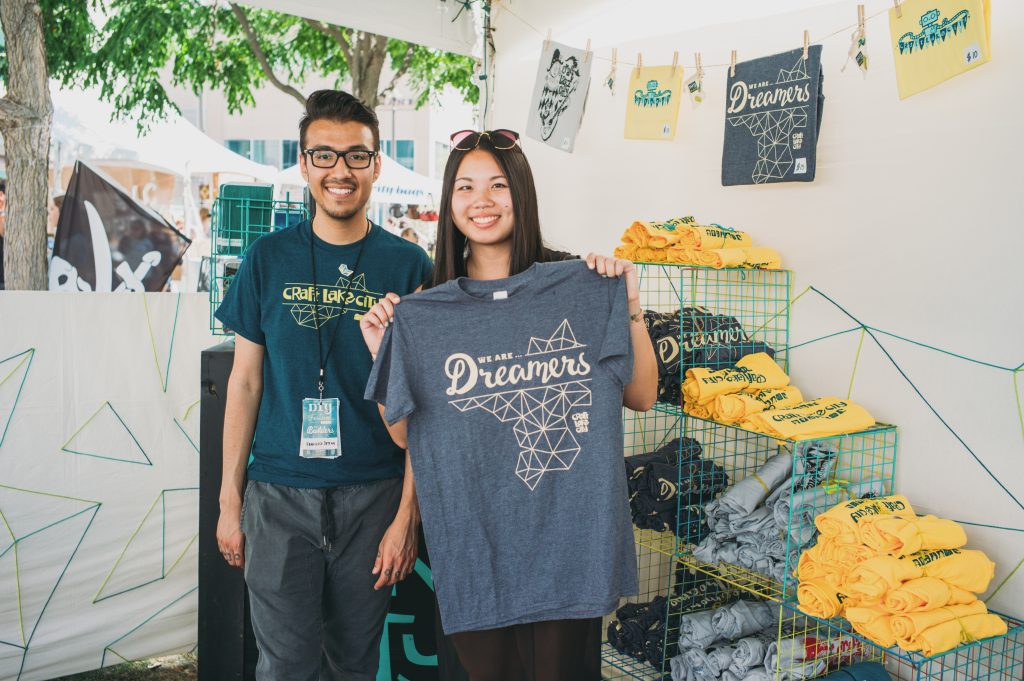 Craft Lake City had a booth too!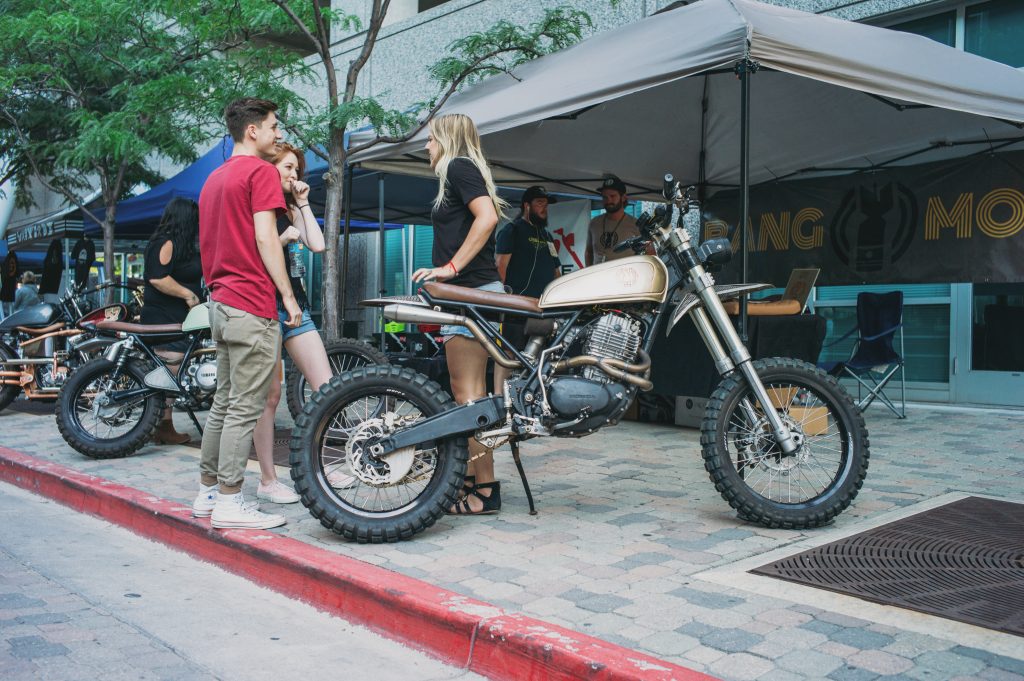 The Motorcycle Show on Sunday was a festival first! Festival goers had the chance to admire these remarkable hand crafted bikes from up close.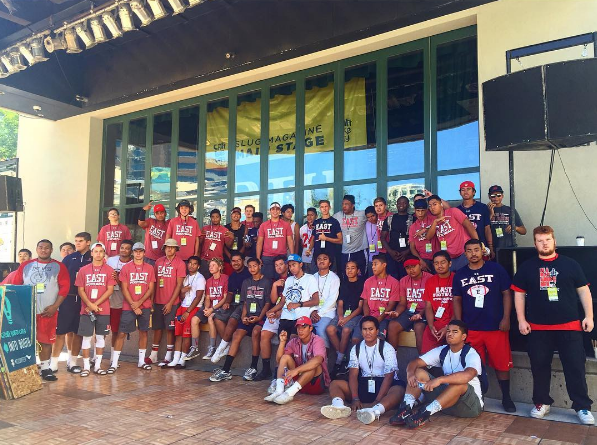 Set-up for the festival included a lot of heavy lifting. Luckily, the entire East High Football team showed up to volunteer! They came to volunteer their muscles for hours to help us set up, help artists set up, and doing really anything we asked. These guys were a dream!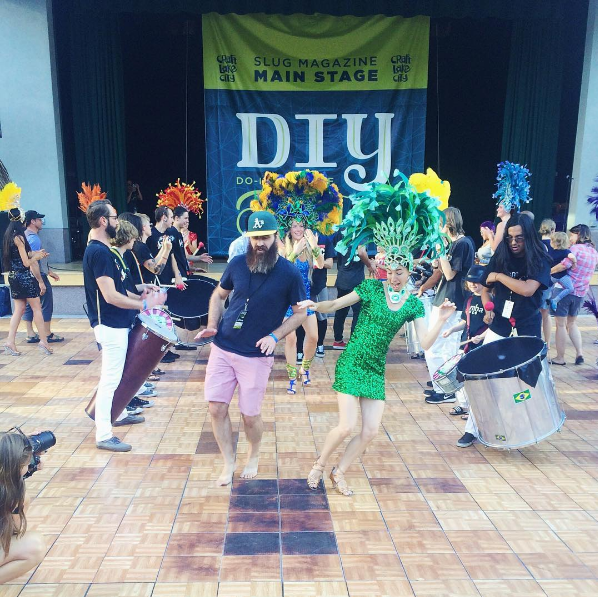 Samba Fogo helped us close out the festival with a dance party! These guys had the SLUG Mag stage rocking with their drumline and dancers. The crowd, the performers, and CLC crew were all feeling it as we danced the last hour of the festival away. It was a perfect final bang!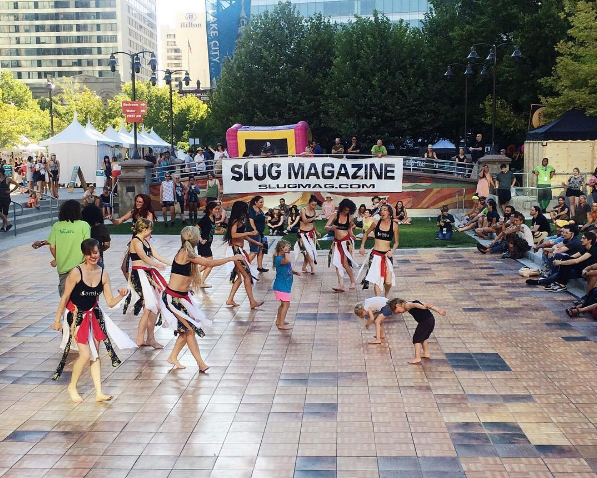 Photos courtesy of Jo Savage, Rachel Molenda, Logan Sorenson, Niels Jensen, Tyson Call, and Mary Elizabeth Hammond
We certainly couldn't have made all this magic happen without the help of our generous sponsors and presenter: