Art by Tai produces surrealist images from a ballpoint pen and other media. With the slogan "a little bit of ink and a whole lot of imagination," these images are a striking visual experience. The emotionally stimulating artworks are available across the country as the artist, Tai Taeoalii, travels from state to state participating in local arts and crafts markets and festivals. Art by Tai is known not just for remarkable and unique art but also for impressive and inviting booth design. Craft Lake City Executive Director Angela H. Brown commented, "It's clear he has taken years of experience in participating in fairs around the country to create a unique booth that is both highly functional and also creates a compelling selling environment." In the interview below, learn some of Art by Tai's tips for a successful booth design and find more success at your next festival.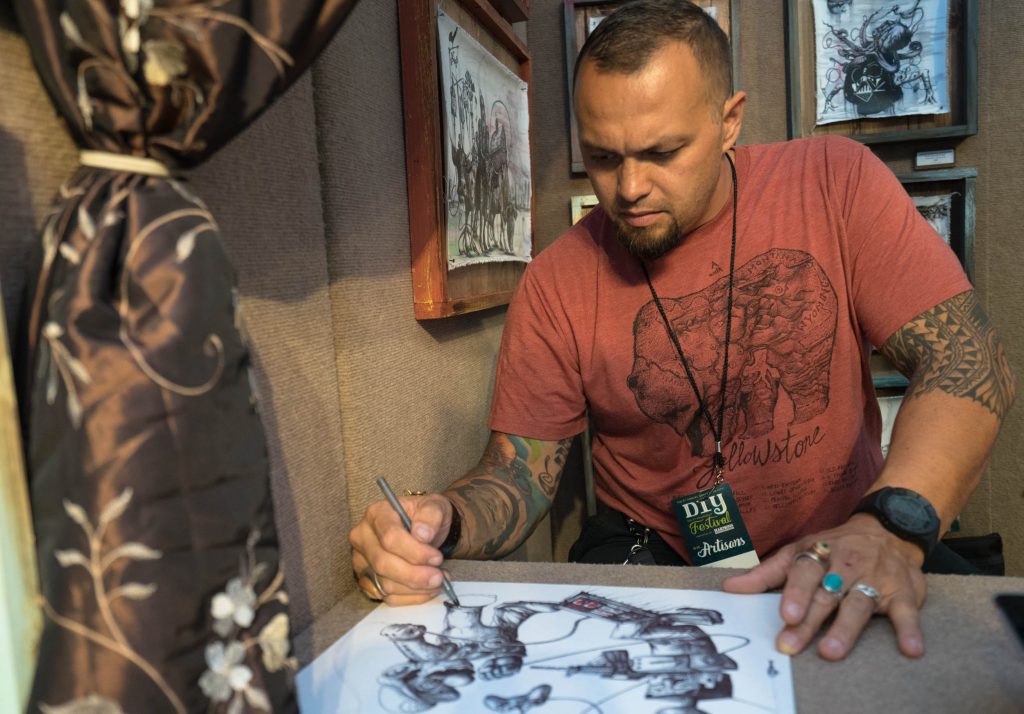 What is your business?
Art by Tai is the name of my business. I sell my originals and prints of my art, which is created with ballpoint pen, watercolors, charcoals, and colored pencils.
What inspired you to start your business?
I've been an artist for most of my life, and when I realized people were willing to pay money to own my work, it was a no-brainer.
What is your favorite part about participating in fairs?
I sincerely enjoy meeting the people who are buying and collecting my work. I like to hear how they connect with it. I also enjoy all of the travel and the new experiences everyday.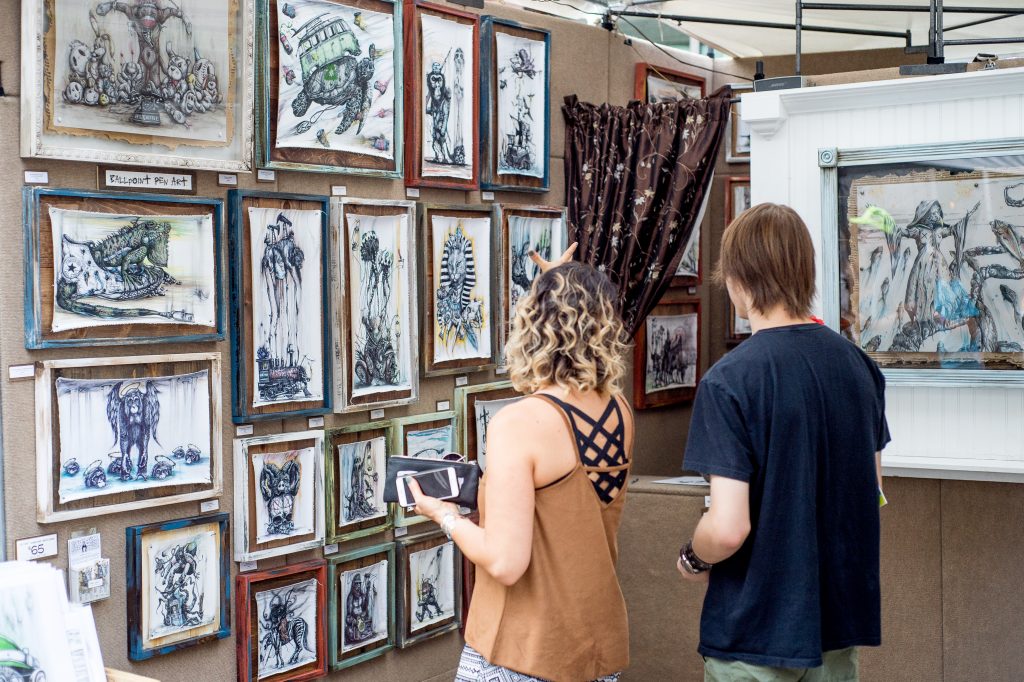 How do you design your booth?
Before every single show I do, I draw out my booth setup, down to where I sit and where I hang pieces. I've been doing shows for over 10 years and I still draw out my booth setup before every show.
What are the benefits to having a unique or well-crafted booth?
Buyer's confidence is a real thing. People want to feel like they're buying something that has other value outside of it just being what it is. When your booth feels like a real business, they spend real money. Nobody tries to bargain when they're in a gallery buying art, but for some reason, they feel like they should do it in a gallery that is under an E-Z up. Why? Because if you're under an E-Z up, you're not a gallery or a store. In their eyes, you're the equivalent of a garage sale, and they want to get a deal. You can eliminate all that by putting in the money and effort of creating a well-crafted booth setup. It makes a HUGE difference.
What advice would you give about booth design to new crafters?
Don't overdo it. Keep it simple. If you confuse people with too many design elements, people aren't sure what they're buying or what you're selling. Because most booth spaces are only 10 x 10 make sure you utilize the space well. In my personal opinion, I also think you should make yourself available but not in your face. It's uncomfortable looking at people's creations while they're sitting right in front of you. Back off a bit. Give people some space to look at what you're providing. You can tell when they've become comfortable with your space, and that's when you can approach and greet them.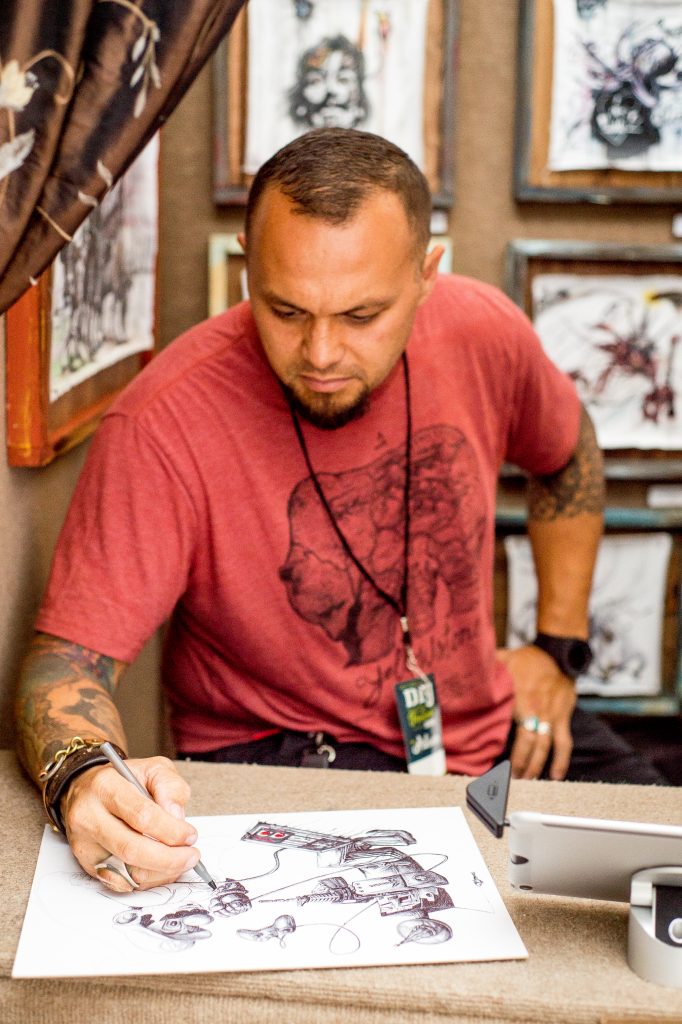 What size of booth do you prefer? Why?
I prefer a 10 x 20 or a corner 10 x 10, because I have a lot of work to show, but I mostly don't like people to feel crammed when they're in my booth. You've got to make people comfortable. Busy art fairs are overwhelming, and if your booth looks too crowded to go in, most people will just keep on walking. Sometimes, a "crowded" booth works in your favor, sparking interest for those on the outside, but I believe that more often than not, people don't like to be crammed inside of a booth. So, I go high and wide-open, or as open as possible. I also travel with my wife and two kids, so I set up a whole back area for us to be comfortable in.
Have you seen improvements in your sells as you've improved your booth?
Absolutely! Without a doubt!
How many craft fairs do you typically participate in every year?
Some years I do 30, some years I do less. Typically I do about 15-20 shows a year, coast to coast.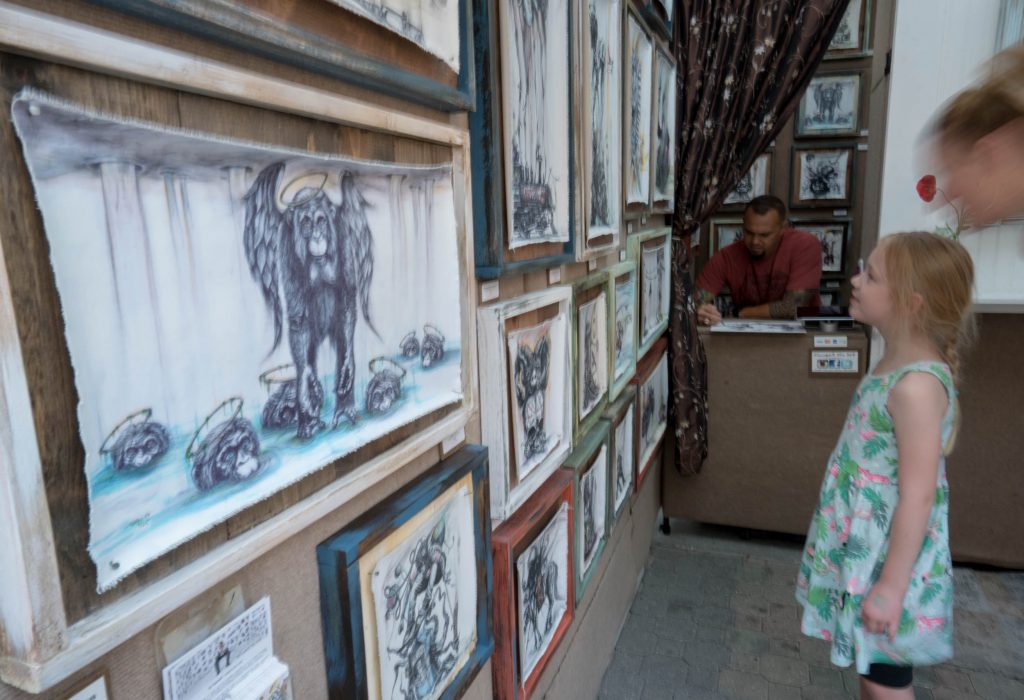 How has participating in local festivals such as Craft Lake City helped you build your business?
I love doing local shows for obvious reasons, such as fewer travel expenses. As far as it helping build my business in Utah, it's really the only way to connect with hometown collectors, so it's great. Since I don't have a storefront, having a show like Craft Lake City is super beneficial in getting my work into the hands of my hometown collectors.
Why do you think it's important to support local?
I had never really thought about it until I did Craft Lake City for the first time. Most of the shows that I do are out of state, so I've never really thought about its local impact.  After the Craft Lake mixer and hearing the discussion about how the economy thrives on money spent locally, I've begun being conscious of where I spend my money in every different city I'm in. I make sure to shop locally, drink local coffee shops, shop local markets, etc. It's obvious that cities are much more vibrant when they're filled with local stores and businesses, because locals care about their community, whereas corporations are about numbers and maximizing dollars, rather than doing anything to make a community a rad place to be. Support local!
Art by Tai is an inspirational example of making the most of your talent. You may have incredible art, but packing and presenting it in the right way can really make a difference. If you invest in your art, other's will too! You can see more of Art by Tai here.
Organizational Support Provided By: