It's the most wonderful time of the year, and we could not be more excited. This is a time of creating! Creating treats, presents, joy, and so on. This month, we'd like to share with you a new monthly recipe and a few opportunities to support local businesses by shopping for some unique and locally made gifts. Spread the joy with some Gingerbread cake and some #shoplocal magic at these holiday craft markets, fairs, and bazaars.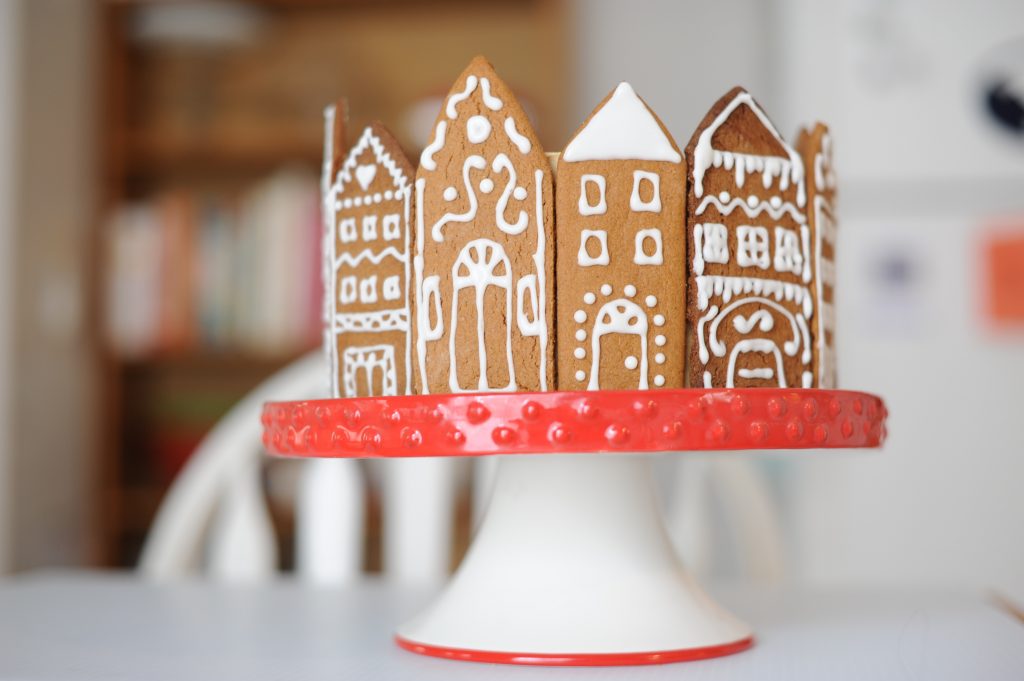 This Gingerbread Cake is a classic Christmas recipe, but with a twist—Biscoff frosting. The spiced flavor of gingerbread was meant to be paired with the sweet cookie spread, Biscoff. Who knew? Not only does this cake provide for a perfect, holiday-themed treat, but it will make your house smell amazing. Give it try—you'll see.
Gingerbread Cake with Biscoff Frosting:
For cake:
2 1/4 c flour
2 t ground ginger
1 T ground cinnamon
1 t ground cloves
1 T baking powder
1 t baking soda
1/2 t salt
3 eggs
2 T molasses
1 c unsalted butter
1 2/3 c dark brown sugar
1/2 c buttermlik
1 t vanilla
zest of 1 orange
For frosting:
2 c butter
5 c powdered sugar
1 13 oz jar of Biscoff Cookie Spread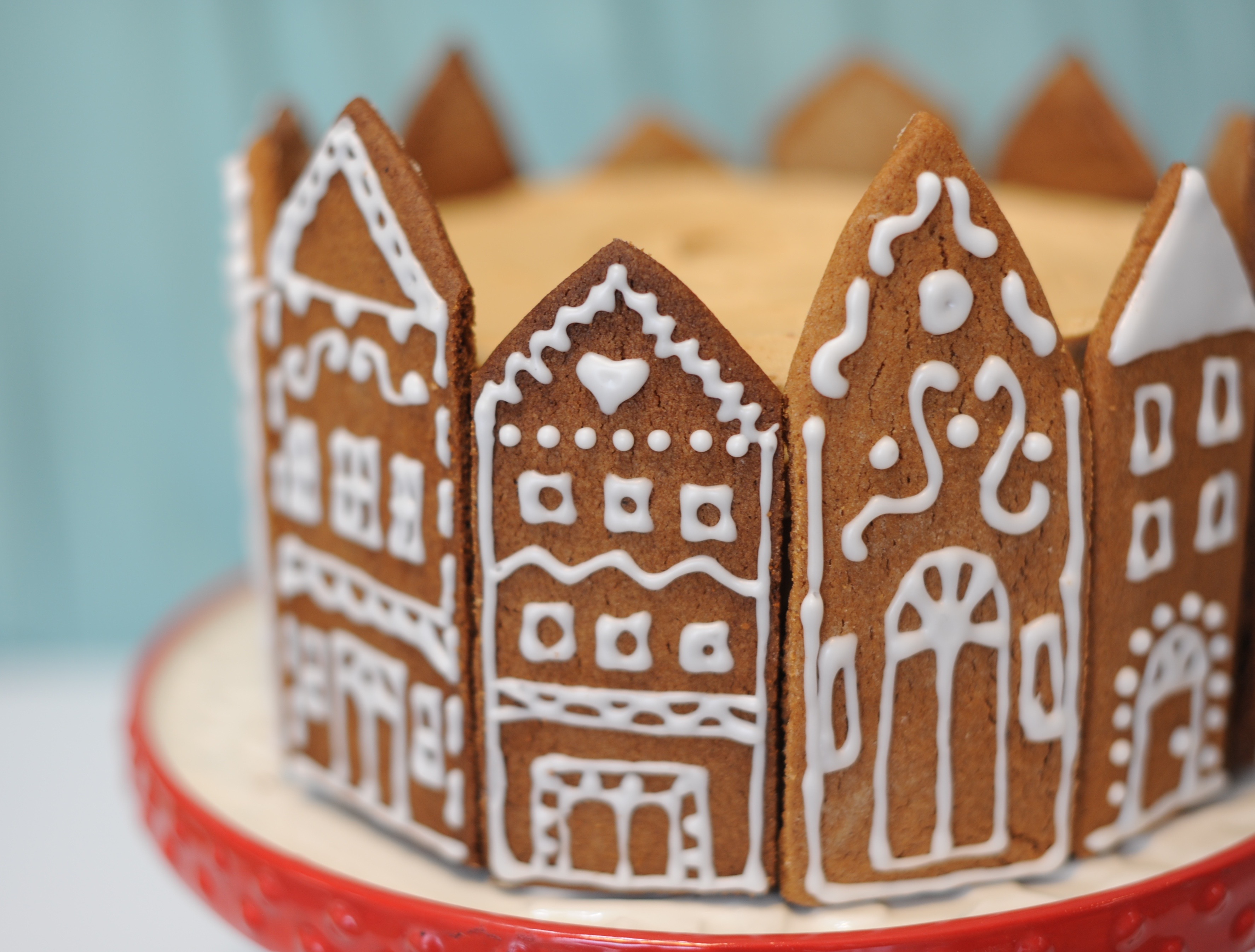 Directions:
Preheat oven to 350 degrees F

Prepare three 8" round cake pans with non stick spray and line with parchment paper.

Using stand mixer with paddle attachment, cream butter and brown sugar until fluffy. About 1 minute.

Add eggs, vanilla, orange zest, and molasses. Mix at medium speed until combined.

In a different medium-sized mixing bowl, mix together flour, spices, baking soda, baking powder, and salt. Set aside.

Measure out buttermilk.

Alternating buttermilk and flour mixture in thirds, add to mixture, beginning and ending with the flour mixture.

Mix until just combined.

Pour batter into prepared cake pans.

Bake at 350 degree F for 40 minutes or until done.

Allow cakes to cool completely before frosting.

Whilst the cakes are cooling, prepare frosting. In a stand mixer with fitted paddle attachment, cream together butter and biscotti until smooth.

Turn mixer down to low speed. Slowly pour in powdered sugar until completely incorporated.

Turn mixer to high and beat frosting for about a minute or until fluffy.

Once cakes are cooled, stack each cake with Biscoff frosting between each layer.

Frost the outside of the cake and decorate as desired! (Maybe with gingerbread cookies like we did?)

Spread holiday cheer!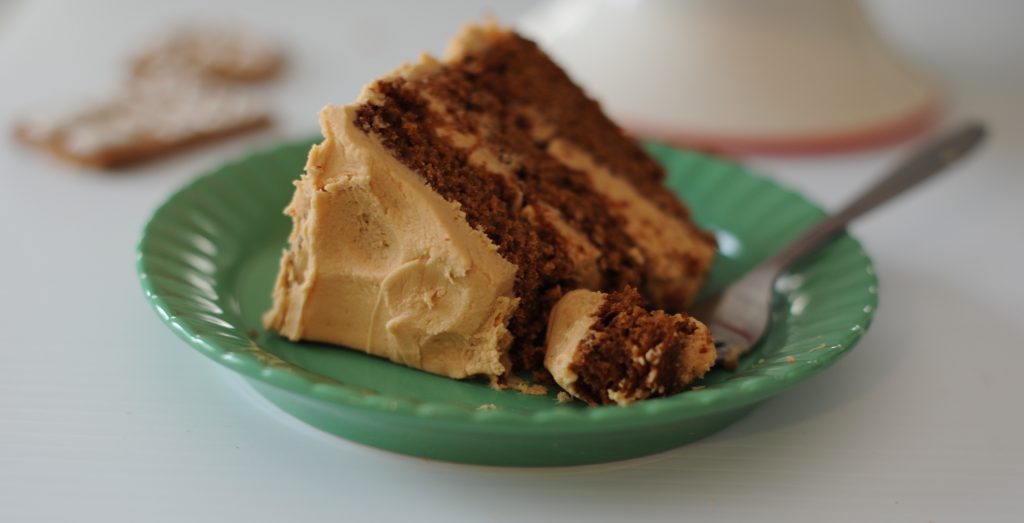 Baking and photos from Love Cake Bake.
Utah has a wide variety of craft markets going on regularly, but around the holidays there are exponentially more to enjoy—particularly this upcoming weekend! If you're around the Salt Lake and Utah Valleys, be sure to shop by a market or two: 
December 1-3 and 8-10, The Startup Building (125 W. 600 S.), Provo 
The Beehive Bazaar rocks the Provo crafting scene a few times a year, featuring locally handmade goods such jewelry, paintings, bags, glass, vinyl, paper, clothing, accessories, jams, cookies, caramels, and other treats. This is not your mother's craft boutique.
December 6-10 and 12-17, 116 N. Rio Grande St, Salt Lake City
Salt & Honey is a makers market that sells goods from local designers, artists, crafters, food experts, and vintage collectors. Their holiday market promises some of the great crafting and makers magic that Salt Lake is known for! Plus, you can find some of the Craft Lake City crew there. We'll have a table with our own merch and info for you, so swing by and say hello! 
SLC December 1-3 This Is The Place, SLC
Christkinldmarkt is Salt Lake City's German Christmas market! This Is the Place Heritage Park is transformed into a German Christmas wonder with 50 local vendors, parades, lanterns, live animals, German music, and more. You'll be sure to find unique treats and goods here!
December 3rd, 3 p.m. to 8 p.m. Provo Center Street
Get in the holiday spirit as Provo Center Street decks the halls with a local craft market, local food vendors, reindeer, Santa, and Christmas lights! The market runs from 3 p.m. to 8 p.m. leading up to the lighting of Provo Center Street.
The Downtown Artist Collective Holiday market is full of local artists selling prints, original works, clothing, succulents, candles, ceramics, woodwork, and much more. If you're artsy gifts and unique items, this market is for you.
December 8-10, South Towne Exposition Center (9575 South State Street Sandy)
Step into 19th century England at the Dicken's Festival. This festival features vendors of all sorts from food to clothing to art. There are also performances—dancing, singing, and short plays. But above all this charming London inspired atmosphere makes the visit well worth it.
December 9-11, The Marriott Park City, 1895 Sidewinder Drive, Park City
The Silly Christmas Bazaar is a festive indoor holiday market where family, friends, and vendors can have fun while making the most of the holiday spirit!
December 1-3, Sugarhouse Garden Center, (1602 East 2100 South, Salt Lake City)
Shop for one of kind, handmade goods, local art, delicious treats, and seasonal gifts at this family friendly market!
December 2-3, 220 Station Parkway Station Park, Farmington  
Find loads of local makers at this Finder's Fair! With a wide variety of goods from soaps to clothing to home goods, there is a little bit of everything here!
December 3, Utah Museum of Fine Art, Salt Lake City
Find classic and contemporary hand-crafted items by local artisans for your holiday shopping list.
Organizational Support Provided By: