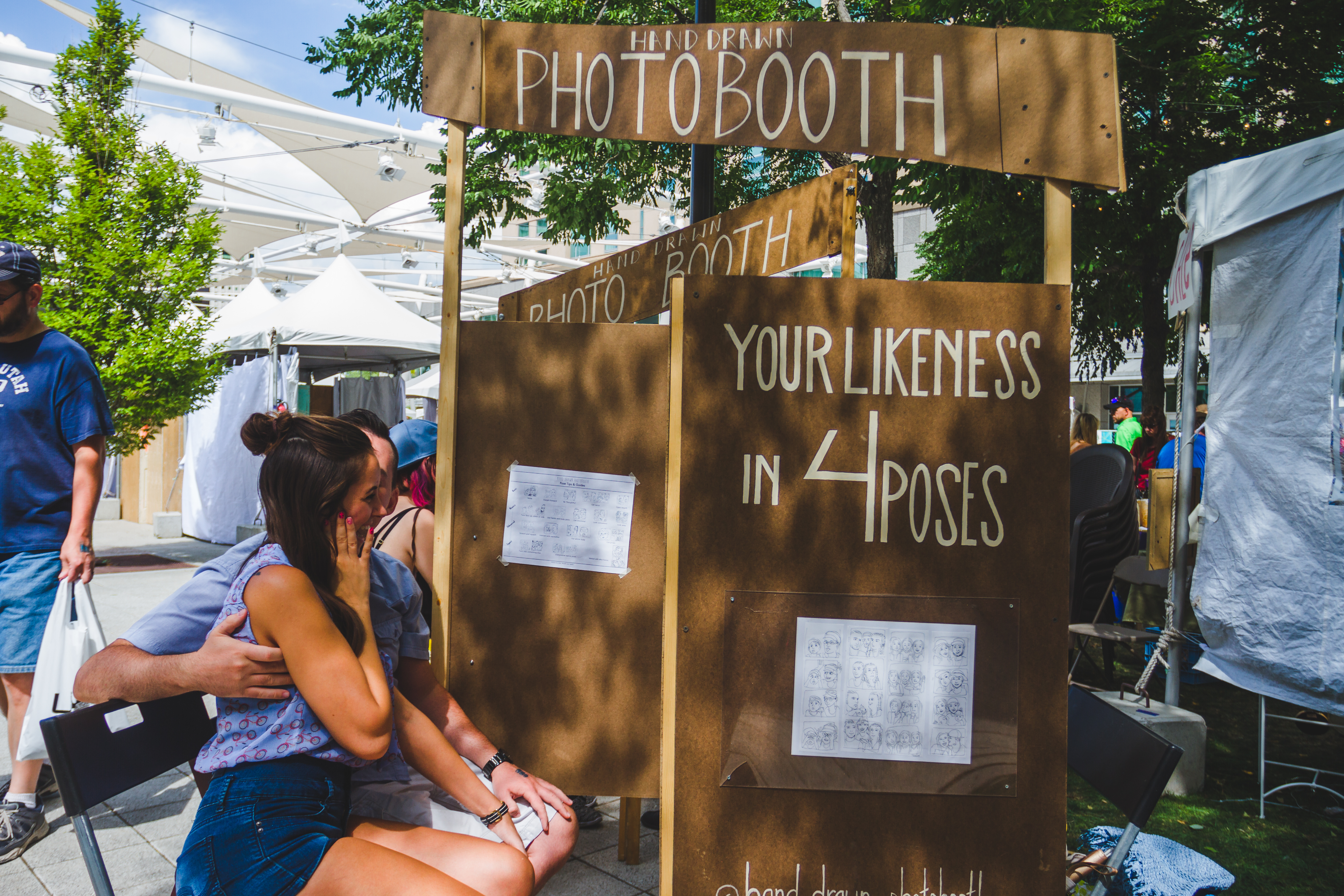 The Woman Behind the Booth
Hand Drawn Photo Booth is exactly what you'd think it is based on the name. You sit and pose for four hand-drawn renditions given to you in a photobooth strip, just like a regular photo booth. This creatively unique booth is featured at events, weddings and, of course, Craft Lake City's Annual DIY Festival. The booth is owned and operated by Natalie Allsup-Edwards—a local artist and all-around maker who grew up with her family and their family-owned toy store in Austin, Texas. Natalie says, "My sisters and I grew up with art as our main form of play. We made houses and food for fairies, clothes for barbies, circus out of chalk, wooden toys, cities for our dollhouse dolls, and, of course, paintings and drawings." With an artful background and upbringing, it's no surprise that Natalie would go on to run such a creative business.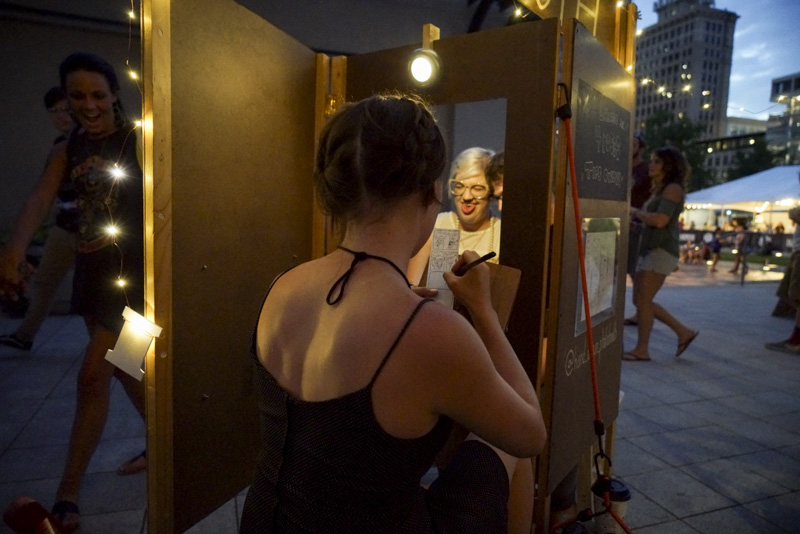 The Concept
The Hand Drawn Photo Booth concept was inspired by an episode of The Flintstones. Natalie had always loved photo booths and had been thinking about how her sisters' gallery needed one. However, there are a lot of responsibilities that come with own and operating a photo booth. As she contemplated this conundrum, Natalie recollects, "Then this scene from the Flintstones came back to me—the one where they get a 'polaroid' taken, and it's actually a tiny bird inside the box who chisels their image into a stone with its beak. And I thought, why not just draw in the photo booth? I immediately started playing with the idea."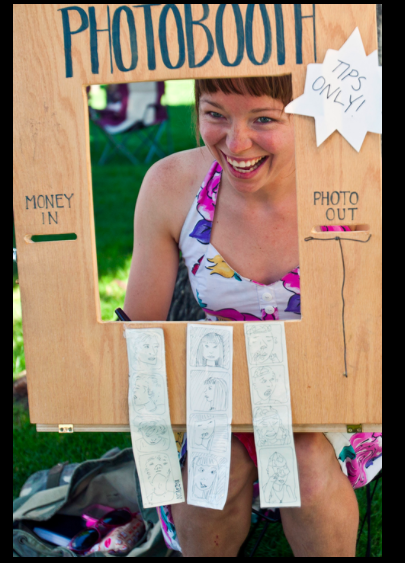 The Start
Natalie started with a fashioned piece of cardboard at the Downtown Farmers Market. "I just wanted to see if anyone would be interested and if I could draw them in the time it takes a real photo booth to develop," says Natalie. "While I was in school at the U, I would just bring the booth around sporadically on the weekends and let it slowly develop. I booked my first party about three years ago and have learned a lot since then. In the last couple of years, I have been actively growing the idea as a business booking weddings and parties, and also training other artists to work events." Hand Drawn Photo Booth has grown throughout the years to a successful business.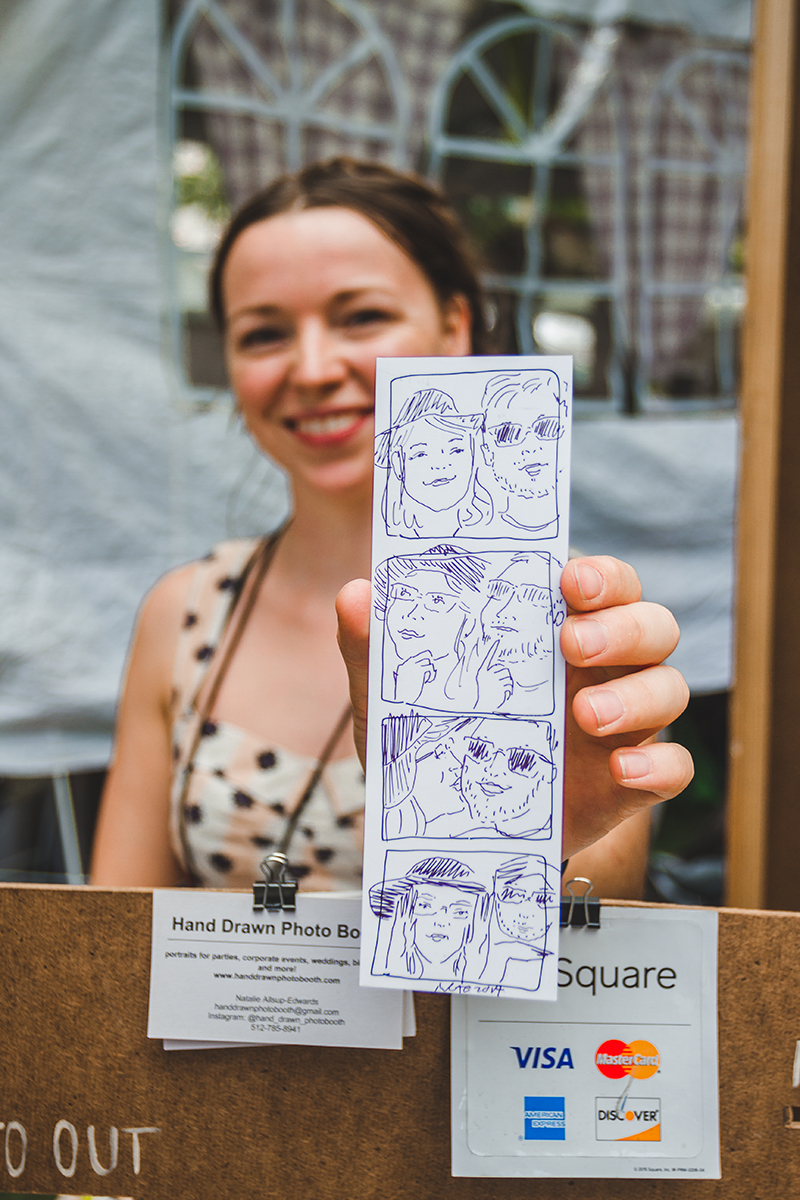 The Booth Now
Natalie estimates she has drawn over 5,000 "film" strips in her photo booth. She says that her favorite part of the experience has been interacting with people. "It's funny to look closely at a stranger's face while they are holding a funny pose. To do that over 5,000 times, I've noticed a lot of things. People are different, yet so similar." She continues, "People are generally pretty funny in the booth."
Hand Drawn Photo Booth has the cool feature of what Natalie calls "automatic photoshop". This is drawing from the imagination, adding funny hats, backgrounds, or anything you can think up! Natalie says, "I have several regulars who just love the booth. There is a couple that visits me every year at Craft Lake City who concoct new and hilarious things to transform into each year." Sitting on the other side of the booth has provided Natalie with the opportunity to meet and draw so many characters.
Hand Drawn Photo Booth has grown throughout the years, but it starts with just an idea. Natalie admits to not being a business expert but says that "I think to do something creative that you can live off requires a little hustle in your work ethic, creativity beyond your product, and consistency." She continues, "As an artist, you also have to forget your ego and forget negativity. My mantra is to just keep making decisions, get things done." Natalie finds much of her inspiration to get things done in the Cult of Done Manifesto.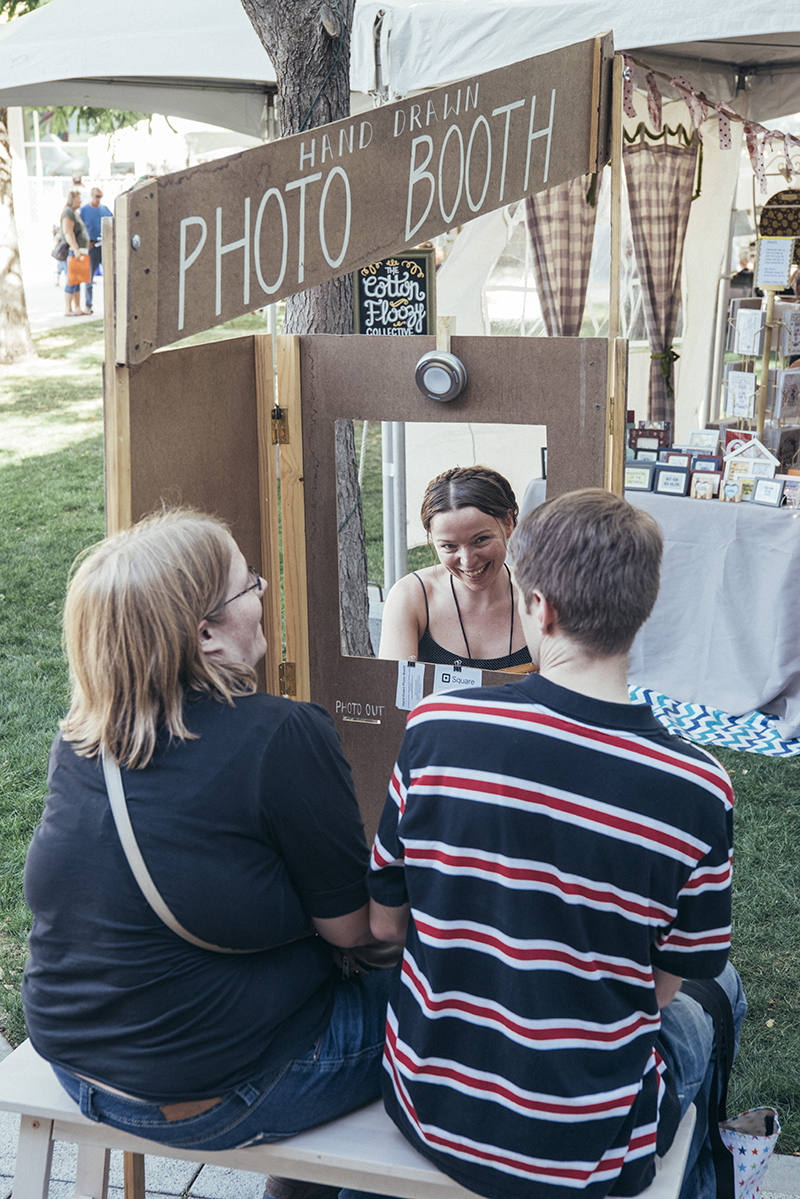 Learn more about Natalie and this cool project here. You can find Hand Drawn Photo Booth at many local events, including at Craft Lake City's Annual DIY Festival. You can also book them for local events! Find out how on their site.