My fascination with painting by numbers began in 2001 when my mother took me to the Smithsonian to see the exhibit Paint By Number: Accounting For Taste in the 1950's. I loved the campy forest scenes, still lifes and clown portraits. When I finally settled into my condo I felt like my bedroom was desperately neglected in the decorating department. I started brainstorming how I would go about dressing the wall and it only made sense that I would use a vintage paint by numbers painting I saved from a junk shop in Baltimore. It was just the right amount girly princess and dark, scary forest.
I got lucky and found the original painting kit on Ebay. I had a high definition scan made of the original, unpainted canvas board at Atelier A.F.A. and then had a transparency made at Alphagraphics. I have an old school 3M projector that has come in handy for many past craft projects and it was by far the most integral part of the success of the finished project. The painting set came with all the original oil paints but they were completely unusable (the kit was from 1967). I took the finished painting, unpainted canvas and the dried up paints to Lowes and spent the better part of an hour matching all thirty colors. Olympic One paint offers the perfect size samples and I didn't have to purchase any duplicates, all for under $3 a jar.
After positioning the projector and leveling out the image I taped it down to the projector screen itself in order to prevent too much movement. I traced the entire outline in pencil and made sure I was able to do the tracing all at one time in order to keep the image as level as possible. I checked and rechecked the numbers against the unpainted board. After that, it was all painting for a few weeks and standing back to see this gorgeous landscape unfold in my bedroom.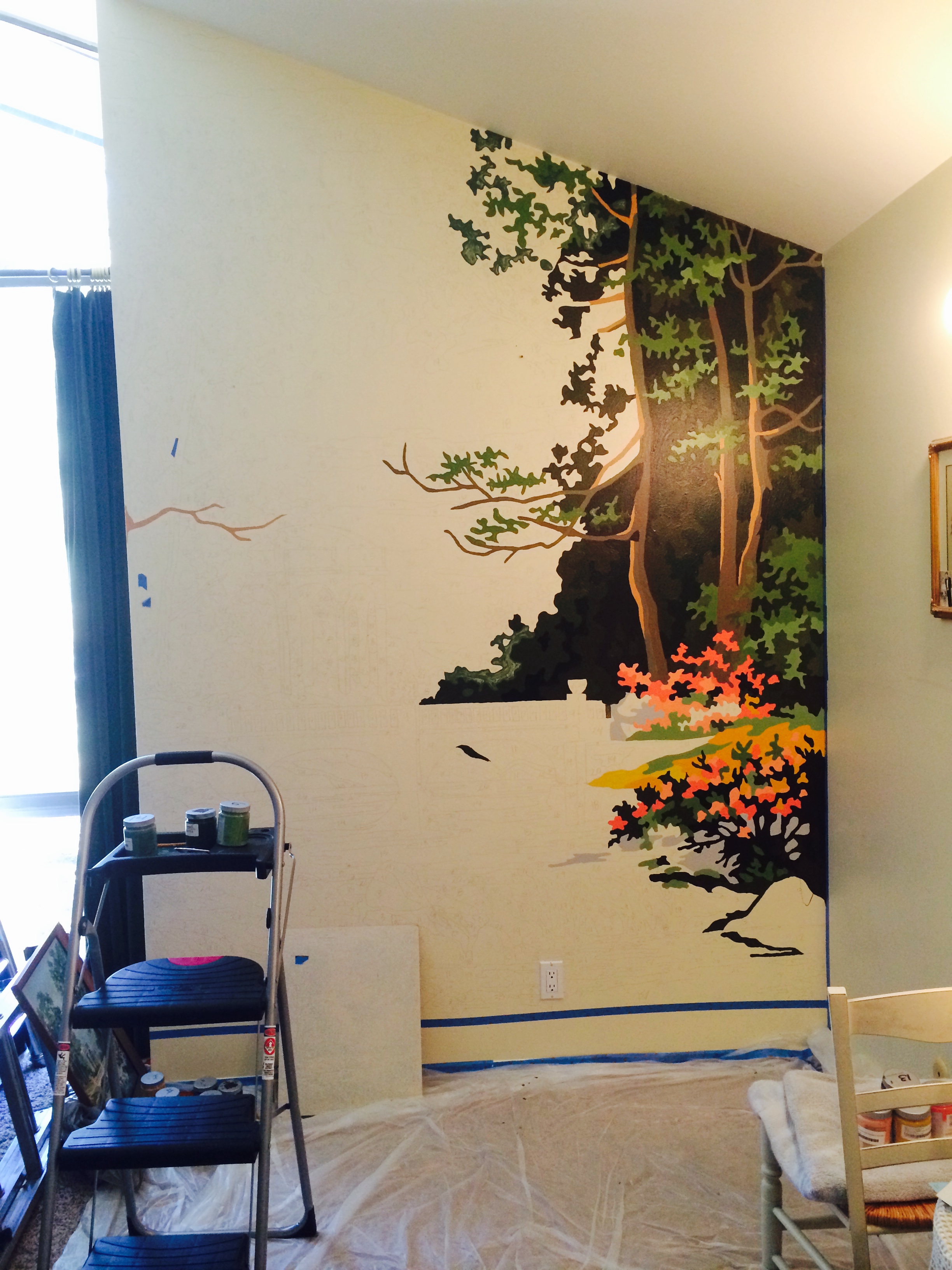 The completed wall definitely has impact and reflects the vintage feel of my home. It adds so much to my bedroom and I absolutely love it.