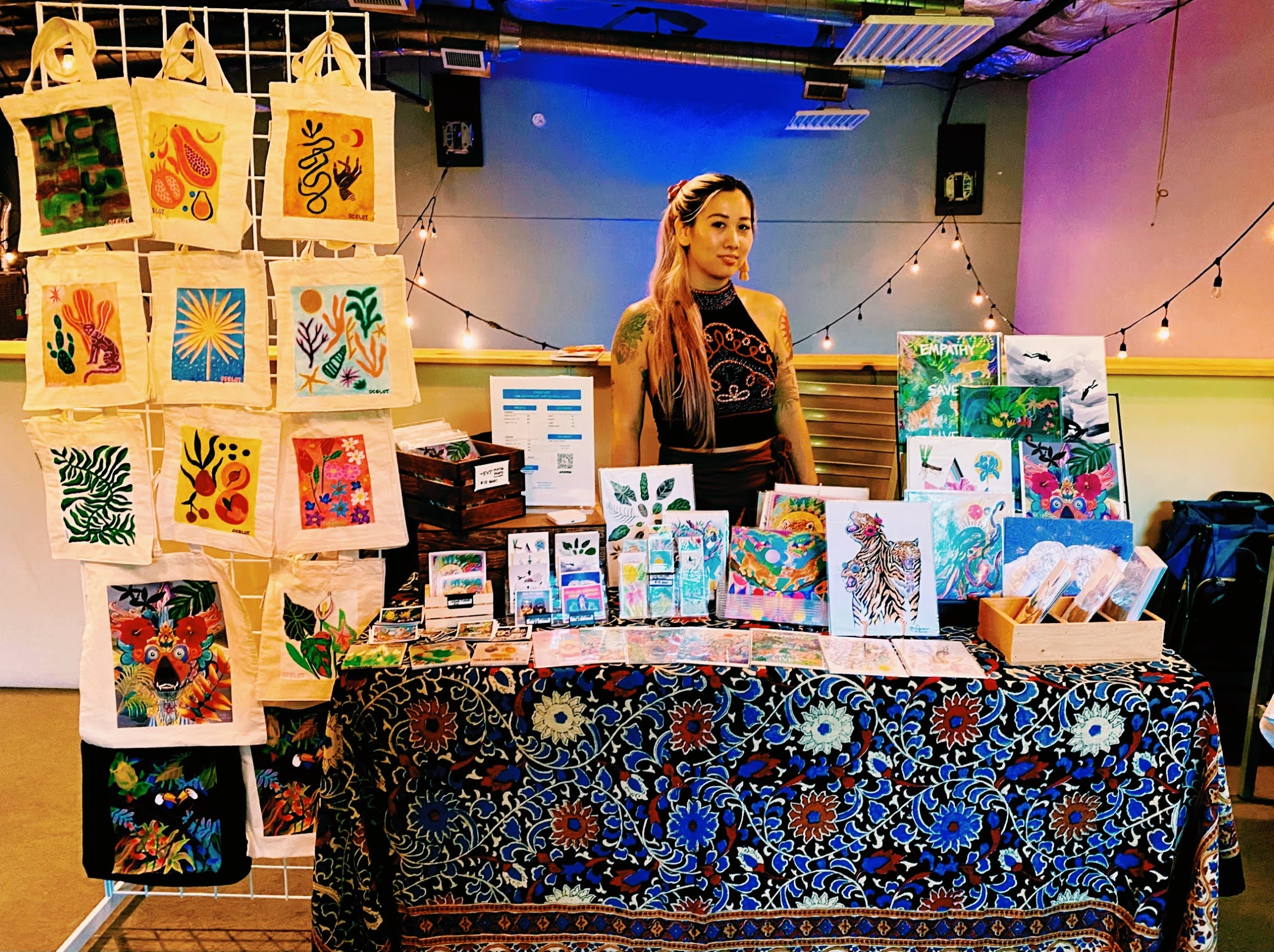 As Asian American & Pacific Islander Heritage Month comes to a close, we're closing out our celebration of some of the incredible Asian American & Pacific Islander makers in our community with this month's final featured artist: Erica Juršić of I Am An Ocelot! Check out our full interview with Erica below:
What is your medium, and how long have you been creating?
I am a watercolor/gouache, acrylic, and digital artist and illustrator. I have been creating as long as I can remember, and operating under the Ocelot artist pseudonym since 2019.
Why do you create? What inspires you?
As a queer AAPI artist of color, I believe art is a form of resilience and healing. Many of my favorite elements are nature inspired: ocean, jungle, plants, botanicals and animals which relate to environmental conservation, social justice and intersectional solidarity. Some of my favorite cultural themes are traditional calligraphy and Lunar zodiac animals.
You clearly draw a lot of inspiration from animals, nature and the environment, but what drew you to choose the Ocelot, specifically, as your brand/business name?
When I was young, my aunt Gugu (who passed in 2021) understood my obsession with big cats and brought me to a zoo where I saw an ocelot for the first time. I was in love. They're basically housecat sized with all the features of a tiny jaguar! And there exists a small population of ocelots on the border between Texas (where I grew up) and Mexico that is endangered due to loss of habitat. My aunt bought me a stuffed ocelot that day at the zoo, and it became sort of my alter ego. Small, fierce, protective, wild. And as a little kid who spent summers in the jungle backyard of my grandma's house in Taiwan who grew into an adult that strongly believes in environmentalism, the ocelot felt fitting as a business and art name.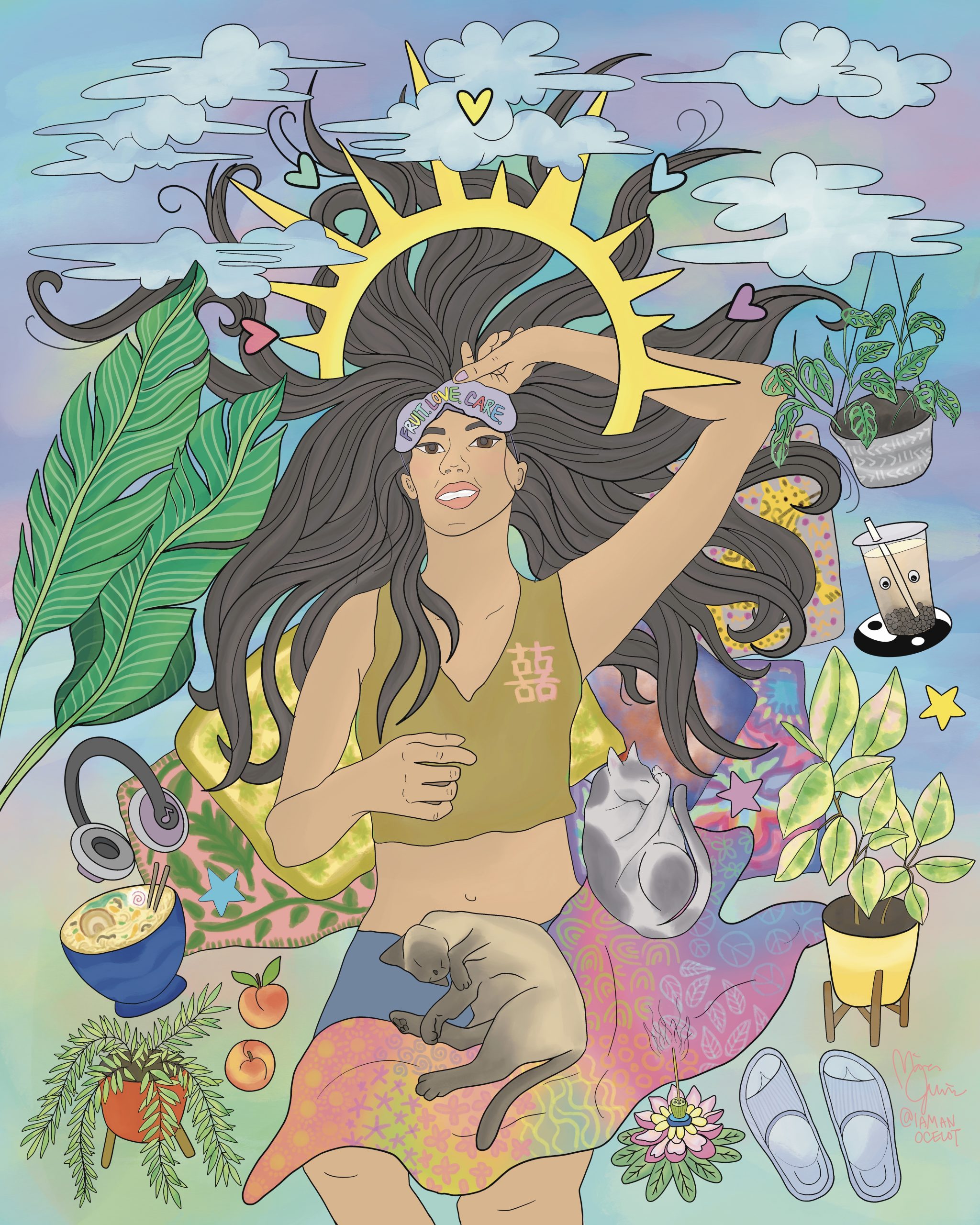 How is your work tied to or influenced by your identity/heritage?
My artwork is reflective of and intertwined with a deep love of my heritage as a child of immigrants and descendent of native Taiwanese island people. I love being able to showcase elements in my imagery that are important to me, such as my love of the ocean and jungle foliage, celebration of Lunar calendar festivities, ancestral homage and connectedness.
What does your creative process look like? I'd love to hear more about how you develop an idea when you've been inspired.
My art process is very non-linear! I believe that art is meant to be messy, uncontained – or maybe that's just my ADHD brain. I keep a million and half post-it notes of scribbles and random phrases from when an idea pops up. When I work, I tend to make a lot of practice studies or sketches and rework those ideas, tying in elements until they become a final cohesive piece. I also tend to switch between digital and traditional mediums halfway through and sometimes back and forth, so some of my work is a combination of both. Once I get to work, I continue throughout the day for hours and each day until it's done. It is total chaos, but I love it. I live for the journey that comes with the creative process, and I'm honestly not sure if I'm doing anything "correctly" but as long as I'm enjoying it and expressing the inner workings of my brain, it's fine.
How can readers find and/or support your work?
Lovely readers! You can find me at @iamanocelot on Instagram or www.iamanocelot.com for prints and stickers, portfolio, and commissions, as well as upcoming events. I've just spent the last few months living in Taiwan and reconnecting, experiencing so much – so I'm super excited to get back to work soon and show everyone this special piece of island that I come from!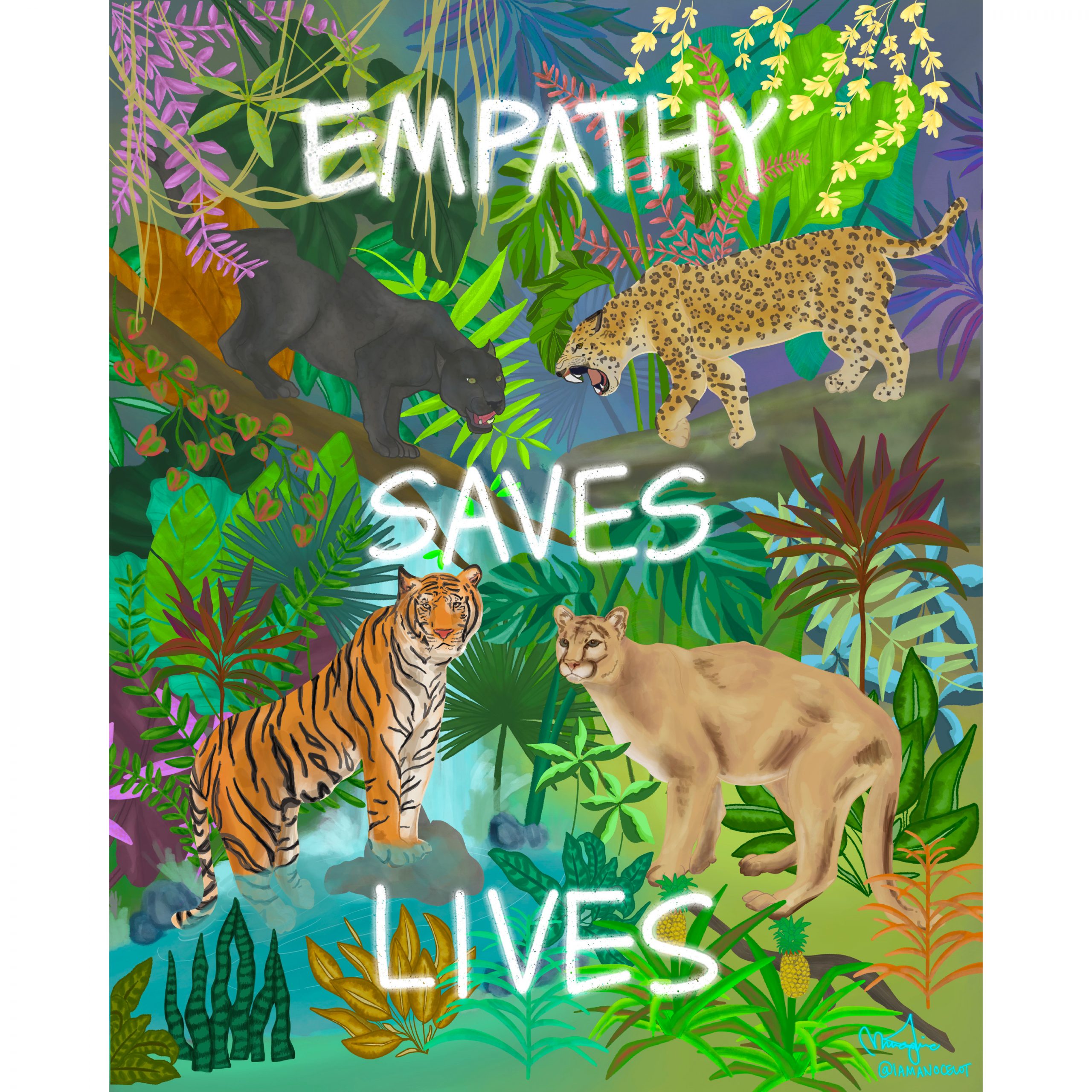 Craft Lake City's artist features highlighting national DEI Awareness Months will continue throughout the year on our social media channels (@craftlakecity) and here on our blog. Stay tuned to hear from other local creatives working to make Utah a more vibrant and accepting place to live, work and create!