Craft Lake City, The Center for the Living City, and The Temporary Museum of Permanent Change present the Spring 2017 Celebration of the Hand Exhibit.
For the Spring 2017 exhibit, the artists use their plakats to tell a story about a time when they confronted a fear and conquered it. The exhibit is a collection of seven two-dimensional works and two three-dimensional works by local artists:
Dane Goodwin
Heather Mahler
Jason N. Jones
Matthew Crane
Miche Wang
Michael M. Murdock
Rachelle Smith
Squid Vishuss
Trent Call
The artists use their own personal narratives to tell universally appealing stories about the power to overcome fear. From conquering natural obstacles to breaking perceived barriers, these stories remind us that we have the capacity to transform our circumstances by taking action.
The plakats are installed adjacent to the sidewalks in downtown Salt Lake City, and are located on the North and South sides of Broadway (300 South) between 200 West and West Temple. The exhibit will remain on display through the spring and summer, and is open to the public 24 hours a day 7 days a week, free of charge.
Applications for the next exhibit will open in late summer. To be notified about the call for submissions, send an email to celebrationofthehand@craftlakecity.com.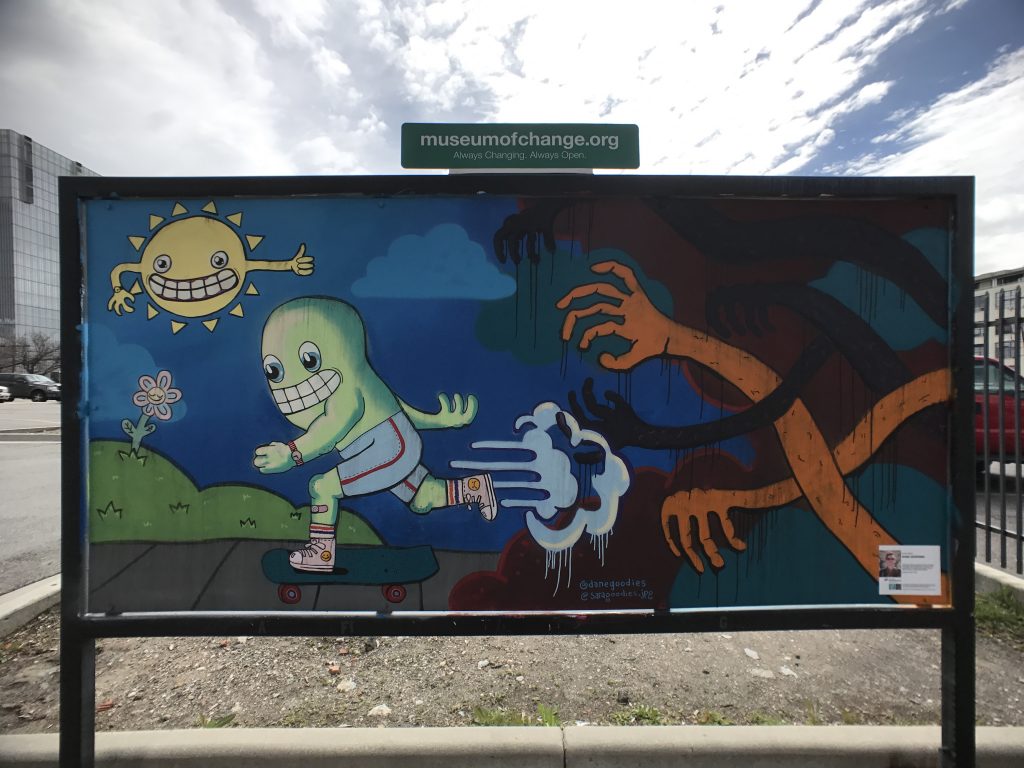 Dane Goodwin is a printmaker, illustrator, and muralist. He has a healthy dose of love for Salt Lake City! He can commonly be spotted thrift shopping, skating, and creating radness.
Instagram: @danegoodies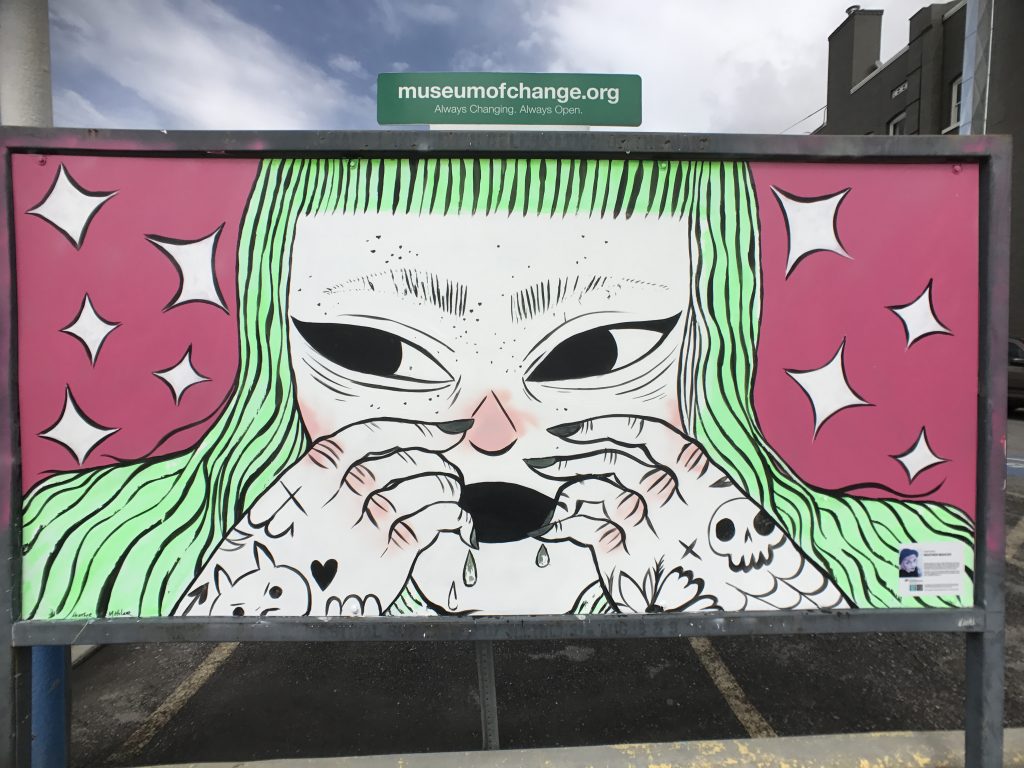 Heather Mahler is an artist based here in Salt Lake City Utah. Heather's work depicts women that typically do not fit within Utah's religious culture, sharing body positivity and strength, and examines how we choose our identities.
Website: heathermahlerart.weebly.com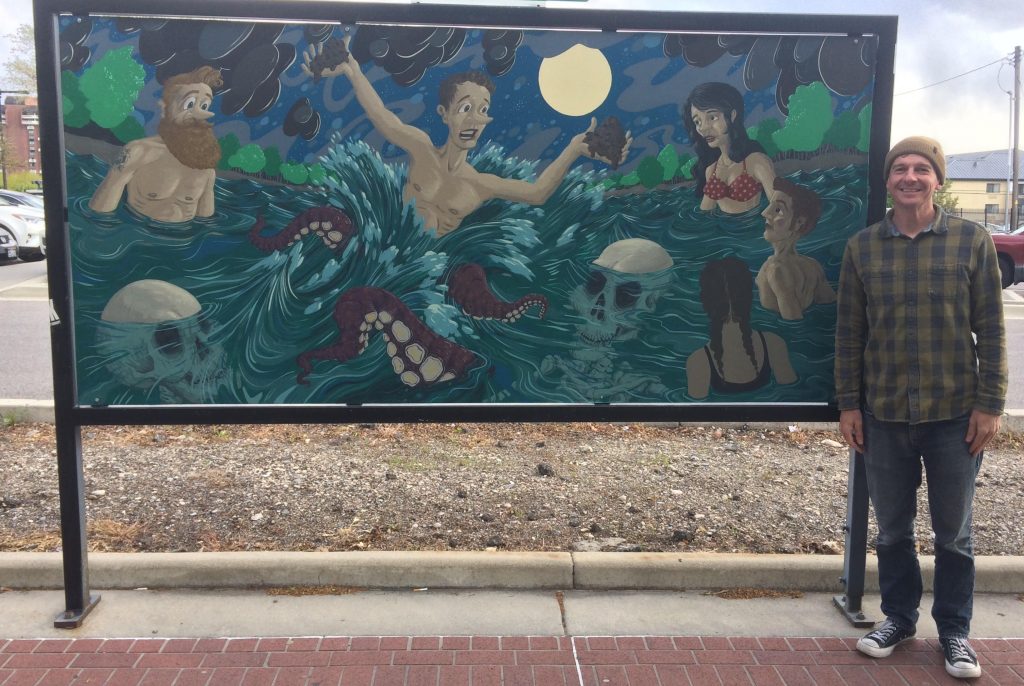 Jason N Jones's paintings and drawings explore his chosen subject matter through a stylized lens influenced by animation, old children's books and pattern design. His art works are vivid in color and composed with strong design that expresses playful movement within his compositions. "It's more important to me as an artist to draft my subject not as a replication of nature, but as an expression that animates my stylistic intentions."
Instagram: @jonesiac
Website: https://jasonnjonesartworks.wordpress.com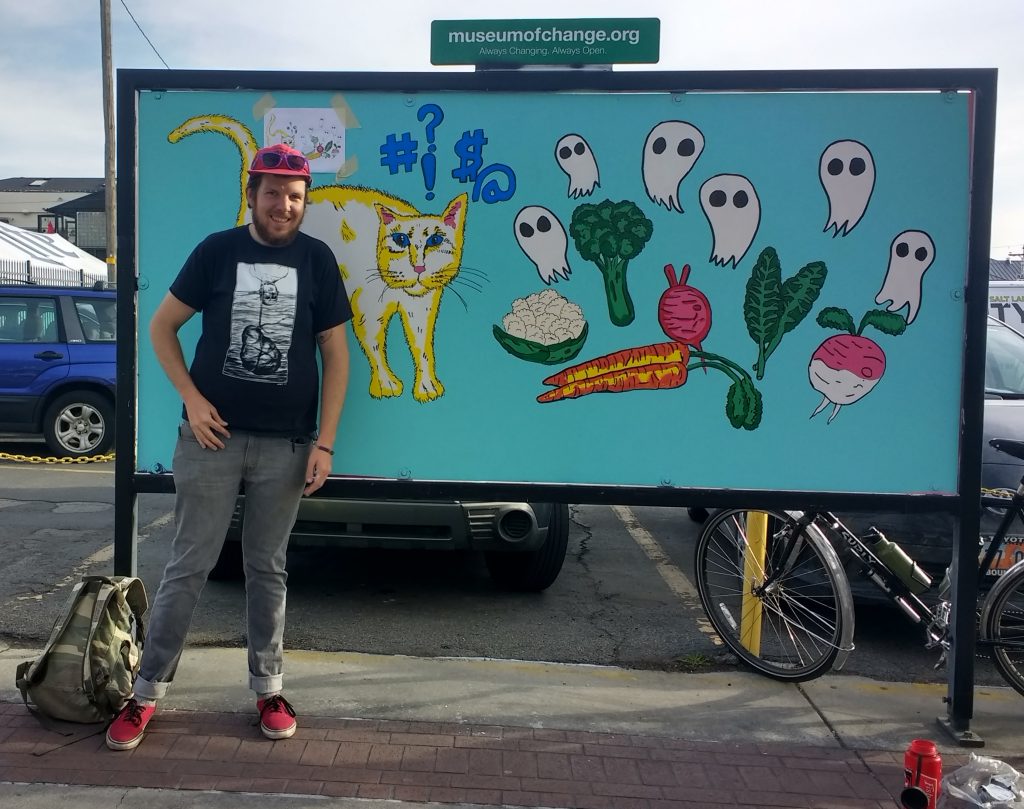 Matt Crane started making water colors in 2013. He has a love of painting animals, vegetables, food, and pastries. A million and two cat drawings later, he decided to draw a bird.
Instagram: @mattcrank
Etsy: @houseofcattitude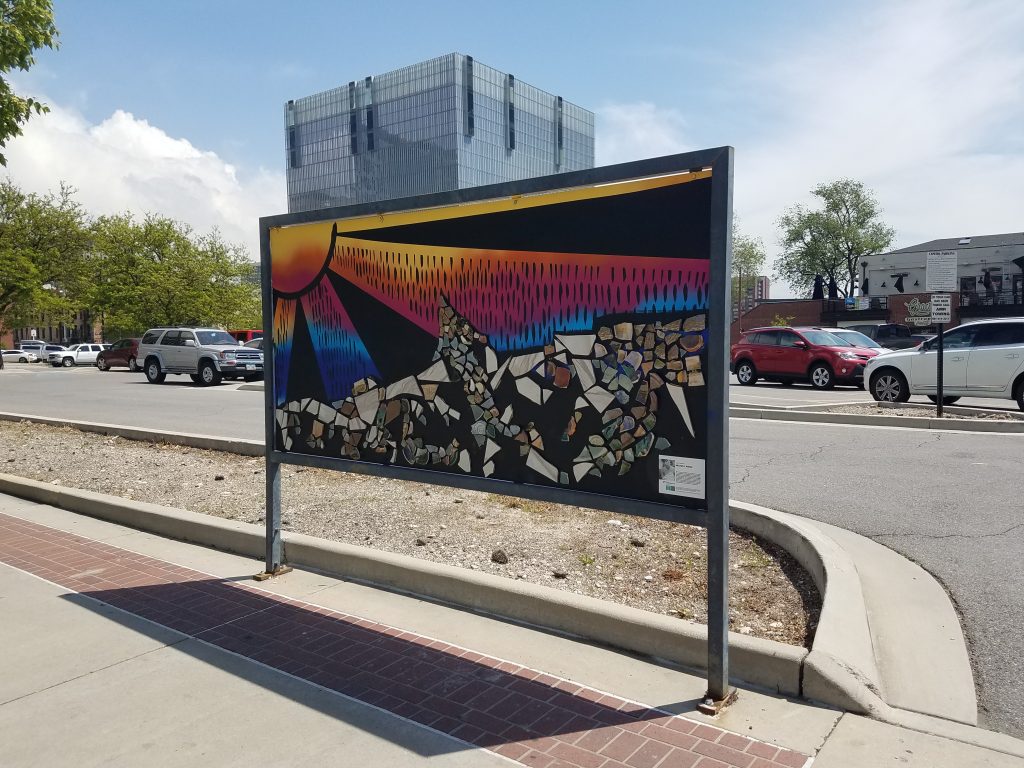 Local ceramicist Miche Wang is mostly self-taught, with the exception of community classes, YouTube and a lot of books. She currently teaches adult wheel throwing classes at the Red Kiln. In her free time, she enjoys skiing, climbing, hiking, listening to music and reading.
Instagram: @tangible.soul.pottery
Website: www.tangiblesoulpottery.com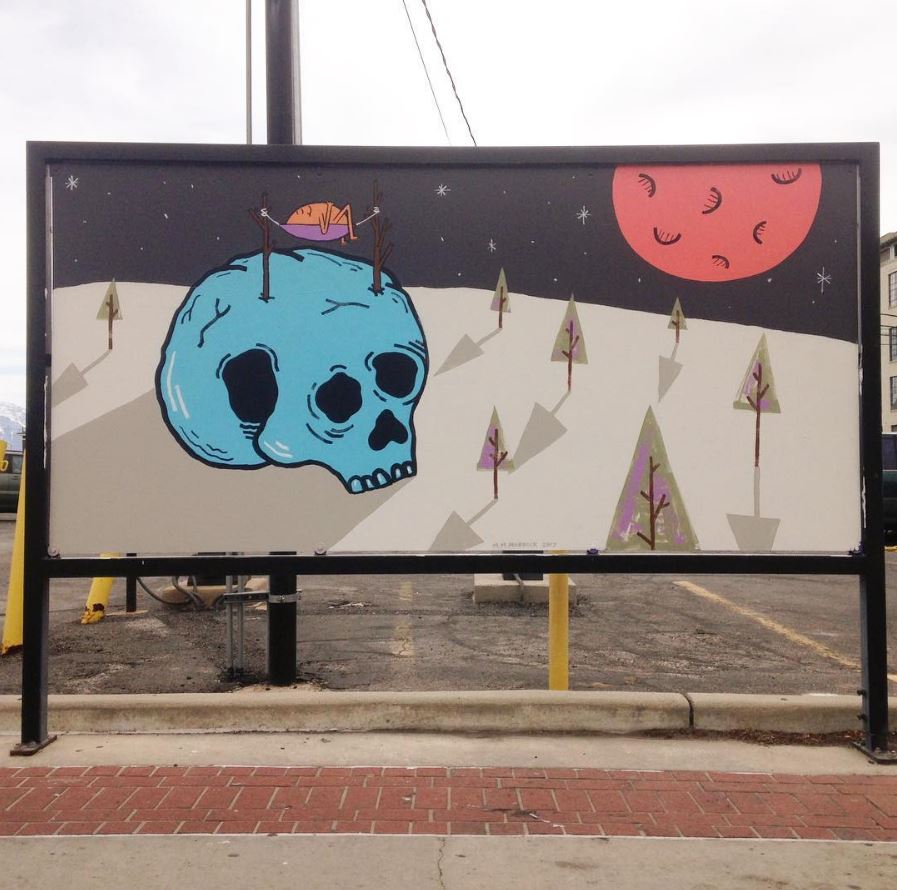 Michael M. Murdock is a maker of messes and builder of things, father, husband and cube gleamer based in Salt Lake City, Utah.
Instagram: @mikemurdock48
Website: Ultrasnazzy.com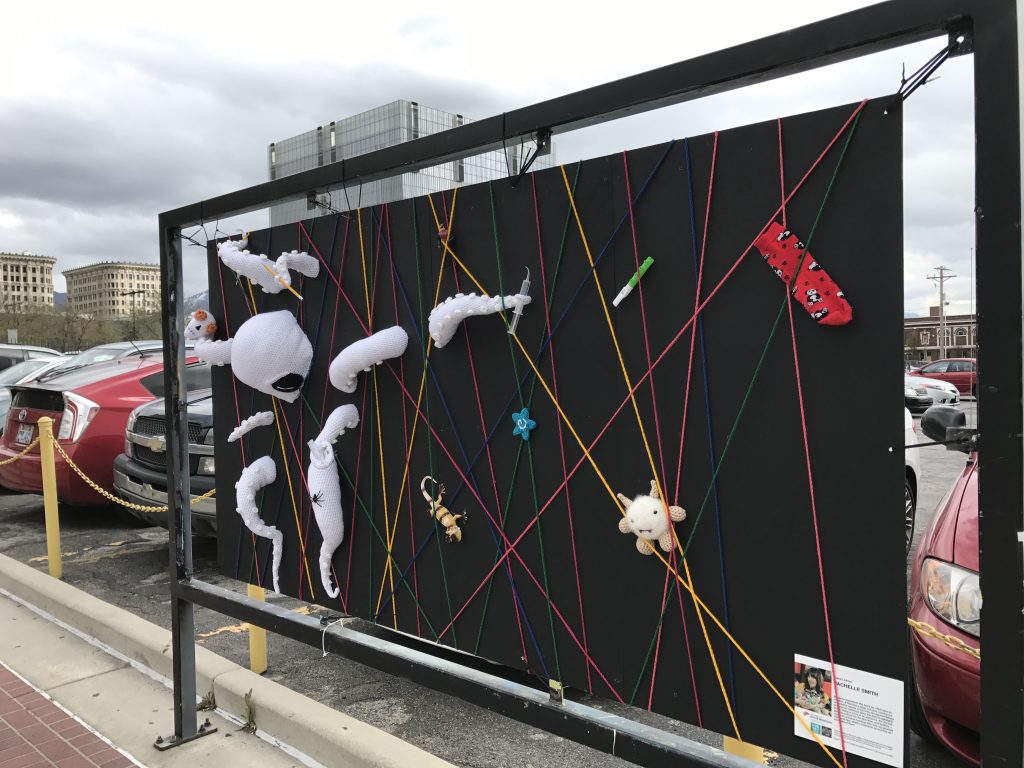 Rachelle Smith has been crocheting for over a decade, participating in multiple local art shows and events. She is the co-author of three crochet books, and is currently buried under a pile of yarn.
Instagram: @yarnsmithee
Website: Yayhookdcrochet.etsy.com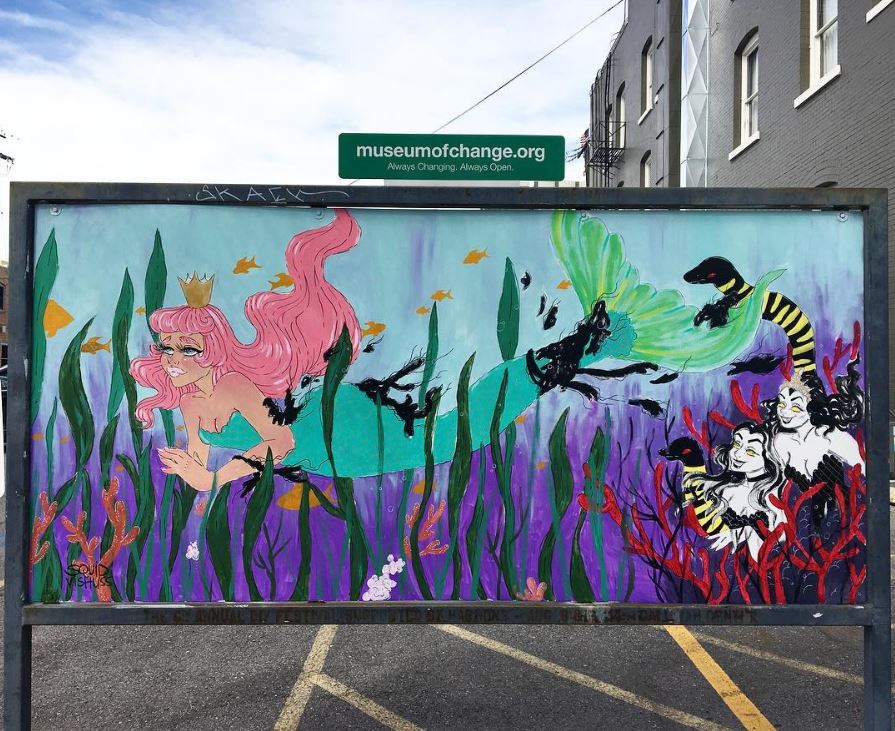 Squid Vishuss (Sydney Shane) is a self taught artist, toy collector, and lover of all things fantasy and kitsch—using thread, ink, paint, and nostalgia to hopefully change the world.
Instagram: @squidvishuss

Born and raised in Salt Lake City, Utah, Trent Call graduated from the University of Utah in 2004 with a BFA. He is actively involved in a diversity of ongoing projects. Trent's work combines formal academic painting, comics, graffiti, and popular culture. He currently works out of CAPTAIN CAPTAIN Studios in beautiful downtown Salt Lake City.
Web site: trentcall.com
The Celebration of the Hand exhibit is made possible through the support of UDAM, the NEA, The Center for the Living City and The Temporary Museum of Permanent Change.