Celebration of the Hand presents an exhibit celebrating the transformative power of street art.
Inspired by the street art of Paris, Craft Lake City, Stephen Goldsmith, and the Temporary Museum of Permanent Change selected six local artists to transform the inspirational messages on the plakats into something entirely new. Using the existing artwork as a base, each artist was given paint and asked to create a piece that will remain on display throughout the winter. The exhibit includes art work by:
Much like street art the world over, the goal of the Celebration of the Hand exhibit is to beautify, enrich and enliven what might otherwise be visually sterile spaces—downtown city streets. Craft Lake City is inspired by the way in which cities like Paris embrace street art and its power to change perspectives, as well as its ability to democratize art, making it highly accessible. This is an aim Craft Lake City shares, with "do-it-yourself" being its guiding philosophy.
The plakats are installed adjacent to the sidewalks in downtown Salt Lake City, and are located on the North and South sides of Broadway (300 South) between 200 West and 200 East and on city side streets. The exhibit will remain on display through April 2017, and is open to the public 24 hours a day 7 days a week, free of charge.
zephyr from trent call on Vimeo
Born and raised in Salt Lake City, Utah, Trent Call graduated from the University of Utah in 2004 with a BFA. He is actively involved in a diversity of ongoing projects. Trent's work combines formal academic painting, comics, graffiti, and popular culture. He currently works out of CAPTAIN CAPTAIN Studios in beautiful downtown Salt Lake City.
Web site: trentcall.com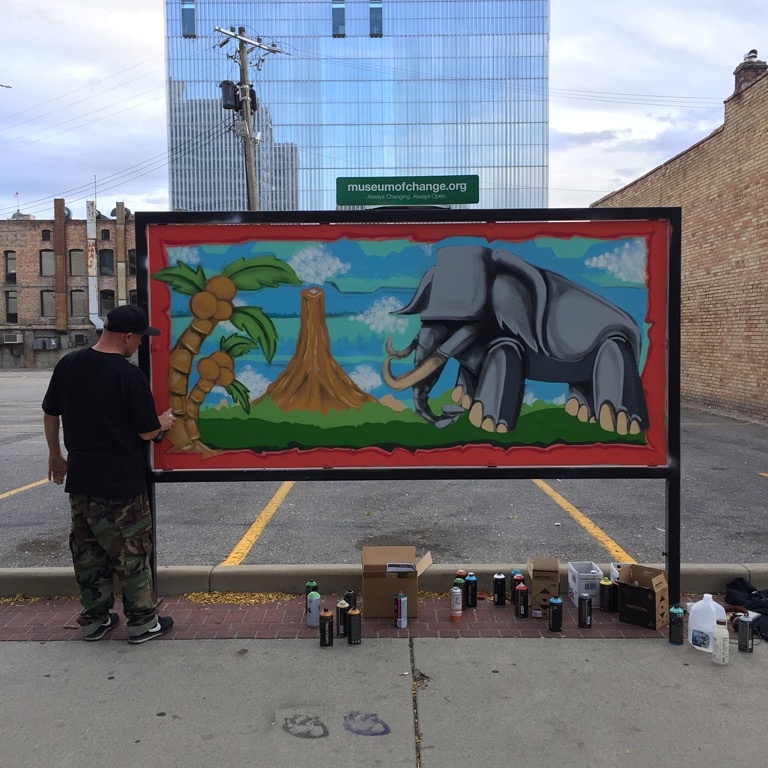 Dusk Raps is a a self-taught artist and musician from Salt Lake City. His art is heavily influenced by the hip hop music he loves to make.
Web site: duskraps.com
Instagram: @duskraps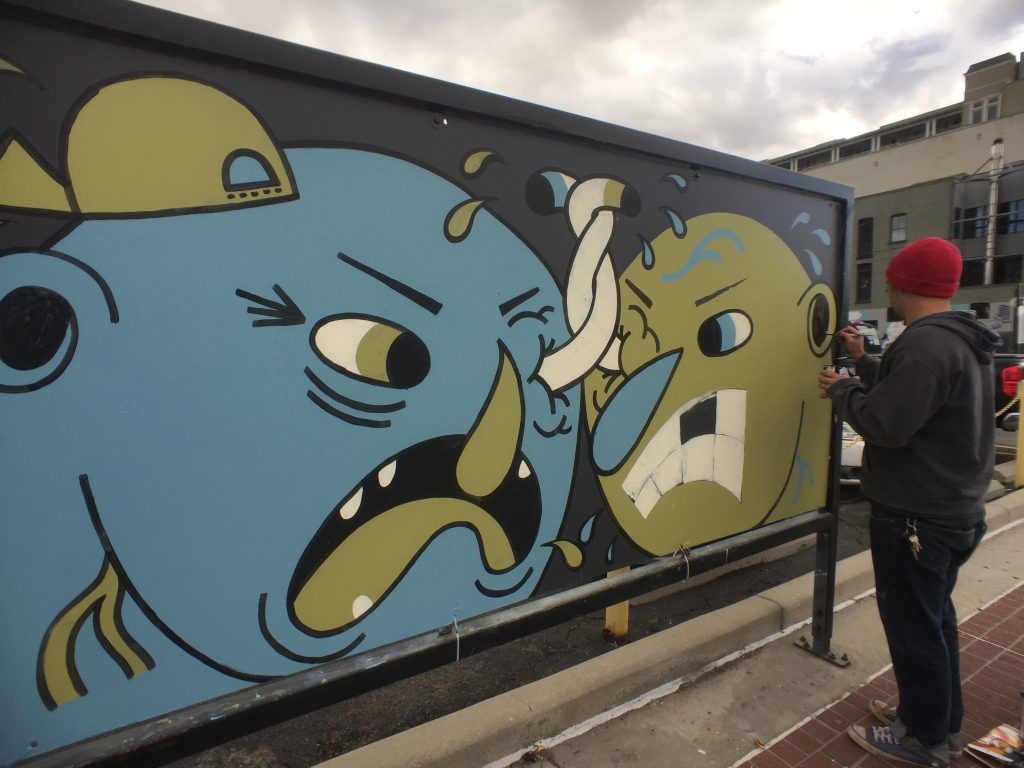 Michael M. Murdock is a self taught painter, muralist, doodler and illustrator who lives and works in Salt Lake City, Utah. Learn more about Mike and his work at the-lbproject.com.
Web site: ultrasnazzy.com
Instagram: @mikemurdock48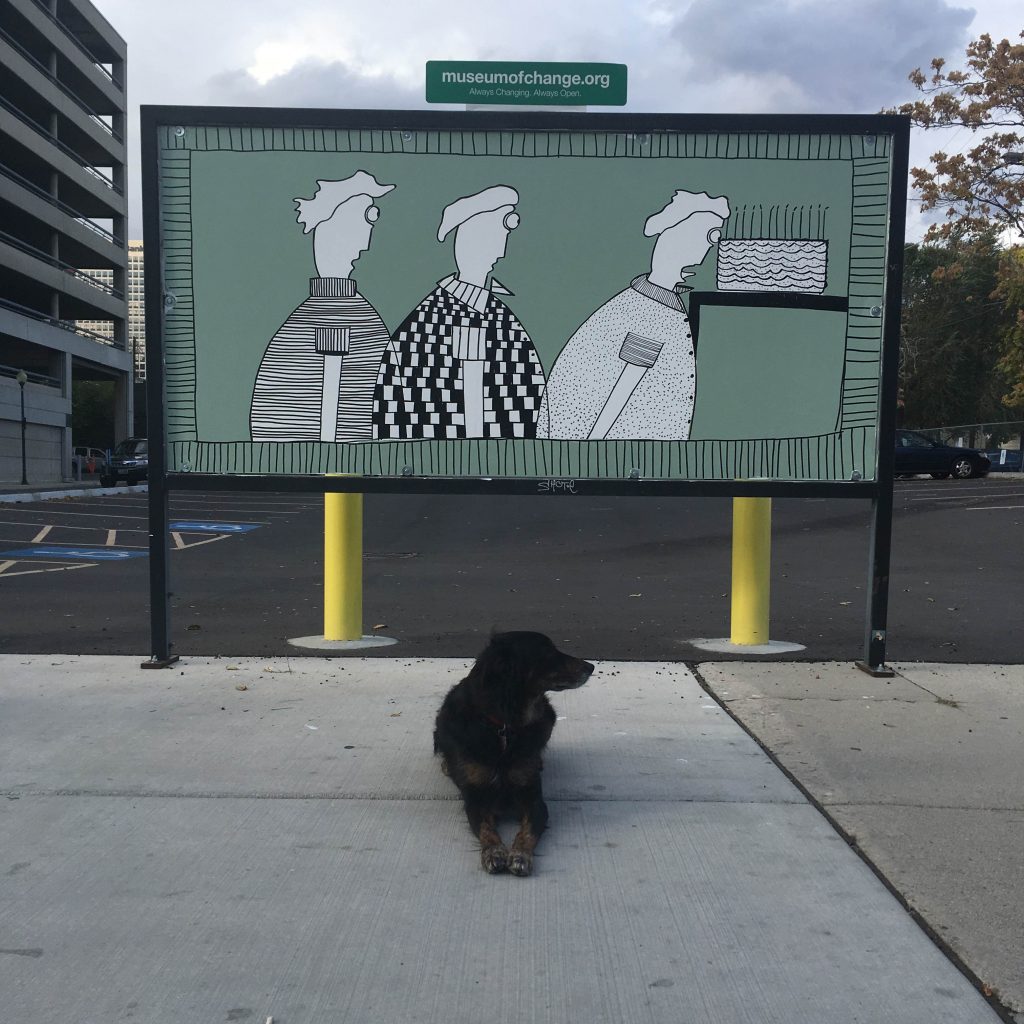 Alyce Carrier is a native of Salt Lake City, and other than a short stint in Seattle, she has lived and worked here her entire life. She works in clay, animation, print, and murals.
Web site: alycecarrier.com, themiddleseats.com
Instagram: @alyce.carrier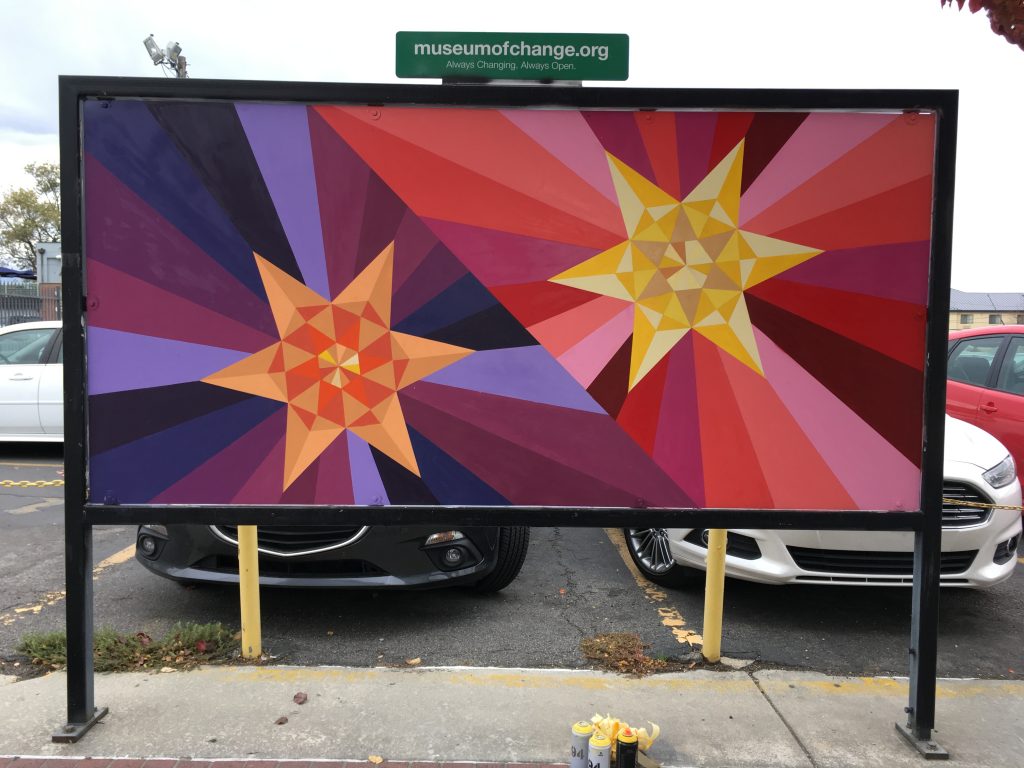 Shley Kinser, 30, is a largely self-taught graphic designer and painter residing in Salt Lake City.
She's in love with bright color, which features prominently in her work.
Instagram: @shley1derful
Chloe Monson is an illustrator, zine-maker, and embroiderer living in Salt Lake City. Co-founder of multi-media submission based zine SLC Pink, Chloe is a do-er of things and strong believer in making things with your hands every day.
Web site: blackholeneedleworks.bigcartel.com
Instagram: @chlomons
This exhibit is made possible through the support of The Center for the Living City and The Temporary Museum of Permanent Change.