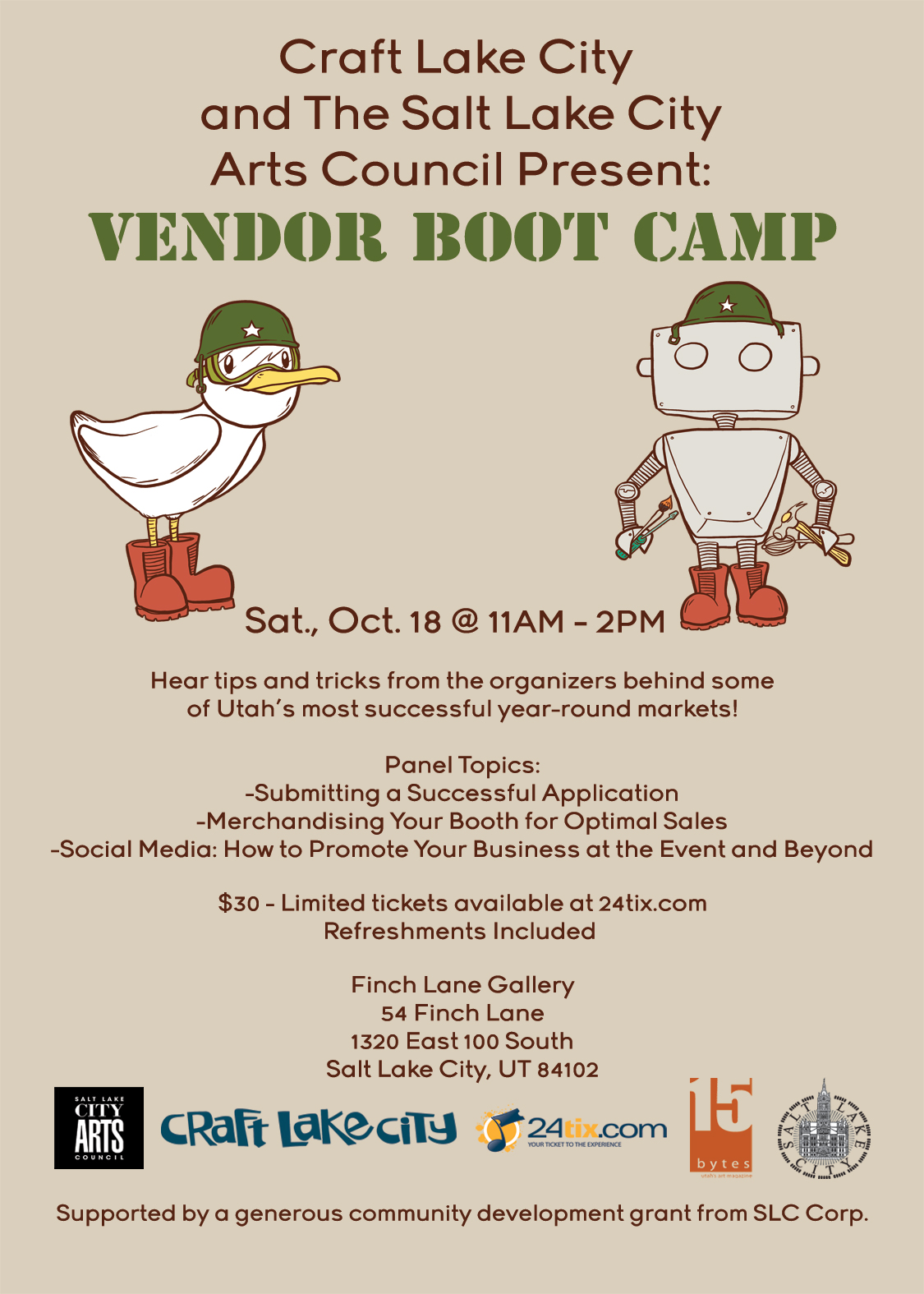 Hear tips and tricks from the organizers behind some of Utah's most successful year-round markets!
Submitting a Successful Application
Have you ever wondered why you weren't accepted to sell your merchandise at your favorite local market or festival?
Learn what festival, fair and market organizers are looking for when they judge potential vendor and artisan applications.
Hear tips and tricks form the organizers behind some of Utah's most successful summer markets! Q & A session to follow panel discussion.
Panelists include: Angela Brown of Craft Lake City, Kandace Steadman of the Finch Lane Galllery Holiday Craft Exhibit, Beccy Craig of the Beehive Bazaar and Kristin Beck of the Downtown Farmers Market.
Merchandising Your Booth for Optimal Sales
Your application was accepted! Now what? Hear from successful artisans about how they merchandise their booth for optional sales. Learn how they maximize their best selling potential in a small space.
Panelists include: Mia Vollkommer of 2 Dots Over The I, Amy Timmermann of The Bees Knees Shoppe and Mr. Jake Buntjer of The Paupers Orphans.
Social Media: How to Promote Your Business at the Event and Beyond
This panel focuses on the constantly changing and dynamic marketing environment of social media.
Learn how you can stay up-to-date in the latest social media trends and utilize them to, promote your business, increase sales and turn your followers and friends into advocates for your brand.
Hear from artisans and social media experts representing some of Utah's top companies. Panelists include: Susan Petersen of Freshly Picked Moccs., Jen Wakeland of Salt City Emporium and Manda Bull of Salt Lake Comic Con.
Pre-registration is required along with an $30 registration fee. Visit 24tix.com to purchase tickets.
Sat, Oct 18 @ 11:00AM MDT
The Art Barn – Finch Lane Gallery
54 Finch Lane
(1320 East 100 South)
Salt Lake City, UT 84102