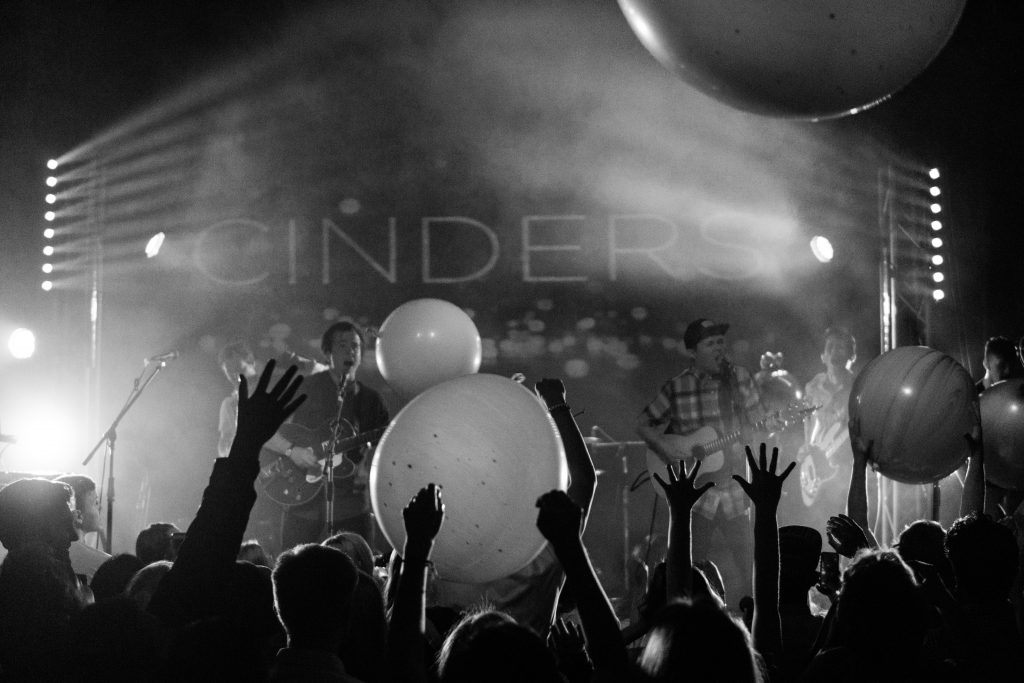 Craft Lake City is not just for crafters, but also artists of all kinds, including performers! This year at the festival, you'll see a wide variety of performances, from dancers to drum lines to jazz ensembles to punk bands. One of the many bands that will perform at the DIY Fest this year, is Cinders. Cinders is an indie pop rock band. Salt Lake locals started the band about a year ago. With a feel good and upbeat sound, they've quickly built a following in the Utah music scene. The indie rock band is made up of five men, though you probably wouldn't guess by listening to their music, as they use falsettos and auto tune to create a fictional (and very realistic sounding) sixth member of the band, the lone female: Charly. Their debut self-titled album can be purchased here.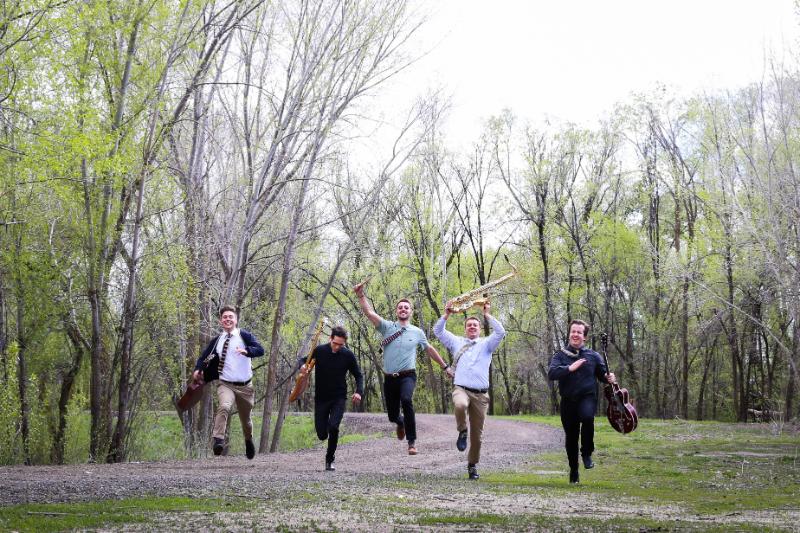 When did Cinders start?
Cinders was really born in October of 2015. Everything before that was just pregnancy.
Who started Cinders?
Although some members joined earlier than others, the actual sound, style, and feel that makes up Cinders was started by all five of the members.
How did Cinders get its start?
Each one of us has played music for years. We have all been in some area of musical performance and realized early on that it is all we want to do—so we are. The ultimate goal in life is happiness. What better way to get yourself on that path than to love what you do for a living? We love the energy of the crowd and we love jumping around onstage singing songs. We live for it, and we are extremely grateful that we have an opportunity to make a career out of it.
When did you do to start getting gigs?
As soon as we had material to play live. Our first show we ever played was in a motor home up the canyon. We crammed about 20–25 people in there and played the only four songs we had. I'm sure we sounded horrible and everyone was uncomfortable being squished together, but for us, it was our first milestone as a band, and an incredible experience. 
Have any of you been in previous bands?
We have each played in different bands. We learned something from each of them that has helped us to know the right way to go about making this band the best it can be. Playing in a band is such a fun experience. Had we not played in our previous bands, we would not be the band that we are.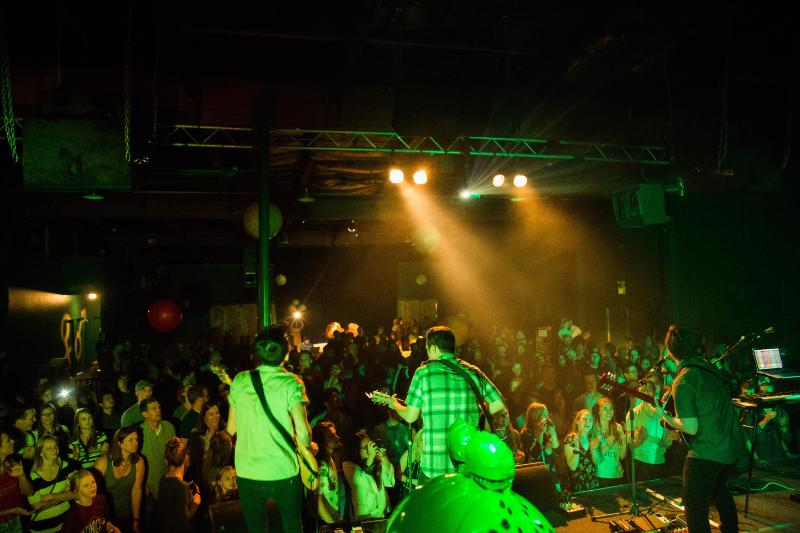 What is your favorite part of your band?
As a band, we are much more than friends or bandmates. We became a family. As cheesy as it sounds, it has really been the greatest experience for us. At the end of the day, whether we had a killer show or a bust night, we all win or lose together. 
What do you love most about performing?
The crowd! To hear the audience scream the words at the top of their lungs is an amazing experience. We know that they came to see a show, so we do all that we can to give them one. We go as hard as we can, whether there are 10 or 1000 people in the audience.
One time, Jordan (acoustic guitar) nailed Adrian (bass) in the face with his guitar! Adrian's nose was pouring blood the rest of the set! What a champ for playing the rest of the time. 
What do you attribute your success to?
Hard work, long nights, online marketing, and stage presence. We have seen most of our online success come from Spotify playlists, well known YouTubers, and word-of-mouth through social media. The biggest suggestion we can give to other bands looking for more online plays is to message YouTubers! If they like your songs, they will share them with everyone!
How would you describe your style?
Indie pop rock, for sure. We try to write upbeat, happy songs that we can jump and dance to. We figure if it makes us want to dance. then there has to be someone else out there as goofy as us that will dance to it, too!
What were your goals starting out?
We have had many changing short-term goals, but our long term goal has stayed the same. Let's make living off doing what we love and sharing that with everyone we can.
What advice would you give to those just starting out?
Keep going, no matter what. We are really just starting to see our success. We are grateful for the opportunities we have coming this year and next, but none of those would've come about if we just quit when somebody didn't like us. We have been in multiple battle of the bands, and we have lost every time. That sucked, but it only motivated us to do better. Those times where you think it will never work out can be defining moments. If you stop, you know exactly what will happen. You are done. But if you continue, you have no idea what is next. There are so many possibilities waiting for you. 
Do you feel that you've had good local support?
Yes, definitely! We could not do it without the local support. We would not have been able to tour without first getting our local following! Because of them, we could put out an album, upgrade our gear, and get more merch! Our fans are seriously the coolest.  
Why do you think it's important to support local?
Supporting local is where it all starts and truly that is where it all ends. When locals become successful, they are representing us and our local art.
Has participating in festivals, such as Craft Lake City, helped you? If so, how?
Yes! The fans we have grown and the gigs we have been offered from playing these festivals are fantastic. Plus, it is so fun to see everyone gathered together for art! We can't wait to perform at this year's Craft Lake City DIY Festival.
Who are some of your favorite local performers?
Middle Mountain. Those guys are teenagers in high school and they kill it every time! Seriously, they are going to be the next big thing out of Utah!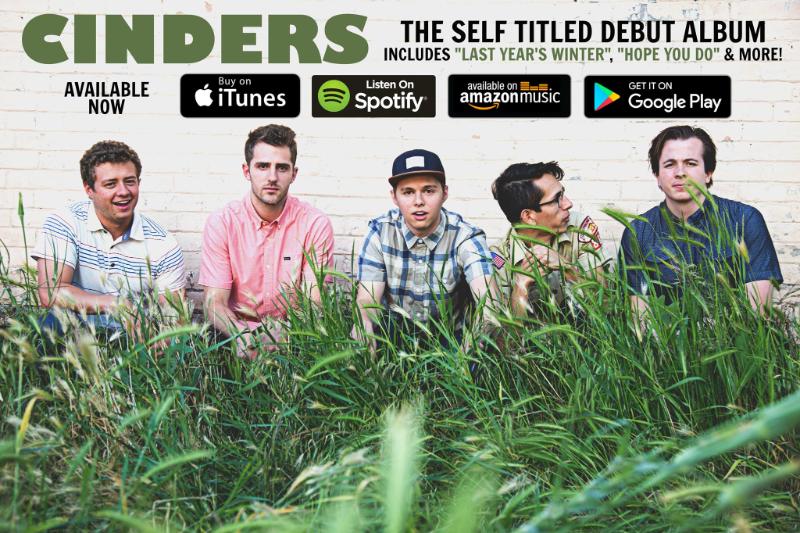 Cinders will perform Saturday August 13 from 1:30 p.m. to 2 p.m. on the 90.0FM KRCL Stage at the Craft Lake City DIY Festival. See the whole lineup for the festival here.