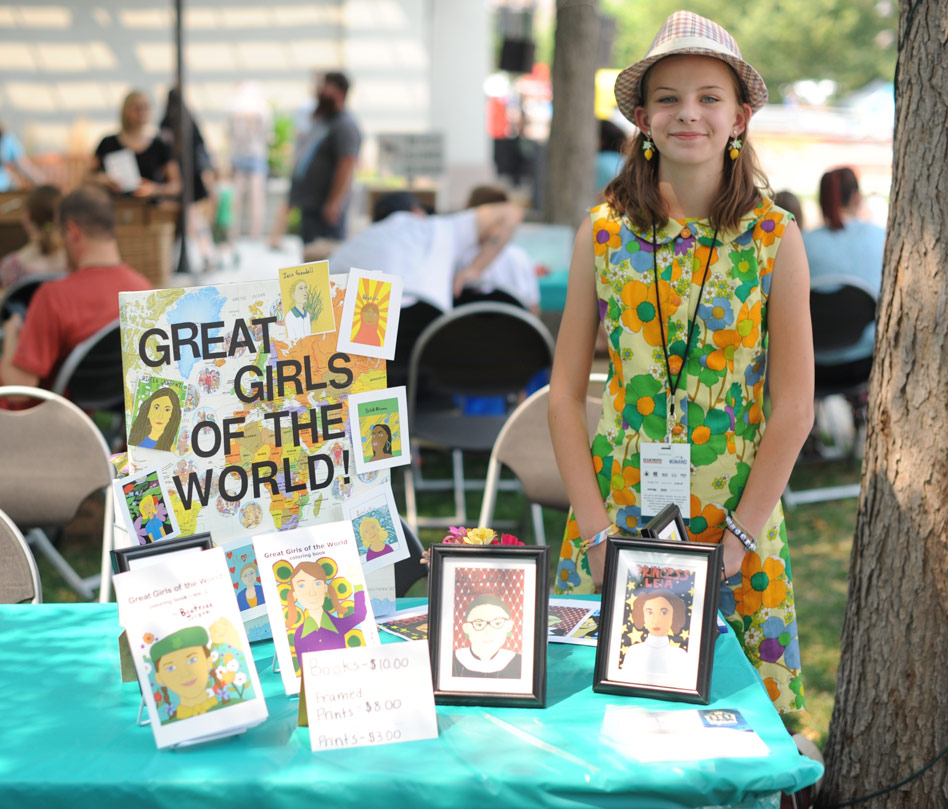 Beatrice T. during Kid Row at the 10th Annual Craft Lake City DIY Festival. Photo by Mary Elizabeth Hammond.Beatrice T. is a local artist and business owner at just 11 years old. Beatrice started her art business in 2017 during the first ever Kid Row at the 9th Annual Craft Lake City DIY Festival, where she launched her first coloring book called Great Girls of the World. Beatrice participated in Kid Row again during the 10th Annual Craft Lake City DIY Festival this past August, where she launched volume 2 of her Great Girls of the World coloring book. It doesn't look like Beatrice, a great girl herself, will be slowing down her creativity anytime soon, so we wanted to take a moment to learn more about this inspiring young artist.
Beatrice the artist
Beatrice began making art at the age of three, and like many of us she began by experimenting with random scribble drawings. By age six, Beatrice began to draw her own imaginative characters including a character called Vampire Tulip Girl. In fact, Vampire Tulip Girl has a prominent place directly drawn onto the wall of her family's home. Next, Beatrice began to draw and paint colorful portraits of animals with their owners. It is these portraits that led to a collaborative art show at Alchemy Coffee with her mother, who is a local artist and art teacher. Beatrice also showcased her work at Art Access after taking classes there in printmaking and book making. Currently, Beatrice is working on another collaborative art exhibition with her mother to be shown at Art Access, along with other local parent-child collaborators.
Today, Beatrice is focused on creating original coloring books about girls from around the world who inspire her and create change. In her own words, Beatrice had this to say about her coloring books: "It is important to have each girl in the book mentioned because a lot of people don't know about them, and it is important to bring these women up. It motivates me and other people to do the kind of work that will change the community and help motivate and inspire other people. Learning about these women makes me want to stand up to things and think about what I'm doing."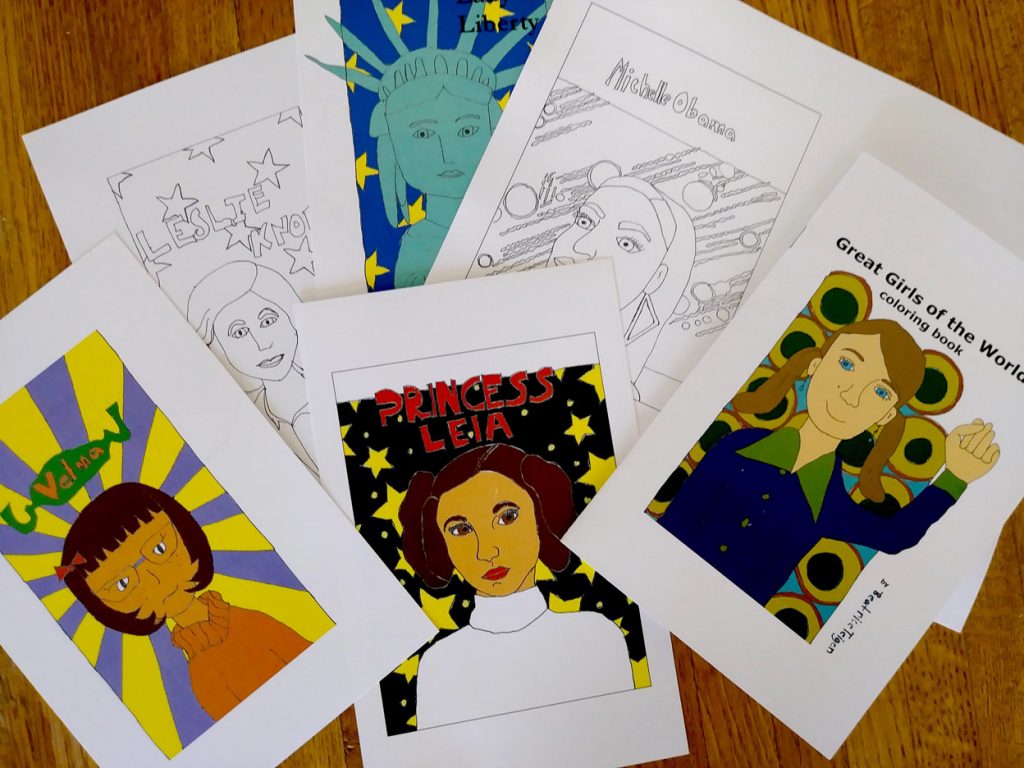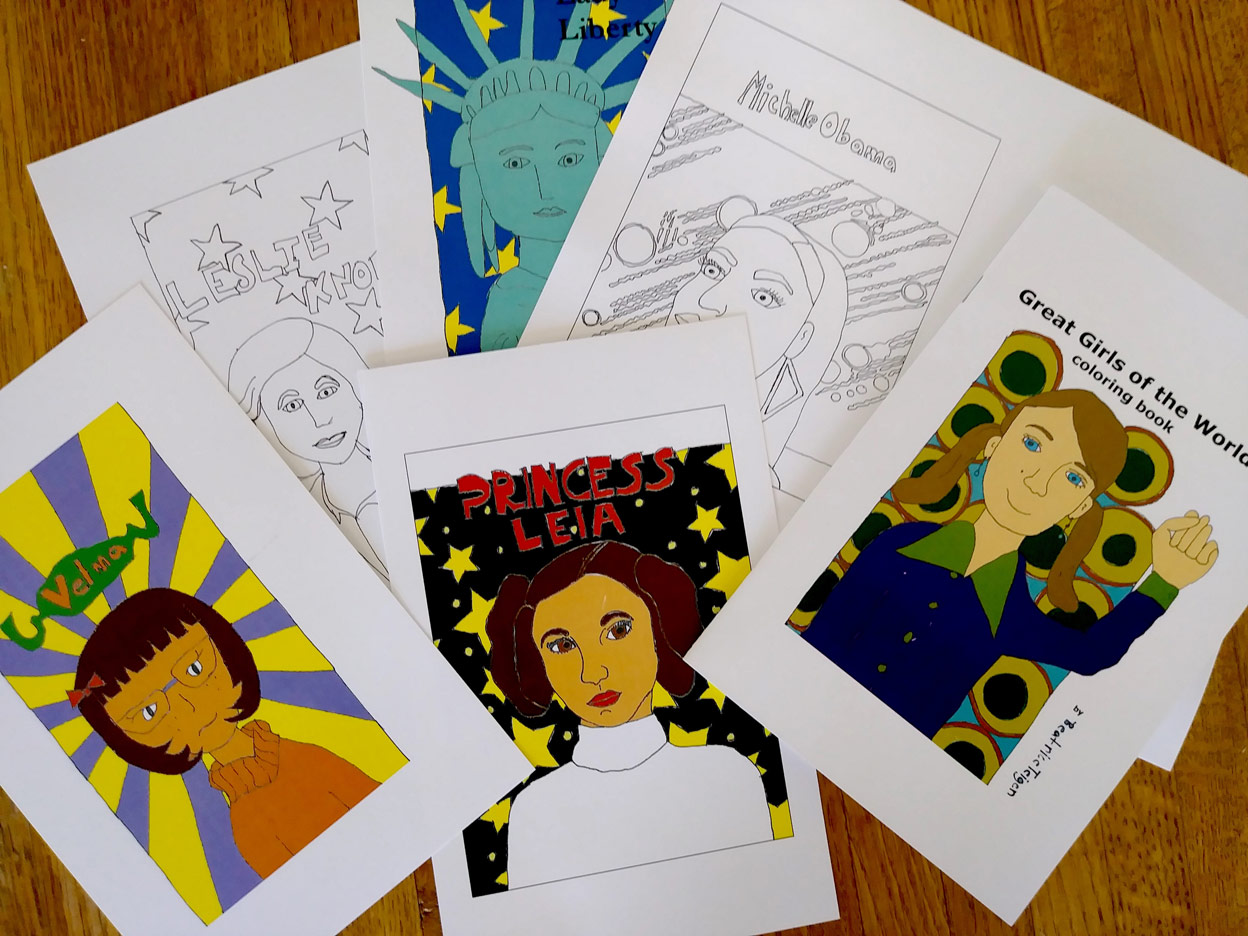 Her Kid Row experience
Beatrice had applied to the DIY Festival before the Kid Row program even existed. In fact, it was creative and ambitious kids like Beatrice that inspired Kid Row. In the Kid Row program, young makers ages 14 and under are selected to participate as official DIY Festival vendors, selling their creative work and interacting with visitors on Saturday afternoon during the DIY Festival. 
Once Beatrice learned about Kid Row, she quickly began to brainstorm ideas for what she could create to sell at the DIY Festival. With the help of her mother, she came up with a coloring book idea and decided to focus her drawings around the girls that inspire her. Once she was accepted to be a Kid Row vendor she got right to work. Being part of something like Kid Row made her do work she would not otherwise do, and she devoted the entire summer leading up to her first festival to drawing, committing to about 5-8 hours per week to her artwork. She also took advantage of the resources offered in the Salt Lake Library Creative Lab, where librarian Allan taught her how to use Adobe Photoshop. It is in the Creative Lab where she created her individual portrait prints of great girls and learned how to lay out her coloring book.
Beatrice has had many supporters along this journey, including her parents who helped her come up with ideas and people to include, and helped her to managed her time. She also credits her art teacher Mr. Hamilton with helping her to become a better artists and build her confidence.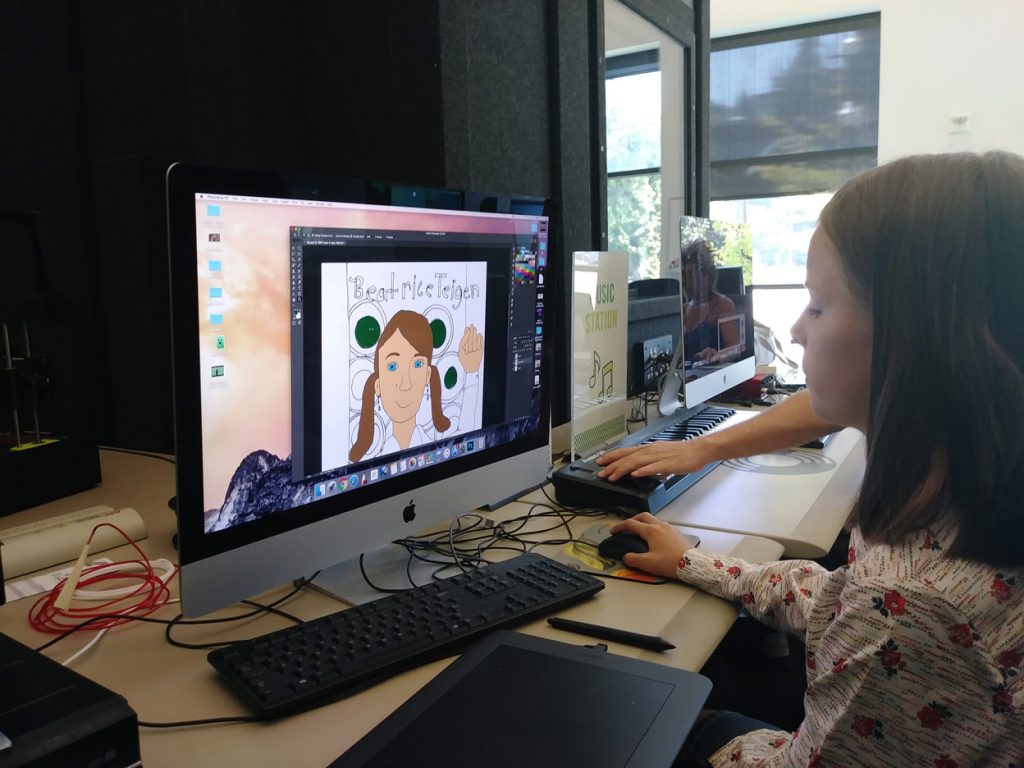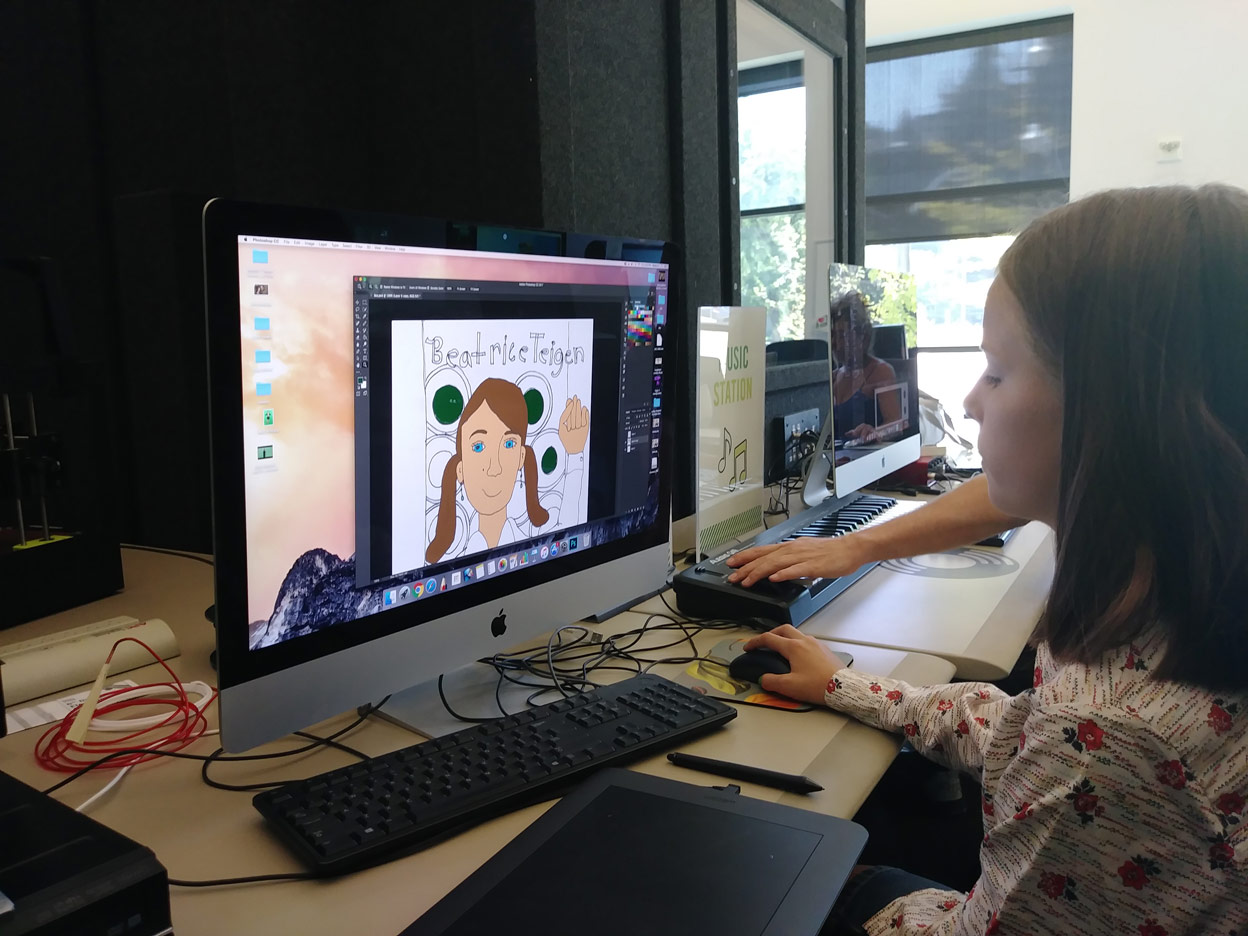 Lessons learned
Beatrice learned a lot great lessons during her first Kid Row experience. She was able to gain a better sense of the time it takes to prepare and sell items for a festival. She also learned how to better prepare for the heat during an outdoor festival and came prepared with lots more snacks than the year before. Beatrice also learned some valuable business skills including money handling and how to interact with the public. A new strategy she implemented during her second Kid Row experience was to stand in front of the table and be more welcoming and inviting to people as they pass by. One of the more exciting lessons she learned was how to trade with other Kid Row artisans and other festival vendors. In fact, she ended up trading a couple Great Girls of the World coloring books for a groovy vintage dress.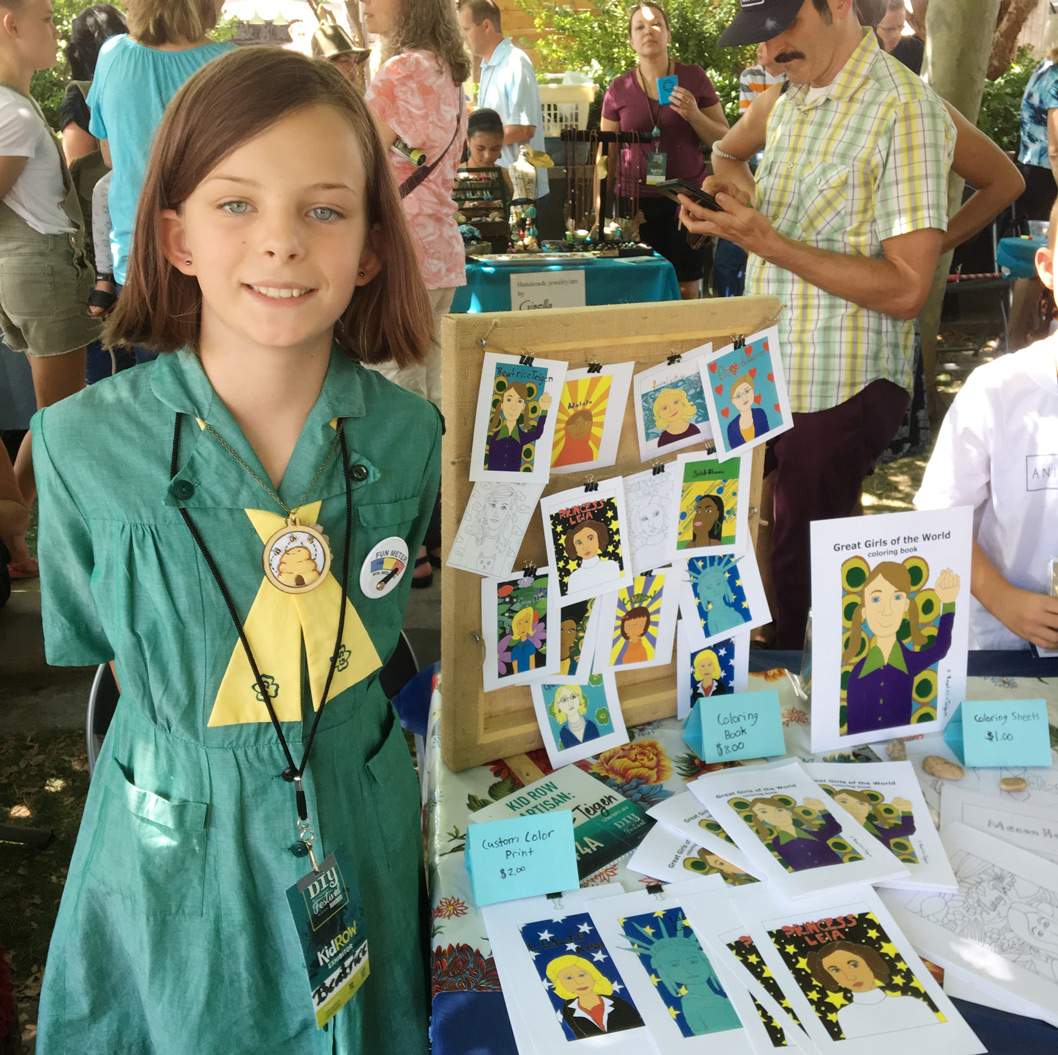 Her businesses has launched!
Since Beatrice  launched her Great Girls of the World art business during Kid Row, Beatrice began selling her coloring books at two local retailers including Commerce and Craft, located in Sugar House, and during the holiday season at Art Access gallery. She has also been commissioned by KRCL, a local radio station, to create portraits for all of their DJ's. And yes, Great Girls of the World coloring book volume 3 is in the works. Beatrice is also considering creating a local volume.
If you are interested in commissioning a work by Beatrice, please contact her mother directly at meganhallett24@gmail.com. Her work is currently available at Commerce and Craft and she will have coloring books for sale during the holidays at Art Access. Beatrice's Great Girls of the World series will also be on view at the Day Riverside Library from October 10-November 14, 2018.