As summer and festival season approaches, we're thinking we may need a few ways to treat ourselves. This is a busy season for the local creative scene with so much going on, but you can make it a productive and enjoyable season too. Be sure to take the time to do some things for you! Things like making chocolate peanut butter cupcakes with white chocolate frosting. We've got a few more tips for you to keep your summer season full of treats and not so full of stress.
Take time for you.
We don't just mean time to rest. (But do that too!) Take time to do things that you enjoy, learn a new skill, eat a cupcake. It's so easy to fall into the trap of overworking yourself and then spending all of your (very little) downtime just trying to recover from the long hours. If you take the time to do things outside of your usual responsibilities just for yourself, you will be happier in the long run. If you're looking for some suggestions, try out a Craft Lake Workshop! In the next month, we'll be building terrariums, making body butter and perfume, mixing beer cocktails, and learning to hand letter!
Be balanced! 
Focusing entirely on one project or job will burn you out. There are certain things that will require more of your focus than others. The trick is to make sure that nothing in your life is completely eclipsing all of the other things in your life. You may have a crazy work week, but keeping other activities to focus on will give your mind a break from hyper-focusing on work. Balance is key and will help you avoid that burnout feeling we all experience!
Treat yo self.
Treating yourself periodically is always a good idea. Take the advice from the NBC sitcom, Parks and Recreation, and treat yo self! You don't need to go crazy, but once in awhile do something that is just to take care of you. You don't need another reason to do it. Do something that will add to your wellbeing. You can start by making (and eating) these cupcakes.
Chocolate Cupcakes
Ingredients:
2 c. sugar
2 c. flour
1 t. baking soda
1/4 t. salt
1 c. water
1/2 c. vegetable oil
1/2 c. unsalted butter
10 T. cocoa powder
2 eggs
1/2 c. buttermilk
2 t. vanilla
1 1/2 c. peanut butter
3/4 c. powdered sugar
Directions:
Preheat oven to 350 degrees F.

Line two muffin tins with cupcake liners.

In a large mixing bowl, measure out sugar, flour, baking soda, and salt. Set aside.

In a medium saucepan on the stove mix together butter, oil, water, and cocoa. Once the butter is melted, thoroughly whisk the ingredients together. Bring to boil and then remove from heat.

Pour chocolate mixture over the dry ingredients mixture in large mixing bowl. Whisk together.

Add remaining ingredients. Mix thoroughly.

Spoon into prepared cupcake liners, filling each liner just over half way.

Using either a stand mixer or hand mixer, whip peanut butter and powdered sugar until smooth.

Scoop a tablespoon of peanut butter mixture into each cupcake liner.

Bake at 350 degrees F for approximately 16 minutes. You can tell they are done when you lightly touch the top of the cake and it bounces back instead of leaving an imprint of your finger.

Allow cupcakes to cool before frosting.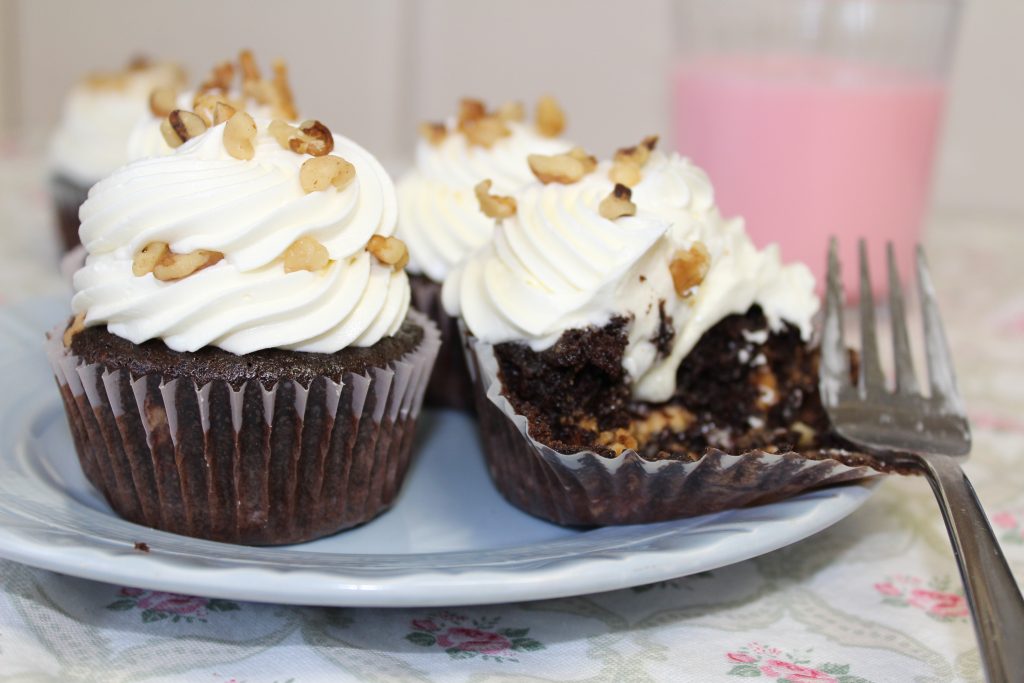 White Chocolate Frosting
Ingredients:
1 bag white chocolate chips
1/2 c. cream
2 c. unsalted butter (softened)
3 c. powdered sugar
Directions:
Pour bag of white chocolate chips in small mixing bowl.

In a saucepan, bring cream to boil. Watch it carefully! Cream is like a time bomb, once it boils it boils over the top very quickly.

Once the cream has begun to boil, pour it over white chocolate chips.

Let the mixture sit for a few minutes while the chocolate melts.

In the meanwhile, whip together butter and powdered sugar in stand mixer with paddle attachment to make buttercream frosting. Begin by whipping butter and then slowly add the powdered sugar.

Stir white chocolate and cream mixture, you've just made ganache! Congrats!

Cover and put in the fridge for 10 minutes to allow ganache to cool a bit.

Returning to the stand mixer with paddle attachment, mix on a medium speed while slowing pouring in a third of the white chocolate mixture. The frosting will get softer, but turn up the speed higher and allow it to whip for about one minute and it will thicken again and become fluffy. Repeat until all the ganache has been added, whip until light and fluffy.

Frost cupcakes and garnish as desired!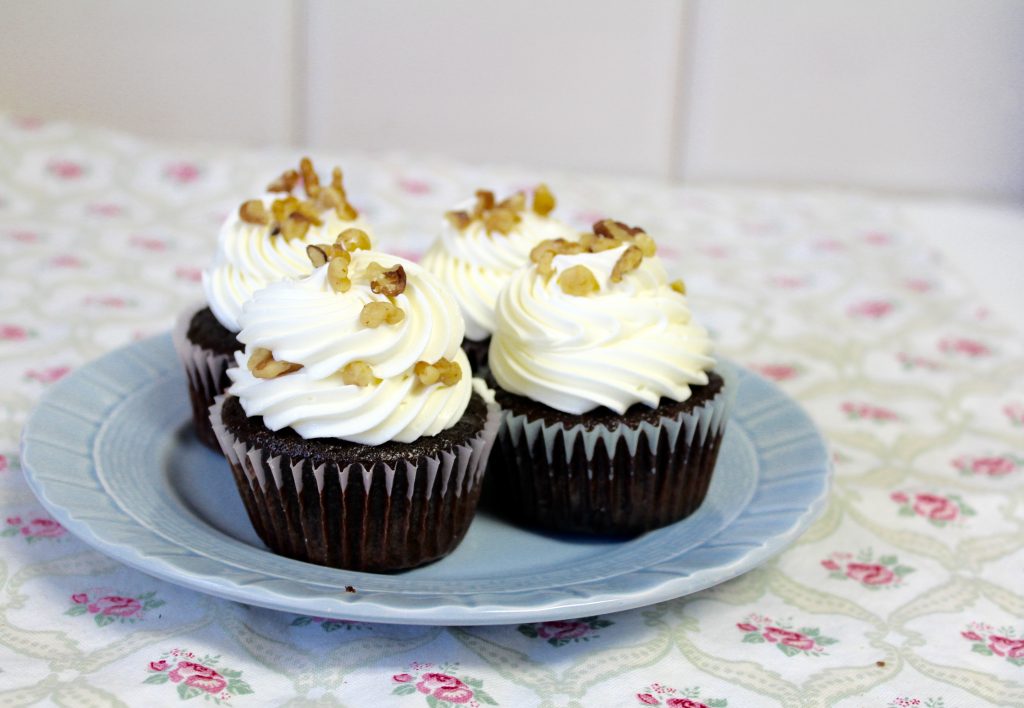 Recipe from Love Cake Bake