O-Town Kitchen is a benefit corporation and a Craft Lake City foodie. This organization makes jams and preserves that benefit the community. From giving single mothers jobs to employing the previously homeless, they are dedicated to serving. Today, we're sharing one of their recipes and a few facts about their cool organization.
O-Town Kitchen's jars are filled, capped, labeled and polished by hand. They even sign and date the labels by hand so you know they're made by real people with real stories and not made by a machine.

Their most popular jam is their Mango Habanero Jam. Try mixing it with cream cheese for a great dip or a great sandwich. They also have a Pineapple Jalapeno Jam called Still Untamed Jam. 'Still Untamed' is Ogden City's new slogan, so this flavor is a hometown favorite!

Their goals starting out included reducing local food waste and creating jobs for parents in crisis situations to support their families. To date, they have successfully created more than a dozen jobs for families. They have also repurposed three and a half tons of produce from the waste stream. 

O-Town Kitchen was started by 

Isaac Farley and Nestor Robles after the two learned that in the United States every year 161.6 billion dollars worth of food goes to waste and that 45% of Utah's homeless population is families. These facts inspired these two young students to take action and start O-Town Kitchen. 

The best way to support O-Town Kitchen and their remarkable goals is to buy their product! Find it at the DIY Festival next week!
Vegan Pulled Pork with a Strawberry Habanero Sauce Recipe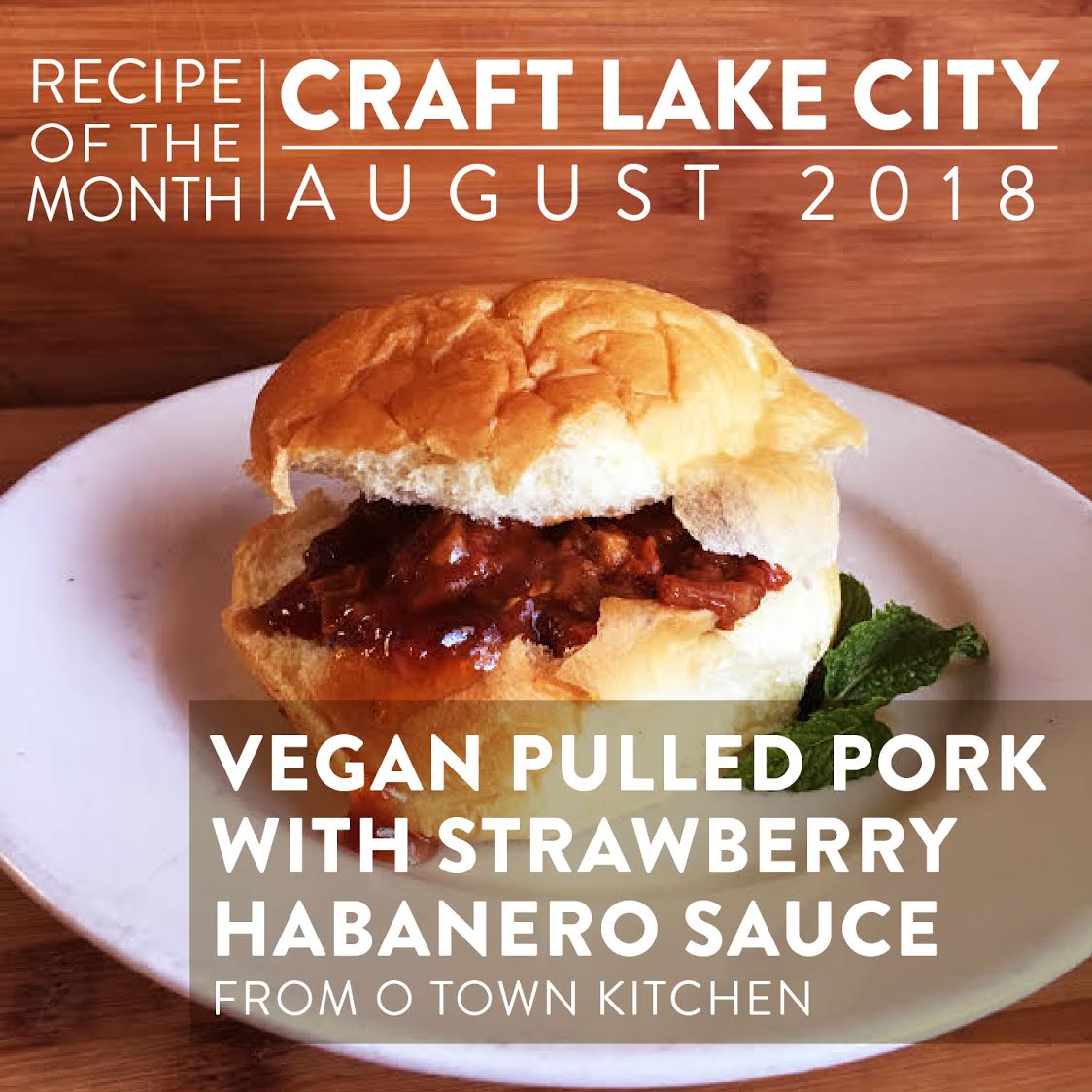 The Strawbanero Sauce
9 oz. jar of Strawbanero Jam from O-Town Kitchen 
¼ c. apple cider vinegar
¼ c. extra virgin olive oil
Strawbanero has a special place in our hearts here at O-Town Kitchen. It was the first flavor we ever used spicy peppers in, and to this day we have fond memories of folks who worked at the Family Crisis Center walking up and down the hallway past the kitchen and choking on the capsaicin fumes emanating from the pot of jam we were crafting. The flavor is first sweet and then followed by a firm but not overpowering spicy sensation. We classify Strawbanero as one of our milder flavors on the spicy scale.
The sauce is very easy to make and can also be used as a salad dressing for zesty southwestern salads or anything else you want. We're simply going to mix some of the Strawbanero Jam with apple cider vinegar and olive oil. The vinegar is a wonderful compliment to the sweet/spicy flavor the jam has straight out of the jar. And the olive oil will give the sauce a wonderfully smooth, mouth-filling feeling. Super simple to make and super satisfying to eat!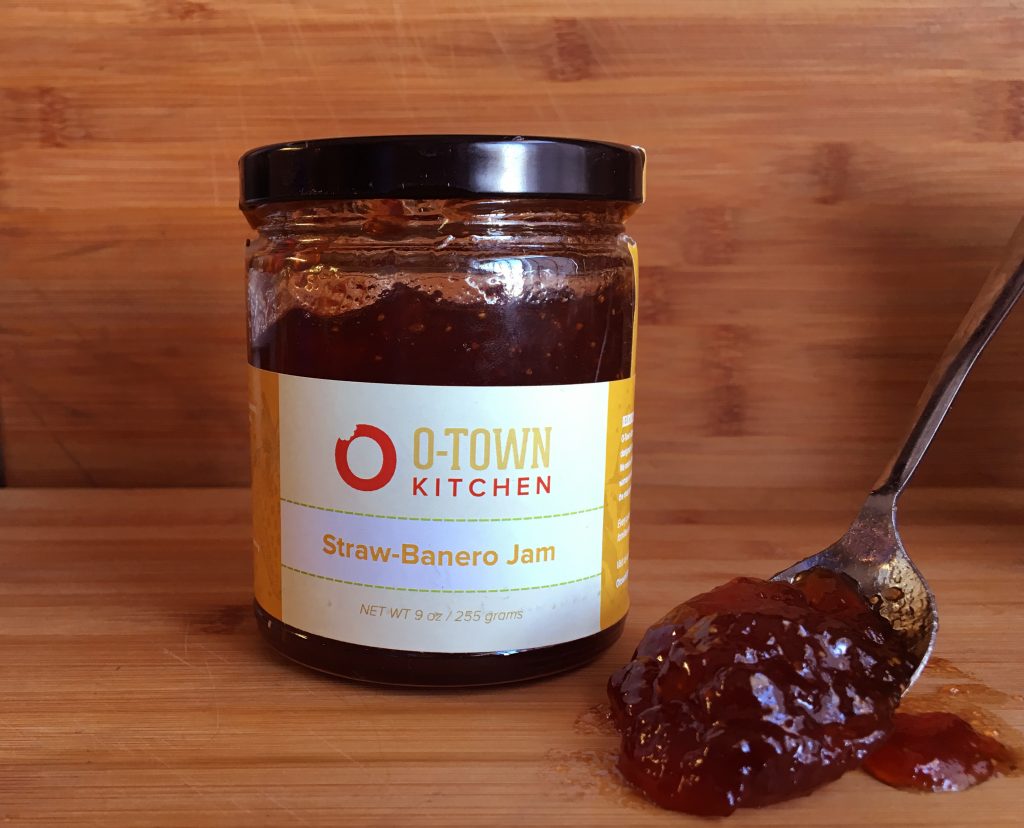 Pulled Jackfruit
40 oz. jackfruit greens
2 T. brown sugar
1 t. paprika
1 t. garlic powder
1/2 t. salt
1/2 t. black pepper
1/2 t. chili powder
3/4 c. Strawbanero sauce 

First, a note about where to find jackfruit. Fresh jackfruit is sold at most Asian grocery markets and sometimes (as mentioned above) at Hispanic markets, too. For this recipe, we don't recommend finding a full fresh fruit. You will have way more than you need, and cutting up and preparing the jackfruit is a messy and time-consuming process. Canned jackfruit in water is recommended, but make sure it is in water and not syrup. The membrane is what we want, not the fruit itself, which is packed in syrup. Try looking at a local Asian market for canned jackfruit; if you have no luck there, find it online here.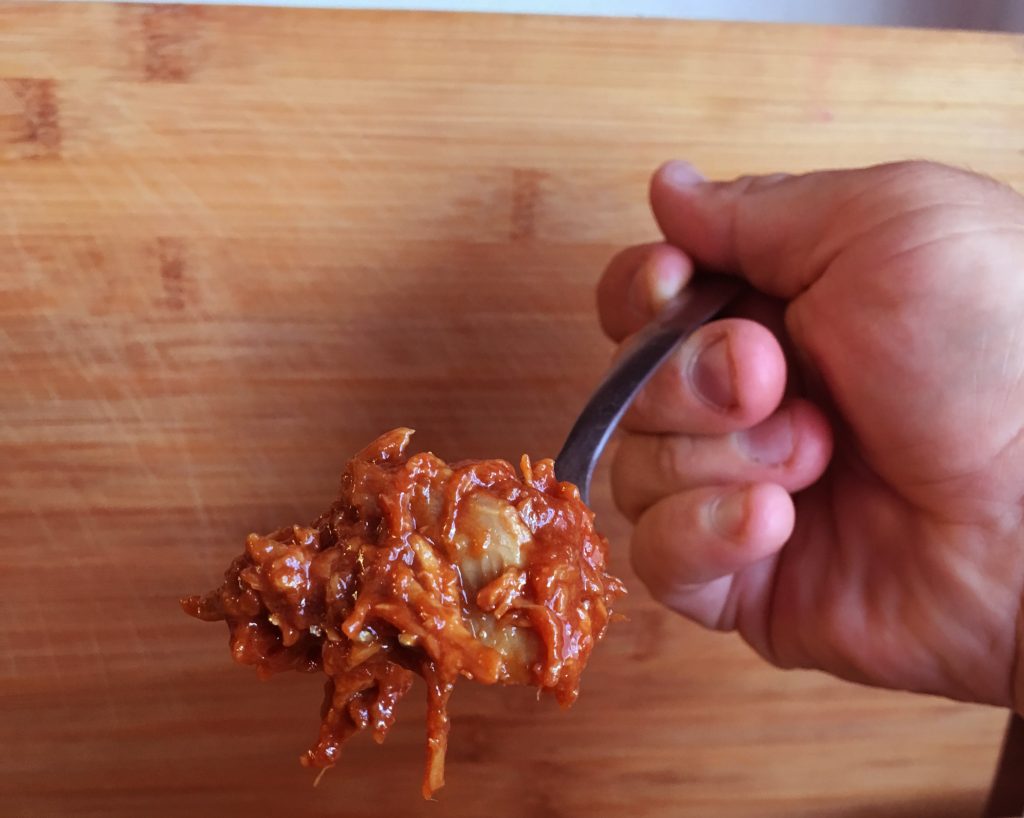 Directions:
1) Open and drain the fruit. Chop out the hard parts of the fruit and discard.
2) Mix all the seasonings together then toss the jackfruit in it to coat.
3) Over medium heat in a hot skillet, add 2 tbsp of any oil and add the seasoned fruit. Cook for approximately 5 minutes until the fruit turns from white to brownish.
4) Add the Strawbanero sauce and mix well. Reduce heat to low and cook covered for around 20 minutes.
5) Remove the lid and use a fork to flake up the fruit for a stringy pulled texture. Stir occasionally.
6) At this point turn the heat back up and continue to cook for 3-4 minutes for extra flavor and texture.
7) We highly recommend serving this unique mixture on a Kaiser roll, but in a pinch a regular bun will do.
8) Top with extra Strawbanero sauce and serve while warm!