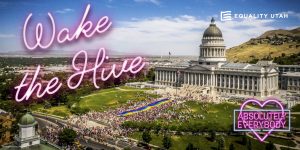 Craft Lake City and Equality Utah are tremendously pleased to announce a vibrant new street-side installation, Local Voices: Equality Utah's Absolutely Everybody, on view outdoors in downtown Salt Lake City from May 1 to June 30, 2022. This public art project, supported in part by The Temporary Museum of Permanent Change and The Center for the Living City, will be displayed in 14 steel frames along Broadway (300 S), between 200 West and 200 East.
This exhibition celebrates the valuable work Equality Utah does to connect the local community with ideas and organizations that matter, advocating for a more inclusive Utah. This new installation features 14 eye-catching, beautifully composed photographs from Equality Utah's various year-round events, including their legislative endeavors, DEI training sessions, and annual Allies Gala. The vibrant heart-shaped messaging ties these pieces together by highlighting Equality Utah's work to create an inclusive Utah for Absolutely Everybody. 
"The founding promise of America is that every citizen should enjoy the right to life, liberty and the pursuit of happiness. For too long, that promise has been realized for some and denied to others. At Equality Utah, our goal, work and passion is to ensure that the American promise belongs to us all," says Troy Williams, Executive Director for Equality Utah.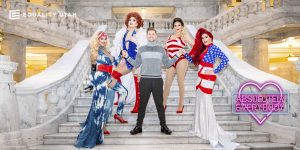 Equality Utah, an IRS 501(c)(4) organization, is the state's largest LGBTQ civil rights organization. Equality Utah leads efforts for LGBTQ civil rights at the state and local levels by: sponsoring LGBTQ legislation and opposing negative bills; lobbying elected officials; building coalitions; and empowering individuals and organizations alike to engage in the legislative process. As part of their programming, Equality Utah runs the Equality Utah Foundation, an IRS 501(c)(3) organization, which educates Utahns about issues in the LGBTQ community. The foundation trains LGBTQ Utahns and allies to respond and work proactively for LGBTQ equality. The Equality Utah Foundation provides citizen lobby trainings through a coalition of partners, and diversity of inclusion trainings to Utah businesses through our Business Equality Leader program. The Foundation supplements these resources with a quarterly queer lecture series called QTalks.
"Craft Lake City is honored to partner with Equality Utah for this new seasonal installation to help spread awareness of their mission to secure equal rights and protections for LGBTQ Utahns and their families," says Craft Lake City Executive Director, Angela H. Brown.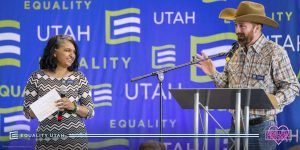 Local Voices: Equality Utah's Absolutely Everybody is open to the public 24 hours a day, 7 days a week, free of charge. To learn more about Equality Utah's mission and programming, passersby will have the opportunity to scan a QR code while viewing the artwork series in-person on the streets of downtown Salt Lake City. Local Voices: Equality Utah's Absolutely Everybody will be on view in all 14 frames from May 1 to June 30, 2022. 
With support from The Center for the Living City and The Temporary Museum of Permanent Change, Craft Lake City's Local Voices installation series highlights the inspiring work of Utah-based organizations in an effort to connect the community with ideas that matter. Craft Lake City curates this seasonal, rotating outdoor art exhibition for the Salt Lake community. The exhibits feature visually inspiring and interactive artwork meant to engage viewers and passersby. All Local Voices installations are displayed in fourteen metal frames adjacent to the sidewalks in downtown Salt Lake City. They are located on the north and south sides of Broadway (300 South) between 200 West and 200 East. Those interested in learning more can visit https://craftlakecity.com/local-voices.
Watch the June 2 Lunch & Learn Virtual Discussion with Craft Lake City and Equality Utah featuring Troy Williams, Nathan Ivie & Ann Dent to celebrate Craft Lake City's new Local Voices exhibition!
For more information about Equality Utah, please visit https://www.equalityutah.org/.