St. Patrick's Day is just around the corner, and it's time to brush up on your Irish history and start crafting and creating for the holiday. Did you know that St. Patrick's Day originated when Saint Patrick introduced Christianity to Ireland in the year 432? The holiday falls on March 17th every year because that is the day of his death—it used to be a religious holiday and the three-leafed clover represented the Holy Trinity. All the pubs in Ireland would close on March 17th, which back then was known as a dry holiday. That changed in the 1970s and St. Patrick's Day is now one of the busiest holidays of the year for pubs and bars. Last year, 13 million pints of Guinness were sold on St. Patrick's Day.
Along with their ability to drink, the Irish are known for their luck. We've all heard of, "the luck of the Irish." This phrase originated in the gold and silver rush in the 1900s, when a majority of the most successful miners were Irish. The term carried a negative connotation, implying that their success was due only to sheer dumb luck, as opposed to brains or skill. But even so, we all now associate luck with the Irish. For example, the magically delicious Lucky Charms cereal—which turns out, is not Irish—it is very hard to even find a box of it in Ireland. Are your childhood dreams crushed a little bit? Sorry about that. We can just keep pretending they're Irish. In fact, our recipe of the month is inspired by St. Patrick's Day, and it's Lucky Charms Popcorn!
Since we are all about creativity and crafts here at Craft Lake City, we've put together a few creative ways for crafters and DIYers to show their St. Patrick's Day pride. From paper crafts to recipes to necklaces, you will find all you need for the holiday with rainbows, clovers, Lucky Charms and loads of green. Take a look:
10 Creative Projects That Celebrate St. Patrick's Day
1. St. Patrick's Day Garland from Land of Nod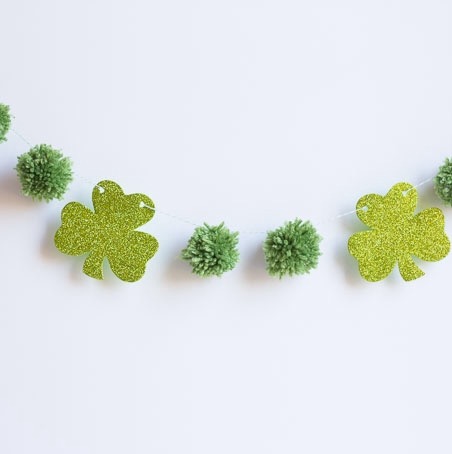 This is a simple, shamrock-themed garland—the twist? It uses pom-poms! Pom-poms made of yarn, that is. Other than making the pom-poms, all you've got to do is hole-punch, string through, and voila! You have an adorable garland.
2. Rainbow Sun Catcher from Martha Stewart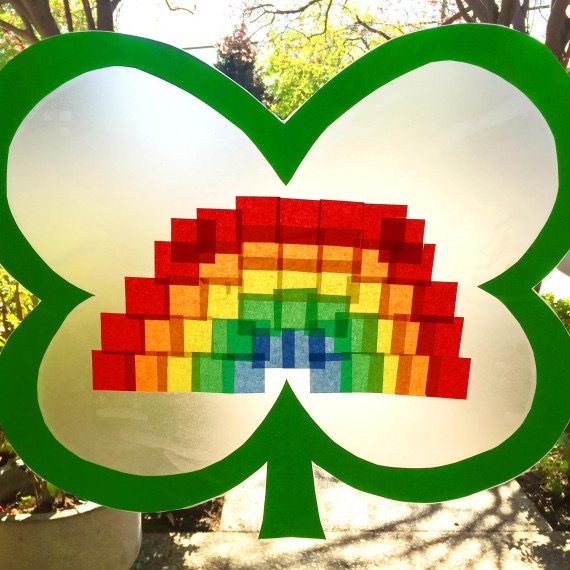 Technically speaking, this is a craft for children … but we feel like it is cool enough for children of all ages. This craft uses colorful tissue paper to create a rainbow! Stick this rainbow in your window and you're sure to catch a leprechaun or two, find a pot of gold or maybe just catch some sun, as the name implies. (Most likely that last one.)
3. DIY Giant Lucky Charms from The House That Lars Built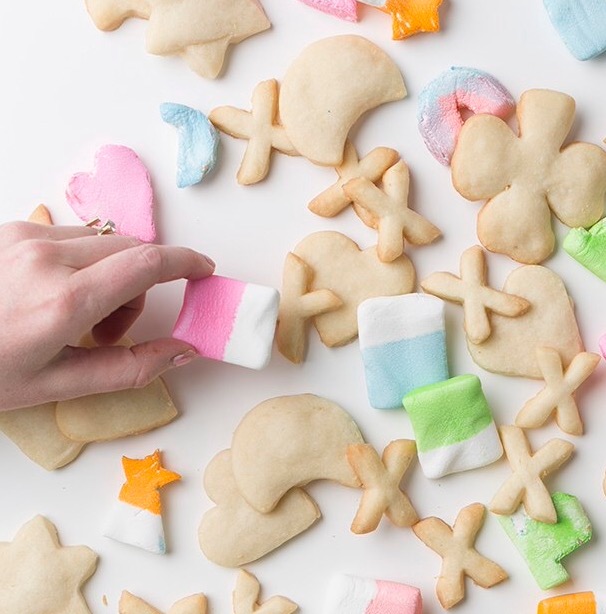 Do you love Lucky Charms? Do want to feel like a leprechaun? Well, then you should definitely try out this giant lucky charm recipe from The House That Lars Built. What could make you look more like a leprechaun than Lucky Charms? And what could make you look more leprechaun-sized than giant things? Bonus: you can run around saying, "You're always after me Lucky Charms!" in a high-pitched voice.
4. Shamrock Honeycombs from Studio DIY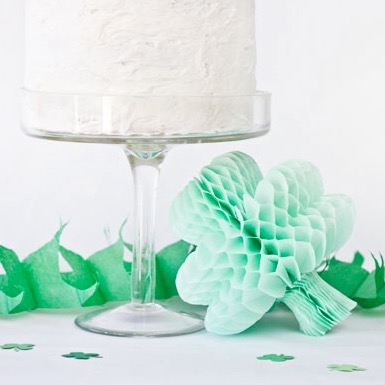 Want a really quick and easy yet unique craft? Try these shamrock honeycombs from Studio DIY. These only require a couple of supplies and could be made in minutes. You could also do them in some different shades to add variety. Anyone else out there a big fan of mint green? Oh, and not to mention, they're in 3-D! That's all the rage these days, right?
5. Rainbow Necklace from Oh Happy Day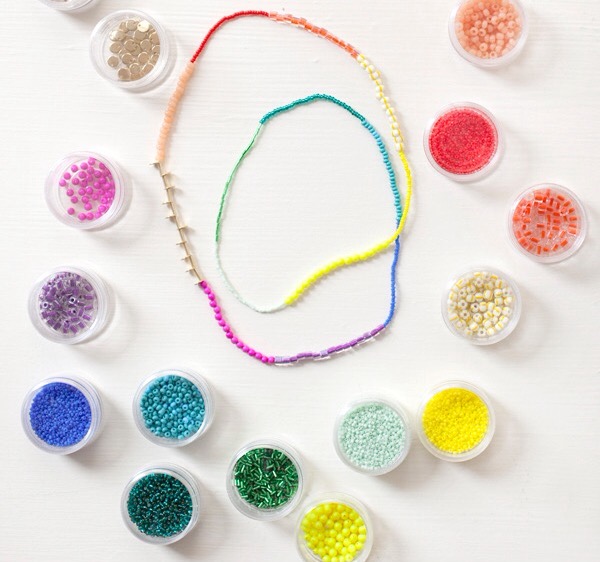 Not a huge fan of green? Well, we have got you covered. Make this festive rainbow necklace! Since green is a color in the rainbow that should protect you from pinches, and it's a subtle and stylish way to celebrate.
6. DIY Lucky Charm Cake fro Alana Jonesmann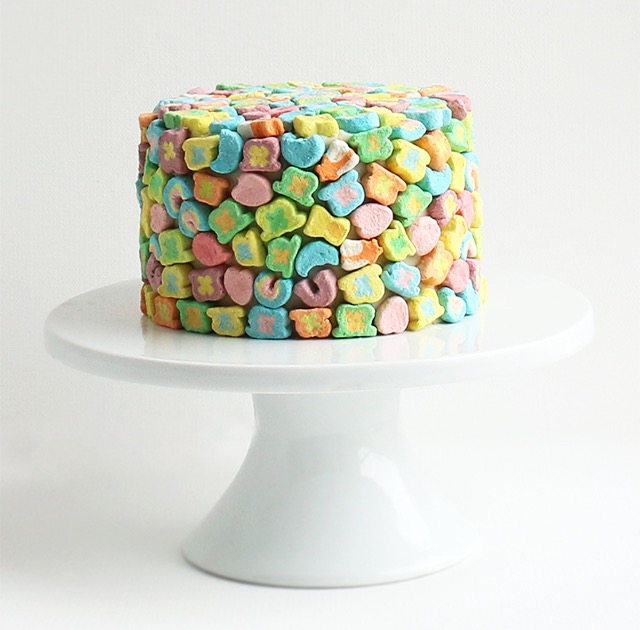 Did someone say cake? We're in. As Julia Child once said, "A party without cake is just a meeting." Amen, Julia! If you're having a St. Patrick's Day party, you're probably going to want to make this cake. It's sure to impress. Plus, you wouldn't want to have a St. Patrick's Day meeting, would you? Don't disappoint Julia Child. Make the cake.
7. DIY Shamrock Clip from Molly and Mama
If you're more of a fabric fan, this is the craft for you. All you sewers out there will appreciate this one. It's a shamrock hair clip made from felt and fabric (and a hair clip, obviously). This is a great one if you're looking to dress up your little one.
8. DIY Lucky Charm Clover Bag from One Charming Party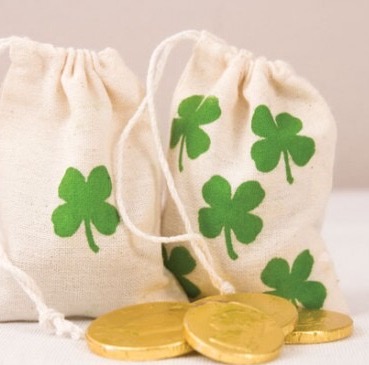 This one is great for party favors or for carrying around those extra gold coins. You know, gold can get pretty heavy. Or so I'm told. This craft is a simple canvas bag with a painted shamrock stencil on it. Very minimal painting skills required.
9. Paper Strip Shamrocks from Sugar Bee Crafts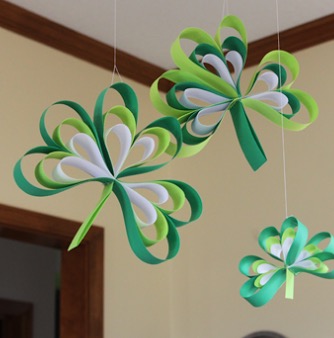 This is a paper craft great for holiday decorations. You could display them on their own, or even make a garland with them. All you need are paper, scissors, and a stapler! Basic office supplies. You could even make this one at work and decorate your office a little.
10. Lucky Charms Popcorn Recipe from Craft Lake City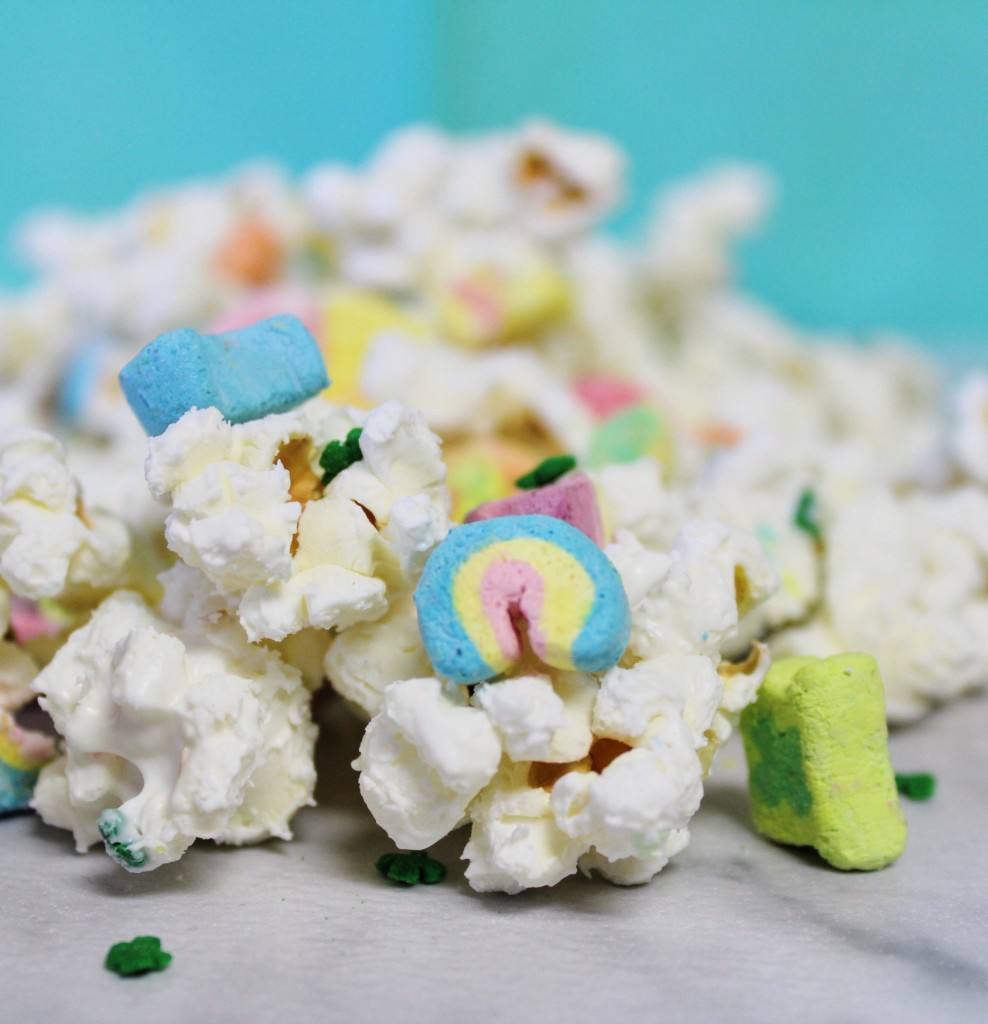 And lastly we have our monthly recipe! This recipe will help you bring a creative and delicious twist to your celebrations this year. Check it out below:
Lucky Charms Popcorn Recipe
Yield: about 7 cups of popcorn
Time: 15 minutes
Ingredients:
1 (3 oz.) bag microwave popcorn (steer clear of the buttery kind)
6 oz. (about half a bag) white chocolate chips
3/4 c. Lucky Charms marshmallows
Green sprinkles (optional)
Directions:
Pop popcorn as directed.

Melt chocolate in microwave for 30 seconds, stir and repeat until smooth.
Spread popcorn on cookie sheet.
Pour chocolate over popcorn and toss together.
Add marshmallows and sprinkles and toss together.
Allow popcorn to sit for about 10 minutes or until chocolate has hardened.
Enjoy your Lucky Charms Popcorn!