Fall is in full swing and we are celebrating with our October #craftlakerecipe and a new DIY for you. Fall baking means fall flavors, but as much as we love the ever popular pumpkin spice flavor, we're going to stick with some other fall flavors that sometimes get overlooked. We're sharing three different pie recipes made in mason jar lids for a little mini pie—a cranberry chocolate caramel, almond pear, and maple apple. Each of these flavors is unique yet simple to create.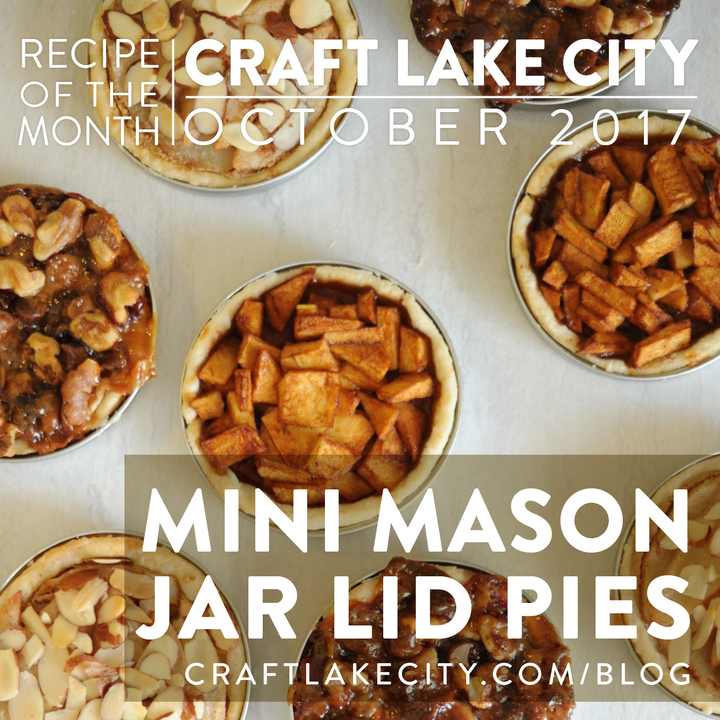 Making these mini pies in a mason jar lids is like making them in a mini tart pan! The bottom comes out for quick removal and easy cleanup, and it's much more likely that you have a few mason jar lids laying around than some mini tart pans. Put those mason jar lids to use with this pie DIY.
For the crust for these mini pies, we'll be using the pie crust recipe we shared with you last year on the blog: https://craftlakecity.com/blog/2016/10/november-recipe-of-the-month-3-creative-pie-crusts-with-tips-and-tricks/

Mason Jar Lid Mini Pies
You will need:
10 mason jar lids
Filling (recipes follow!)
Directions:
Make your crust and desired filling (or fillings.)

Preheat oven to 415 degrees F.

Roll out pie crust to ¼ inch thickness.

Place mason jar lids on the rolled out pie crust. Using a small paring knife, cut out circles about ½ in wider than your major jar lid.

Press crust into mason jar lid, make sure crust goes up the sides of the lid.

Poke a few holes in your crust using a fork.

Fill crust with a few spoonfuls of your filling of choice.

Bake at 415 degrees F for approximately 20-25 minutes. You filling should be bubbly and your crust flaky.

Once baked, allow time to cool completely and slide the bottom of jar lid out of the rim.

Enjoy your mini pies!
Cranberry Chocolate Caramel Filling: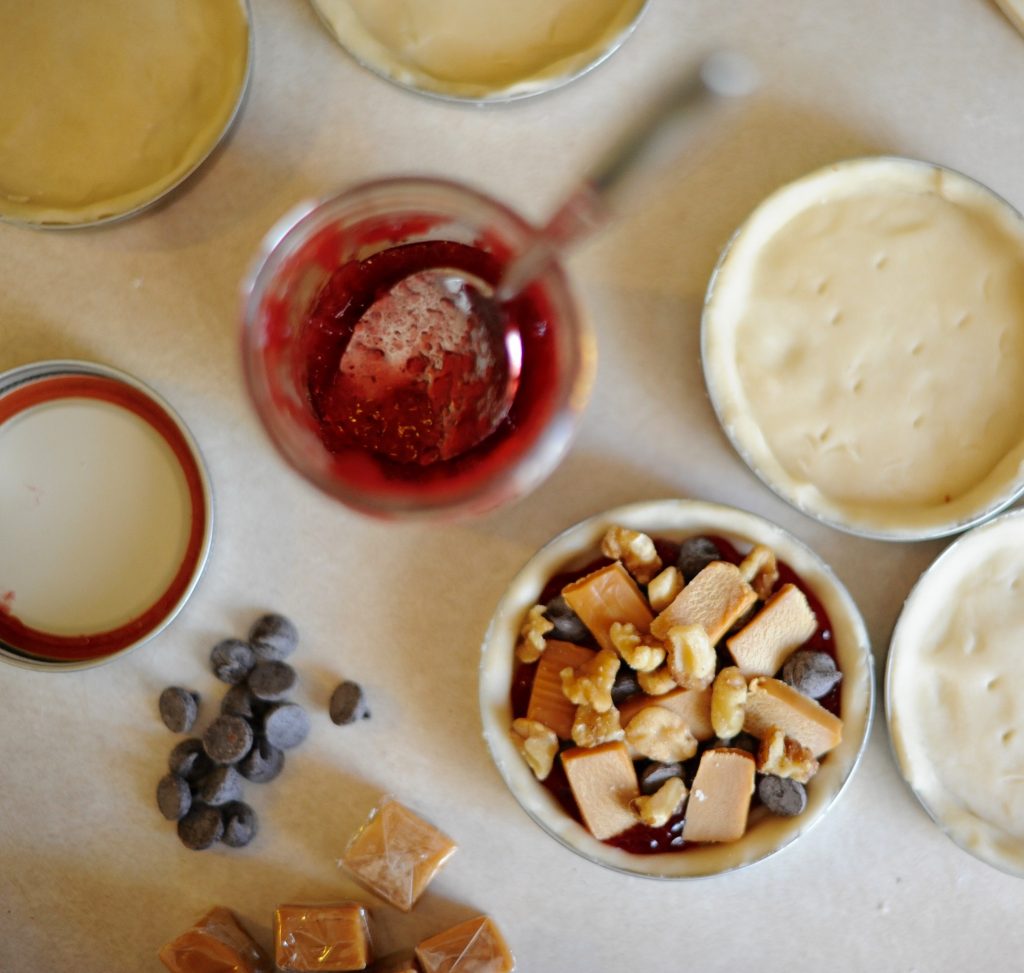 1 jar cranberry sauce
1 bag of caramel candies
1 bag milk chocolate chips
½ c. walnuts
Directions:
Spread a thin layer of cranberry sauce in mini pie shell.

Sprinkle chocolate chips over cranberry sauce.

Place caramel candy over chocolate chips.

Sprinkle walnuts over top.
Almond Pear Filling: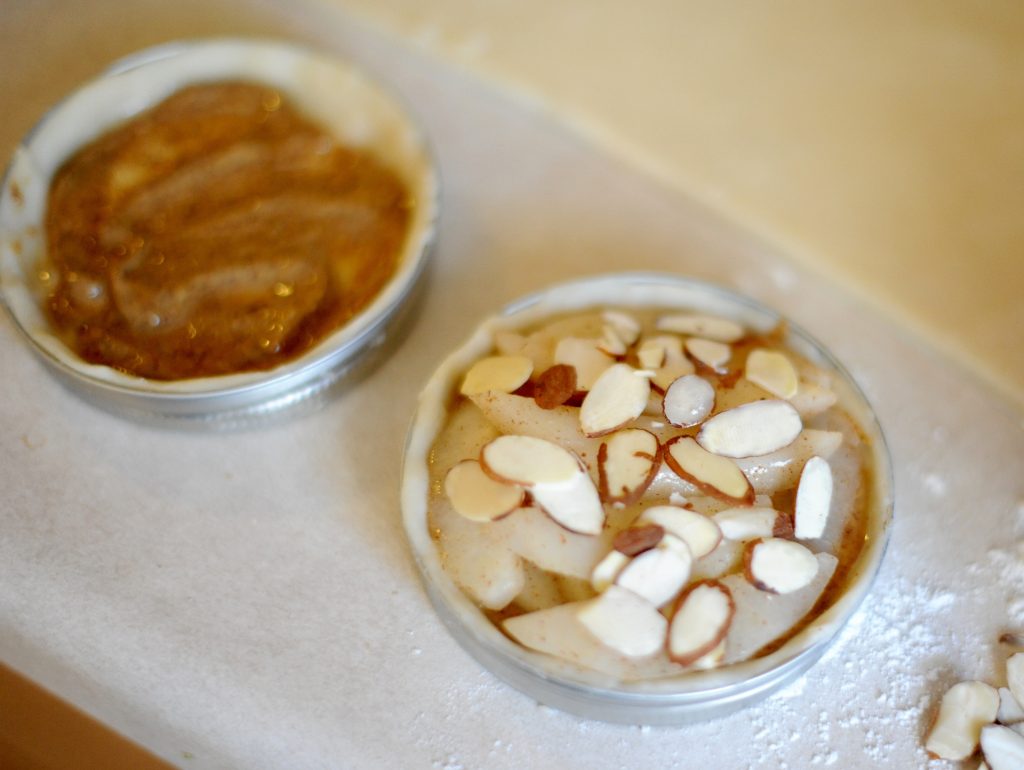 3 pears (sliced)
½ c. almond butter
¼ c. sliced almonds
Directions:
Spread a thin layer of almond butter across the bottom of mini pie shell.

Spread sliced pears over almond butter.

Sprinkle almond slices on top.
Maple Apple Filling: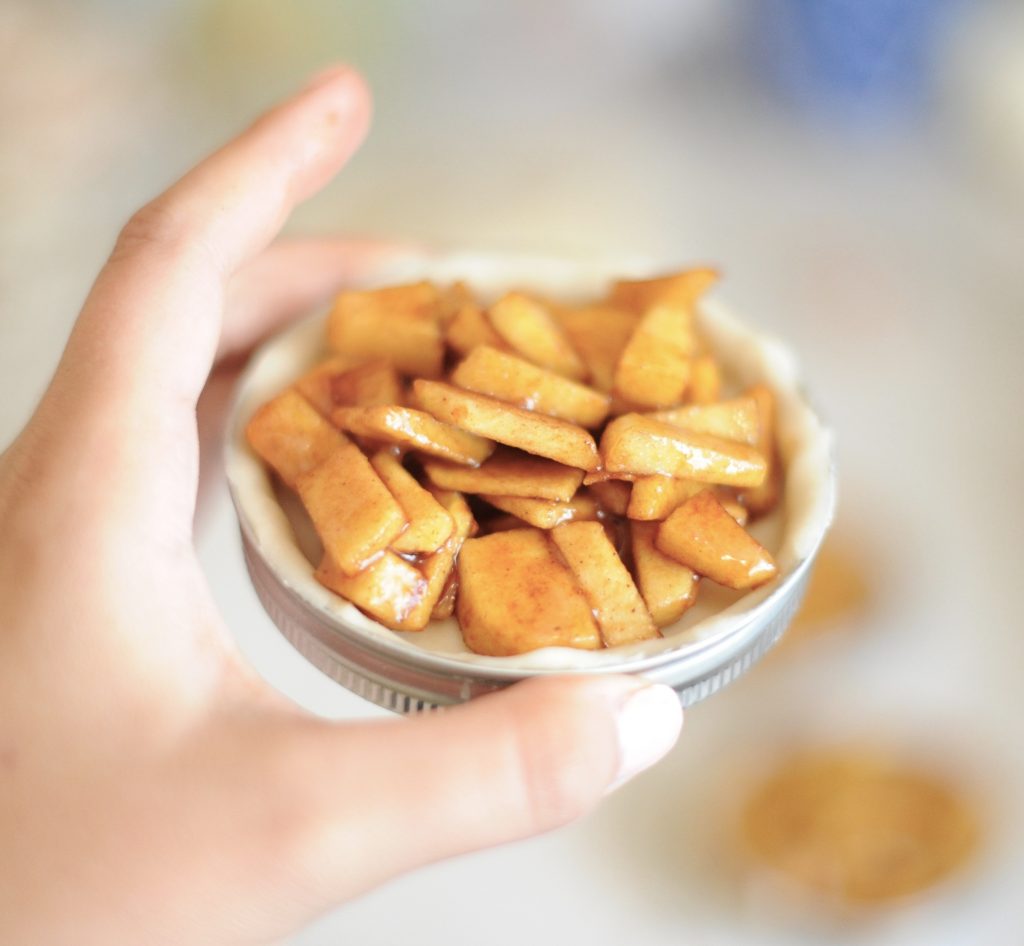 1 T. maple extract
3 apples (peeled and sliced)
1 t. cinnamon
2 T. melted butter
1 T. flour
Directions: 
Mix together flour and cinnamon.

Toss apple with melted butter and maple extract,

Toss apple mixture with flour and cinnamon mixture.

Fill mini pie crusts.