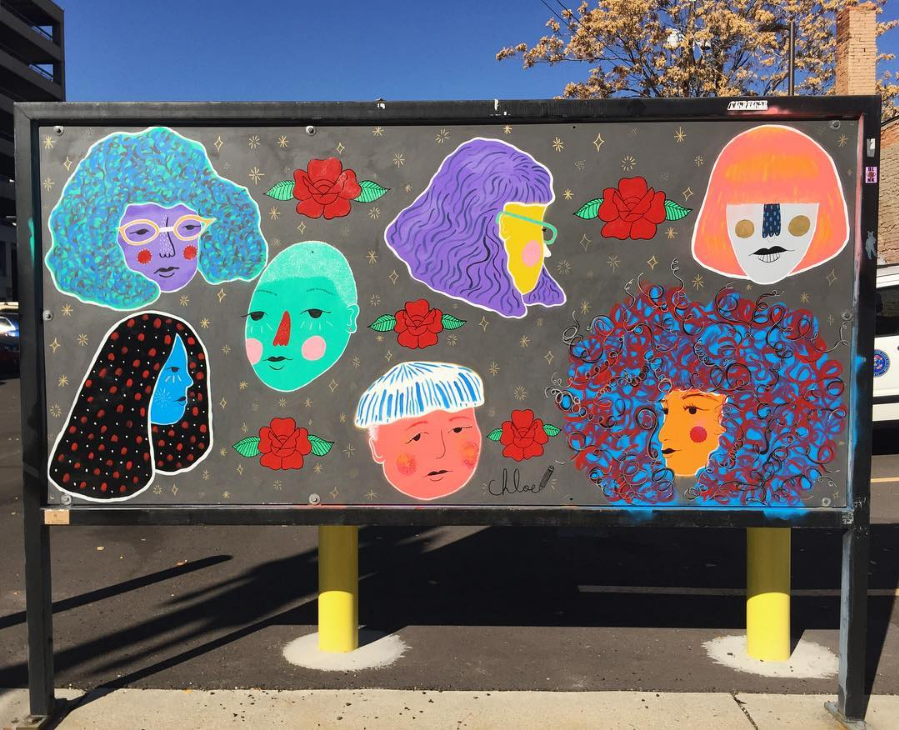 For Immediate Release: Mar. 1­ Craft Lake City, The Temporary Museum of Permanent Change and the Center for the Living City announce open applications for local artists for the Spring 2017 Celebration of the Hand exhibition.
The Celebration of the Hand is a free, outdoor-gallery exhibition located on the north and south sides of Broadway (300 South) between 200 West and West Temple. The exhibition is accessible to the public 24 hours a day, 7 days a week, and is free of charge.
The goal of Celebration of the Hand is to engage citizens and visitors by enlivening downtown Salt Lake City and creating a walkable outdoor gallery that showcases the work of local artisans, including those who have participated in Craft Lake City's annual DIY Festival. The exhibition makes use of eight permanent, adjacent plakats that are installed along the downtown Salt Lake sidewalks. Each plakat is approximately 4′ x 9′ in size.
The Center for the Living City, in collaboration with Craft Lake City and The Temporary Museum of Permanent Change, curates this seasonally rotating outdoor art exhibition for the Salt Lake community. The exhibits feature visually inspiring and interactive artwork meant to engage viewers and passersby, and provide the local artisan community a venue to showcase their talent and contribute to the city's cultural enhancement. The artists build upon Jane Jacobs' ideas of self-organized city planning in their work, as they design opportunities for animating the evolving cultural district of downtown Salt Lake City. The exhibit allows the public a firsthand experience of Jane Jacobs' vision of self-organized urbanism as the plakat artisans contribute to the city landscape and essentially become city builders themselves. If you are interested in learning more about Jane Jacobs' work, visit the Center for the Living City's website: centerforthelivingcity.org
For the Spring 2017 exhibition, on display March­June 2017, Craft Lake City invites artists to visually tell a personal story about a time when they confronted a fear and conquered it. The Spring 2017 exhibit will be on display March through June 2017.
Craft Lake City is accepting submissions for both 2D and 3D works. Artists will be paid a $150 stipend and must supply their own materials and supplies. As part of the application process, artists are required to submit a concept sketch for approval.
For more details and to apply, go to the online application. Submissions must be received by Monday, March 6.
Feel free to contact craftlakecity@gmail.com with any questions. Support of this project generously provided by the Utah Division of Arts and Museums.
About Craft Lake City: Craft Lake City is a 501-c3 Charitable organization. Our mission is to educate, promote and inspire local artisans while elevating the creative culture of the Utah arts community through science, technology and art. In an effort to keep the community active, educated and aware of local DIY culture, Craft lake City hosts monthly workhops, gallery shows, fundraisers and an annual festival to promote regional spending with independent artisans and businesses. The 2017 DIY Festival will be held at the Gallivan Center, 239 S. Main Street, on Friday, Aug. 1 from 5 p.m. to 10 p.m.; Saturday, Aug. 12 from noon to 10 p.m.; and Sunday, Aug. 13 from noon to 7 p.m.
About the Temporary Museum of Permanent Change: The Temporary Museum of Permanent Change is a community based, participatory project that uses the ever-changing development processes underway in Salt Lake City as catalysts to animate city life. The Museum engages a variety of audiences using a collaborative, multidisciplinary approach that includes performance art and video production, visual art, urban archaeology, anthropology, local history, existing businesses and ongoing deconstruction and construction processes as spectacles for people of all ages. Together these elements provide teachable moments in our efforts to manage and celebrate change. This museum has no specific address. Rather it is a construction of ideas, installations and illuminations that comprise a new way of seeing our city.
About the Center for Living City: The Center for the Living City's purpose is to expand the understanding of the complexity of contemporary urban life and through it, promote increased civic engagement among people who care deeply for their communities. The Center provides portals for community engagement through the lens of urban ecology to further the understanding of the interconnected human and ecological systems in our communities. Our multi-disciplinary approach to community engagement is applied through educational programs, collaborative projects, fellowships, on-line portals, workshops and publications.