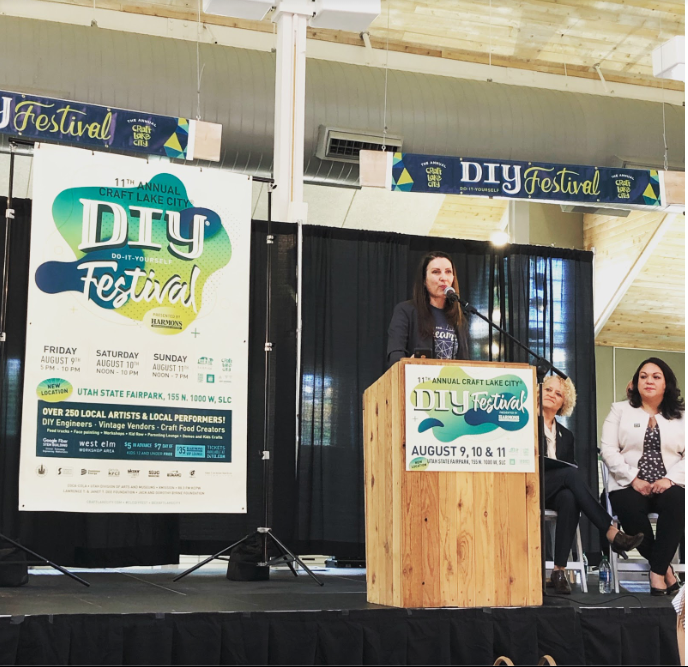 Salt Lake City, May 30 – Yesterday, Craft Lake City held a press conference at The Utah State Fairpark.  The following announcement was made:
Hello My name is Angela H. Brown, Executive Director of Craft Lake City
I'd like thank the following distinguished guests who have joined us here today as we make an exciting new announcement.
Larry Mullenax, Executive Director, Utah State Fairpark
SLC Mayor Jackie Biskupski, Mayor, Salt Lake City
Tyler Kofoed, 11th Annual Craft Lake City DIY Festival Presenting Sponsor Harmons Grocery
Council Member James Rodgers, Salt Lake City Council Member District 1
Council Member Andrew Johnston, Salt Lake City Council Member District 2
Senator Luz Escamilla, Utah State Senate, District 1, Minority Whip
Representative Sandra Hollins, Utah House Of Representatives, District 23
In 2009, I launched the first Annual Craft Lake City DIY Festival as a humble one-day event with 72 local artisans, eight local performers and four local-food vendors. It was the first all-local event of its kind celebrating Utah's creatives. It was held at the Gallivan Center with 2,000 attendees.
Over the years, Craft Lake City's annual festival grew—adding science, technology, engineering and mathematics to the event with a STEM Building and later by expanded the festival from a one day event, into a two day fair until we grew to become what we are today —a popular three day event featuring over 250 local artisans, exhibitors, 72 performers on two stages, Kids Programming and STEM Building.
Each year has brought significant change and new growth for the organization, and 2019 is no exception. Our maker community is multiplying, and so are the organization's programming goals. After 10 years of producing the Annual Craft Lake City DIY Festival at the Gallivan Center, artisan booths are spilling into the streets. Our STEM building is overflowing with exhibitors. Local food trucks are vying for festival real estate. It's time to move the Annual Craft Lake City DIY Festival to a new home with ample room for Festival expansion and that home is here at the Utah State Fairpark.
The Fairpark is nestled in an incredible residential neighborhood—just seven blocks from Downtown. We're thrilled to be part of this community. With Fairpark's spacious, air-conditioned buildings and large grassy areas, we know that patrons and participants alike will enjoy this venue change. Our new home allows for future festival growth, and the ability to offer both indoor and outdoor festival programming.
We can't wait to continue to expand our existing Annual Craft Lake City DIY Festival programming here, at the Utah State Fairpark.
As I reflect on the past 10 years of the Craft Lake City organization, I am filled with gratitude for the hundreds of volunteers, numerous donors, grantors, sponsors and thousands of DIY Festival Attendees who have supported our collective vision.
Thank you for your continued support. We look forward to seeing you at the 11th Annual Craft Lake City DIY Festival this August 9th, 10th and 11th. Here at Faripark.
We are Builders. We are Dreamers. We are Craft Lake City.

City and state officials showed their support for the new venue change by making additional remarks.
The Salt Lake Tribune wrote a feature about the press conference. Read about it here.