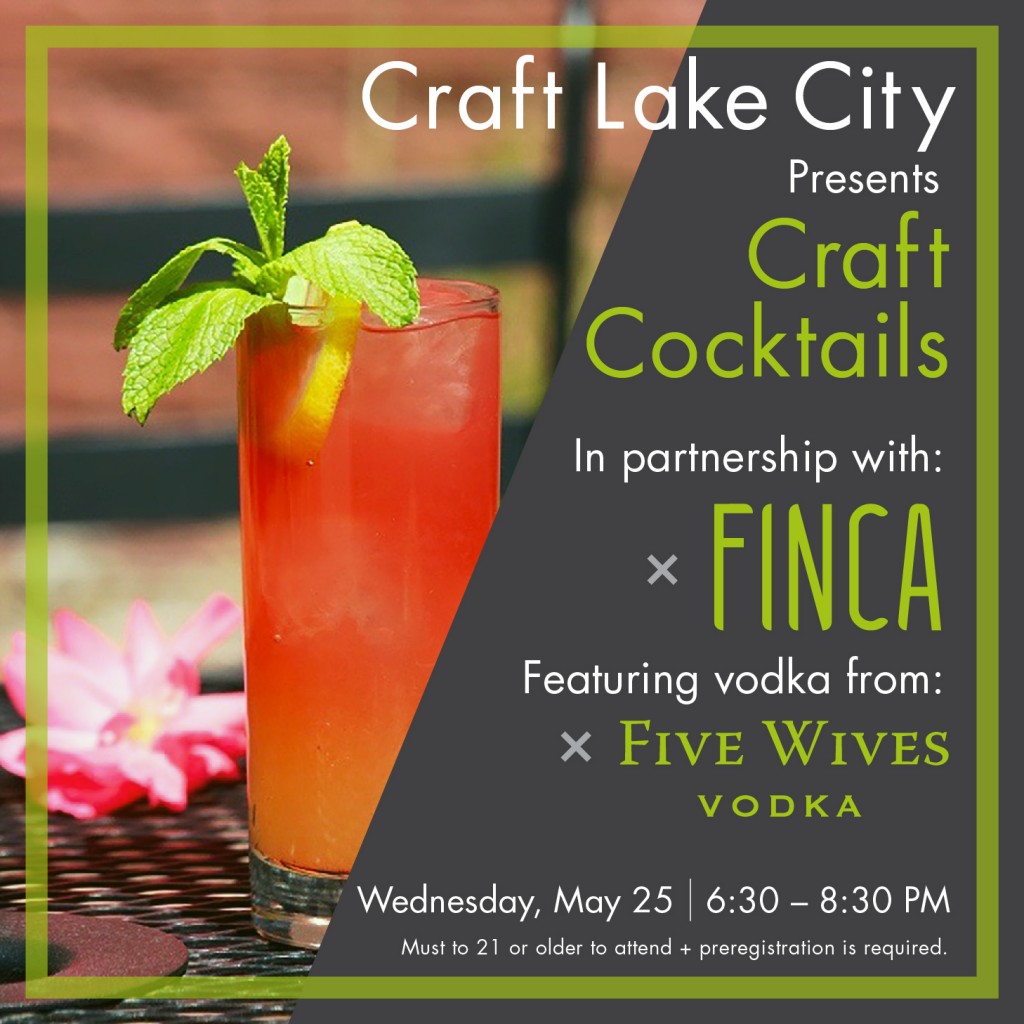 Salt Lake City, Thursday, May 12, 2016 — ­­Craft Lake City and Finca present the fourth Craft Cocktail workshop of a five-part series. The workshop will feature Ogden's Own Five Wives Vodka and will be held on Wednesday, May 25, from 6:30 p.m. to 8:30 p.m. at Finca located at 327 W. 200 S. Salt Lake City, UT 84101.
Introduced to the Utah market in December 2011, Five Wives Vodka has become a staple among local bars and patrons. Using mountain spring water from Ogden Canyon, Ogden's Own Distillery has created a high quality spirit that pays homage to Utah's beautiful natural resources and rich history.
Craft Lake City's Craft Cocktail workshops highlight local liquor companies in Utah and present the opportunity for learning from artisanal spirit enthusiasts. The May 25 cocktail workshop will feature vodka education and tasting with Ogden's Own Distillery. Finca will provide "pinchos" (small bites), and Bar Manager Natalie Hamilton will give a cocktail recipe demonstration.
There is a $50 material fee for this workshop. Must be 21 or older to register. Limited tickets are available. No refunds. Pre-registration is required: sign-up here. Visit craftlakecity.com/workshops or our Facebook for more information.
About Craft Lake City: We are a 501-(c3) charitable organization. Our mission is to educate, promote and inspire local artisans while elevating the creative culture of the Utah arts community through science, technology and art. In an effort to keep the community active, educated and aware of local DIY culture, Craft Lake City hosts monthly workshops, gallery shows, fundraisers and an annual festival to promote regional spending with independent artisans and businesses. The 2016 DIY Festival will be held at the Gallivan Center, 239 S. Main Street, on Friday, Aug. 12 from 5 p.m. to 10 p.m., Saturday, Aug. 13 from noon to 10 p.m. and Sunday, Aug. 14 from noon to 6 p.m.
About Finca: As part of the Pago Restaurant group (which includes Pago, East Liberty Tap House and Hub & Spoke Diner) Finca is committed to sourcing local and sustainable food, reducing waste and using environmentally responsible practices. Offering a made-from-scratch menu including breads, pastries, house-cured and house-smoked meats and ingredients of the highest quality, Finca shows their commitment to elegant and refined cuisine with a deep respect and advocacy for local products.
About Ogden's Own Distillery: Ogden's Own Distillery is a micro-distillery located in Ogden, UT. It is Ogden's first licensed distillery since the 1800s. Its first product, the Underground Herbal Spirit, captures the feeling of the rowdy, early days of Ogden. Underground Herbal Spirit won the prestigious "Double Gold" at the 2010 San Francisco World Spirits Competition and "Best Liqueur" at the 2012 Spirits of the Americas. The company's second product, Five Wives Vodka, was briefly banned in Idaho in 2012 due to its label.
Workshop Attendance Policy: Participants are required to arrive and check-in with the Craft Lake City workshop coordinator five minutes before the workshop begins or their spot will be given to a participant on the waitlist. If you wish to be added to the waitlist, please arrive 15 minutes before the workshop begins and check in with our Workshop Coordinator. You will be added to the waitlist to take the place of an absent participant's spot. First come, first served. Waitlisters are not guaranteed admittance.