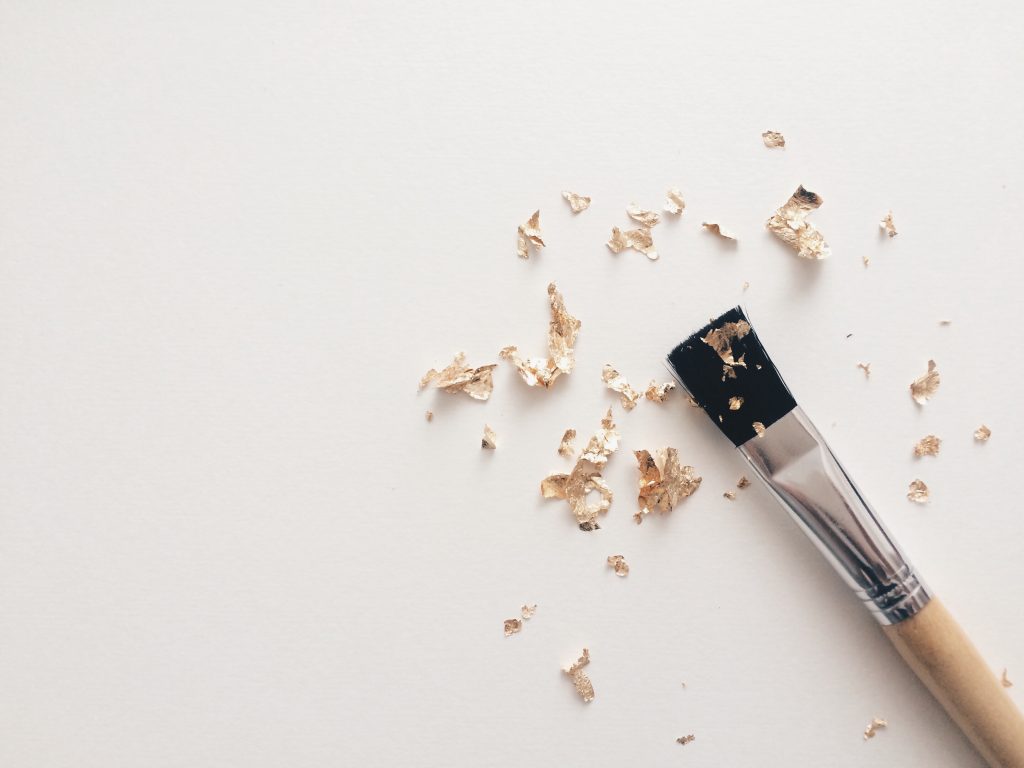 Salt Lake City, Feb. 9– Craft Lake City and West Elm announce the March Gold Leafing Workshop with Lisa Lewis of Light & Ink. The workshop will be held on Thursday, March 2, at West Elm City Creek from 6:30 to 8:30 p.m.
Craft Lake City DIY Festival alum Lisa Lewis of Light & Ink imbues her talent and beautiful approach into her designs. Lewis began creating stump prints after a beloved tree was cut down at her home, inking the stump and printing it to preserve its age and memory. Lewis then started selling her nature-inspired designs as Light & Ink to offer beautiful wood, paper, and glass products that are simple and imaginative.
"Teaching these workshops through Craft Lake City is a blast!" says Lewis "They are always organized, helpful and cheerful. I've taught four workshops over the years, and each time, I walk away thinking I'd love to do that again."
Participants at this workshop will learn the basics of gold leafing and gold leaf a wooden air plant holder to take home.
There is a $30 material fee. Pre-registration is required here. Visit craftlakecity.com/workshops or the Facebook page for more information. The Stockist is located at 875 E 900 S, Salt Lake City, Utah.
Workshop Attendance Policy: Participants are required to arrive and check in with the Craft Lake City Workshop Coordinator five minutes before the workshop begins, or their spot will be given to a participant on the waitlist. If you wish to be added to the waitlist, please arrive 15 minutes before the workshop begins and check in with our workshop coordinator. You will be added to the waitlist to take the place of an absent participant's spot, first-come, first-served. Waitlisters are not guaranteed admittance.
About Craft Lake City: We are a 501©3 charitable organization. Our mission is to educate, promote and inspire local artisans while elevating the creative culture of the Utah arts community through science technology and art. In an effort to keep the community active, educated and aware of local DIY culture, Craft Lake City hosts monthly workshops, gallery shows, fundraisers and an annual festival to promote regional spending with independent artisans and businesses. The 2017 DIY Festival will be held at the Gallivan Center, 239 S. Main Street, on Friday, Aug. 11 from 5 p.m. to 10 p.m., Saturday, Aug. 12 from noon to 10 p.m.; and Sunday, Aug. 13 from noon to 6 p.m.
About West Elm: Since it launched in Brooklyn, NY, in 2002, West Elm has been helping customers express their personal style at home. Their mission is three-fold: 1) offer choice in products and services, helping customers create a home that tells their story, 2) build community with customers, collaborators and associates, connecting like-minded strangers through inspiration, conversation, events and activities, and 3) focus on consciousness and honest business practices in everything they do, from handcrafted and local products to supply chain transparency and sustainability. West Elm has worked with 100+ independent designers. Their limited-edition collaborations help emerging and established artists and makers reach new markets while preserving the integrity of their designs.