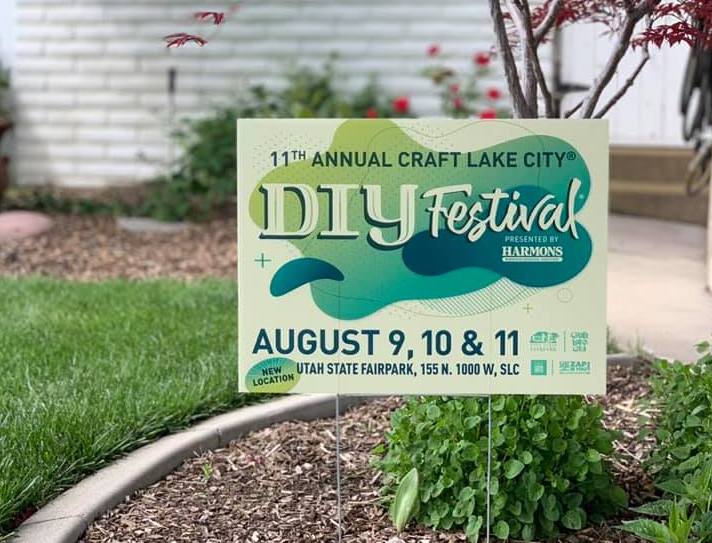 Salt Lake City, June 20– Craft Lake City is pleased to announce that Tickets are now available for purchase for the 11th Annual Craft Lake City® DIY Festival® Presented by Harmonsl®. The Festival will be held on Friday, August 9, 2019 from 5 p.m. to 10 p.m., Saturday, August 10, 2019 from noon to 10 p.m. and Sunday, August 11, 2019 from noon to 7 p.m. at the Utah State Fairpark.
Ticket options include a general admission single-day ticket for $5 in advance ($7 at the door), a three-pack of general admission tickets for $15 in advance (a $21 value), or entry to the Harmons VIP Lounge for $35, which includes general festival admission. Kids 12 and under are free. Tickets to on-site workshops in the West Elm Workshop area include general admission to the festival plus the cost of the workshop. A full list of Craft Lake City Workshops will be available soon.
Each Harmons VIP Lounge ticket includes single-day general admission to the DIY Festival plus access to the Harmons VIP Lounge! Once inside, you'll enjoy food prepared by Harmons' chefs, craft cocktails, pairings, exclusive nightly entertainment and more—all only accessible with a VIP ticket! Also included are two drink vouchers per ticket holder and a tote bag (while supplies last).
Craft Lake City's Annual DIY Festival is a three-day, local-centric event held the second weekend of every August at The Utah State Fairpark 155 N 1000 W. Visitors will enjoy viewing and interacting with over 250 Utah-based artisans and other local creatives including: The Google Fiber STEM Building DIY engineers and tinkerers, craft foodies, vintage vendors, Kid Row youth makers and two different stages featuring local performers.
$5 presale tickets are a great value for those looking to save money. General admission tickets will be sold on-site day-of for an increased price of $7. Children 12 and under are free. On-site workshops and VIP Tickets are subject to availability. Credit cards and debit cards are accepted at the gates. On-site parking is available for a $7 fee. Limited Street Parking is available. Craft Lake City encourages patrons to use public transportation as the light rail stops directly in front of the Fairpark.