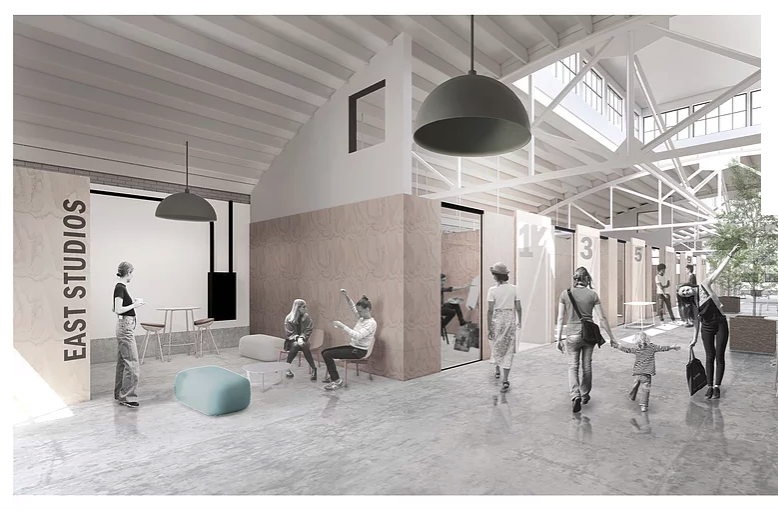 Image Courtesy of Carbon Architects
Salt Lake City, November 11, 2019  – Next month, Craft Lake City will launch its first-ever, Holiday Market in Ogden, Utah at The Monarch, located at 455 25th Street, in the Nine Rails Creative District on Saturday, December 7 from 11 a.m.-6 p.m.
Known for its large-scale Annual DIY Festival held at the Utah State Fairgrounds in Salt Lake City, Craft Lake City is expanding its programming into northern Utahn with the addition of their First Annual Craft Lake City Holiday Market. Like the DIY Festival, the Holiday Market will feature Utah artisans who craft handmade items.
A panel of judges who work in Utah's art community selected participating exhibitors. Approximately 80 local creatives were chosen from a competitive applicant pool of over 200 artisans.
The Monarch opened to the public on November 1, 2019 and has established their own artist community with 40 permanent studios for creatives, most whom are Ogden residents. Filled with local painters, sculptors, woodworkers, podcasters and more, many of these Monarch resident artists will participate in the Craft Lake City Holiday Market by opening their studios for the day. Holiday Market attendees are invited to meet the artists and view or purchase their work in their creative spaces.
"Partnering with The Monarch creates a new opportunity for Craft Lake City as an organization and the artisans we represent," says Craft Lake City Executive Director, Angela H. Brown. "Partnerships like these are integral to elevating Utah's creative culture. We're thrilled to have dozens of The Monarch resident creatives join us in creating a unique and family-friendly event."
The Monarch is a collaborative environment where artists, creative businesses and makers of all types can connect and create together in the heart of Ogden's Nine Rails Creative District. With the belief that creativity drives communities, The Monarch strives to provide the region with uniquely artful experiences through artist engagement, creative dining and memorable events such as the First Annual Craft Lake City Holiday Market.
"The Monarch is happy to align with Craft Lake City's mission to elevate Utah's creative culture, particularly as it expands its programing here in Ogden," says Kelly Carper, Public Relations Consultant for The Monarch. "The vision of The Monarch is to be an incubator where artists, makers and creative businesses can support one other's vision so we can continue to grow the arts in this area. We are especially excited to work with Craft Lake City in order to bridge Salt Lake and Ogden's art communities so that we can work together in elevating the arts across the region."
The First Annual Craft Lake City Holiday Market information:
Location: 
The Monarch
Nine Rails Creative District
455 25th Street, Ogden, UT 84401
Date & Time:
Saturday, December 7, 2019 from 11am-6pm
Admission:
$5 entry fee. Kids 12 and under FREE. Tickets on sale HERE!
For more information on the Holiday Market visit the Craft Lake City website.