Craft Lake City invited Kat Nix, Salt Lake City Public Art Program Manager, to examine and interpret the artwork and music featured in Celebration of the Hand: Salty, a new outdoor exhibition on view in downtown Salt Lake City. Read Kat's thoughts below!
From Kat Nix:
What an amazing project and collaboration! Listening to Marqueza's album and viewing the corresponding artwork that interprets each track of Salty brought up many thoughts and emotions for me on what it looks like for the QTPOC community to not only survive but to thrive in Salt Lake City. There are consistent themes in the artwork and album that speak to duality, ups and downs, and finding balance. The project feels like an ode to seeking balance and feeling confident in being able to claim space in ways that are authentic to ourselves. Representation matters always, and for Marqueza's songs and the corresponding artwork to be represented in the public realm is powerful and challenges what the predominant culture has dictated to be appropriate in public spaces. Historically queerness has been asked to be hidden or out of sight. So, for a collaboration with so many different artists having a conversation about marginalized communities and what it looks like to be vulnerable and unapologetic to be one's self is healing for not only those who participated in the project but for all of those who are finding how to claim their voice and space in our City.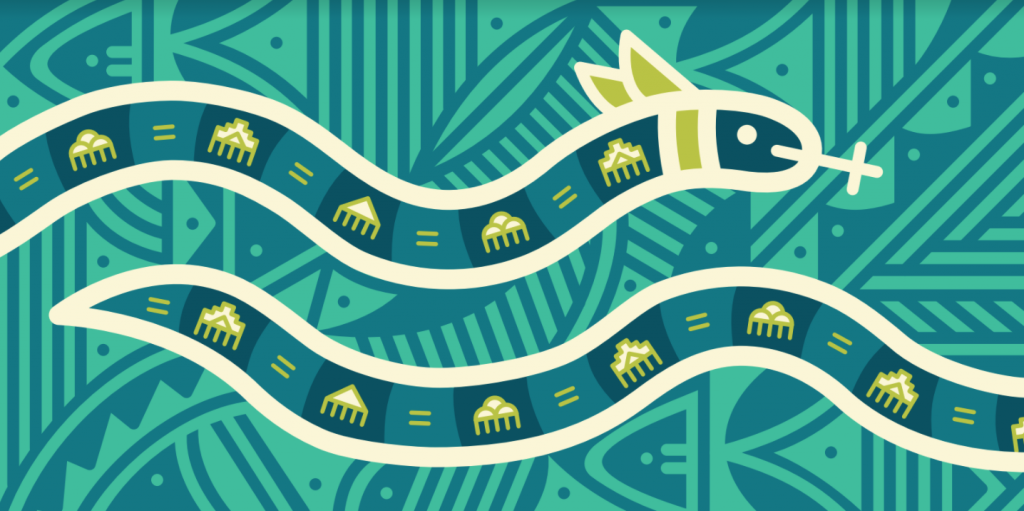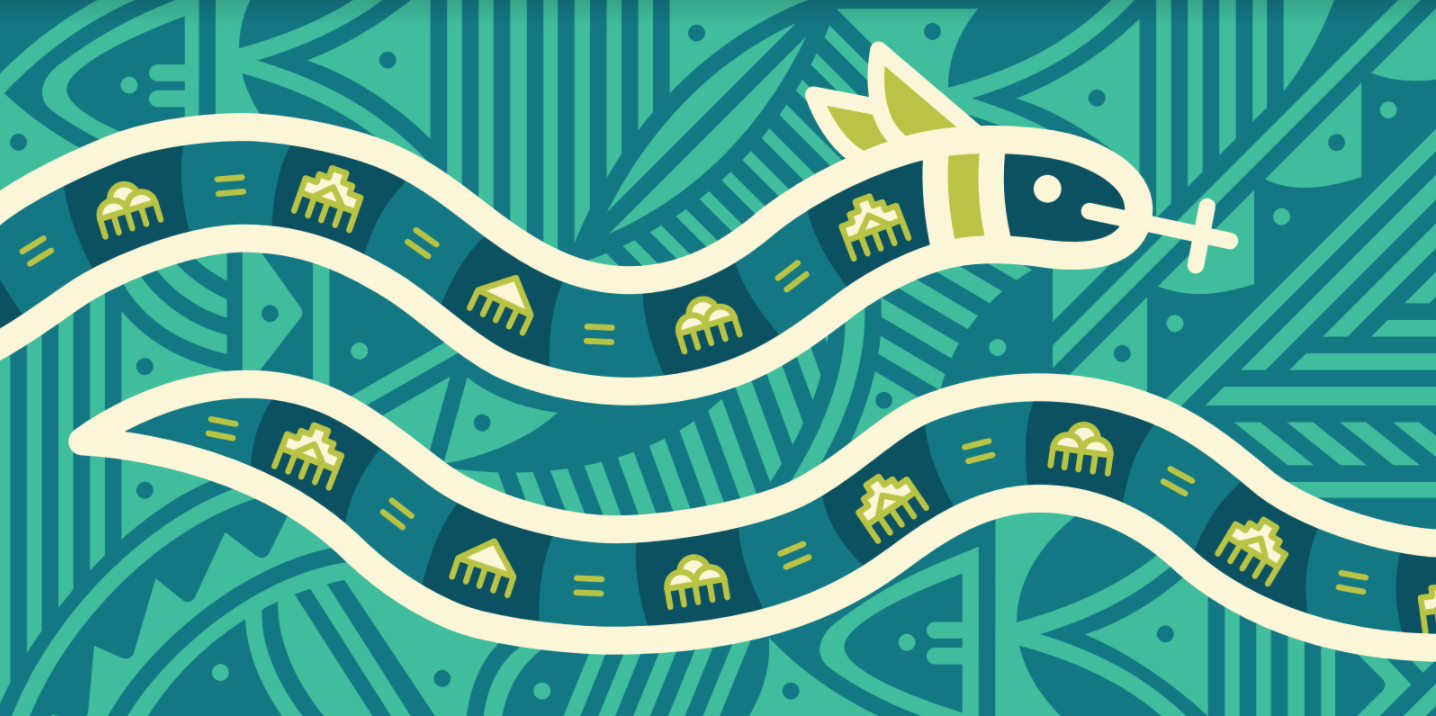 Kat: Marqueza and Wiarda both are able to illustrate the concept of duality. The symbolism and the visual cue of the stripes on the snake speak to the ways we are sometimes asked to compartmentalize our feelings/identities. However, there is immense power in the fluidity of the snake and the ways it feels reflective of how we navigate Salt Lake City's seasons and ourselves. 
Kat: Bernabe captures the "never ending cycle" that Marqueza sings about by positioning the dragon in the infinity symbol. The dragon framing the literal and metaphorical ups and downs, speaks to the complex relationship many of us have with the places and the people we call home.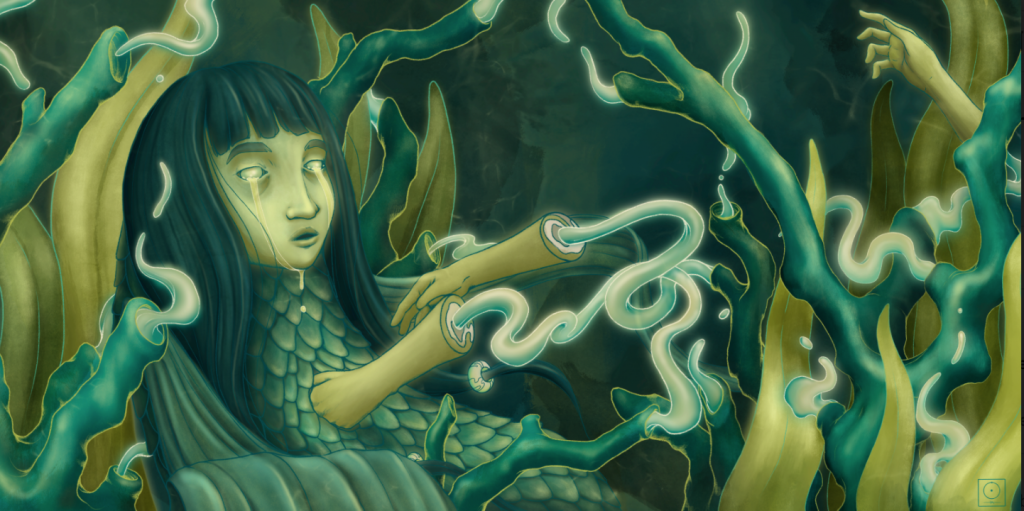 Kat: I love the way that Hy describes their interpretation of "Chimera" as a way to absorb new experiences and perspectives. Their illustration and it's eerie/dreamlike underwater plant life make me think of our relationship to water and how water is essential to our bodies but we can only absorb so much before we can take on more. This relationship to water and the need to process before we can take on more also relates to the way that instant gratifications and external forces play a role in our life.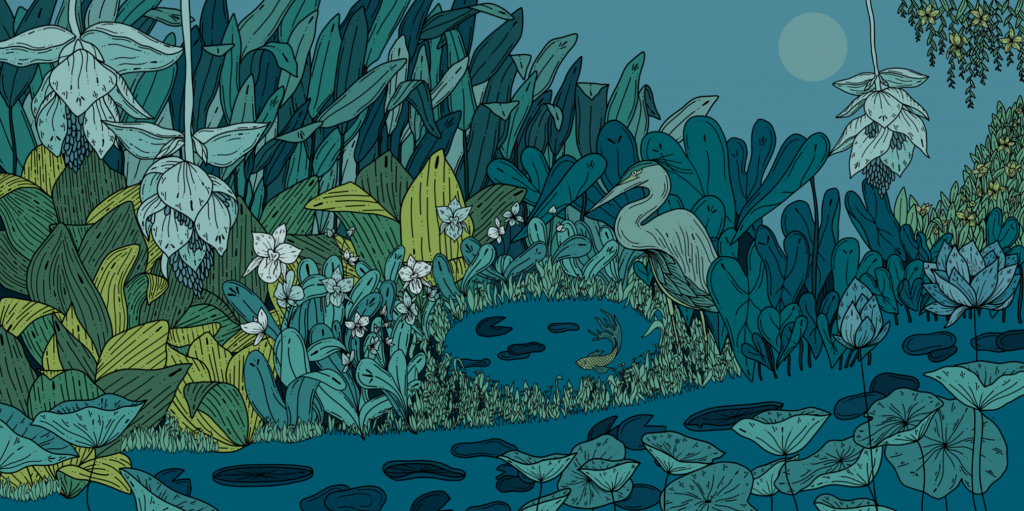 Kat: There is something really soothing and something that also makes my adrenaline pick up when viewing Chromatophore's interpretation of "Lush Life". The plants and the life teeming in every corner feels abundant but in the dreamy light it also feels there is something else just beneath the surface or out of view. The energy of "Lush Life" is enough for one to keep searching for what lies ahead and how we might continue to move forward and discover.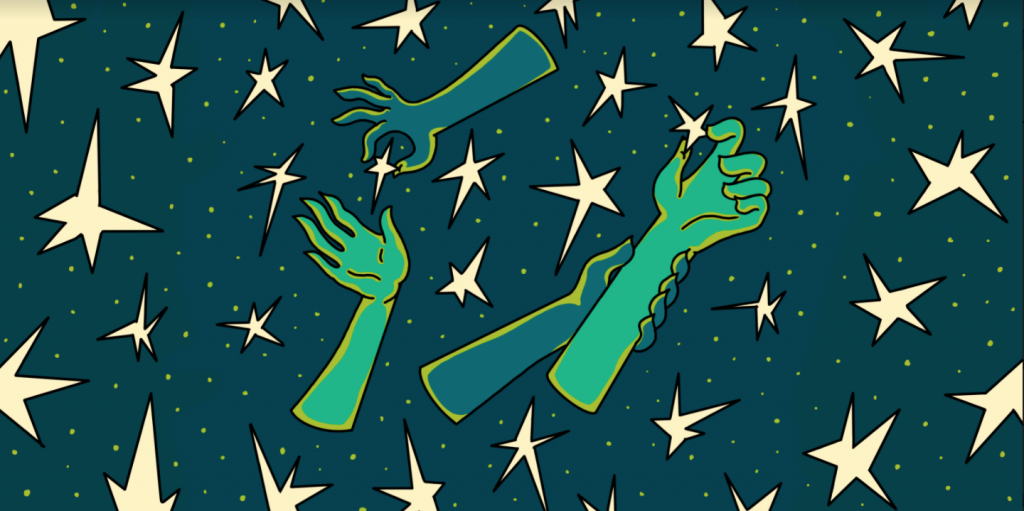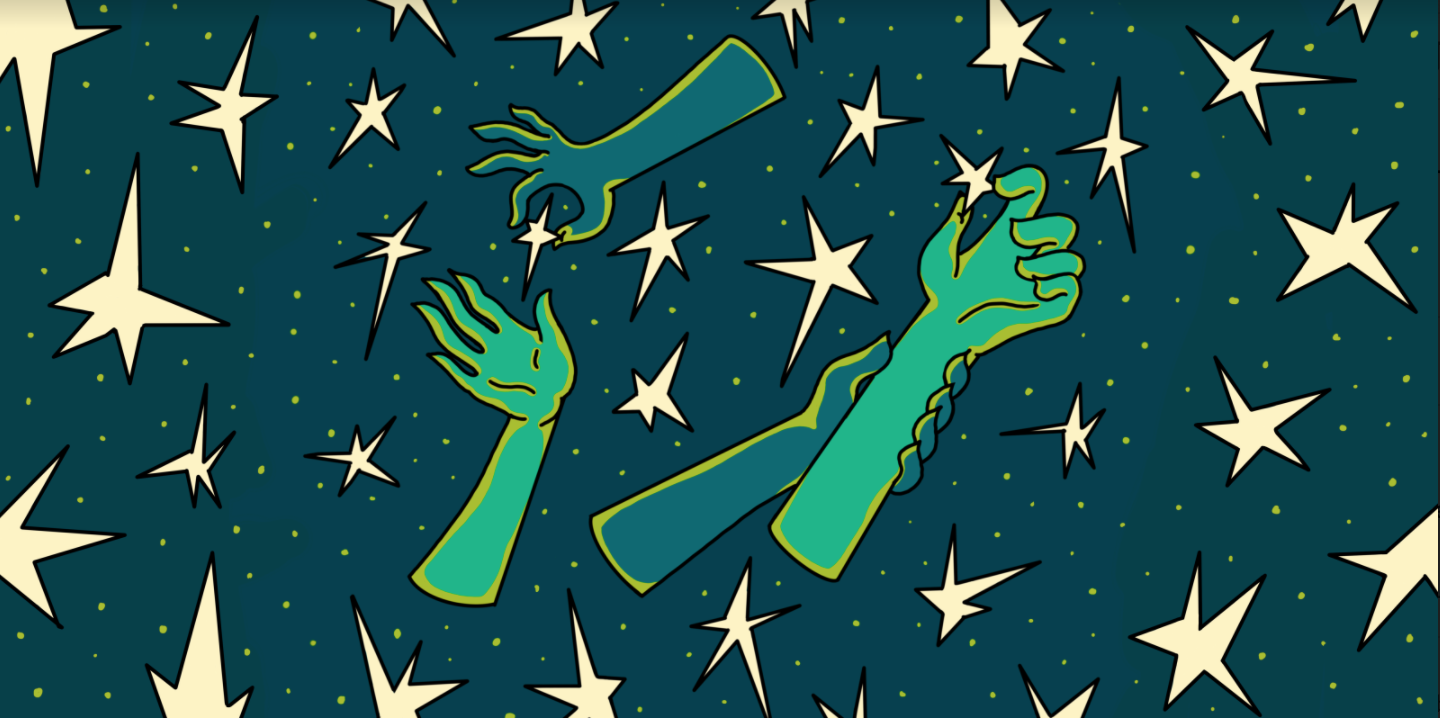 Kat: I love that the content of just hands and stars are able to so clearly and powerfully articulate a message of love and support. I love that this artwork and Marqueza's song speak to what transformative love and support can look like when you're ready to claim those dreams and hopes for yourself.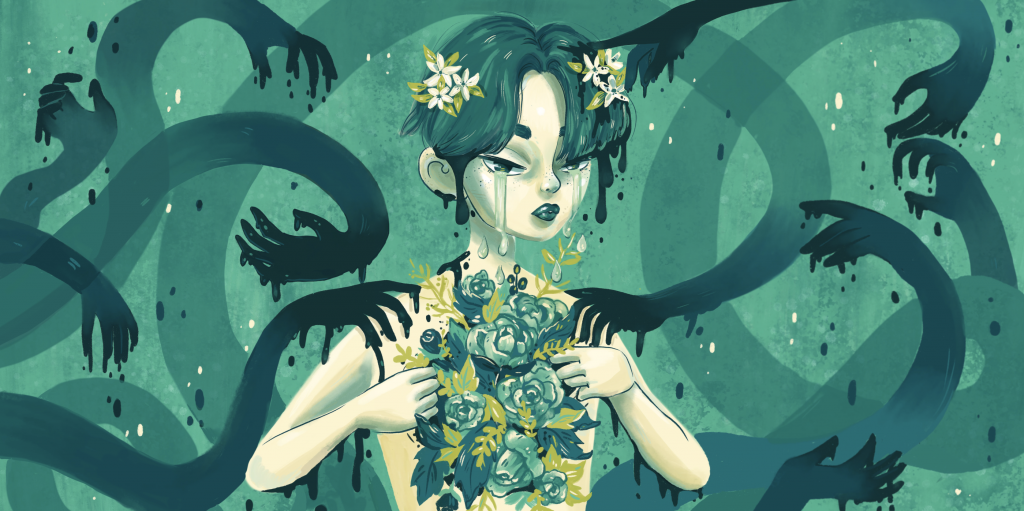 Kat: Frisk's interpretation of "East Temple" demonstrates how powerful it is to be vulnerable in the public realm. Frisk's work depicts how painful it can be when there are outside forces that are preventing your beauty from being able to be seen. The song and the artwork challenge how and who gets to be represented and take up space in public.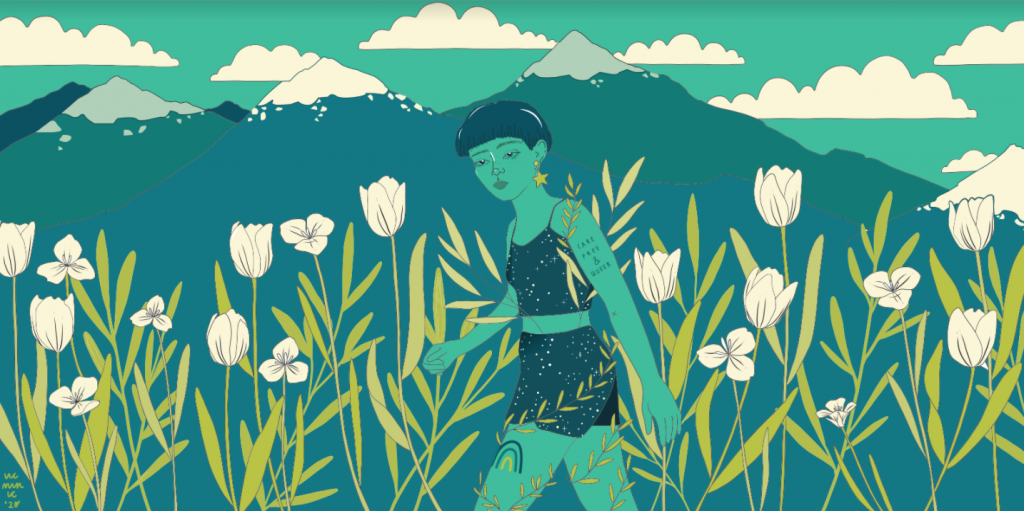 Kat: The mountains shown in Victoria Minji Lee's interpretation of "Satly", speaks to the magnitude of the challenges and injustices that marginalized people face every day. However, the flowers that are almost as tall as the person in the illustration are a reminder that beauty is all around us and shows up in the community that works beside us as we fight for a more just future.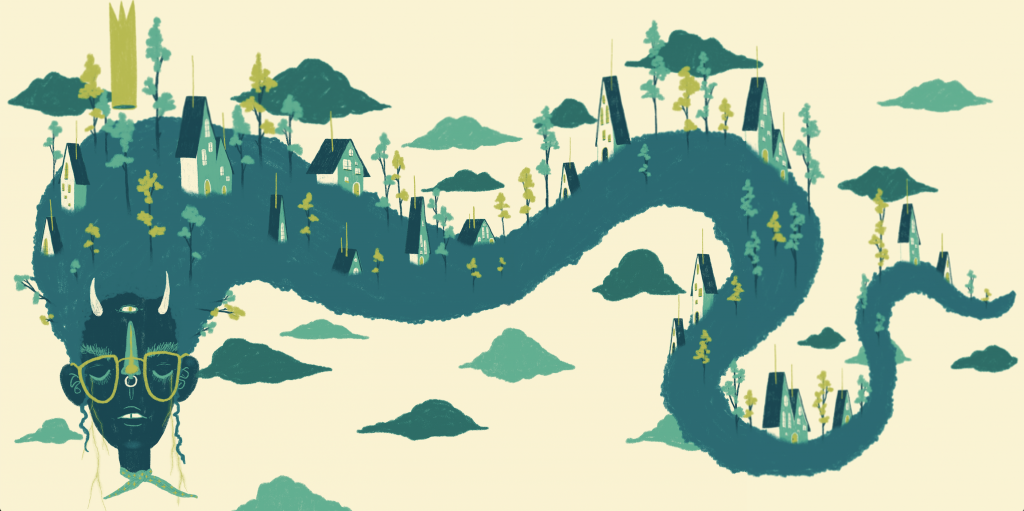 Kat: Abraham Von August and Marqueza both acknowledge how trauma can impact our minds however the hope and playfulness of our dreams are powerful in how we imagine a better future for QTPOC. I appreciate that in Von August's interpretation of dreams, there are homes, I like to think that coupled with Marqueza's lyrics, the homes speak to what safety, love, support, and joy look like for all.