Artwork by Mary Ellen Western
Craft Lake City is pleased to announce its newest seasonal public art exhibition, Celebration of the Hand: 15 Years of Craft Lake City. On view from July – September 2023, this exhibition is an homage to the growth and evolution of Craft Lake City, highlighting the ways the organization has cultivated its year round programming and expanded its cornerstone event, the Annual Craft Lake City DIY Festival, throughout the past 15 years. 14 Utah-based visual artists were invited to illustrate one major development in the organization's programmatic offerings from each past year through their own unique artistic lens.
Craft Lake City originated in 2009 as a one-day SLUG Magazine event hosted at Gallivan Center in downtown Salt Lake City. The event's success spurred the branching off of Craft Lake City into its own 501(c)(3) charitable organization within two short years of that first event. Since then, the DIY Fest has grown into a 2- then 3-day event, Craft Lake City introduced its Annual Holiday Market in Ogden, and added a huge array of year-round programming to its repertoire, including an artisan workshop series, the Craft Lake City Business Academy, & other invaluable resources for Utah creatives.
"Celebration of the Hand: 15 Years of Craft Lake City commemorates the past decade and a half of our work to elevate Utah's creative culture," says Executive Director Angela H. Brown. "We are so honored to be able to represent and support the thriving arts community in Salt Lake City, and can't wait to see what the future holds for Craft Lake City!"
To learn more about this installation, the public is invited to join Craft Lake City for a virtual "Lunch & Learn" discussion on Wednesday, July 12  from 11:30 a.m. – 12:30 p.m. In this public online event, attendees can learn more about the pivotal moments of Craft Lake City's growth while hearing from some of the participating artists about the work they created around their assigned Craft Lake City milestones. Attendees will have the opportunity to hear in-depth details about Craft Lake City's work in the community, share ideas and ask questions about the new exhibition in downtown Salt Lake City. 
Watch the Virtual Discussion About the Exhibition Below:
Celebration of the Hand, made possible with support from The Center for the Living City and The Temporary Museum of Permanent Change, is a seasonal outdoor exhibition designed to enhance and reflect Salt Lake City's cultural district through the work of Utah artists. Informed by activist Jane Jacobs' fascination with self-organized urbanism, Celebration of the Hand exhibitions focus on conveying central themes and ideas, making them relevant to our community through art. 
Craft Lake City commissions works of art from local Utah artists for these rotating exhibitions. All Celebration of the Hand curation projects are displayed in fourteen metal frames adjacent to the sidewalks in downtown Salt Lake City. They are located on the north and south sides of Broadway (300 South) between 200 West and Main Street. These exhibitions are open to the public 24 hours a day 7 days a week, and are free of charge.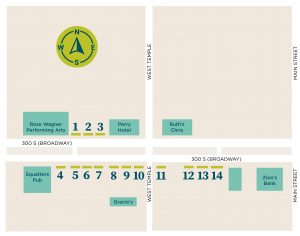 Preview the Artwork Below: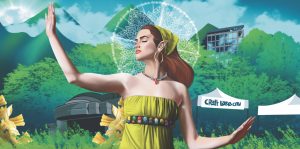 Artwork by Allison Kristine
Craft Lake City Year 1, 2009: Craft Lake City Was Born!
A one-day event, the very first DIY Fest (originally titled "SLUG Mag's Craft Lake City") took place on Saturday, August 8, 2009, at the Gallivan Center in downtown Salt Lake City.
Allison Kristine Art is a Utah-based illustrator specializing in the magical world of fantasy. Her intricate and captivating illustrations transport viewers to otherworldly realms, where they can explore and immerse themselves in her unique artistic vision.
allisonkristine.artstation.com
@allisonkristineart on Instagram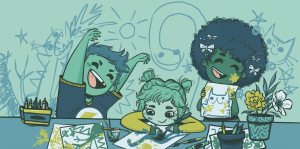 Artwork by Taj Sivertsen
Craft Lake City Year 2, 2010: The Kids' Area Introduced at DIY Fest
Craft Lake City launched the Kids' Area at the DIY Fest offering fun, hands-on activities to young festivalgoers & their families. The Kids' Area features bounce houses, crafts & more for kids of all ages to enjoy at this family-friendly festival.
Taj is an SLC-based tattoo artist and illustrator. She has been in love with drawing all her life, finding endless wonder, frustration, and joy in the quiet pages of her sketchbooks. She draws inspiration from all sorts of things, like trees and people and cats and clouds and ghosts, to name a few.
@chotchke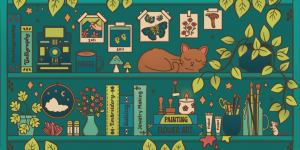 Artwork by Shanna Barlow
Craft Lake City Year 3, 2011: Established Artisan Workshops
Craft Lake City introduced artisan workshops as year-round public programming to provide beginner-friendly craft education while offering paid opportunities for Utah artisans to develop teaching skills. Craft Lake City currently produces over 50 artisan workshops per year taught by local artisans at various partner locations.
Shanna Barlow is a digital artist from a small town in Northern Utah. She loves drawing animals, plants, and cute things in warm colors. You can find her serving coffee at her local coffee shop or spending time outdoors on nature walks.
@shannas.creations on Instagram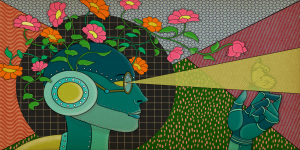 Artwork by Vivian Arthus
Craft Lake City Year 4, 2012: Introduced STEM Building at DIY Fest
STEM (Science, Technology, Engineering & Math) joined the DIY Fest lineup with its own building, featuring DIY engineers, inventors, scientists & STEM organizations alongside dynamic science activities.
Vivian Arthus is a visual artist who currently resides in Ogden, Utah. In the last 3 years, she has put her focus within the digital art realm; digital collage and digital illustration.
Artwork by Mary Ellen Western
Craft Lake City Year 5, 2013: Expanded DIY Fest to 2-Days
Originally a one-day event, the DIY Fest grew in popularity & expanded with a second day to exhibit the best of local, handmade & DIY cultures! Two years after that, it became a three-day event.
Mary Ellen Western is an Digital and Traditional illustrator who occasionally dabbles in character design and visual development. Aside from art, Mary loves her husband, cats, and fashion.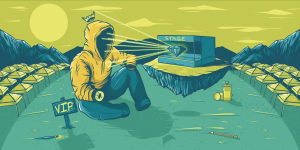 Artwork by Kamber Carroll
Craft Lake City Year 6, 2014: Created DIY Fest VIP Area & Harmons Joined as DIY Fest Title Sponsor
The VIP Area was introduced offering a premium festival experience, including priority access to festival entertainment on the main stage, craft cocktails & artisanal bites. The VIP Lounge experience is limited to Friday, opening night of the DIY Fest, to help ring in the event each year.
I'm Kamber, an artist and veteran from Salt Lake City. Through a fusion of physical and digital art, I create captivating artworks that stir deep emotions and connect with viewers, encouraging them to reflect on their own experiences, memories, and dreams
@kamberlandcreations
etsy.com/shop/KamberlandCreations
Artwork by Andrena Rae
Craft Lake City Year 7, 2015: Final Year Being 100% Volunteer-Run Organization & Google Fiber Joined as STEM Building Sponsor
Volunteers are the heart & soul of Craft Lake City—our first seven years of growth for the DIY Fest were entirely thanks to the countless hours of support from local volunteers. In 2015, we were honored to receive the support of Google Fiber to increase Craft Lake City's science, tech, engineering & math (STEM) resources & activities for festivalgoers.
Andrena Rae is a monster enthusiast who enjoys exploring the different aspects of humanity through the lens of creatures, cryptids and cartoons.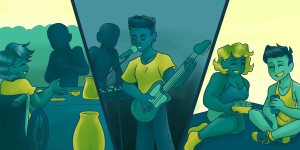 Artwork by Al Gore
Craft Lake City Year 8, 2016: Expanded DIY Fest to 3-Days & Launched Inclusion Program
Originally a one-day event, then a two-day event, the DIY Fest grew in popularity & expanded into a three-day event in 2016 to exhibit the best of local, handmade & DIY cultures! The DIY Festival Inclusion Program was launched to increase access for low-income families to attend the DIY Fest & receive a "full festival experience" at no cost to them.
Al of lunasea art is a digital illustrator whose work centers on the things they love. From his own queerness to fandom to the arts community, everything she makes comes from a place of joy and passion for the world and people around them.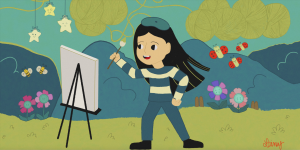 Artwork by Elaine Lee
Craft Lake City Year 9, 2017: Established Kid Row at DIY Fest
Kid Row was introduced at the DIY Fest, serving as a one-day pop-up market for youth entrepreneurs (age 14 & under) to exhibit & sell their handmade products. In 2023, Kid Row has expanded to include 15, 16, 17 & 18 year olds!
Lainey is a multi-disciplinary illustrator, whose work is playful and child-like. Originally from Los Angeles, CA, Lainey's inspirations come from pop surrealism and graffiti art. Working primarily with watercolor, gouache, ink, and digital, Lainey finds joy in drawing cute, kitschy characters.
@laineyberryart on Instagram, Facebook, Twitter, & Tiktok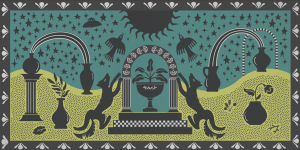 Artwork by Mckenzie Wallace
Craft Lake City Year 10, 2018: Celebrated 10 Years of DIY Fest at The Gallivan Center with Special Pottery Demos & More
To celebrate 10 years of DIY Fest, Craft Lake City brought in pottery demos at the Festival information booth, expanded the artisan lineup & expanded the VIP Lounge for premium ticket holders.
Yee Haw captures a feeling and an aesthetic that is deeply intertwined with my south-western roots. It is an embodiment of the type of work I love and want to continue to create; fun, full of life, not taking itself too seriously. Yee Haw contains the spirit of generations of vagabond oddballs, outlaws, pioneers, outcasts, and innovators, The kind of company I'd like to keep and the kind of people I'd love to work with.
@yeehaw.studio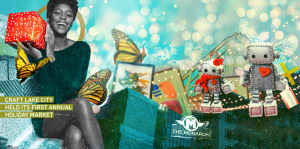 Artwork by Camille Nugent
Craft Lake City Year 11, 2019: Craft Lake City Hosted Its First Annual Holiday Market in Ogden & the DIY Fest Moves to The Utah State Fairpark
Debuting as a one-day event, Craft Lake City hosted the First Annual Craft Lake City Holiday Market at The Monarch in Ogden, proudly facilitating an opportunity for Northern Utahns to shop small & local for the holiday season.
I'm passionate about equal representation in my art. Through my collages, I enjoy exploring the literal and figurative layers of human emotion. The subjects of my work are primarily people of color and are often shaped by my culture, experiences, and my idiosyncrasies. In soft, surreal dreamscapes, they navigate the sometimes-tenuous line between connection and isolation.
@camillenugentdesign on Instagram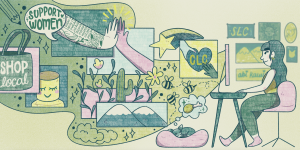 Artwork by Abigail Peña
Craft Lake City Year 12, 2020: Craft Lake City Went Virtual
Craft Lake City went virtual for both the DIY Fest & the Holiday Market, offering a safe way for Utahns (& beyond) to financially support small makers during the pandemic.
Abi Kawi is a Latina illustrator who uses her platform to showcase and speak up about what she believes in, she loves dogs, reading & breakfast foods.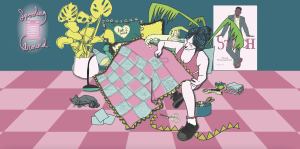 Artwork by Bianca Velasquez
Craft Lake City Year 13, 2021: Introduced Craft Lake City Business Academy & Dog Park at DIY Fest
The Craft Lake City Business Academy launched, offering business training & mentorship for creatives across Utah & beyond with special emphasis on preparing our Artisan Scholarship recipients to exhibit at the DIY Fest. This program aims to address the professional development needs of the creative small business community.
Bianca Velasquez is a multidisciplinary artist from Salt Lake City working in acrylics, digital art, beadwork and more. After working as SLUG Magazine's Managing Editor at 25, Velasquez has poured herself into her visual art, captivating her relationship to family, herself and the act of recording. Velasquez' beadwork interrogates the process of negotiating space, both physically on the canvas and emotionally as she carves out space within herself for the lengthy task of self realization.
@biancavelasquez.tv on Instagram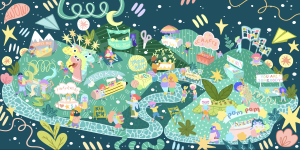 Artwork by Olivia Breneman
Craft Lake City Year 14, 2022: Pioneered Youth Artisan Entrepreneur Program
Craft Lake City introduced the Youth Artisan Entrepreneur Program offering free artisan workshops & participation in Kid Row across two sites: a local Title I school in Rose Park & an afterschool program in South Salt Lake.
Olivia Bee is a Provo-based artist with a passion for all things cute, cozy, and whimsical! Inspired by her upbringing in the Pacific Northwest, she loves to draw wildlife, nature, and silly little characters through her own unique style.
@oliviabeestudio
---
About Craft Lake City:
Founded in 2009 by Angela H. Brown, Executive Editor of SLUG (Salt Lake UnderGround) Magazine, Craft Lake City® is a 501(c)(3) charitable organization with the mission to educate, promote and inspire local artisans while elevating the creative culture of the Utah arts community through science, technology and art. Craft Lake City strives to further define the term "Craft," by modernizing the definition for handmade creativity.
craftlakecity.com @craftlakecity
Craft Lake City's year-round programming is supported in part by the residents of Salt Lake County through the Zoo, Arts & Parks (ZAP) Program, the Salt Lake Arts Council, the George S. and Dolores Doré Eccles Foundation, and Utah Arts & Museums, with funding from the State of Utah and the National Endowment for the Arts.
About the Temporary Museum of Permanent Change:
The Temporary Museum of Permanent Change is a community based, participatory project that uses the ever-changing development processes underway in Salt Lake City as catalysts to animate city life. The Museum engages a variety of audiences using a collaborative, multidisciplinary approach that includes performance art and video production, visual art, urban archaeology, anthropology, local history, existing businesses and ongoing deconstruction and construction processes as spectacles for people of all ages. Together these elements provide teachable moments in our efforts to manage and celebrate change. This museum has no specific address. Rather it is a construction of ideas, installations and illuminations that comprise a new way of seeing our city.
About the Center for Living City:
The Center for the Living City's purpose is to expand the understanding of the complexity of contemporary urban life and through it, promote increased civic engagement among people who care deeply for their communities. The Center provides portals for community engagement through the lens of urban ecology to further the understanding of the interconnected human and ecological systems in our communities. The Center's multi-disciplinary approach to community engagement is applied through educational programs, collaborative projects, fellowships, on-line portals, workshops and publications.
centerforthelivingcity.org  @centerforthelivingcity