Two of my favorite things to do are work with youth and work towards social justice. So when I was offered the chance to create a mural celebrating hands, I immediately thought of all the good our hands do to create positive change in our communities. Although I make jewelry for a living and that is how I came upon this opportunity, I didn't want to use the mural for myself. 
I have worked a great deal with the youth at South Valley Unitarian Universalists Society, where I attend church, so I wanted to highlight the great things they have accomplished. Not only do our youth work towards social justice, they do community service projects, study other religions and practice treating everyone they meet with dignity and respect. 
Quickly this project expanded beyond our UU youth to include friends, family, neighbors and team mates. I was so happy to listen to youth decide which of the things they wanted to include on the mural. Some youth had many choices because they have done so many things to help create positive change. 
I hope everyone has a chance to stand in front of the mural and read each statement because it is fun and impressive! There are such a wide variety of ways that youth have made a difference, from donating hair to Locks of Love, delivering food to elderly, participating in the Pride parade, sorting food and clothing, celebrating religious diversity and running in the Dirty Dash, just to name a few. It also highlights that the youngest among us make a difference just by being kind to each other. That is where it begins. 
I was impressed that more than one youth had traveled outside of the country to help create a better community. I was also impressed to hear about one youth's attempts to get her friends to stop bullying a kid at school. She warned them that she would turn them in, if they didn't stop. They didn't stop and she followed through with her threat and turned them in! She took heat for it, but things are better now. If a youth can be that strong at 13, think of all the amazing things she can do as an adult!!
I want to thank Craft Lake City for giving me this fun opportunity. I think this project helped the youth feel proud of their good works and I hope it inspires people who walk by and read it to do good works, too!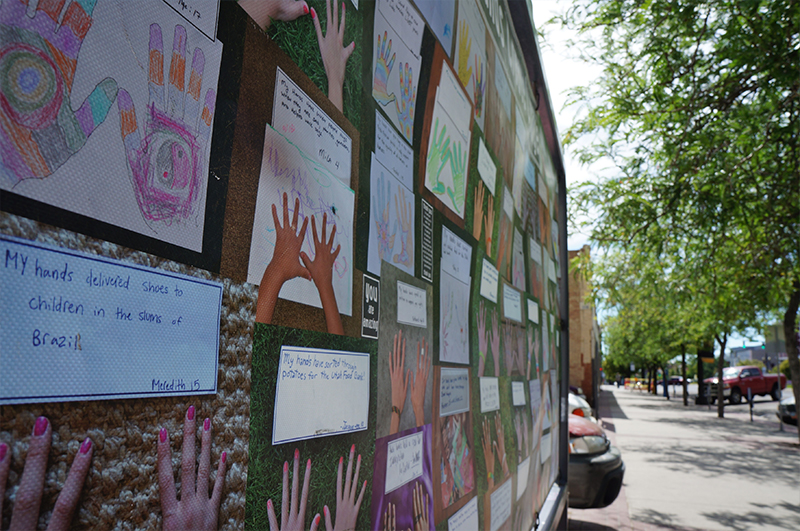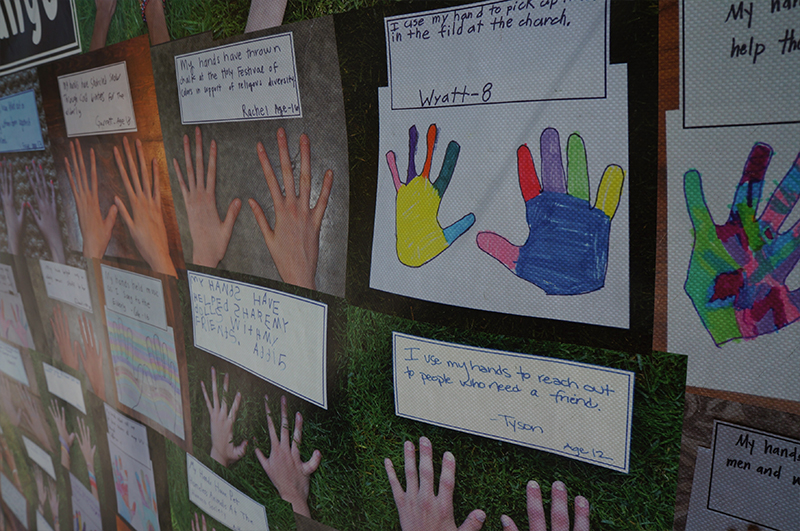 Celebration of the Hand was started by The Temporary Museum of Permanent Change and Craft Lake City in the Summer of 2012 as a way to highlight and showcase the work of local artisans participating in the Craft Lake City DIY Festival. The Celebration of the Hand pieces are installed into steel Plakats, which are adjacent to the sidewalks on the North and South sides of Broadway (300 South) between 200 West and 200 East.
The exhibit is open 24 hours a day, seven days a week and is free to the public.
This project is supported in part by the Utah Arts & Museums, with funding from the State of Utah and the National Endowment for the Arts.
Save