"I like to entertain ideas of the apocalypse. I like the idea of re-appropriating the office workers," local artist Natalie Allsup-Edwards declares, "because if you think about it, blue collar workers are actually useful to society. They have skills capable of creating." Engaging fully in her subversive DIY paradigm, Natalie repurposed the laundry room of her Central City duplex into a creative sanctuary. Creamy lace curtains hang sweetly over the doorway to a tiny room containing handmade stamps of human bones, meta still life sketches of the workspace itself, the pile "where art goes to die," a vintage crystal pendant lamp, posters, unicorn meat, paintings and skulls. The room's creative occupant is a visual artist and street performer, delighting Craft Lake City festival goers for two years now with her pop-up Hand Drawn Photobooth.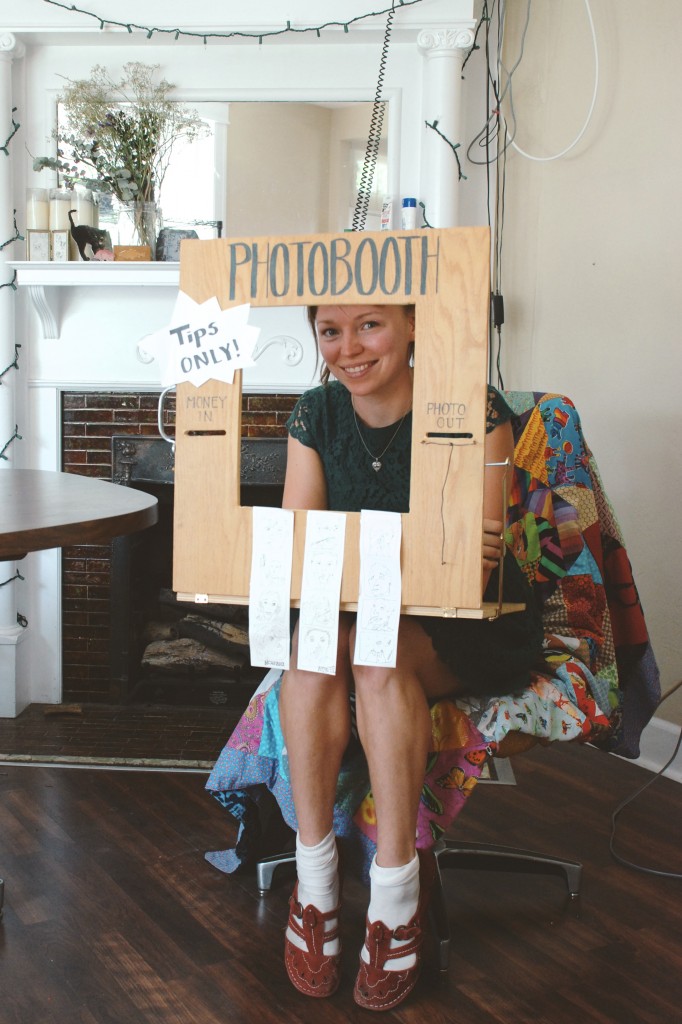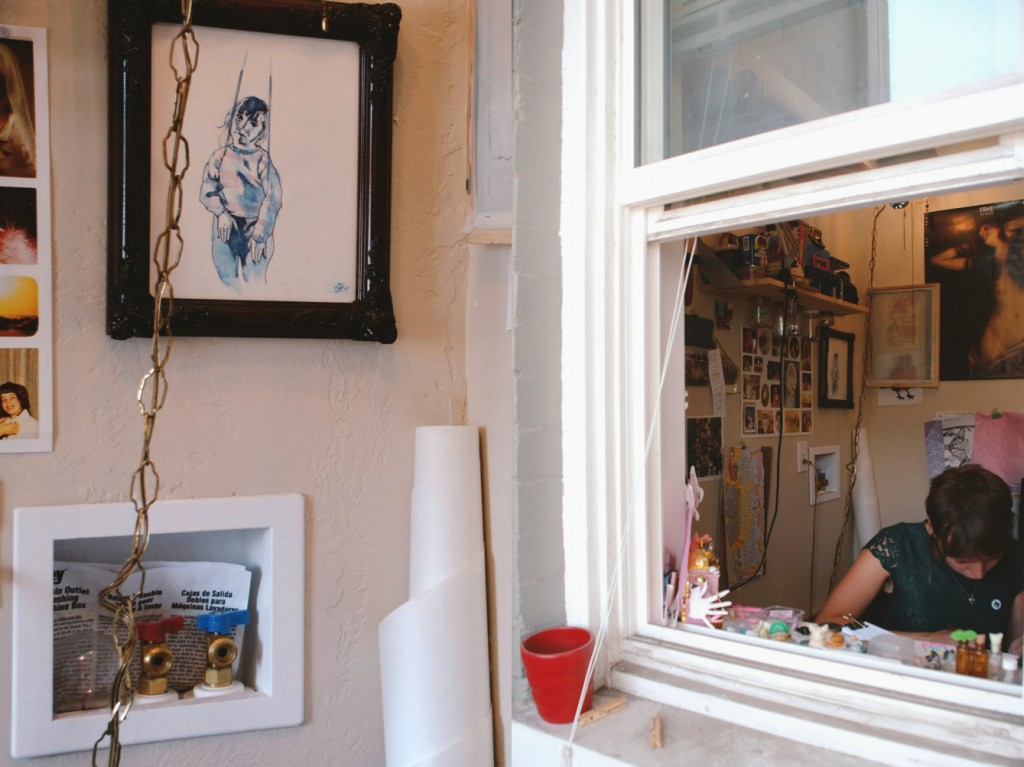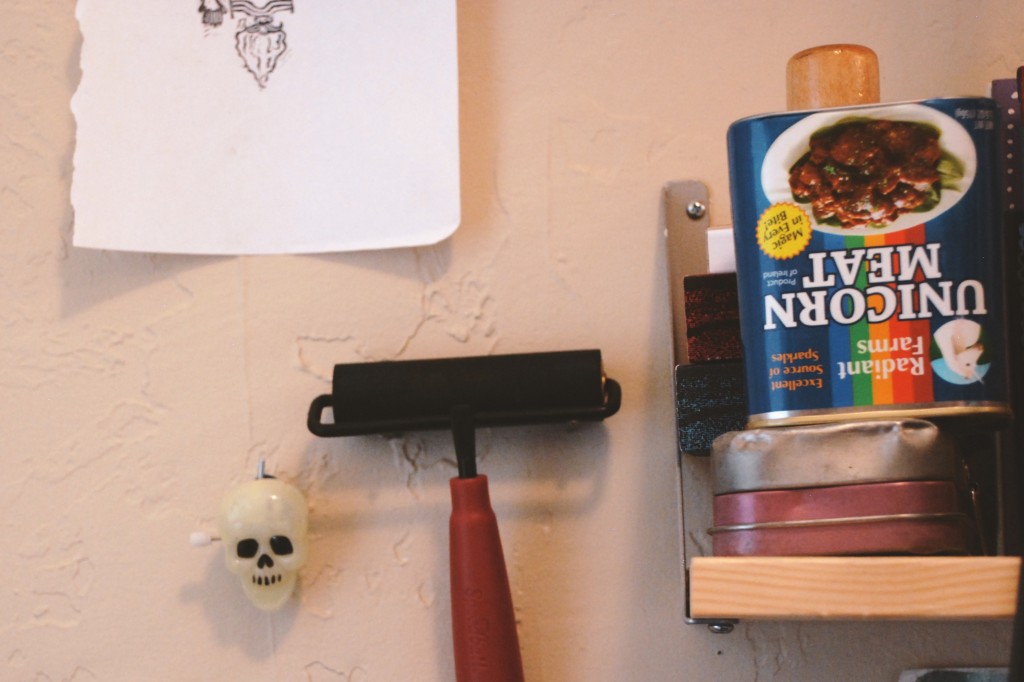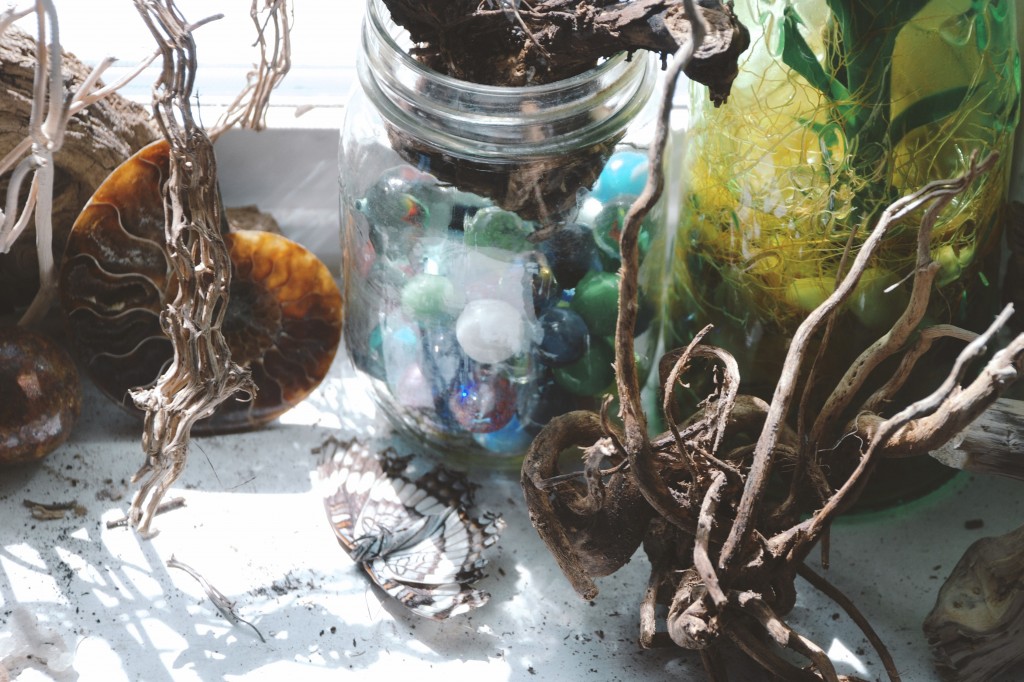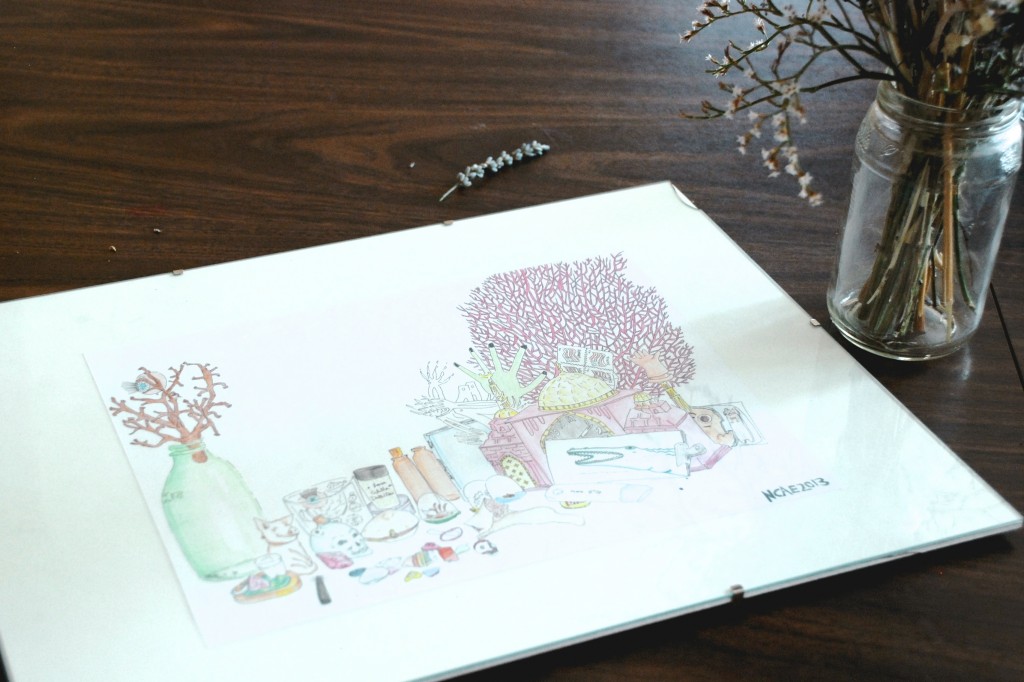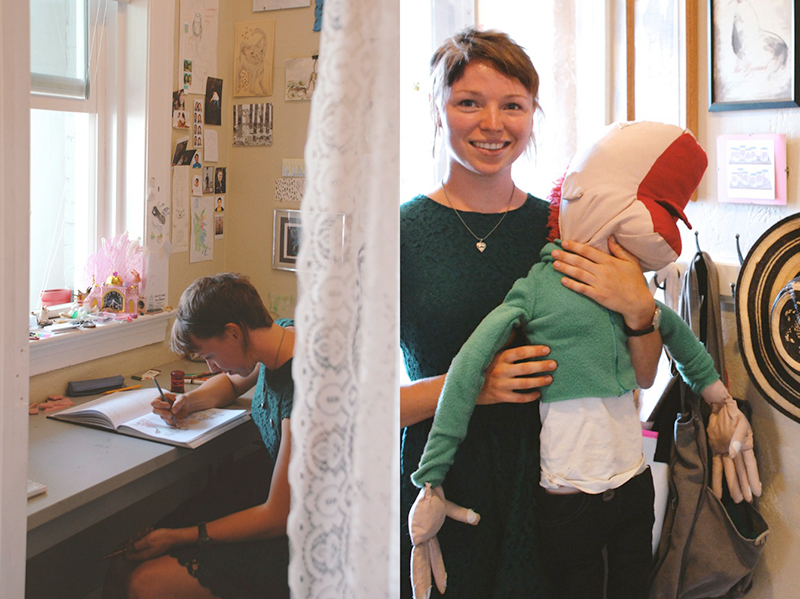 Natalie is grateful to Craft Lake City's annual festival for offering a venue to share her work and to be exposed to the work of others. She reflects that the event is also "a uniting of unlikely partnerships and relationships. Doing the Hand Drawn Photobooth, I got to meet a lot of people you wouldn't necessarily expect to see at a craft festival," she says. Beyond craft festivals and vibrant local arts communities, Natalie believes a DIY ethos is something sorely needed across the United States. She broadly defines DIY culture as "learning to do something for yourself, be it making your own clothes, fixing something, making art, growing food, etc. All of this contributes to individual autonomy and independence," she says. She laments her observation that people are increasingly wasteful and dependent on corporations to provide for them.
This passion for autonomy and creation was fostered from a young age. When Natalie and her sisters wanted Beanie Babies, their mother told them they had to craft their own toy and then trade it in with her for an authentic Beanie Baby. Her parents actually owned a toy store and her dad still enjoys carving wooden toys, many of which Natalie has displayed around her home. It is evident how toys and even cartoons remain highly influential in Natalie's work today, as does a sense of magic and whimsy. As a child, she would set up homes for fairies inside the bushes in the front yard, complete with custom wardrobes and gracious offerings of teeny tiny pancakes.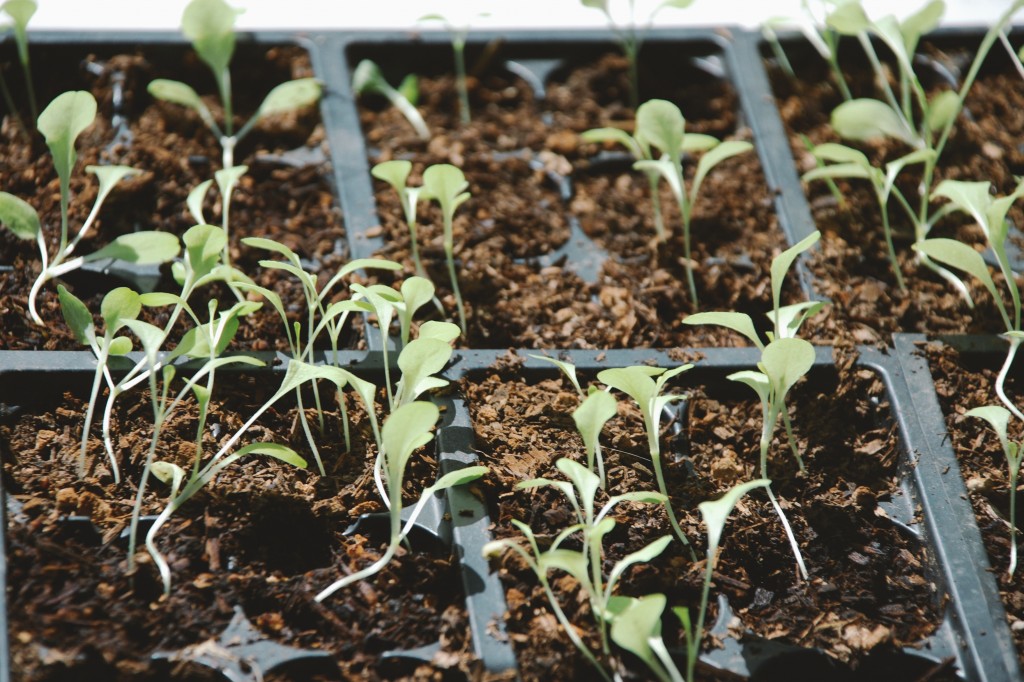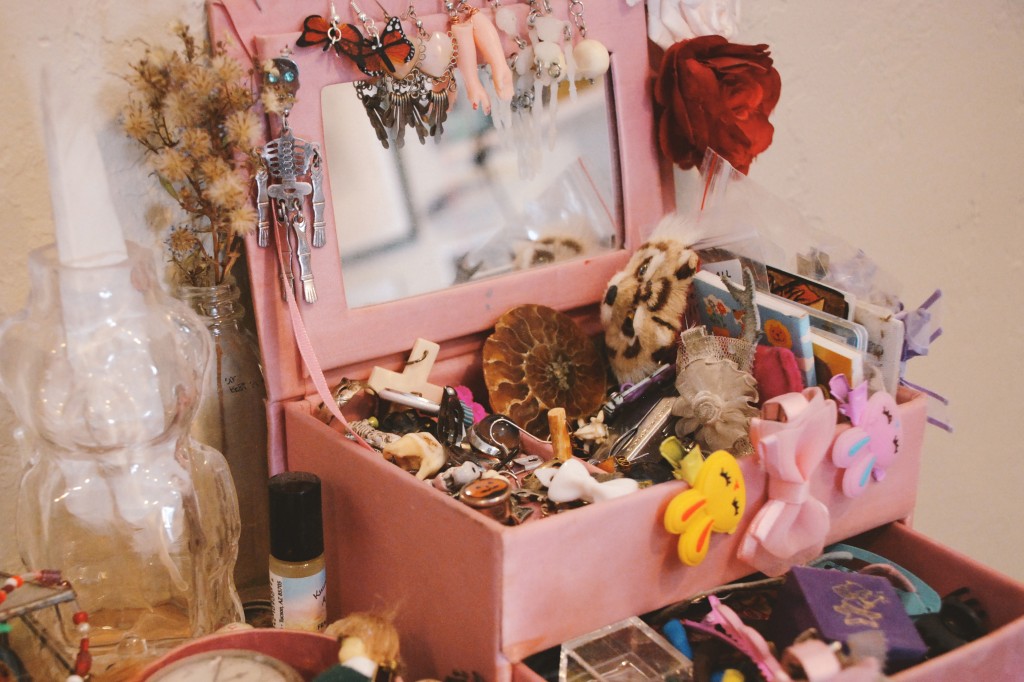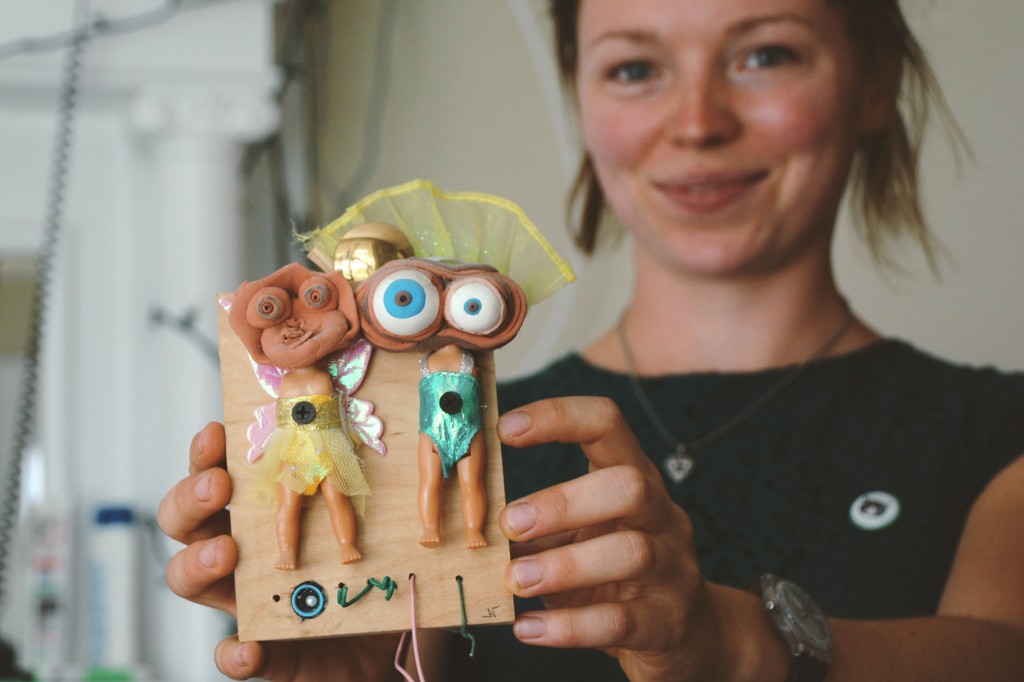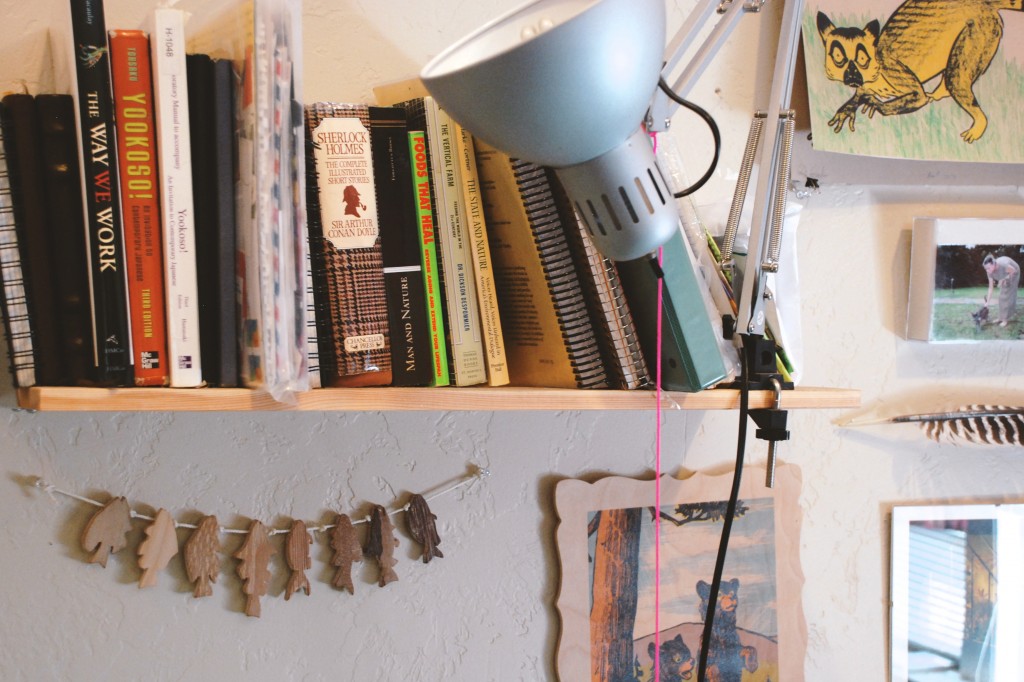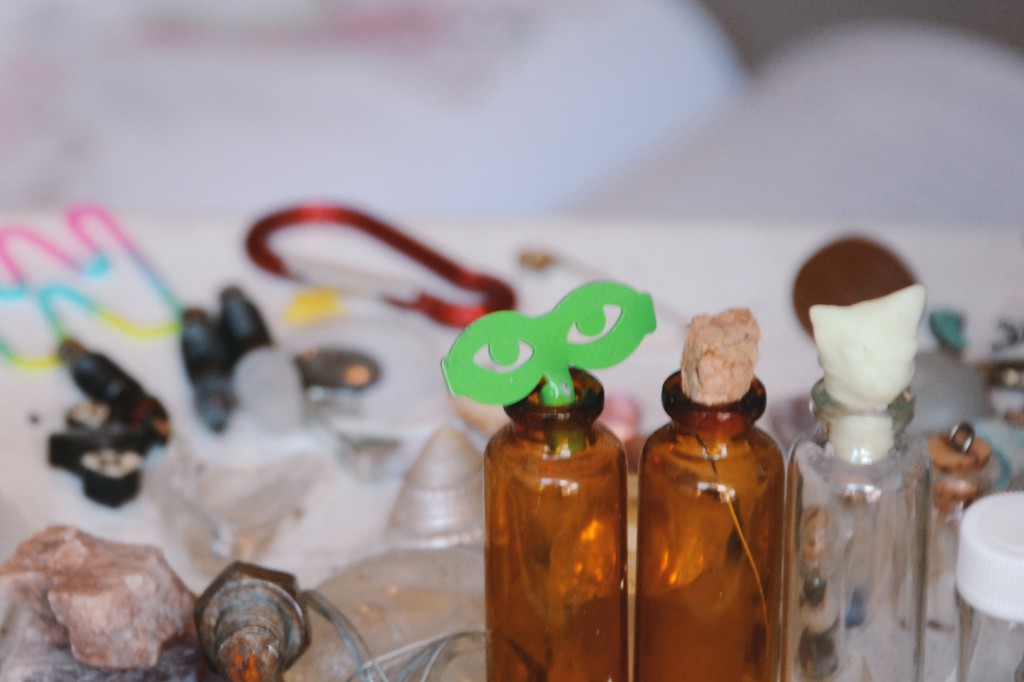 Other noteworthy influences of her esthetic are the icons of Halloween (her birthday) and Christmas. In the kitchen, next to a sketch of a mermaid and a castle tower inked out with her handmade stamps, hangs a sketch of brains marinating in mason jars, mounted on bubble gum pink paper. She illuminates the Christmas season with a large collection of Santa lamps, sadly not able to be photographed as they stayed behind with her parents in Texas. "It's amazing what collects in your house," she says, almost shyly. "You don't even realize it. I mean, I guess I do have severed doll heads on the back patio."
Natalie's playful spirit manages to harmonize with an earth-bound practicality. She credits her wood-working father with her "fix it, use it up, and keep going" attitude. Beautiful hand-crafted shelves in the kitchen embody her brand of DIY pragmatism. Natalie and her father worked to frame grains, spices and assorted ingredients on the wall just as the food she enjoys cooking with friends is framed on their plates. It's all part and parcel of Natalie's commitment to a DIY lifestyle and the perspective that all acts of creation can be artistic. She's also been thinking a lot lately about collecting as a form of art. "You might not be producing it, but curation is a form of art, I think," she says.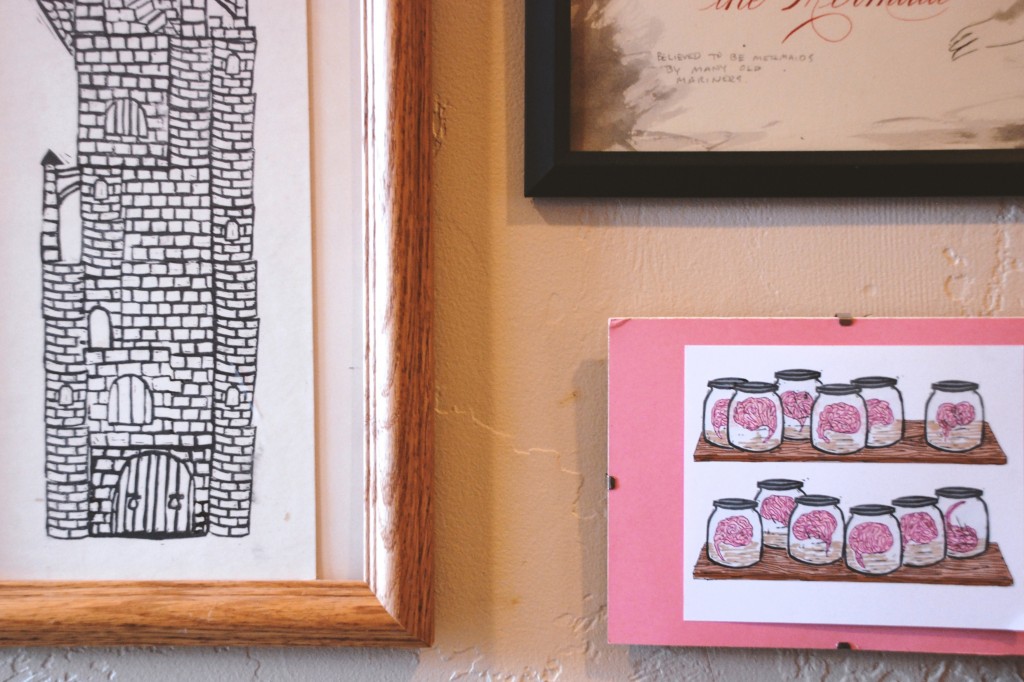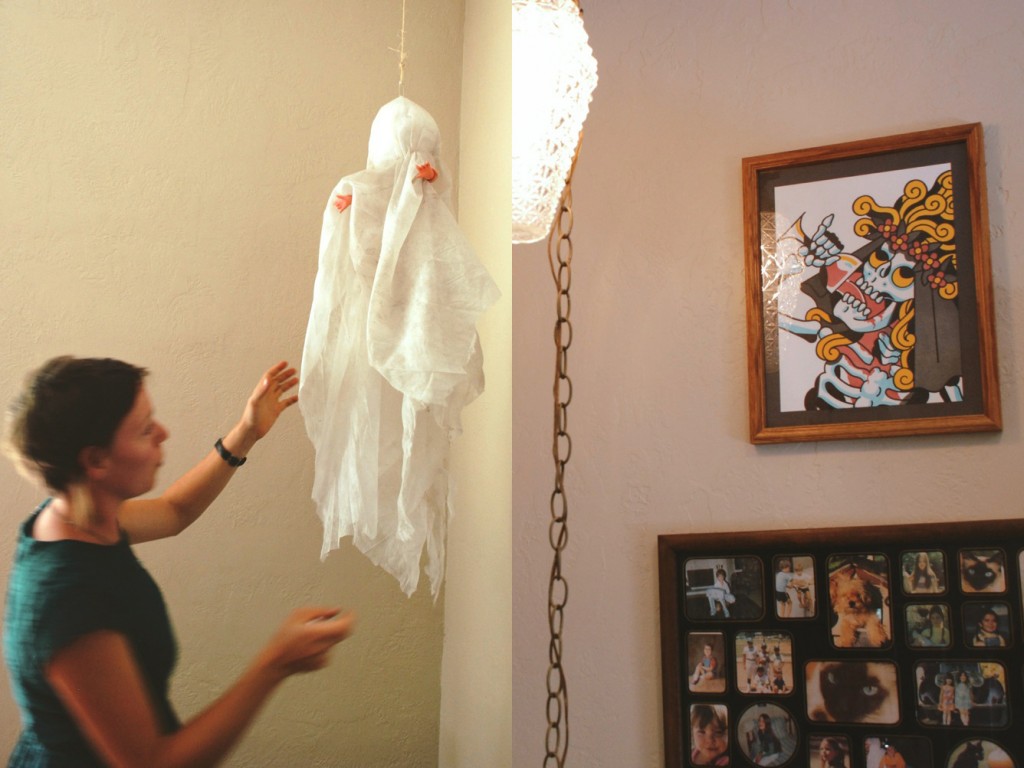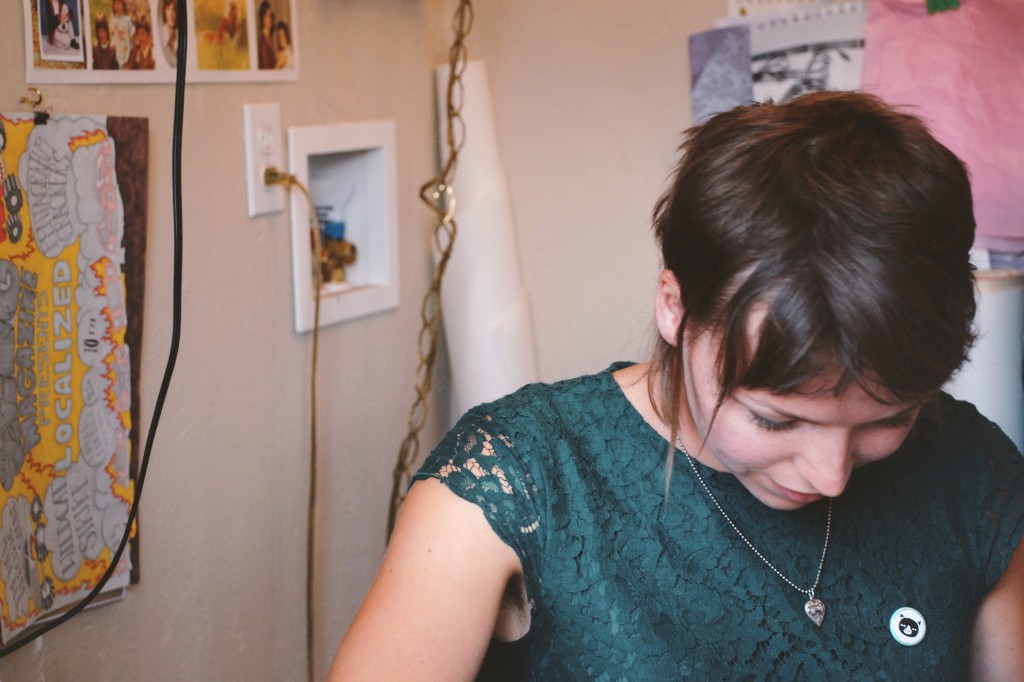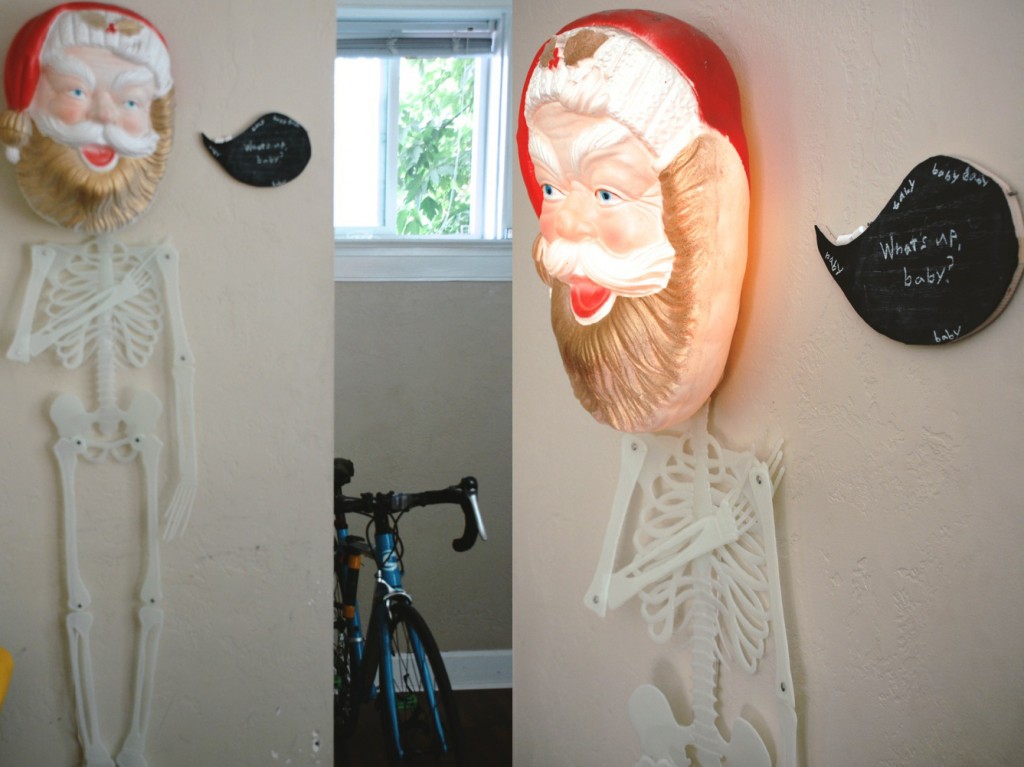 Even with her passionate views on autonomy and people learning to do things for themselves, it is clear that Natalie is very community-minded. She makes a point of displaying art created by artists she knows personally, be it her sister, friend, dad, herself, or the neighbor upstairs. Even her response as to why the Internet inspires her implies a love of boundless community: "The Internet is endless information not subject to local or national culture. That's amazing. It also breeds spastic multitasking skills, but whatever," she says. If she were to have a Saturday completely devoid of obligations, her ideal agenda would begin with coffee and music while cleaning her studio. After time spent sketching and working on her latest art adventures, Natalie would ride her bike with a friend to her favorite popsicle shop in Rose Park. The day would cap off with friends, wine, drawing, and cooking dinner at home. It's a profound statement that her ideal day consists of simple, present-minded tasks that she'd likely be doing anyway. It all seems obvious enough to Natalie: "Be happy where you are, you know?" she says.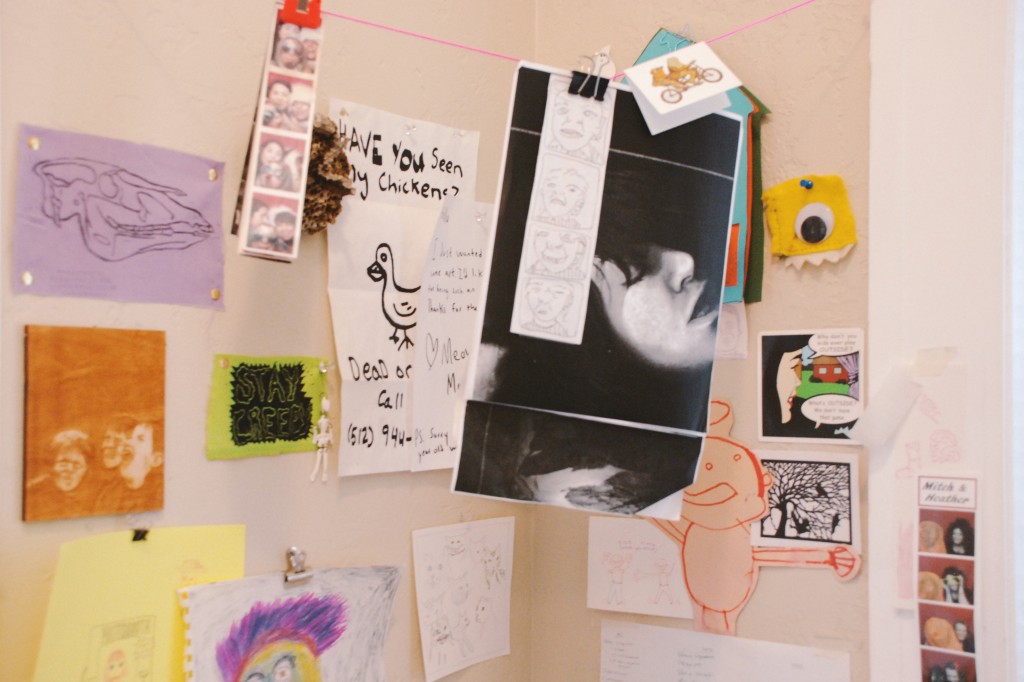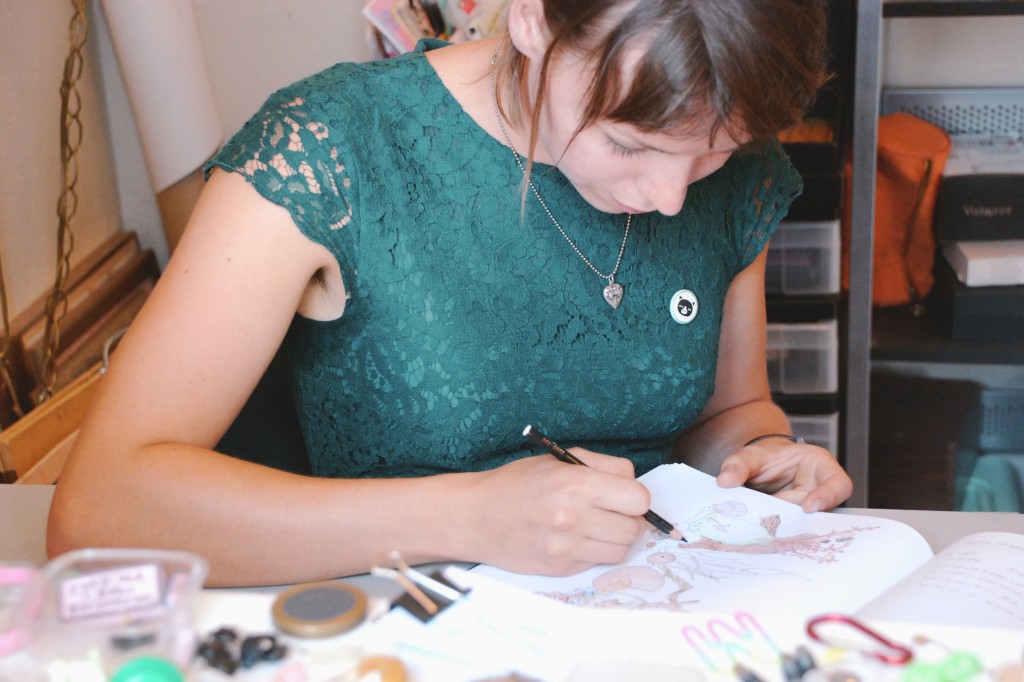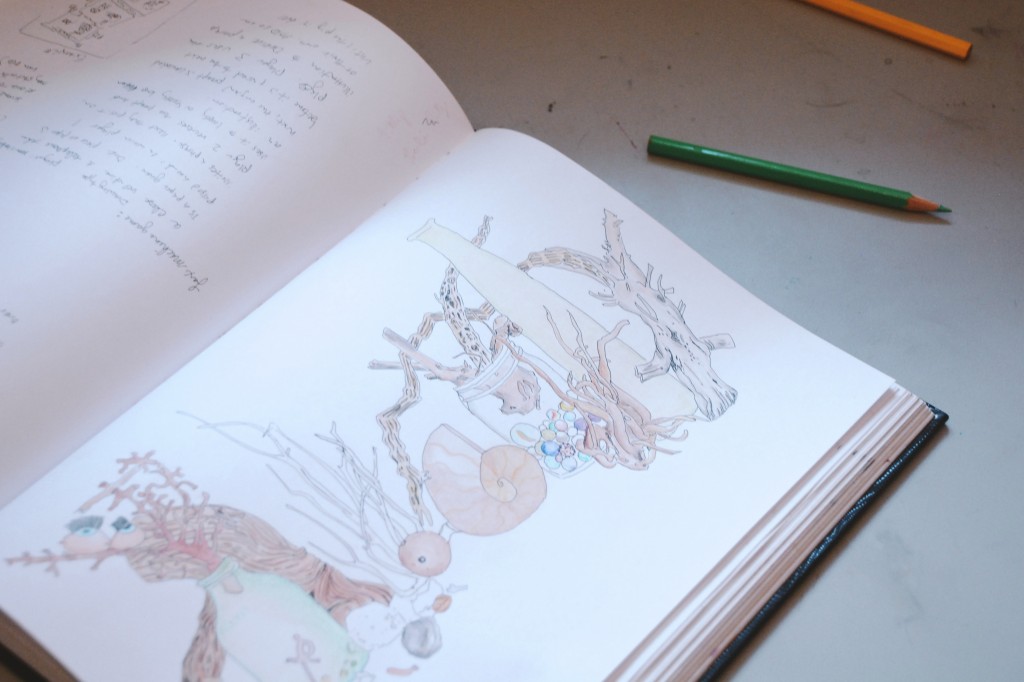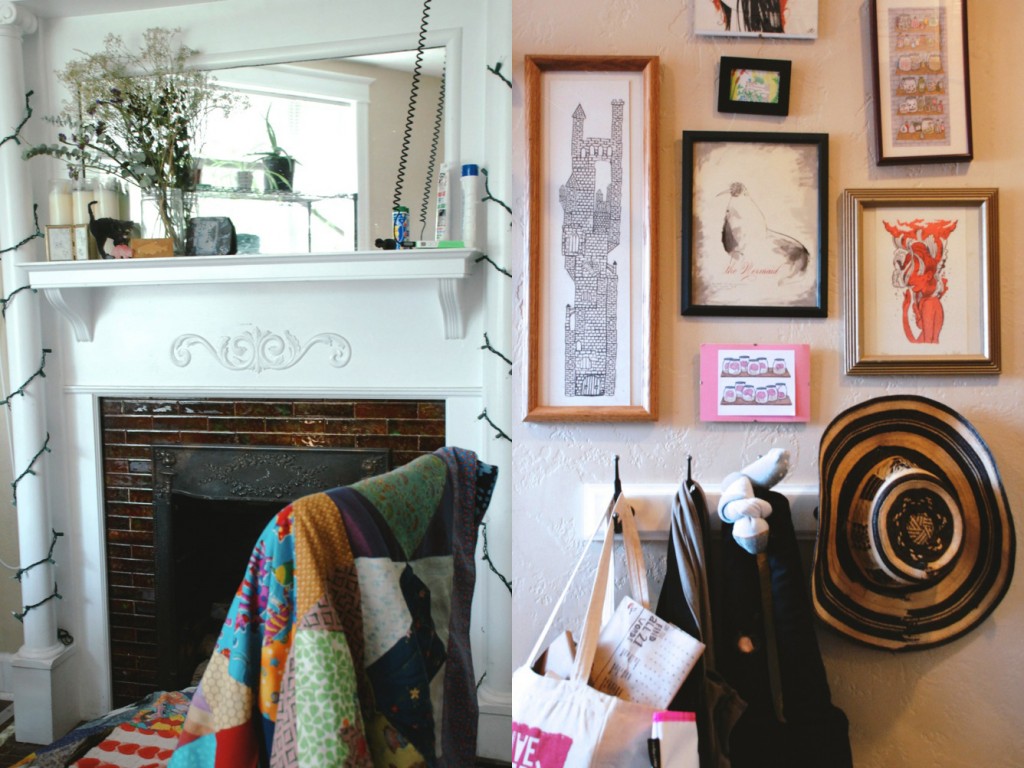 In her own words, here's Natalie's message to aspiring Creatives:
"The most important thing about making art is not to be afraid to make decisions. Art is all about making decisions. The faster you are at making them, the more prolific you will be. Over time, the more decisions you make, the less any one decision will ever matter.
Make sure everything you do is a conscious choice. Get the proper materials, or realize that it is a choice not to and own it. Nobody cares what stopped you from doing it right; they will only be able to judge your work, not the process.
Don't be scared to mess it up. An unfinished piece offers nothing, but a ruined piece offers experience. I have a pile where art goes to die. But then again, "ruined" isn't really fair. Most failures just aren't finished. Not finishing is the failure. Finishing anything is a success.
Always edit and assess the strengths and weaknesses of your work. Give yourself distance. Face, seek, accept and appreciate criticism, but make the choice as to whether you let it influence you or not.
I like to think about the Cult of Done Manifesto. My favorite thing about it is to realize that all of this is just an experiment. Make a decision, act, and get it done."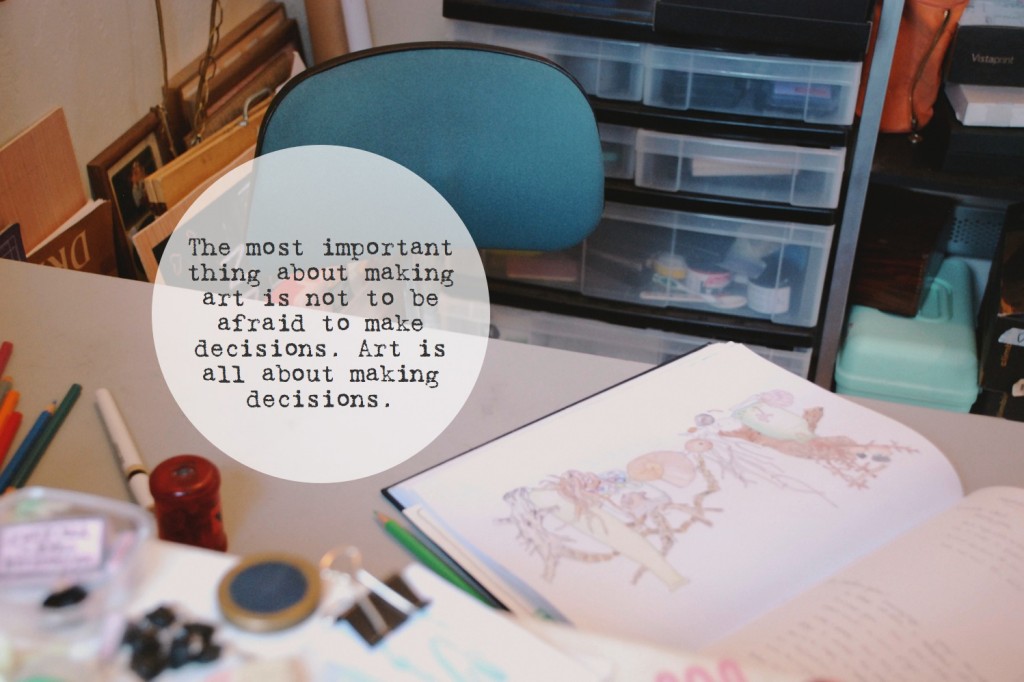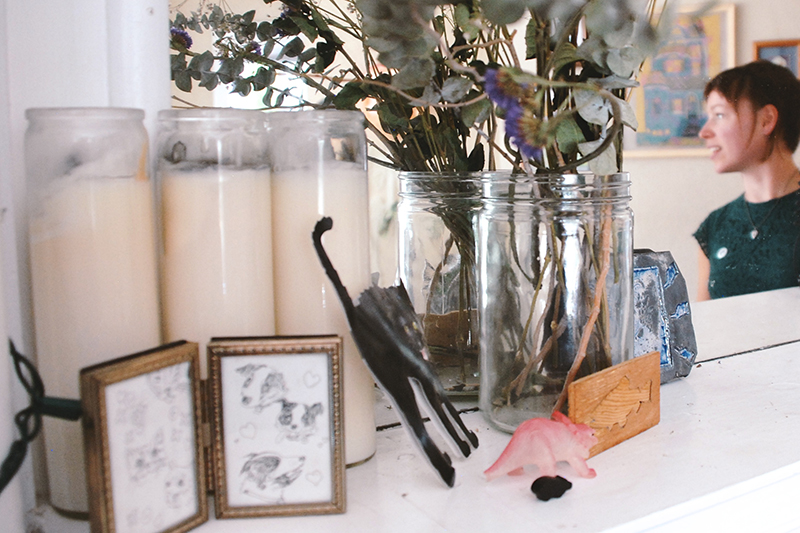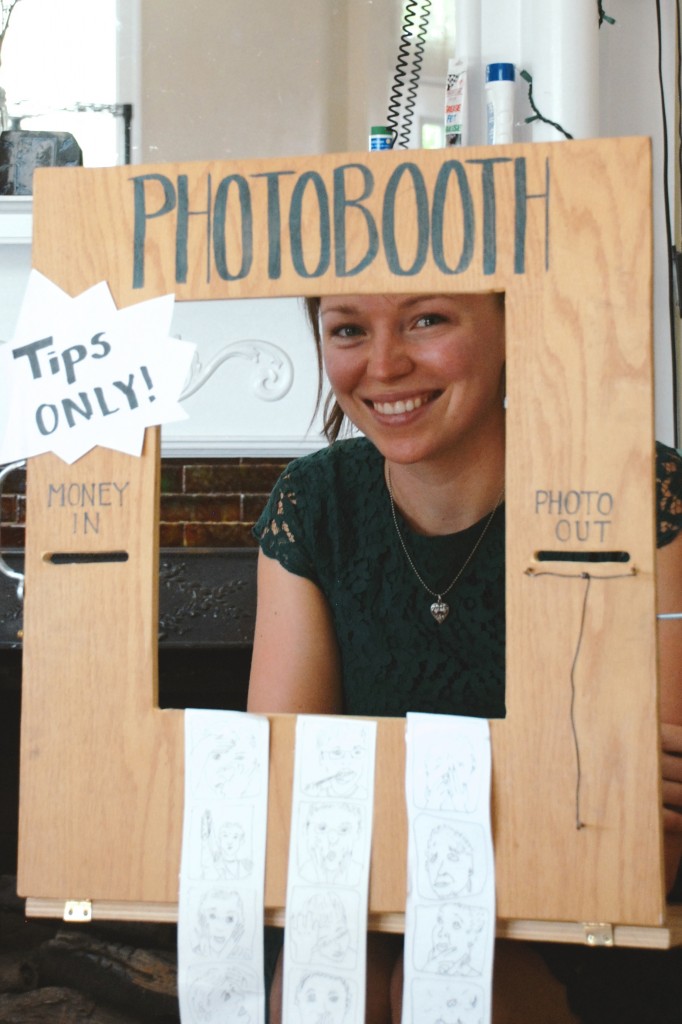 Visit Natalie's etsy shop here.
If you want to hire Natalie to bring The Hand Drawn Photobooth to your next event, contact her: nallsupedwards at gmail dot com