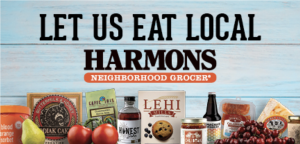 One of the best things about being a neighborhood grocer is the opportunity we get to work with local creators and makers throughout the state of Utah. Our partnership with Craft Lake City is a natural evolution of being a long-time part of our local community. We embrace the value of "local" in all of its meanings, including the opportunity to network and share with all of our neighbors.
At Harmons we talk a lot about our beginnings as a neighborhood fruit stand because we think it's important. Our store started in Utah and has grown here from infancy, putting down strong roots as the years have passed. Our roots are wrapped around our community, our neighborhoods, and our history. 
Food is the common bond we all share, and it binds us together. Working together with our neighbors we have managed to create a grocery experience that is unlike any other. We have over 4,500 local products in our stores, and with the help of our local partners we've created a shopping and dining experience that not only tickles your taste buds but protects our community sustainably. 
We thought we would share a few of our favorite recipes made with local Utah goods, so you can get an idea of how much fun it is to partner with foodies. 
In our cafés we sell Caffe Ibis coffee (iced and hot) to-go, as well as on our shelves, and this delicious recipe for S'mores Cold Brew Coffee was created by them. Note it even has a garnish of crushed Kodiak Cakes Bear Bites on top.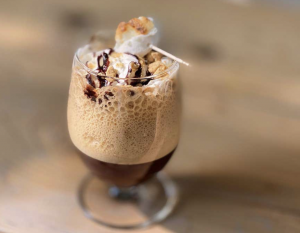 One of the services we offer at Harmons is that of our dietitians, and unsurprisingly they also have some local favorites, choosing tasty local Dietitians Choice products that hit close to home and only take about 15 minutes to prepare! Dietitian Heather Lieber has a great blog post where you can find some of these great items and preparation suggestions.  
And who doesn't love French toast? Cooking School Chef Jake Driffill created this fantastic recipe, Every Day Should Be a Holiday French Toast, featuring Harmons challah bread and Honest John Orange Bitters. 
Another local favorite is Salsa Queen, and she shared with us this amazing recipe for the Queen's Ceviche.  She also took some time out to visit with our Taste of Harmons Podcast hosts and you can listen and learn more about her amazing story. 
If you're craving brownies, we have a great recipe using Chocolate Conspiracy products. And we're very proud of our Local Charcuterie Board, which features such great Utah products as Heber Valley and Beehive Cheeses, Creminelli Fine Meats, Pepperlane Sweet Mother of Onion Jam and Pepperlane Raz-Pepper Jam, Hollow Tree Honey, Harmons Artisan Bread, chocolate, and more. 
OVER 4,500 LOCAL ITEMS
As we mentioned above, we have over 4,500 local items in our stores, and that number grows consistently. The reasons we focus so much on local are easy to explain. 
We are local. We live, sleep, work, and eat here, too.

 

Supporting local makers and producers keeps money moving in Utah's economy.
Shopping local creates local jobs.

 

Shopping local cuts down on our carbon footprint and also means we can get the freshest foods to you fast.

 
"The variety and diversity of locally grown food and products we have available here in Utah is astounding," said Todd Jensen, executive vice president of sales at Harmons. "Being able to contribute and support the continued growth of our dynamic food scene and these local businesses is what Harmons strives for day in and day out."
Once again, we are excited to partner with Craft Lake City and to see all the amazing ways Utahns create, sow, and grow.