Craft Lake City is pleased to announce Local Voices: Utah Must Lead the Way, a collaborative outdoor installation organized in collaboration with artist Denae Shanidiin and presented in partnership with Restoring Ancestral Winds, on view in downtown Salt Lake City through May 6, 2020.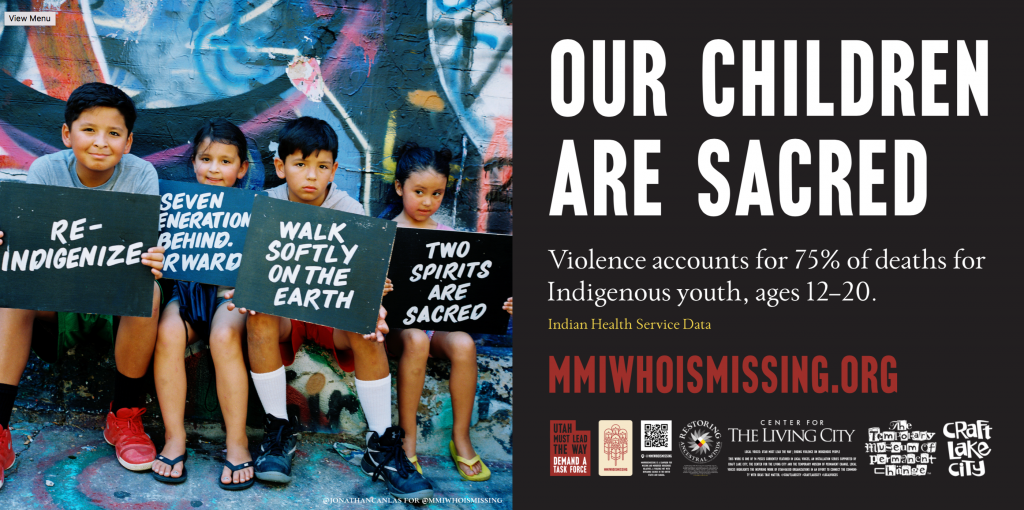 Through powerful images by local photographer Jonathan Canlas, the installation exposes the harsh reality that Salt Lake City is among the top ten cities for cases of missing and murdered Indigenous womxn across the nation. Local Voices: Utah Must Lead the Way seeks to foster understanding among Utah residents about the ongoing violence and symptoms of settler colonialism impacting Indigenous women, girls and LGBTQ+ people. Viewers are invited to examine and participate in the critical community-based change necessary to honor and protect our Indigenous Relatives.
Established in 2014, Restoring Ancestral Winds supports healing in Indigenous communities in Utah. The organization advocates for healthy relationships; educates Indigenous communities on issues surrounding stalking, domestic, sexual, dating and family violence; collaborates with Great Basin community members and stakeholders; and honors and strengthens traditional values of all our relations.
Local Voices: Utah Must Lead the Way coincides with the passing of H.B. 116, a new bill proposed by Representative Angela Romero that will create a Murdered and Missing Indigenous Women and Girls Task Force. The task force will enable 15 people to identify policies, procedures, and recommendations to reduce violence against Indigenous women and girls, including social services, improved data tracking and criminal justice reform.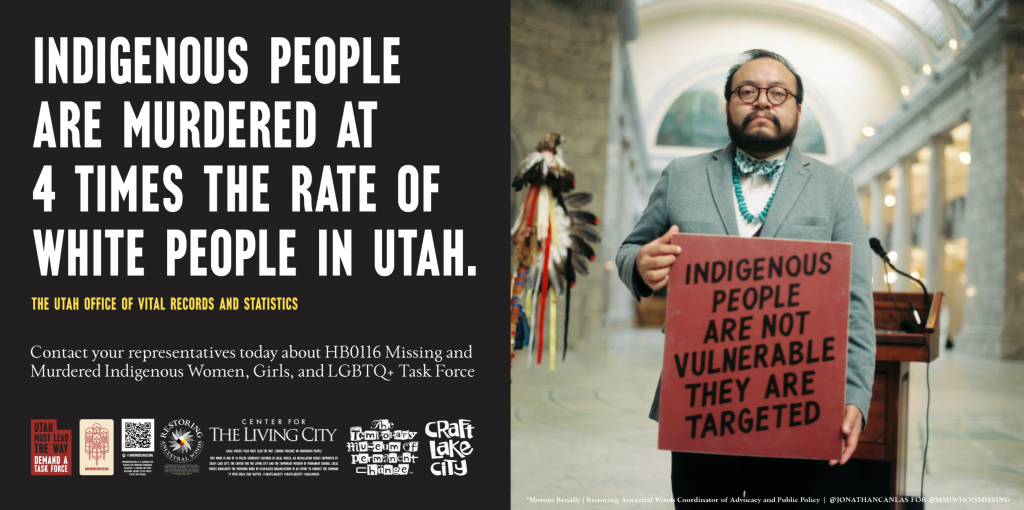 This installation is presented as part of the Local Voices series, designed to highlight the inspiring work of Utah-based organizations in an effort to connect the community with ideas that matter. Local Voices designs, or "plakats," are installed in 14 street side frames adjacent to the sidewalks along Broadway (300 S) between 200 West and 200 East.  Local Voices is an installation series supported by Craft Lake City, The Temporary Museum of Permanent Change and The Center for the Living City.  Stay tuned for details about a Local Voices: Utah Must Lead the Way plakat walk later this spring!