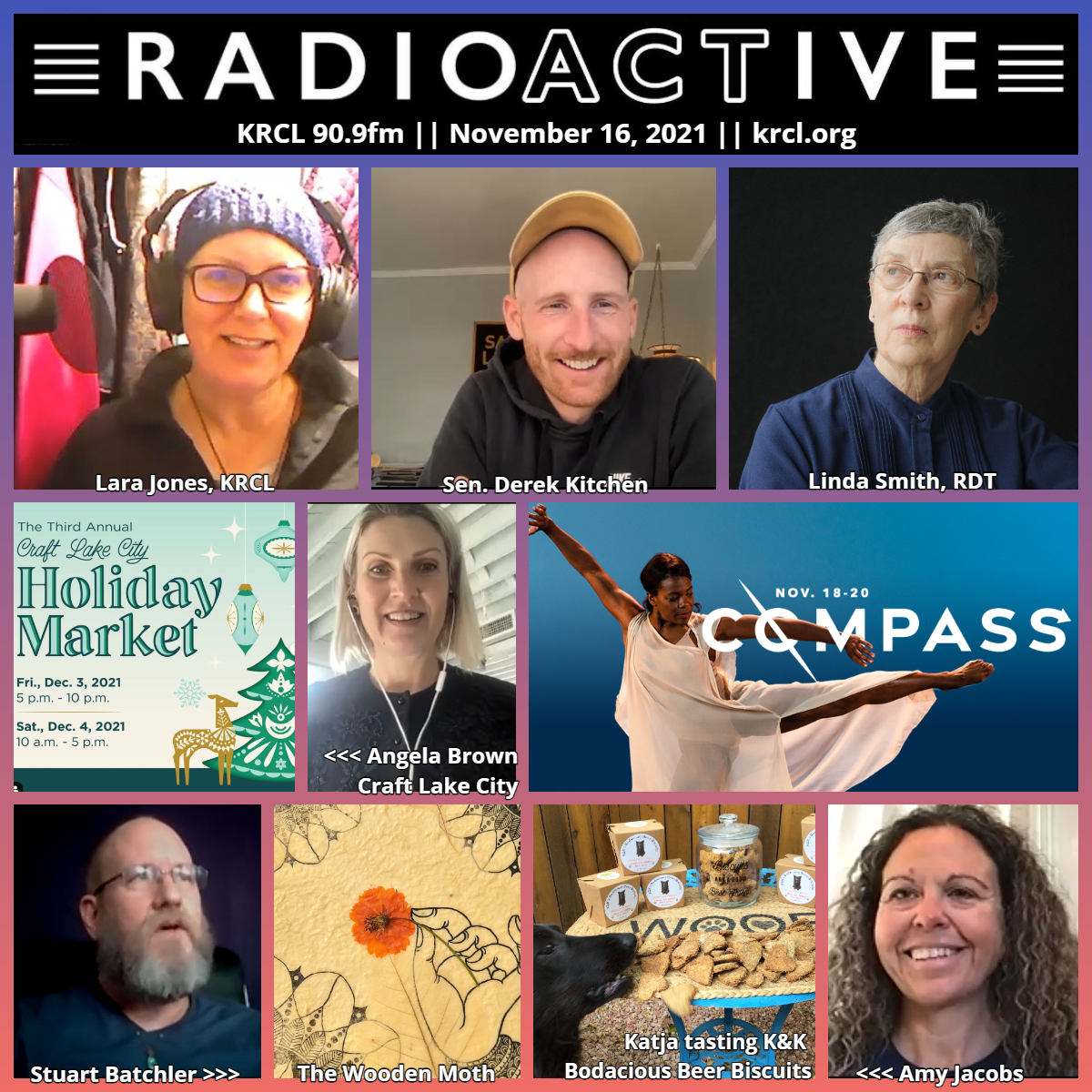 RADIOACTIVE 11.16.21
by Lara Jones
State Sen. Derek Kitchen on the 'cracking' of SL County into four congressional voting districts, bail reform, solving homelessness and more. Plus, RDT is back for its 56th season with Compass, a performance that uses history and Martha Graham to guide us into the present.
Tonight's show featured the following people, organizations and/or events. Check them out and get plugged into your community! 
Lara Jones shared RadioACTive's growing list of Food, Gifts and Clothing Drives in our community. Click here to match what you have to give with an organization helping those in need this holiday season. Want to add to the list? Email info to radiaoctive@krcl.org.
Linda Smith, artistic and executive director of Repertory Dance Theatre, the nation's oldest repertory dance company. Celebrating its 56th season, visit rdtutah.org for a list of upcoming performances and productions, not to mention dance classes open to the public.
As we slide into the holiday gift-giving season, RadioACTive will be shining a light on DIY creatives. We hope to inspire you to shop locally. Tonight, Craft Lake City's Angela Brown joined us to highlight two of the dozens of artisans at the nonprofit's Third Annual Holiday Market at The Monarch in Ogden Dec. 4-5:
Stuart Batchler, The Wooden Moth: Stuart has been pursuing organic farming and arts and crafts for many years. He enjoys learning new processes and working with new materials and now makes jewelry with traditional Chinese knotwork and is producing linocut relief printing and using many other creative techniques.

Amy Jacobs, K&K's Bodacious Biscuits: When Amy isn't mountain biking with her two rescue pups, Katja and Kahlua, she's baking homemade biscuits for them! During the 2020 pandemic Amy started to make nutritious treats using spent beer grain that would make all dogs happy. K&K's mission is to give back to dog rescue.
Craft Lake City has also partnered with Project Rainbow to host a toy drive during the nonprofits' Third Annual Holiday Market at The Monarch in Ogden. Every year Project Rainbow collects toys and clothing items to be given to local LGBTQ+ families in need for the holidays. Holiday Market attendees who bring a new toy or clothing item to the drive will be entered into a drawing with prizes being donated from Craft Lake City artisans. Attendees may consider purchasing products from Craft Lake City Holiday Market participants to donate. Project Rainbow and Craft Lake City are pleased to present the public with a means for supporting local LGBTQ+ families in need while shopping small and local this holiday season.
Sen. Derek Kitchen (D-Dist. 2 in SLC) reflected on the Utah Legislature's latest Special Session, including the "cracking" of Salt Lake County into four congressional voting districts. Plus, bail reform, solving homelessness, and more. To contact the senator, click here.
Lara mentioned two resources for re-examining the way media outlets cover politics:
The Ezra Klein Show: The Mainstream Media Has a Republican Party Problem. Jay Rosen on how the press fundamentally misunderstands American politics.
The Citizens Agenda: A way for news organizations to ensure that voters get the information they need from the politicians competing for their votes, in order to make the best decisions they can. The approach can be used for any type of election: school board, local government, state government, national or otherwise.
Views, thoughts or opinions shared by guests are their own and do not necessarily reflect those of the board, staff or members of Listeners' Community Radio of Utah, KRCL 90.9fm. Tonight's show was produced and hosted by Lara Jones.
Read the article on KRCL's website here.